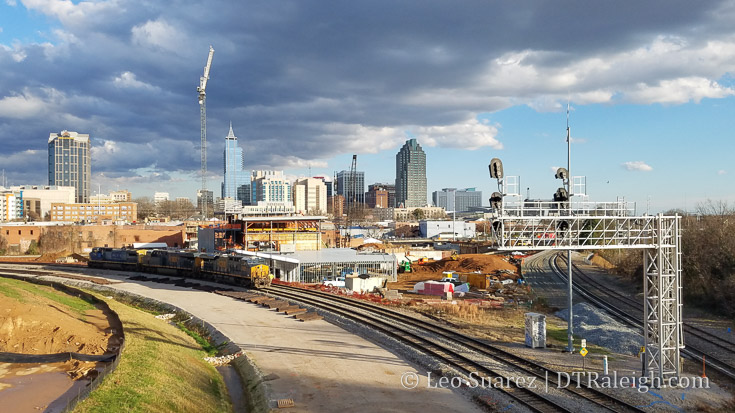 I'm always struggling to find a way to wrap up another year of downtown Raleighing that simply describes what took place. There's just too much going on to do that.
There are things in planning, under construction, and being completed all the time. Shops and restaurants close and new ones open up.
For 2016, the development talks were the same as previous years. New residential, specifically apartment low-rises, came online or started construction. Toss in some new office and hotel spaces and that kind of rounds out the "2016 action."
These projects are nice to follow and from my point-of-view, new apartment buildings for downtown Raleigh becoming the norm means we've hit a new level.
"Another apartment building with 200+ units? Not again." said everyday in Raleigh 2016.
The way I see it, the novelty of new downtown apartments is wearing off and in a way, that means the momentum is still high.
Consider apartment buildings as just the details but the real projects that were worth following in 2016 involved transit. Raleigh Union Station and the GoRaleigh Transit Station (formerly the Moore Square Station in case you haven't heard) were being worked on in 2016. More bike lanes popped up all around the city with a bike share plan in the works.
Finally, the county voted to raise the sales tax in order to pay for expanded transit options for Raleigh and surrounding municipalities. The first benefits of this should probably be seen in about two years and downtown Raleigh will be at the core of that expanded system.
Transit compliments downtown Raleigh in a huge way and if implemented well, we may just have even more apartment building projects, to follow in years to come.
2016 Highlights
As I just mentioned, transit was a huge topic in 2016. We followed the progress of Raleigh Union Station in 2016, will watch it take shape in 2017 to its opening in 2018.
If that's too long to wait, the GoRaleigh Transit Station will be completed in 2017. Additional amenities and an updated design await for the 30-year-old bus station now being worked.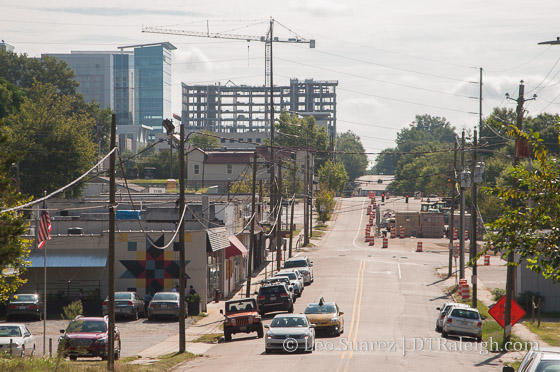 More transportation than transit, the two-way conversion of South Street and Lenoir is seeing some big impacts. The West South Street area is seeing huge changes and in 2017, we'll follow a slew of new residential and renovation projects in that area.
For more on that, you can revisit a post from my Walk series on South Street.
In 2016, cranes were spotted in downtown Raleigh. There's a lot of action taking place at The Dillon, an upcoming 17-story office tower for the warehouse district.
The Residence Inn hotel was under construction for practically the entire year, with foundation work taking place about a year ago today.
We're also watching the latest apartment building rise up, The Metropolitan, at the former site of the Greyhound Bus Station on Jones Street. At the pace that these things go up, my guess is that it opens in 2017.
Back to transportation, 2017 will see huge impacts from the Capital Boulevard bridge replacement project. The flyover bridge at Wade Avenue and Capital is being worked on now but we should see the work for the Peace Street bridge and upcoming square loop redesign start in 2017. I cannot recommend the following video enough to get you familiar with this project.
2017 Action
In 2017, here's what downtown Raleigh has in the pipeline.
Still in the planning stages, the Smokey Hollow project plans for a 400-unit apartment tower at the corner of Peace and West Street. The biggest rumor in downtown is that a Publix grocery store is planned for this location but it has not been confirmed publicly as of yet.
The city is working on a plan for a new municipal campus for their block to the north of Nash Square. Today, city departments are spread out across multiple locations and this new campus is an effort to bring departments closer together. The city is currently looking for a consultant on the plan.
We've touched on the plans for Gateway Southeast, or the Exploris School, at Gateway Center already and in 2017, it's possibly we'll see dirt moving in this area.
After a huge announcement of the sale of the N&O block, perhaps plans for new development here will surface in 2017. One of the first things that have to happen is a new home for the newspaper so some kind of office component should be released soon.
One Glenwood is still being planned but could start in 2017.
We spotted plans for 301 Hillsborough Street, the highly mixed-use project for Hillsborough Street, recently and 2017 may be the year that the surface parking lots are torn up for cranes.
*Broken record* South Street will transform!
Stone's Warehouse may start their renovations in 2017 as well.
After the GoRaleigh Transit Station completes its work, the redesign of Moore Square may just (finally) begin in 2017.
Could we also see the start of the long-awaited Charter Square North tower in 2017?
Finally, for this blog, I'll be writing, photoing, coding right into its tenth year.
Happy new year, everyone!
Similar Posts:
None right now. Must be a new project.
Comments
Comments are disabled here. That's because we're all hanging out on the DTRaleigh Community, an online forum for passionate fans of the Oak City.