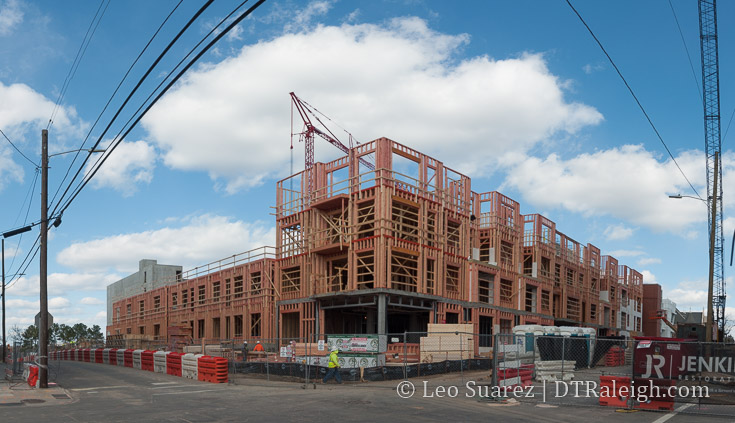 It has been a year since the 2017 fire and things are still not cleaned up on Jones Street.
The Link apartments seem back to normal on the outside and West Street is now open. The Metropolitan, shown above, is rising up again but across the street, there's still lots of work to be done. The Quorum Center seems to be slowly replacing the entire facade that faces Jones and new brickwork is underway.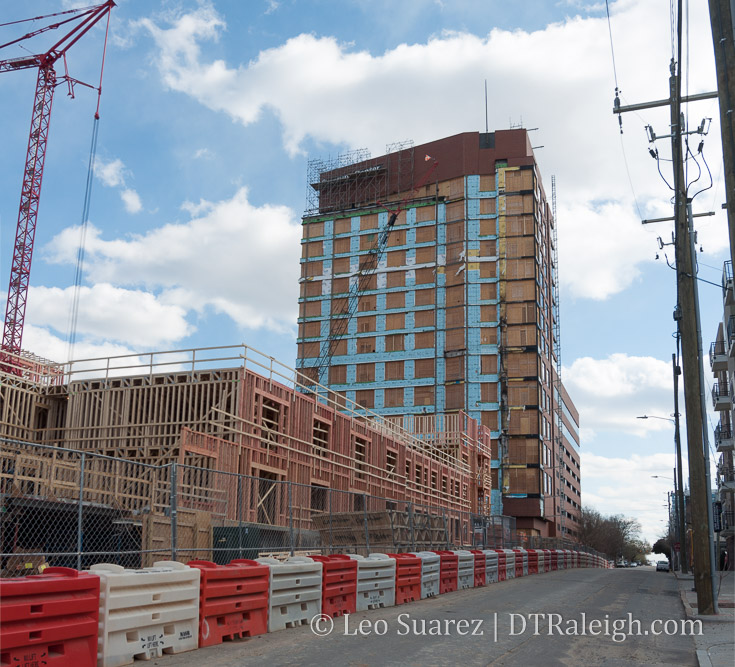 I can't pretend to feel what those residents are going through still but I will toast it up tonight and hope that Spring 2018 brings leaves AND residents back to Jones Street.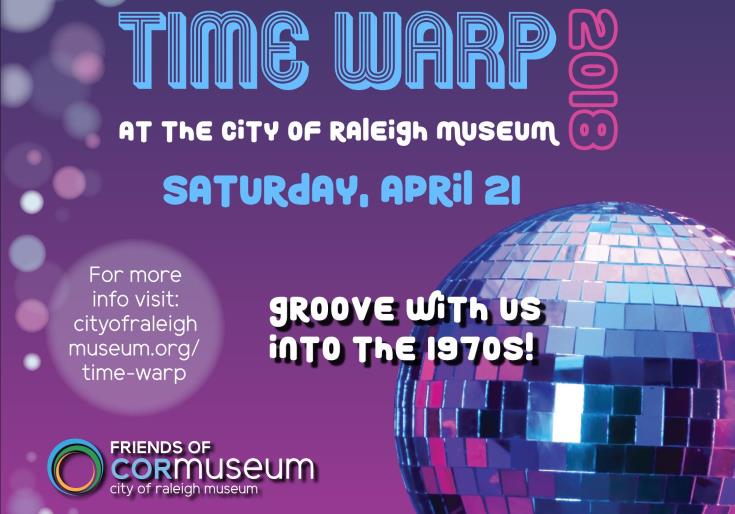 For those of you that don't know, I currently sit on the Friends of the City of Raleigh Museum board. New to this term year, I have stepped up to the plate and am helping plan the friend's annual, flagship fundraising party, Time Warp. I want to invite all readers to check it out on Saturday, April 21.
Time Warp has been going on for a little while but this year is a good year to finally attend. (or come back!) The folks at the museum are working on a big, new exhibit that I know blog readers will enjoy. Our fundraising efforts will have a direct impact on this new venture.
Time Warp 2018
Date/Time: Sat., April. 21 from 7 p.m. to 10 p.m.
City of Raleigh Museum
220 Fayetteville Street
919.996.2220
With a $1 million price tag, the City of Raleigh has challenged us to raise $500,000 towards the new exhibit. They will then match each dollar to get us to our goal. Time Warp is the best way to take a chunk out of that target!
The new exhibit will be about Raleigh's past and how some big decisions shaped its path towards today. It will try to show how planning, infrastructure, and services play a role in our everyday lives whether we interact with them or not. It will truly show where we came from, where we are today, and how it might affect the future of Raleigh.
It's a big project and I'm excited to be a part of helping to get the museum this new exhibit that will really showcase it.
As far as Time Warp goes, this year, we're doing the 1970s. Make sure to dress up cause everyone gets automatically entered into a costume contest. If dancing is your thing, we're doing a dance contest also. There will be plenty of food and drink to make the ticket price worth it too.
Let me know how I can get you there on April 21 or if you are with a Raleigh-area business that wants to join our growing list of sponsors. Find out more here.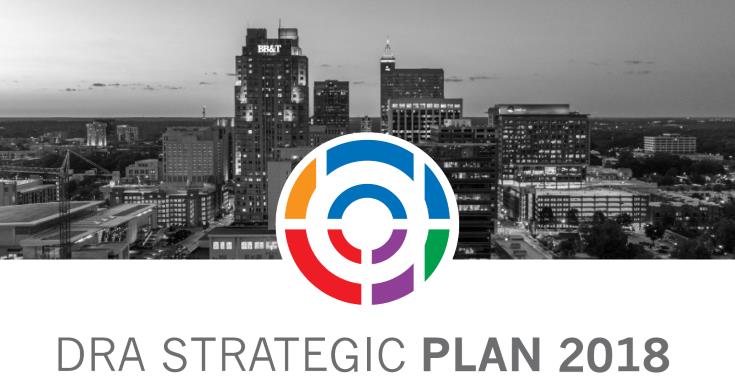 From my inbox to yours. Keep these community events on your calendar if you're interested in helping the Downtown Raleigh Alliance form their 2018-2020 plan. They are looking for citizen input and this is a great way to meet the team and weigh in on downtown topics.
More information here.
Community Meeting #1: Assessing the DRA – Review of programs, services, and other opportunities
Tuesday, March 27, 6:00 PM – 7:30 PM
William Peace University (15 E. Peace Street, Main Building)
Community Meeting #2: Assessing the Downtown – What other ways can DRA serve the community?
Wednesday, April 11, 6:00 PM – 7:30 PM
Sir Walter Apartments, Virginia Dare Ballroom (400 Fayetteville Street)
Community Meeting #3: Assessing the Draft Strategic Direction – Where should the DRA go from here?
Wednesday, May 16, 6:00 PM – 7:30 PM
Christ the King Church (117 S. West Street)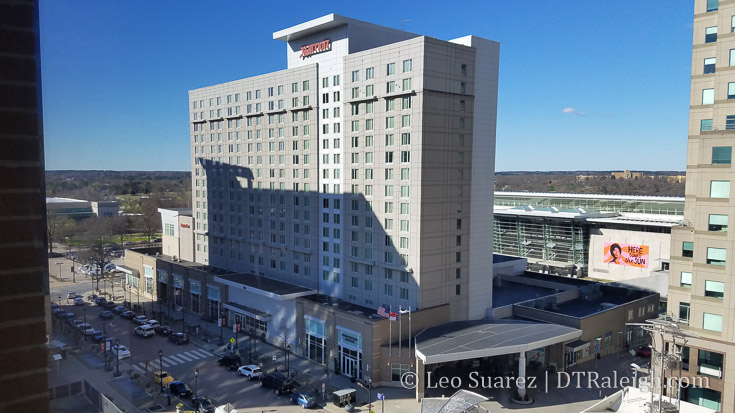 I recently was having a conversation about downtown Raleigh hotels with some out-of-town coworkers. That got me thinking that it's a good time to take a look at the current and upcoming hotel options to see how things are coming along. This is more of a wrapup post and I don't have anything new to share.
Here's the TLDR. Let me know if I'm missing something so we can make this list complete.
Currently open – 1310 rooms:
Under Construction – 134 Rooms:
Upcoming – *837 rooms:
On the radar:
Of the currently open list, the Residence Inn opened as recently as Fall 2017. In the last ten years, we've watched the Marriott and Hampton Inn go up. Can any readers date the Sheraton and Holiday Inn? Days Inn? They predate the blog as well as predate the downtown Raleigh revitalization of the 2000s that came from the Livable Streets plan of 2003.
Across the street from One Glenwood is the construction site, seen above, for the building's parking deck. Plans call for an Origin hotel on top of the deck. I put this in the Under Construction category but I certainly could be wrong as the parking deck is certainly underway. I'm not sure if the hotel may come later or crews are planning for it now.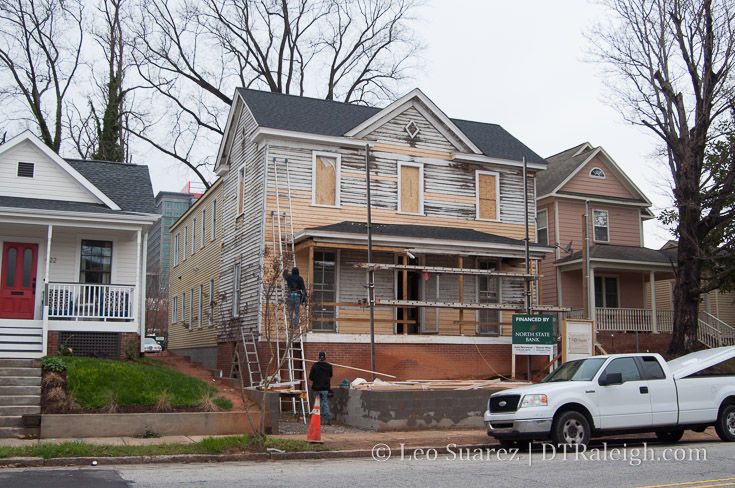 I know that I'd love to see boutique hotels popping up around the periphery of downtown Raleigh so am excited to see Guest House Raleigh come along on Bloodworth Street. If successful, hopefully, others try their own take on the smaller, more personal stay in downtown.
Most of the upcoming hotel projects have been quiet, some for over a year now. The Willard seems to be moving through the process and the rezoning case for the boutique hotel on Peace is currently going through a public hearing. (at the developer's request)
Let me know if I missed anything.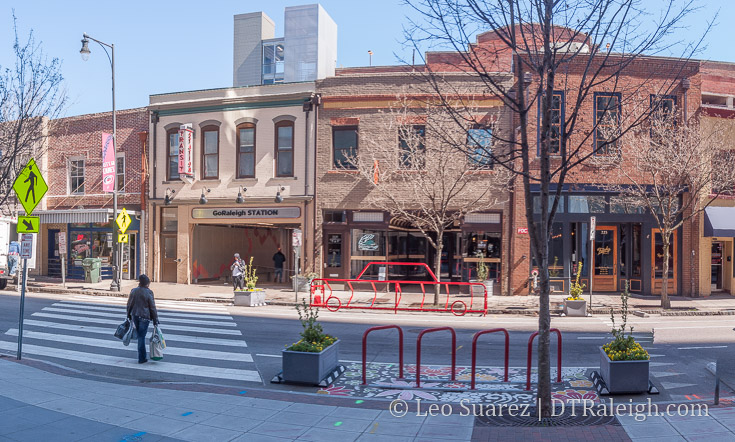 The bike parking scene is strong these days on the 200 block of South Wilmington Street. Two bike corrals have popped up near the crosswalk into GoRaleigh Station. The first incorporates street art and decorative planters. The second is shaped like a car, a common tool used to show that multiple bikes (people) consume much less space than a single car.
Bike corrals now seem to be the norm in and around downtown Raleigh especially with the incorporation of art now. Keep them coming!
Email readers: This blog post has a virtual reality image. Read the post on the blog to see it. Click Here.
I'm getting lots of love on the above photo I posted on Instagram and wanted to share it here on the blog. The portico at the corner of West and Martin is pretty striking and screams industrial. It has a great look and feel, showing off the "guts" of the brick warehouse. It brings it outward for a passerby to enjoy.
In addition, I popped a 360 photo of the portico for readers to see also. Enjoy!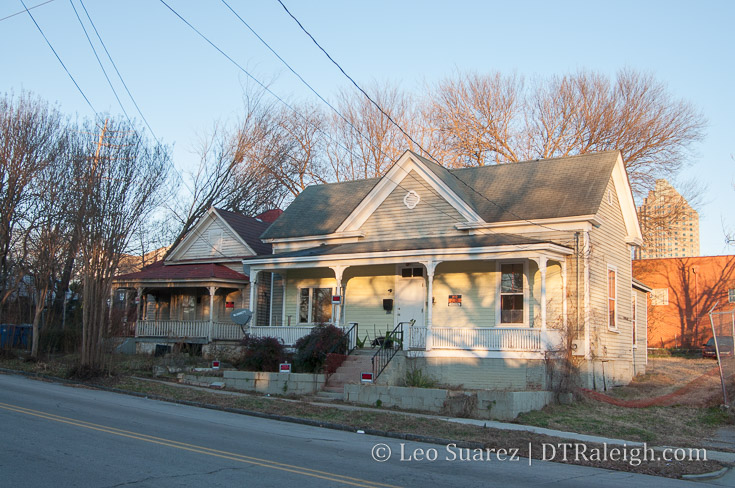 The two houses in the photo above should be saved after all. The city council last week approved the sale of city-owned land along Bloodworth Street to become the new home for these two houses. March 19 was the demolition date for them so this comes quite a bit close but hopefully, with this approval, everything goes smoothly.
The houses were planned to be demolished to make way for The Fairweather, a five-story condo project. A Raleigh citizen pitched a plan to move the houses into the Prince Hall Historic district, the site of the city-owned parcels, but the land sale had to be approved by council. At first try in December 2017, it was not approved.
For a detailed review of the story, jump back to this December 2017 post.
The city council video of the discussion is embedded below. I'm going to leave the politics for the comments or a future reader meetup but you can really see some council members struggling with this one, almost intentionally avoiding trying to make a decision. As I said in my previous post, creative problem-solving seems to feel like a foreign language sometimes to the council.
For the record, Councilors Crowder and Thompson voted against. My huge thanks to our Mayor who brought up this issue and got the discussion rolling.
If you can't see the embedded video, watch it here on YouTube.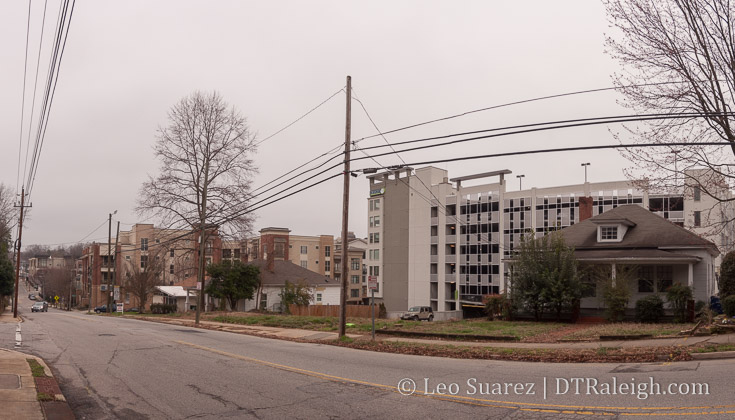 Plans on the city's website (S-050-17) show a small project that will include six townhomes for an area on St. Mary's Street near the intersection of Calvin Road. (between Tucker and North) Three lots are being combined for the townhomes and currently, only a single house sits on these lots.
There were two other homes here but they were demolished sometime in 2016 so I imagine the last one, shown above, will come down with this project.
Preliminary site plans show the six units in one building with rooftop decks and parking garages located along an existing alley behind the units. The alley is currently accessible on Tucker Street and is mainly used by the residents in The Devon.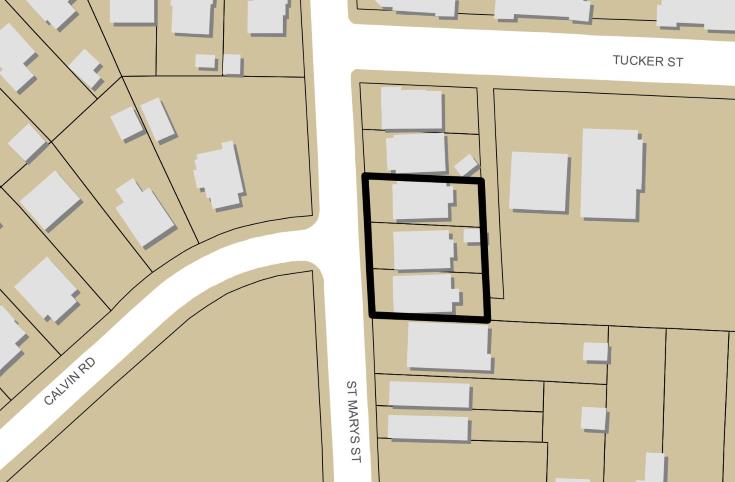 Seems like a straightforward project and a product that's much needed in and around downtown. I like the idea of further using an existing alley for additional vehicle access rather than creating new streets.