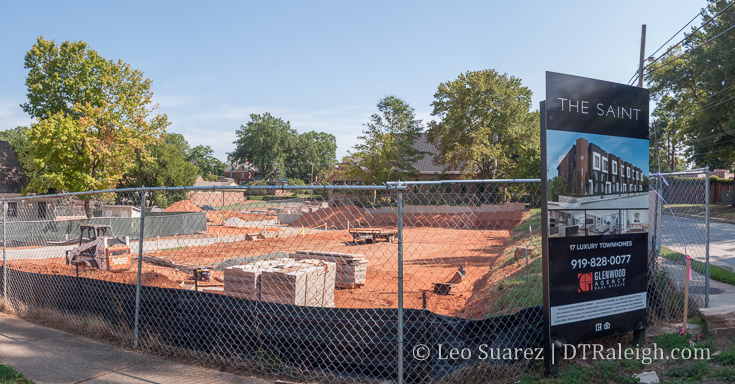 Construction for 17 new townhomes is underway along St. Mary's Street between Jones and Lane Street. Called The Saint, these units are being billed as luxury with price tags on the higher end of the spectrum for downtown Raleigh townhomes.
A quick visit to the location recently shows the foundation work has begun and you can get a glimpse of the new alley-street that will cut from Jones to Lane to access the units.
With all high-end products comes high-end aerial video which I've embedded below for your enjoyment. (the views are nice, click here if you don't see the video)
You can find out more about The Saint at their website.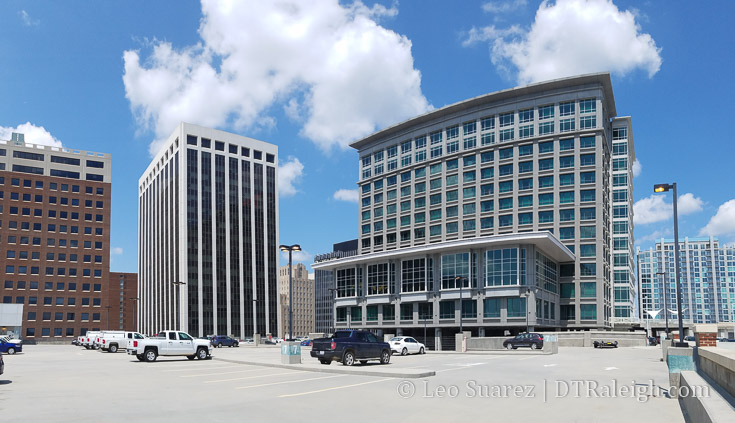 The video below was posted this summer from Vox. They explore a topic of mine that's one of my favorites; parking requirements set by cities. If you can't see the embedded video, click here.
One part of the video shows the various parking rules based on the type of development such as number of spots for a public pool or library. It got me thinking about what kind of rules Raleigh has for new developments. I went ahead and pulled it out of the UDO.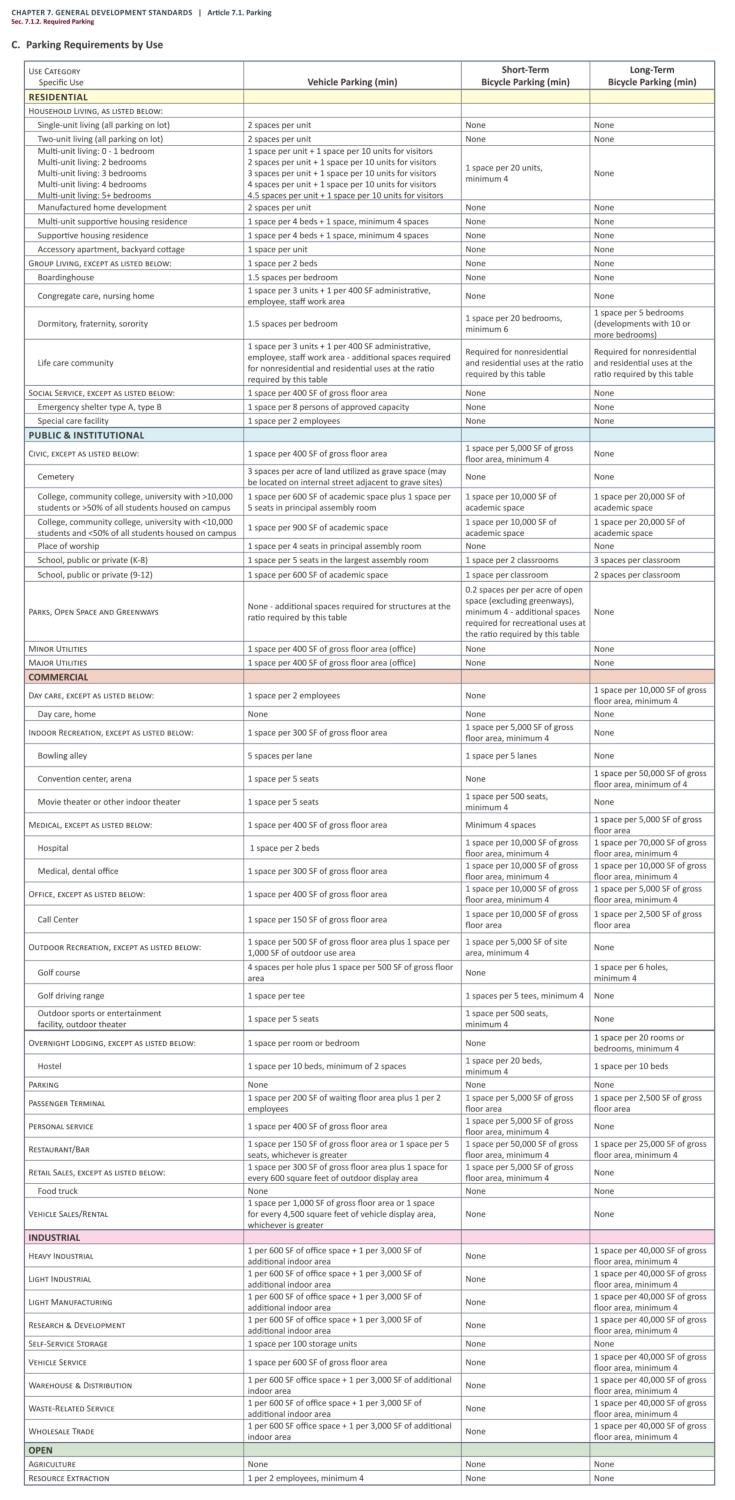 It's nice to see the bicycle parking requirements right next to the vehicle requirements. What isn't nice is how little bicycle parking is required, especially on the residential side. Bicycles need a home too!
Nothing too crazy jumps out at me (except maybe parking itself having no parking requirements!) but if you believe the approach in the Vox video, the thinking of Dr. Shoup, then these few pages from our development ordinance play a huge factor in how the city is going to be built and how we will interact with it in the future.
Keep in mind there are ways to get reductions from these requirements when building near transit, which should reduce the amount of built parking as the county expands its transit infrastructure over the next ten years.
I also wanted to post this as a reference as I feel it may be important to look back to in the future.
[UPDATE 8-18: I've added the snippet from the UDO about parking requirements for downtown Raleigh]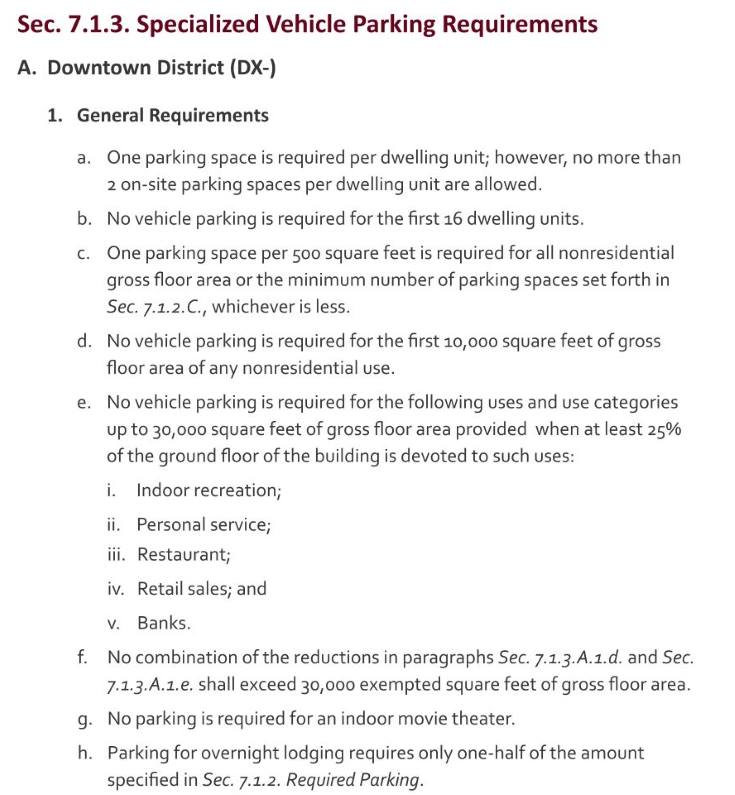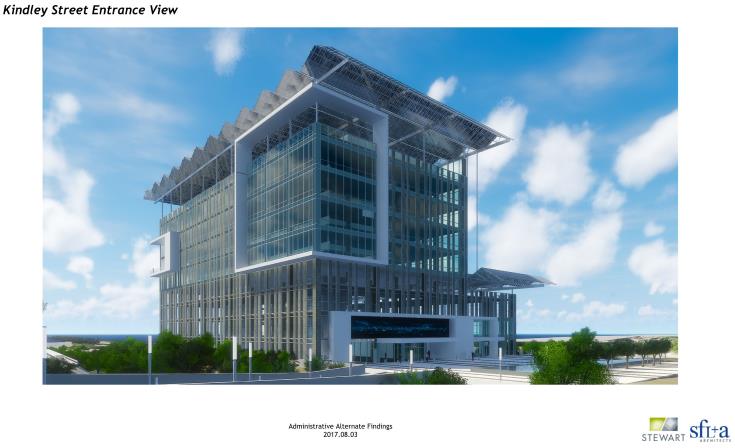 City Gateway, the 10-story, energy-positive building planned for Kindley Street, is going through a bit of a design change. Peaking at the submitted Administrative Alternate for Design (AAD-24-17) on the city's website, we can see some newer renderings for the building.
The change in materials and setback can be seen in these renderings compared to ones submitted back earlier in 2017.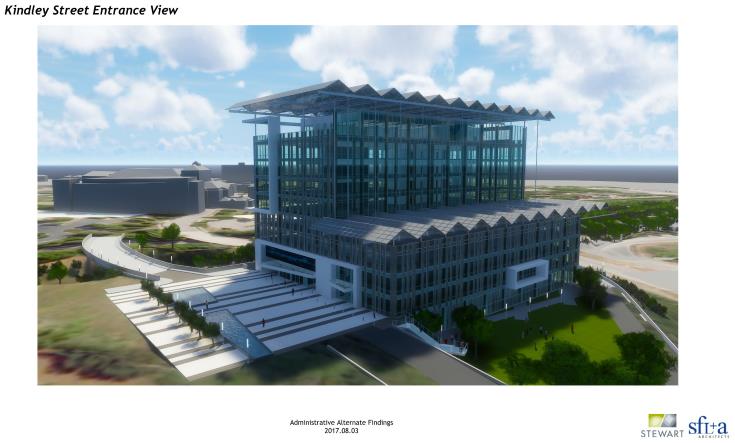 The AAD hints at City Gateway being part of a "phased development" along Kindley Street with "a future extension to MLK Jr. Blvd." Kindley to MLK, I can't quite see it. Perhaps a connection to the northbound on-ramp but I think the elevation difference presents a challenge.
We'll see how that one turns out but speculate for yourself on Google Maps.
Back to the building, it'll definitely be something unique and the expanded office space is always welcome.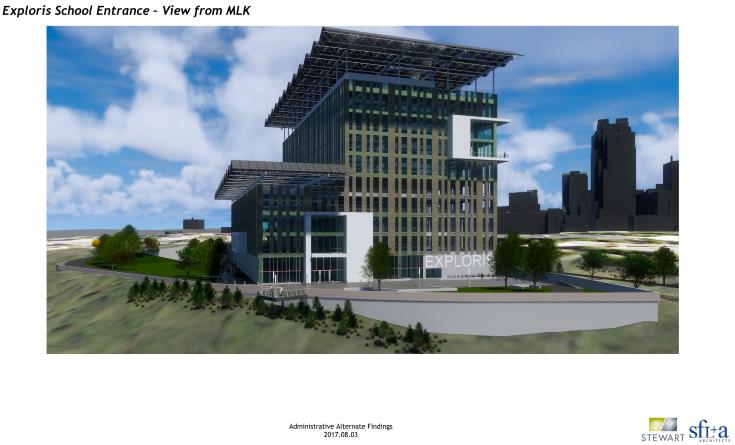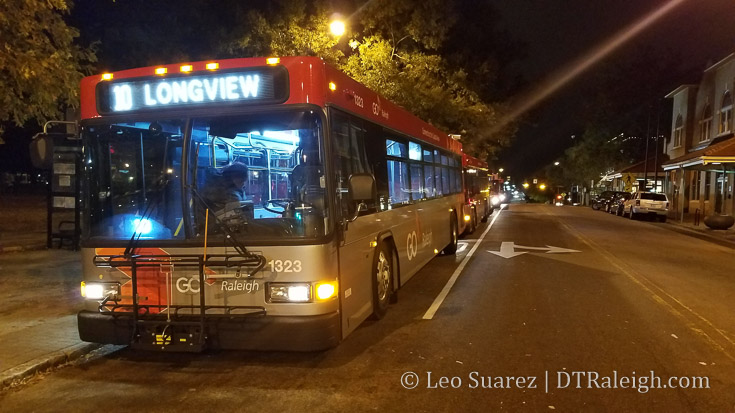 I'm posting this here purely for posterity. If you didn't see it recently, bus service is starting to expand, including changes on the weekends. This comes as a direct result from the one-half cent sales tax increase that was voted on in the Fall of 2016.
Go GoRaleigh!
Starting Aug. 6, GoRaleigh will:

Increase Sunday service to Saturday levels, with the exception of no departures after 11 p.m. on Sundays.
Increase frequency on Route 7, which runs along South Saunders Street, to every 15 minutes Monday through Friday.
Add Sunday service to Route 3 along Glascock Street, Route 10 along Longview and Route 15L to Trawick Road. Route 31 to New Hope Commons will drop Sunday service, however.

GoTriangle improvements include:

Increasing frequency on Route 100 between the GoRaleigh Station and the Regional Transit Center (RTC) in Durham to every 30 minutes Monday through Friday from 6 a.m. to 7 p.m. and starting at 6:40 a.m. Saturday. Route 100 stops at N.C. State University and RDU before continuing to the RTC, where riders can catch a GoTriangle Route 700 bus to Durham or a Route 800 bus to Chapel Hill.
Adding midday trips, Saturday trips and new night and Sunday service between Raleigh and Cary on Route 300.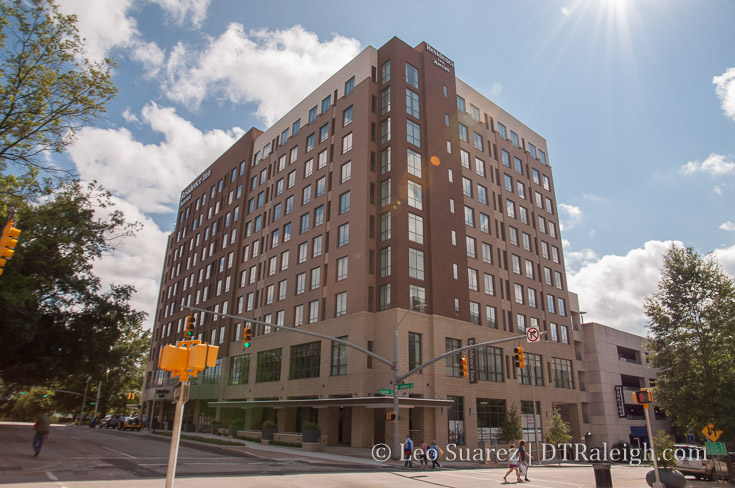 The Residence Inn is now complete and open for business. While the new hotel's grand opening should be next month, it won't stop anyone from booking a room today.
The ground-floor restaurant is still a work-in-progress and the retail space at the corner of Lenoir and Salisbury Street is looking for a tenant. However, the rooftop bar, named Tenth and Terrace, is open with some pretty nice south and southeasterly views.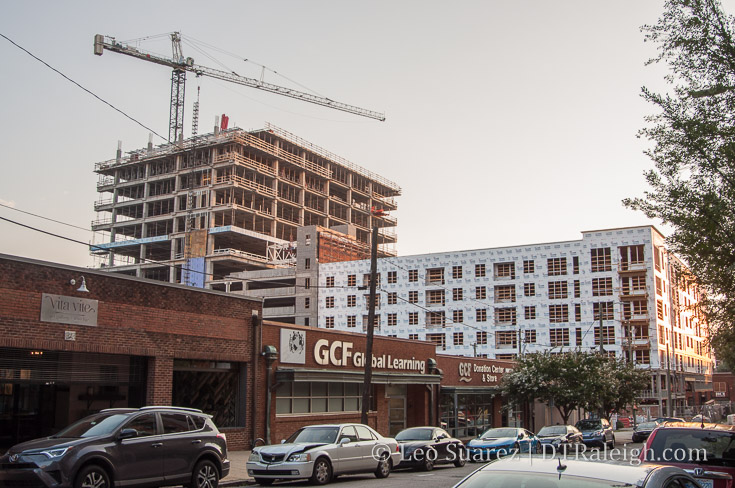 2017 has really been quite a year for The Dillon, the mixed-use project in the middle of the warehouse district. While construction started last year, it's this year that the project rose up and took shape. While the 17-story office tower component continues climbing, the lower levels are getting their facades put into place giving us a small sense of the new built environment in that area.
Furthest along are the residential units. With their real estate team teasing us with apartment, lobby, and rooftop renderings on their Instagram account, you can't help but get excited for the 400 block of West Hargett. The team wants to put string lights across the street and with face-to-face retail spaces along most of the block, I imagine the spaces could be an easier sell than others.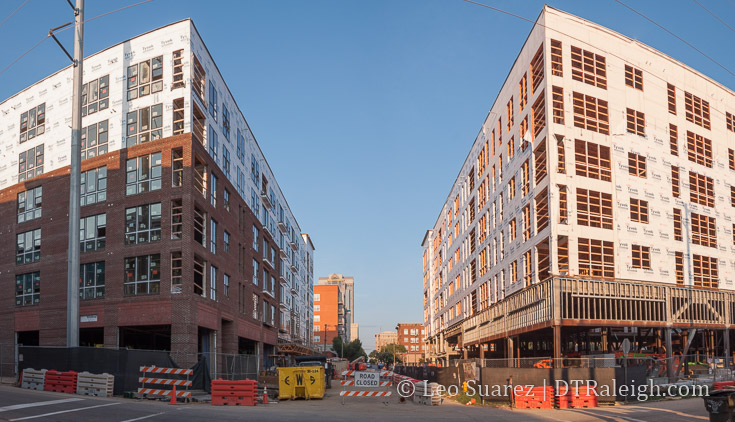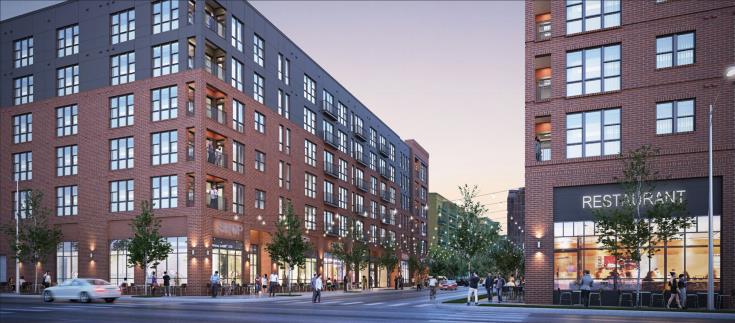 Brick is a must for a warehouse district apartment, no?
The portico at the corner of West and Martin Street has got my eye. Glass is being put in and with the historic brick warehouse wall creating a kind of "one foot in, one foot out" space between the street and the interior, I think this will be something to enjoy while in the area. (in a subtle way at least)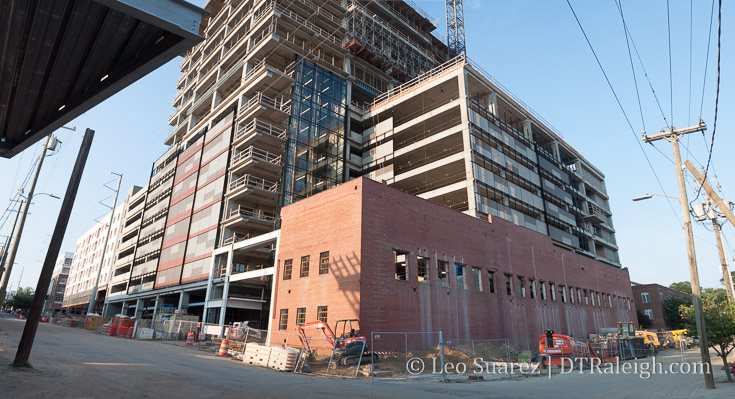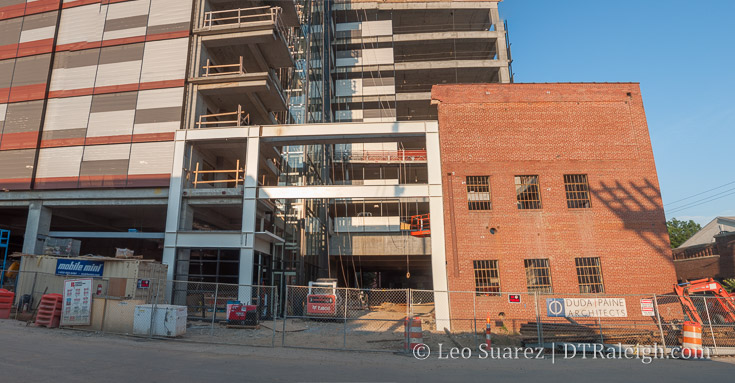 Martin Street will see a lot of retail as it has the most space. The big news recently was the announcement of an Urban Outfitters for The Dillon but the exact space wasn't announced.
Speculation points for the new big retail store to go into the spaces along Martin Street as a collective 15,134 square feet exists here. For a reference point, the store in Durham's Southpoint takes up 11,871 sq. ft. so no doubt they can make it work here.
At the same time though, when combined the two sides to Hargett Street have over 11,000 square feet of retail space. The spaces look tall so if you do a two-story internal store (like the one in Durham) you could make it fit in a smaller footprint.
Catching up on the tower, if you want to count the number of floors rising up, here's a guide.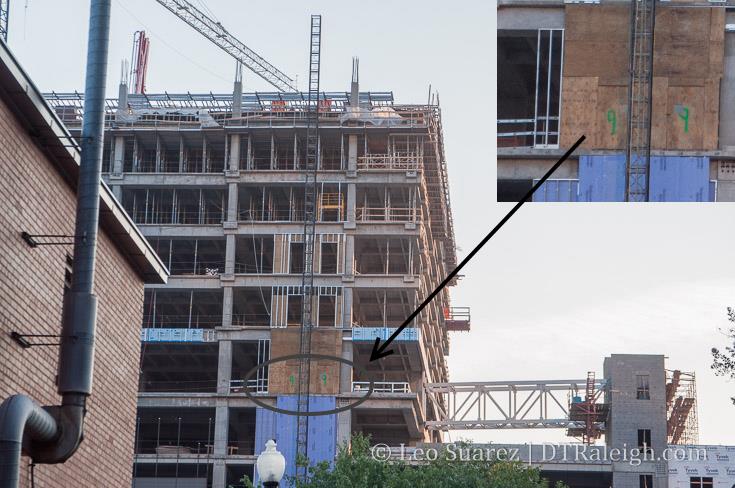 That's the ninth floor labeled at the construction elevator so at the time of this writing, floor 14 (15th floor if you skip 13?) is being worked on. No doubt this tower will top out before the end of the year and have a considerable amount of facade put up.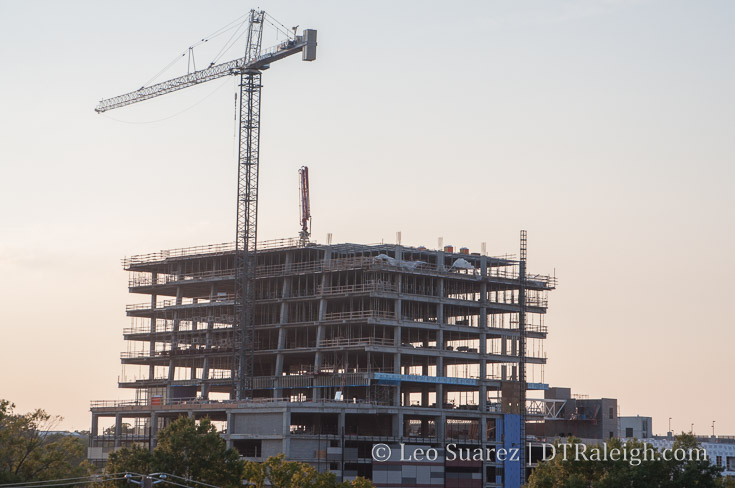 There's nothing too exciting to report but over the last two weeks, I did a little needed cleanup to the site as well as one or two experiments.
You may or may not have noticed but the site is now encrypted. For the commenters, the HTTPS goodness now keeps all your fake names and emails more secure. I read that it should make the site faster but we'll see about that.
Other than some cleanup and tiny optimizations, that's about it. Expect posts to start rolling back this week.
I just wanted to post a quick heads up to readers that I'll be behind-the-scenes for the next two weeks. There won't be any posts as I wanted to try a bunch of things on the website as well as a side project. This may or may not produce changes, we'll see how it goes.
See you in the comments and posts will pick up again on August 7.