I just wanted to post a quick heads up to readers that I'll be behind-the-scenes for the next two weeks. There won't be any posts as I wanted to try a bunch of things on the website as well as a side project. This may or may not produce changes, we'll see how it goes.
See you in the comments and posts will pick up again on August 7.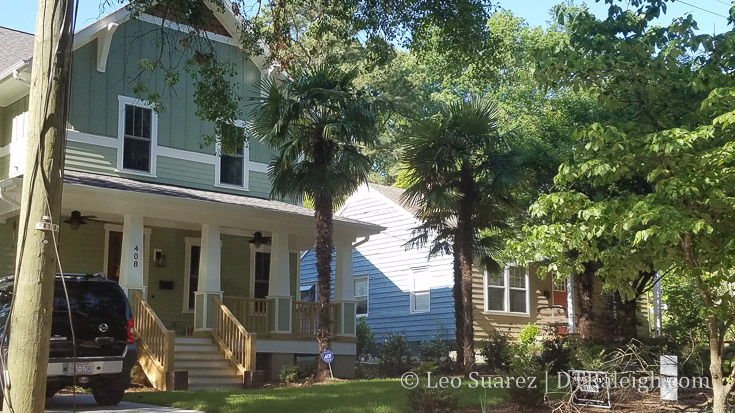 If you don't follow me on Instagram, I've been having fun with a little photo project over there. I've been cataloging the location of palm trees in and around downtown Raleigh.
More palmetto than real palms, spotting the fronds around town gets me thinking that they could have been fashionable at one point in time. Someone more knowledgeable could probably weigh in on the difficulty of raising a palm in Raleigh but it seems possible, yet not widespread.
The rolling hills of Raleigh feel like a connection to the mountains but the palms get me thinking eastward, towards the coast. It reminds you that we sit the in the North Carolina Piedmont, with bits of both east and western parts of the state.
I put together a quick website to highlight and map the ongoing project. Feel free to follow and/or contribute in your own way. Go palms!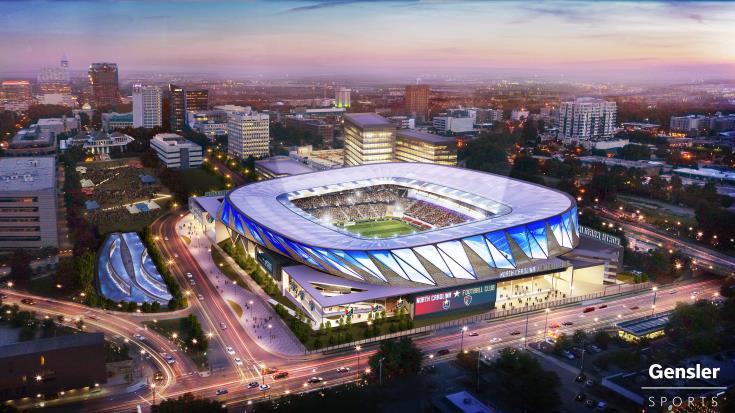 It's not official but in preparation for touring MLS reps to Raleigh today, this rendering came out.
Read/watch more here and I'm sure more details to come soon.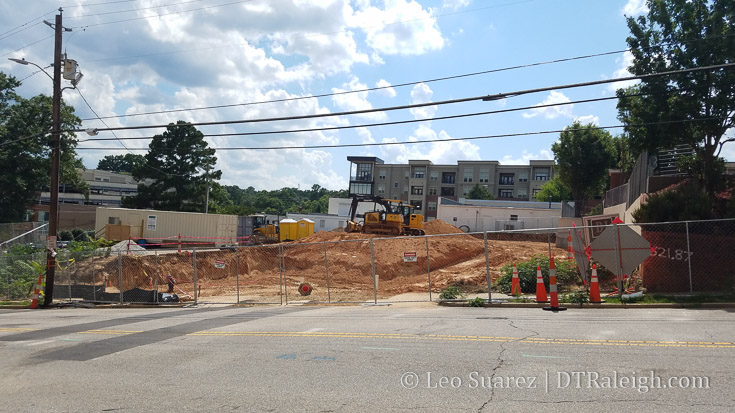 Dirt is moving at the site of Boylan Flats, the five-story, 48-unit residential building along Boylan Avenue. (615 N Boylan) From what I've seen out there, this development is quieter than most with no released real estate info at this point in time. (and no approval drama either)
It'll be interesting to see the layout of the building as this five-story building sits on a 0.23 acre site. Nearby, a developer wants to put a five-story boutique hotel on a 0.36 acre site which could fit nicely given that hotels have a two-to-one hotel room to parking ratio requirement.
Five stories may not sound so bad in this area of town.

I stumbled on this Oaks and Spokes project recently and just had to share it. They want to lay down a temporary cycle track along West Street as part of a "6 month pilot to showcase a new type of bikeway and get feedback."
The project is taking donations from the public and there is a $20,000 project goal. The temporary cycle track will link Glenwood South and the Warehouse District.
West Street would make a great north/south biking street as it'll be a major connector to Peace Street and north/northwest of downtown all the way to Union Station and parts south. (perhaps one day going all the way to Dix) Jump back to this March 2016 post about all the activity taking place on North West Street.
See more on the project page and support Oaks and Spokes if you can.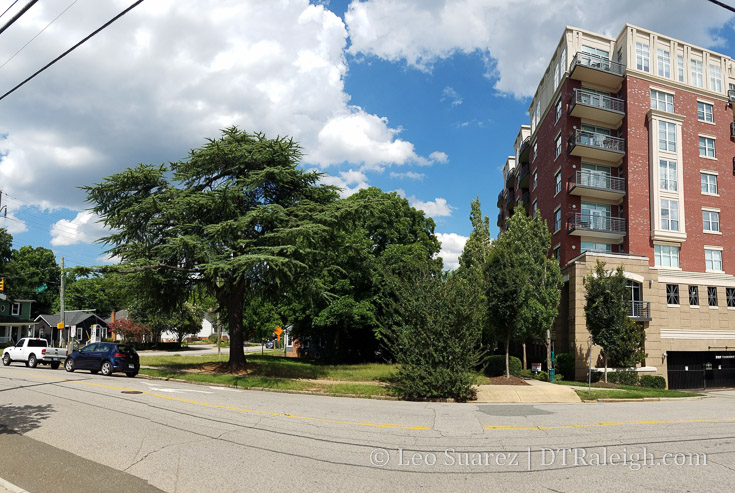 At 615 West Peace Street, a request to rezone the property from 3 to 5 stories is working its way through the system. The developer wants to put a boutique hotel at the corner of Peace and Boylan.
At this point, only the request and information about the required meeting with nearby residents is posted on the city's website. (see Z-017-17) I'm going to borrow some words from a regular commenter to the blog who was at that meeting.
In their initial pitch last night to neighbors, the developer promises a boutique hotel at that site but wants to exceed the NX-3-UG. The developer's request came with no plans, elevations, or even design concepts to share. They have made no front-end investment in design services to sell their product but want neighbors to give their blessing to the zoning change to either 5 or 7 floors.
Thanks, John!
I kind of think that we have a wide gamut of proposed developments out there. Developers need a little salesmanship and need to do their homework regardless if they have a good idea or not. I really liked this article in the N&O comparing the pitches between 301 Hillsborough and 400 Hillsborough, both projects we've talked about on the blog.
You can see the reaction to a polished presentation versus the opposite.
It's early on this project for Peace Street so we'll see where it goes.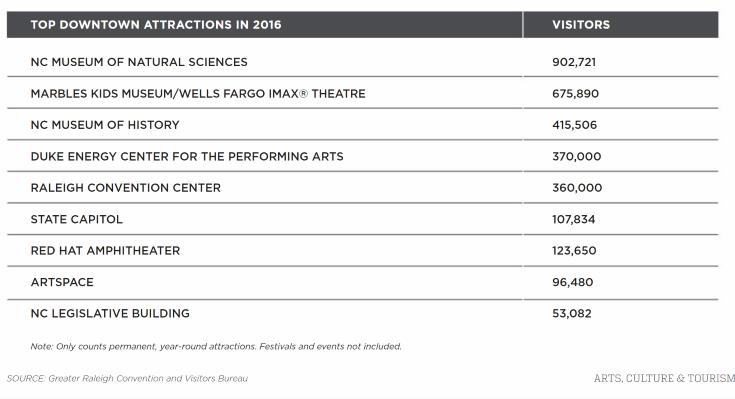 Our final "visit" to the 2017 State of Downtown Raleigh report focuses on visitors and retail. Jump back to this tag to review some of the other things discussed from this year's report.
The above figure shows the top attractions in downtown Raleigh. For years, the NC Museum of Natural Sciences (NCMNS) has been at the top of the pack. It doesn't hurt to have a state-wide draw, putting it in the top visited sites in the entire state.
Tourism in general depends on how you look at things. Since Fayetteville Street opened, 2007, the numbers have gone up by 36%. There seems to be a peak in 2012 with things leveling off more recently.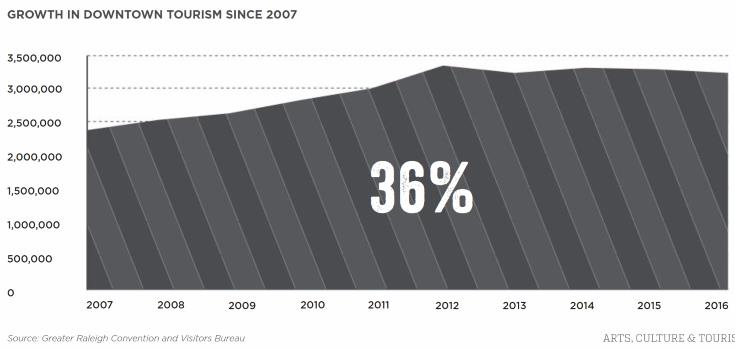 With the Nature Research Center opening as part of the NCMNS in 2012, that could explain the bump in that year. It may have "cooled off" after opening leading to the decline. In recent years, there hasn't been any major openings or attractions to really ramp up visitors, ones that count the crowds anyway.
With events growing more and more, and numbers not reported in this figure, that, as well as other factors, may be at play here.
On the retail front, the report states a 28% increase in shops since 2010, most being independently owned.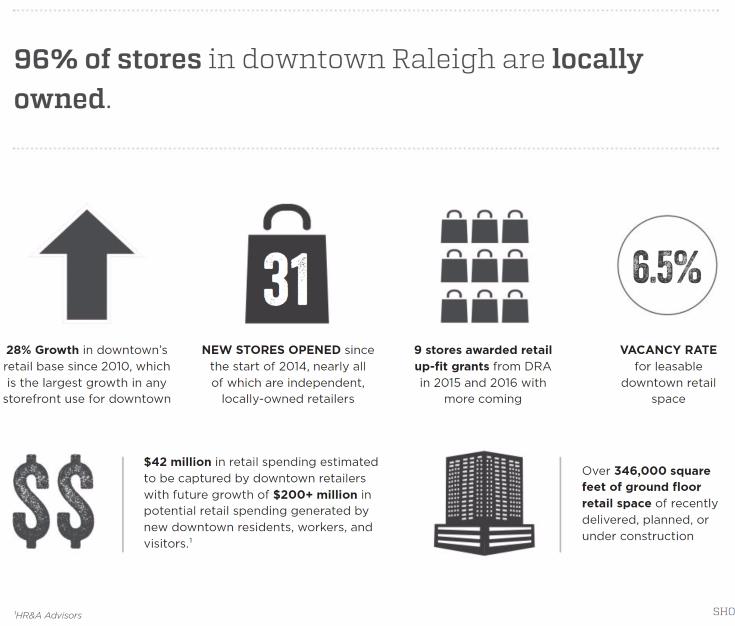 At 96% local, you won't see me complaining about a national retailer setting up to create an "anchor" for more increased traffic. I feel we have plenty of room for something bigger to come in and really inject more retail spending in downtown.
There isn't anything too exciting with these figures but that could change once we hit that magic threshold that enables the big box stores to seriously consider downtown Raleigh.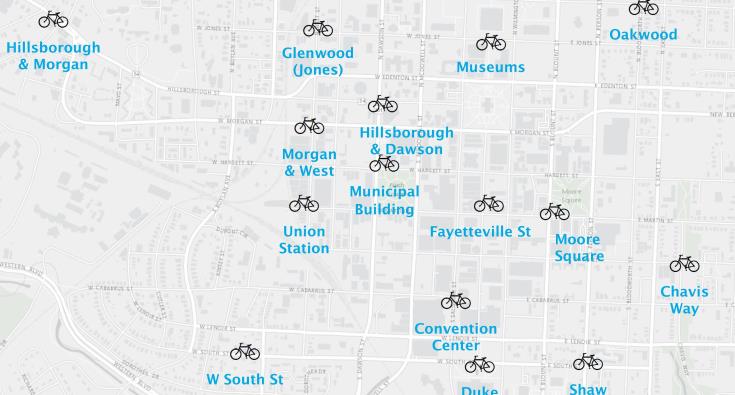 The city has posted their first map of proposed stations for the upcoming Raleigh Bikeshare system. Jump over to bikeraleigh.org to see the whole thing.
The system plans for 30 stations and 300 bikes. Planners want the system running by Spring 2018. This map is the first draft of proposed stations and further work is needed to finalize them.
The system has stations as far out as the North Carolina Museum of Art, the Walnut Creek Wetland Center, and St. Augustine's University. Dix, Chavis, and Pullen Parks get stations with the majority being in and around downtown and NC State.
Basically each district in downtown has one or two stations as well as the nearby neighborhoods like Oakwood, Person Street, Seaboard, and South Street.
I imagine that with planning a bikeshare system, and only having 30 stations, hard choices need to be made. You can't spread them out too much, making the system less useful. At the same time, they can't be too close together which makes the system lack coverage.
I want to guess that spots like Fred Fletcher, Five Points, and Centennial Campus were on the fence as these locations are outliers on a map with little to no bike paths or greenways in their direction.
Next up comes finalizing the station location and announcing rates. Also, I'm hoping there are plenty of e-bikes in the system cause if I didn't have to actually pedal, you know, that would be great!