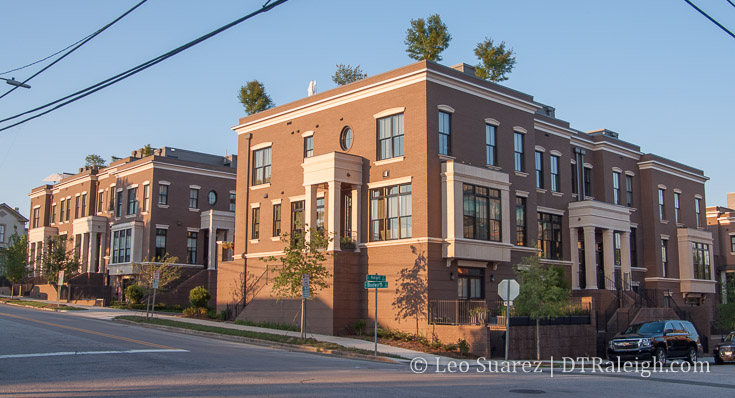 The Hargett Place townhomes on East Hargett Street are pretty much a wrap from what it looks like. I imagine a form of this is the exact high-end product that balances urban living with convenient car access. Each side of the block has a driveway and each unit has a garage yet you can still exit through the front door and step down to the sidewalk.
While I love the historic rowhouses in other cities and wish to see a modern version of them here in town, this style of home is probably symbolic of our time. It's a product of our built environment and how residents get around the city. That's not a jab at it at all but rather an observation of current trends, a trend I think will continue for some time.
Want to discuss this project and other residential infills along the New Bern – Edenton Corridor? Join the DTRaleigh Community.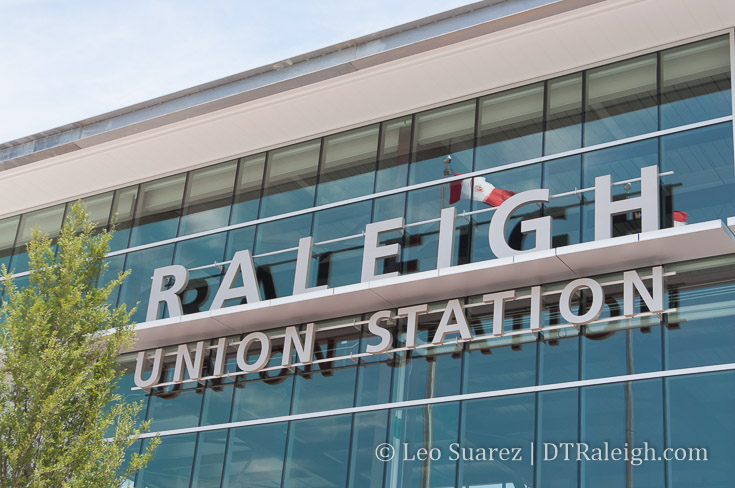 After a few delays (which we'll all forget about in no time) Raleigh Union Station is now officially open and taking/dropping off passengers. There are a total of 10 daily trains coming and going and the size of the station leaves plenty of room for growth. It is a true future-proof station.
The station is inviting and, locally, it's a destination so make some time to get down and visit if you haven't been.
While not a hub of activity at this time, the station felt exactly the same to me the day I walked down Fayetteville Street in 2006 the weekend it first opened. The street was dramatically changed from a pedestrian mall to the street we have today. The day after a huge parade and party to celebrate the opening of the street, there weren't that many people there. It was still quiet.
It was still a ghost town.
That's change, of course, and I think the same will happen here, we'll grow into this new station. The downtown culture will embrace it. I see the station enabling new things that we couldn't have before.
The opening has been fun but watching it being absorbed over the next few years is really just the start!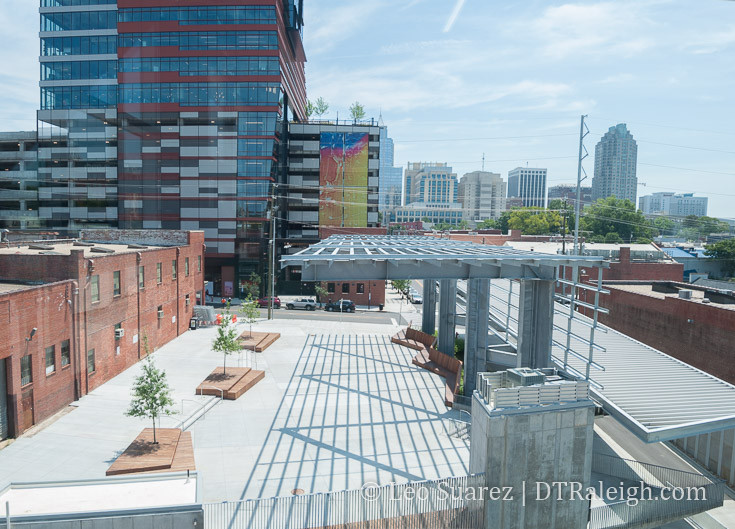 How do you see yourself using the station? Join the discussion on the DTRaleigh Community.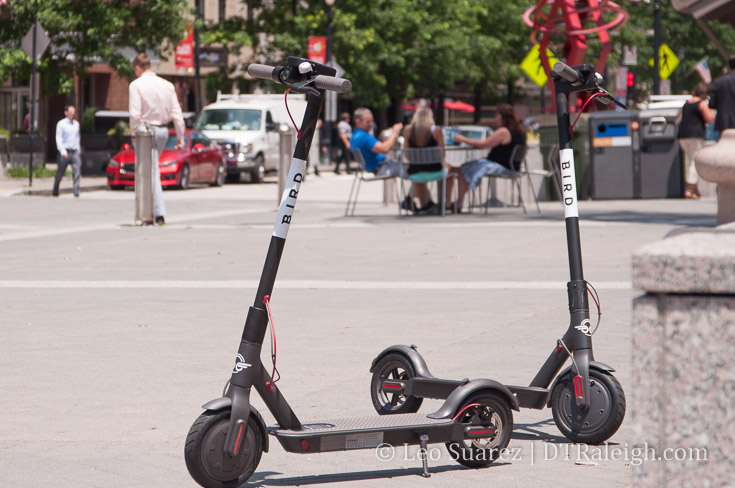 This week, Raleigh's first electric, dockless, scooter share system launched with over 100 scooters deployed throughout downtown Raleigh, Cameron Village, and other parts. Bird is the first one out of the gate for Raleigh as other cities have multiple vendors.
FYI. Yours truly saw Lime scooters zipping around Raleigh so who knows if they too will add scooters next alongside their bikes here in town.
The concept is similar to how dockless bike share works. You use a smartphone to create an account, check out a scooter, and you are on your way. The cost is a $1 per ride plus 15 cents per minute. If you want to try them out for free, use the same discount code I did which is BIRDRALEIGH.
With Limebike being more an NC State thing and the Citrix Cycle bikeshare system heavily delayed, for now, the scooters are welcome for short trips across downtown. I loved the quick boost on my walk home one evening this week. (especially on a hot day)
For me, I'll always prefer bicycles as they are easier to use and frankly, downtown streets are not the smoothest. My short scooter ride was a bit bumpy but perhaps it's just my first time out.
For anyone concerned about using these on sidewalks, I've realized that the street is MUCH more preferable. Going up and down curb cuts are not very smooth and the bike lanes look more tempting honestly.
They are fun, they are easy. Welcome to Raleigh, Bird!
Join the discussion about dockless scooters on the DTRaleigh Community.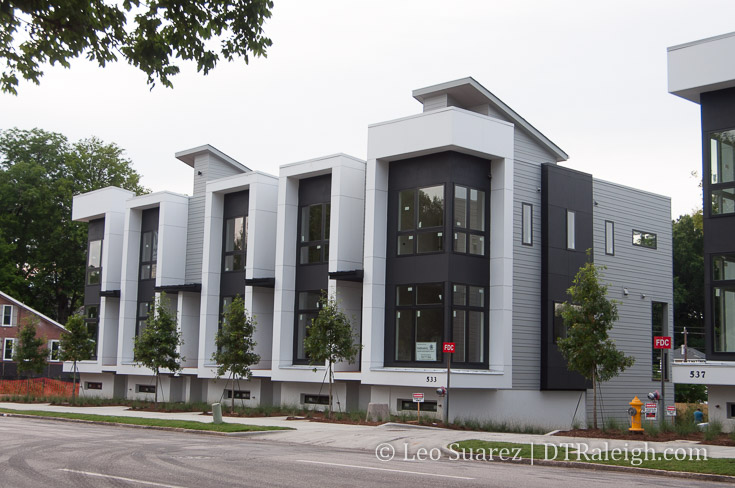 The townhomes shown above, called 10 Arros, along New Bern Avenue are close to being finished. Modern in style and across the street from City Cemetery, six of ten units have been sold as of this writing. The added density along a future BRT corridor is nice to see and walking in front, these units are nice and give an enjoyable urban residential feel to the street.
More of this, please.
Discuss this project and others along New Bern Avenue on the DTRaleigh Community.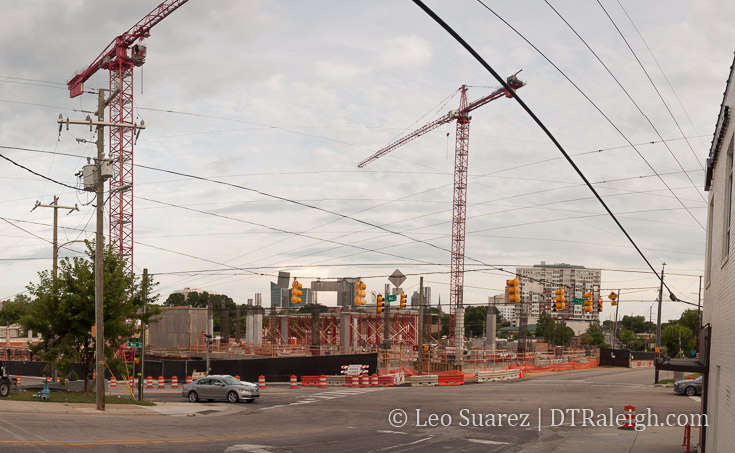 With two cranes now operating over the Smokey Hollow site, I thought it would be a great time to walk around and check things out on a nice June evening. Nearby, the new Capital Boulevard bridge is also being worked on and it seems like all of these things are part of a wave that wants to open around the same time.
First, we need to review the new street configuration coming to this area. Parts of Harrington Street have been removed while Johnson Street will become reconnected. See the before and after maps below.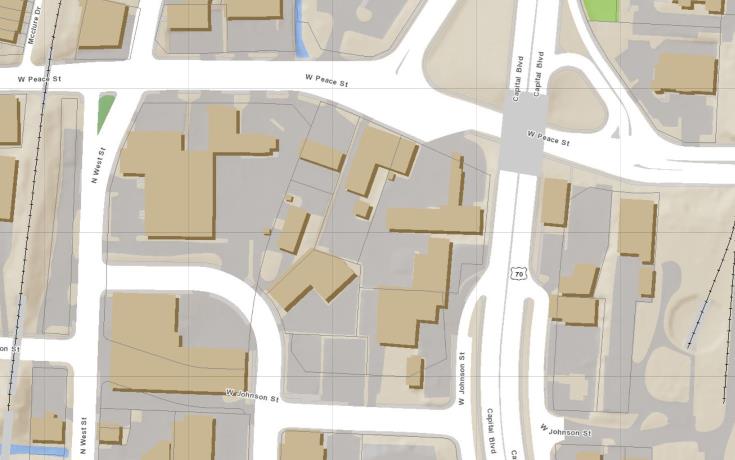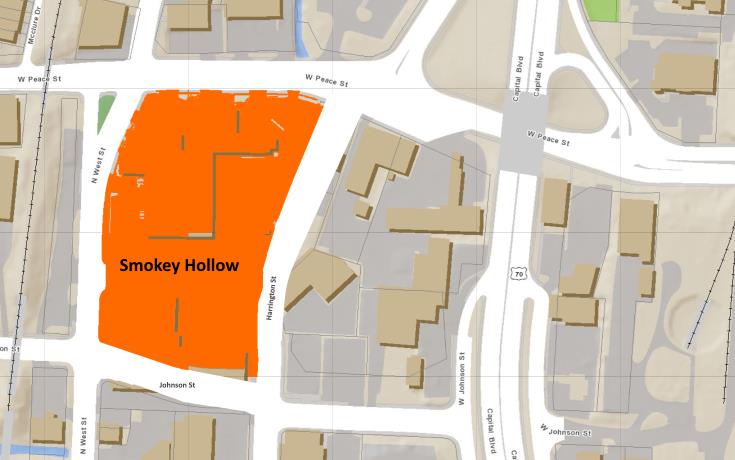 The "Harrington Curve" is now gone and instead extends the street to Peace. At the intersection of Johnson and Harrington, you can see the future extension as the buildings have been cleared. Here's where the walk starts staring to the north.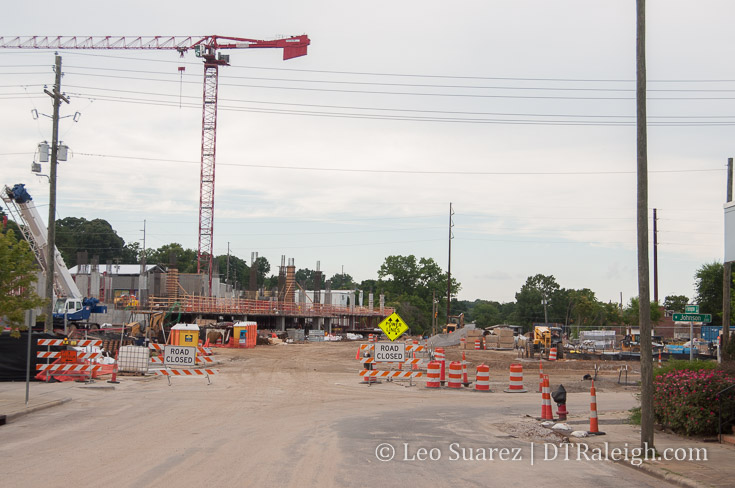 Getting to West from this point is basically a pedestrian/bike only alley as the new Johnson Street connection isn't in place yet.
Along West Street heading north to Peace, we can start to see the buildings of Peace at West starting to come up. What was once an area of suburban-style, one-story buildings will now have 12-story towers along new urban sidewalk. The change will be quite dramatic and there's plenty of space for more.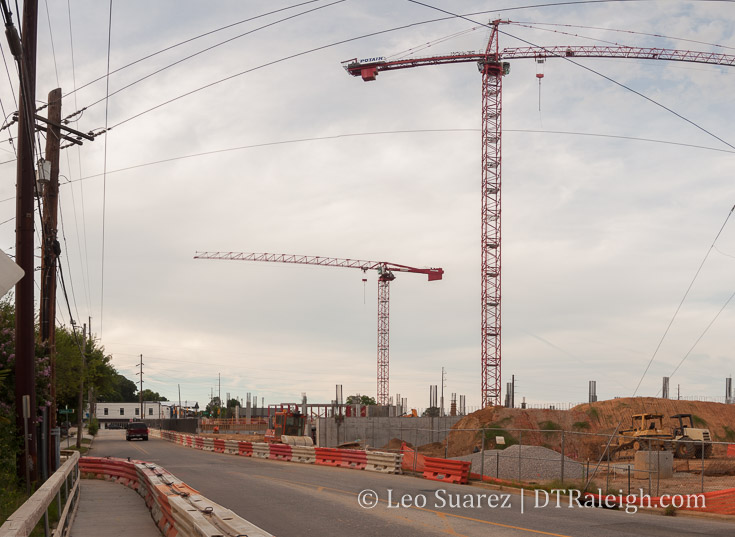 The building is just starting to rise up so you still have to use a little imagination to get a sense of what the intersection of Peace and West will look like in the future. Soon, Peace Street will start to resemble its future self as more lanes open up as part of the bridge construction.
Enjoy that view looking southeast while you can cause this building will go up fast!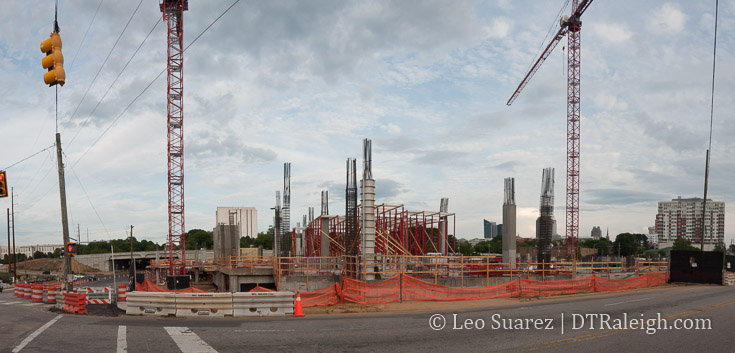 There are temporary lights at the future new intersection of Harrington and Peace where you can look towards the south at the beginning of this walk. No doubt, Peace at West will hug some prominent streets, basically all the ones we've discussed.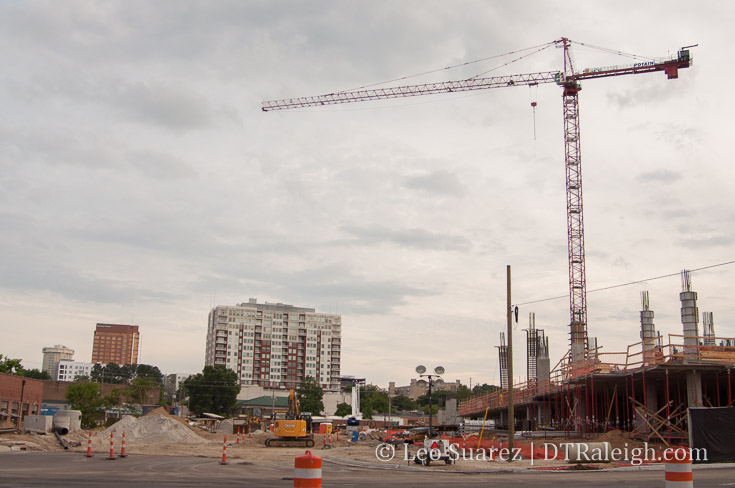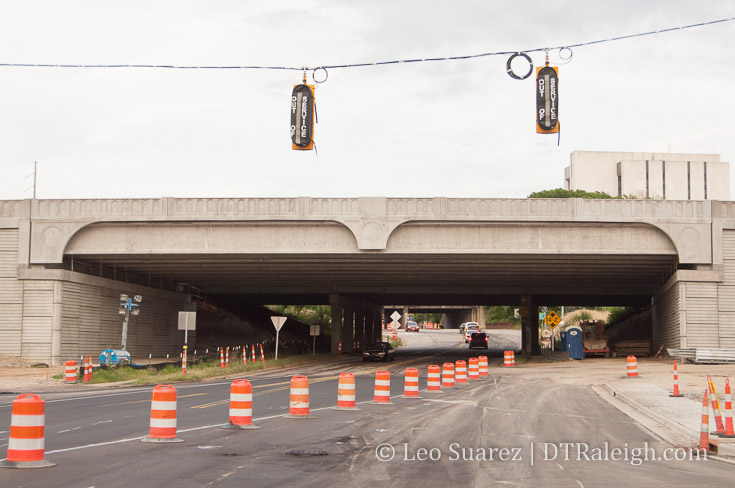 Getting back to our starting point takes us south straight down the future Harrington Street to its intersection with Johnson. The Rollins Cleaners and other older buildings are still up on the eastern side but that may not be a surprise as demolishing a dry cleaner typically involves extensive environmental cleanup efforts that take years. I wouldn't be surprised if that is the case at this site.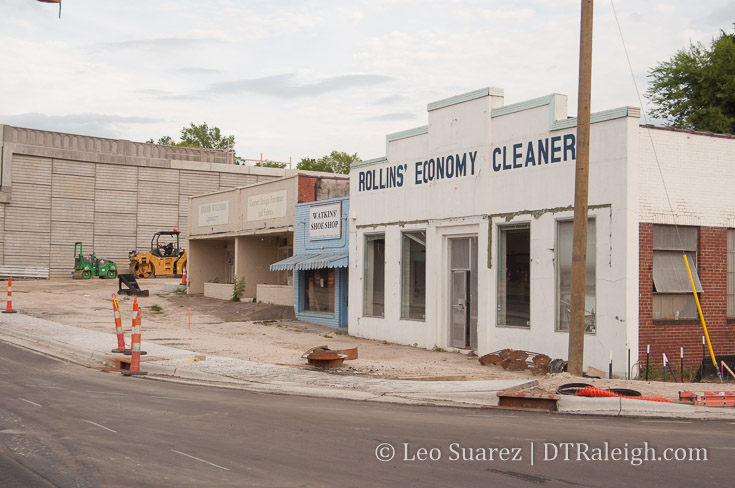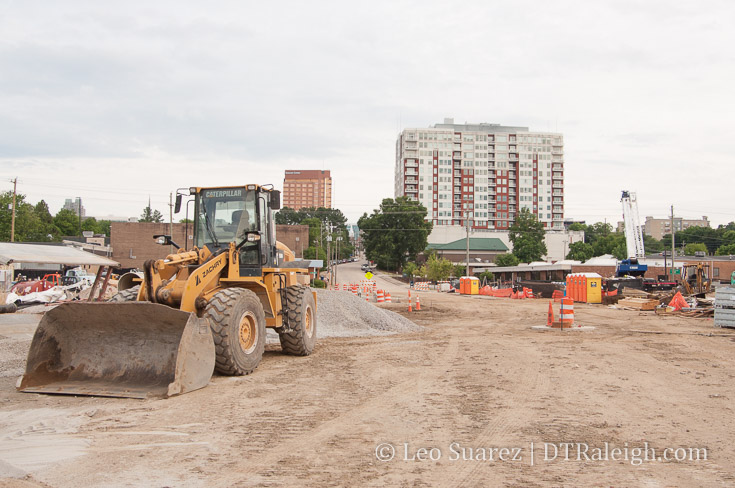 We'll check back in later for sure!
Join the conversation on this project over at the DTRaleigh Community.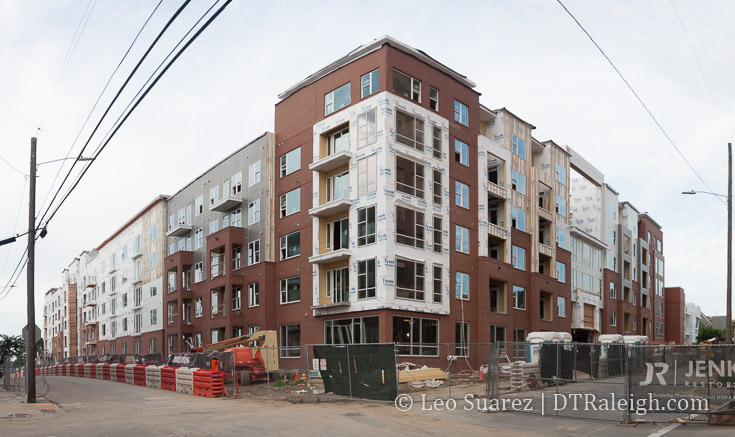 Just a quick one today. The Metropolitan apartments are starting to really take shape and are well past the point when they burned down in March 2017. It's great to see the recovery and get these units online as it'll make this area of West Street a very dense residential corridor.
Continue the conversation about this project on the DTRaleigh Community.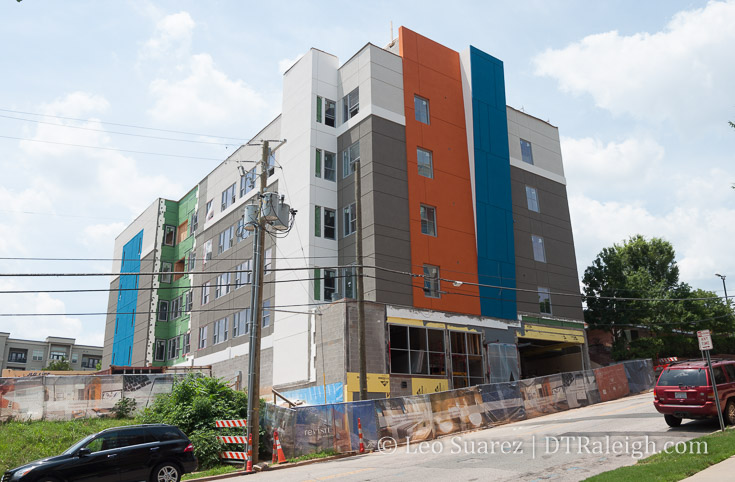 What we've been calling Boylan Flats turns out to be an extended-stay hotel on Boylan Avenue and they appear to be getting close to looking like they will open. Called Revisn, the hotel offers fully furnished residential units for stays longer than 30 days.
I'm not sure Revisn helps with the hotel room needs directly but it's certainly interesting that we may have a market for long-term stays in Raleigh. 30 days in a traditional hotel room gets old fast, I'm sure.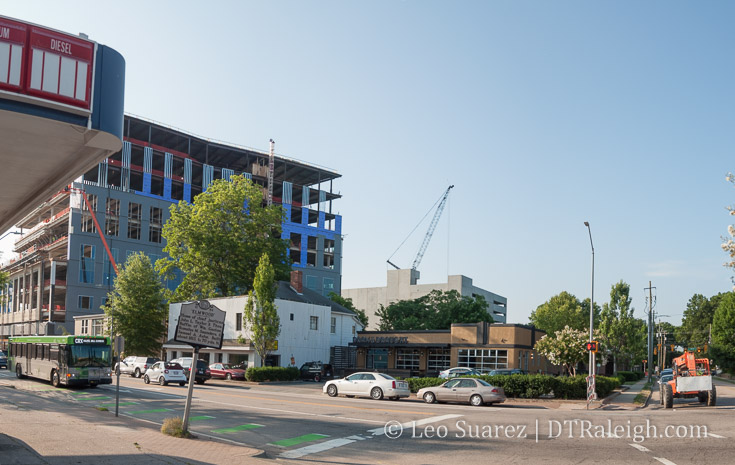 The southern end of Glenwood Avenue is mushrooming with new growth. In addition to One Glenwood and Two Glenwood, which we've discussed in the past, site plans were submitted to the city for Two Hillsborough, a 10-story tower for the same block as One Glenwood.
The plans indicate that the new development would replace the current buildings on the block. If I recall correctly this includes the two-story buildings along Hillsborough containing Stop Hunger Now and Audio Exchange, the one-story office building along Boylan and Morgan (not sure who's in there) and the renovated former Esso station with the bar, Dram and Draught.
Some maps.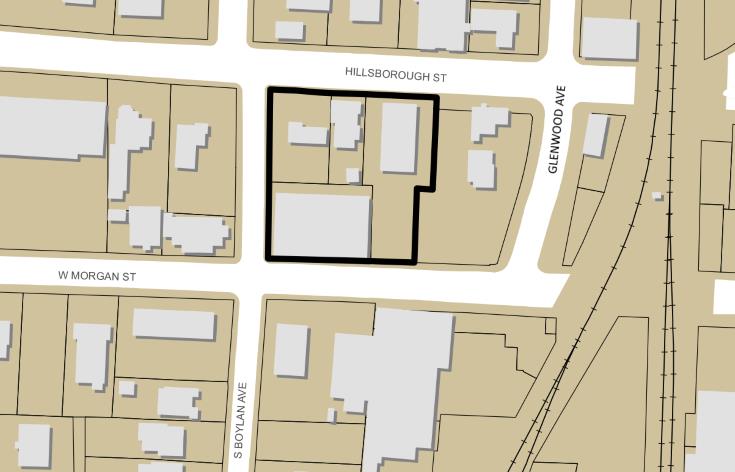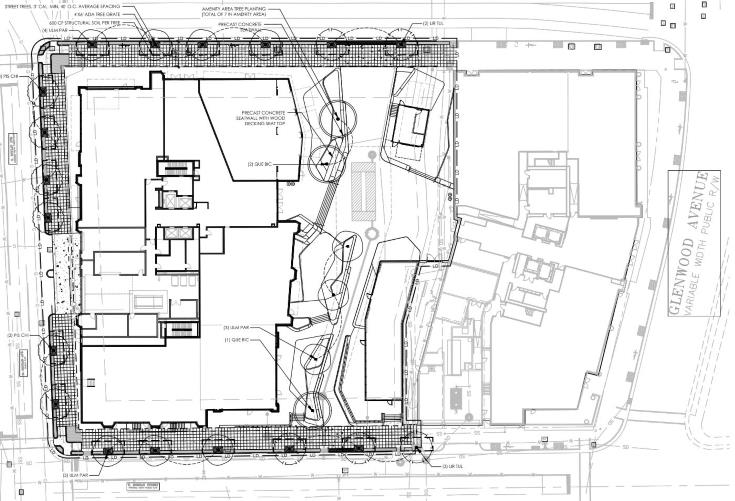 The mixed-use project is described as:
Development of 10 story, 275,000 sf mixed use building and two 1 story (4,850 sf total) retail buildings on 4 existing lots to be combined into one lot.
The site plans suggest that Two Hillsborough will be an office tower with ground-floor retail. One Glenwood, already under construction, plus Two Hillsborough will also have a courtyard in between the buildings with these additional retail stand-alone buildings. Gensler is the architect on this plan and it looks like they may be proposing a shipping container reuse for these one-story retail buildings.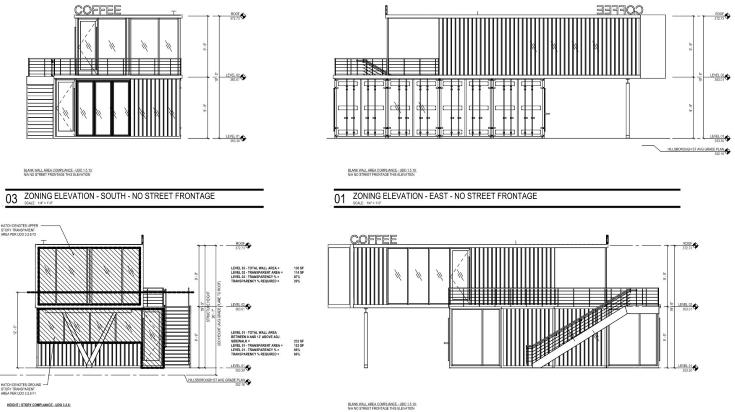 Parking will be off-site, most likely in the deck already under construction across the street.
The site is zoned for 12 stories so the pair of towers, One Glenwood and Two Hillsborough, seem like a perfect way to maximize that area. I'm happy to see another infusion of office space at the southern end of Glenwood South.
I will have to visit the old Esso station on the corner a bit more before it's possibly demolished. That building does ooze with Raleigh character and I hope Dram and Draught, if they have to move, can find a solid new home. With good architects, I think, and a much higher density plan in a transit-friendly area I can only be excited for the things happening on the 600 block of Hillsborough Street.
Discuss Two Hillsborough on the DTRaleigh Community.