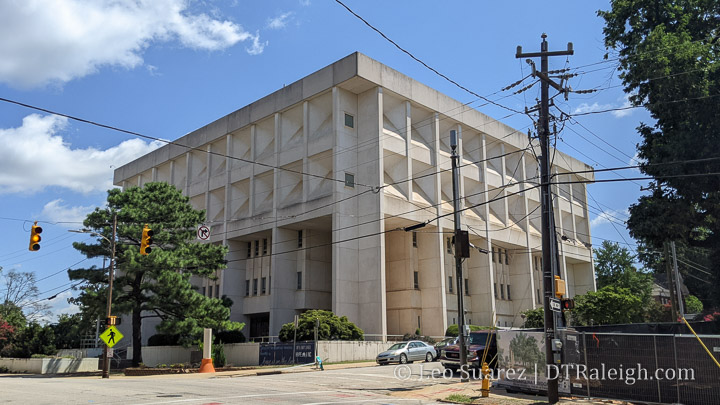 Adopted this July, the North Carolina Legislature's 2022-2023 budget has a few items worth noting for the downtown government office complex. Probably the quietest part of downtown Raleigh, the government complex is a collection of office buildings housing many departments that work and support the state-level government.
In addition to a few museums and the legislature building itself, the complex still operates on a 9-5 kind of mentality compared to the mixed-use nature of Fayetteville Street for example. There's zero ground-floor retail and very few adjacent housing units. Buildings are spread apart with generous front plazas and setbacks from the sidewalks.
Re-visiting the government complex is probably for another day. With the new NC budget, which you can view in great detail as part of House Bill 103 here, we may be seeing new buildings as well as the demolition of existing ones.
Downtown Education Campus
Talks of moving the UNC School System's headquarters have been going on for a few years now. The move would put the offices into downtown Raleigh and out of Chapel Hill in a sort of Downtown Education Campus.
As the budget states, a new building would be built to house offices for the UNC system, Community Colleges System, Department of Public Instruction, and the Department of Commerce. On the surface, the rationale is to bring these departments closer together for operational efficiencies.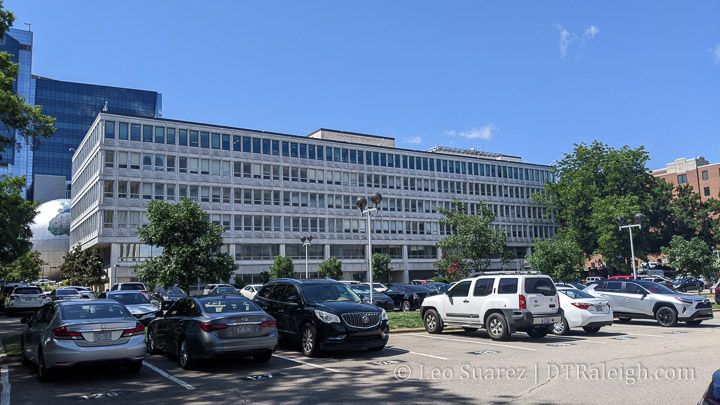 The targeted location for this building would be the Administration Building at 116 West Jones Street, shown above. Not only that, the existing building would be demolished with a new one built for the future education campus.
With the adoption of this budget, I take it plans are already underway to vacate this building with a deadline of July 1, 2023 and a demolition date before Oct 31, 2023.
The Administration Building was built in 1967 and is the only building on this block. It has surface parking on the northern end and is predominantly office space across its five floors. I don't have a sense of how much space the new education campus needs but with an entire block zoned for 12 stories, there should be plenty of space for a mix of uses, even a green, outdoor space.
Executive Headquarters
Requiring no demolition, a new building for the governor's staff is also mentioned in the budget. The building for "the governor's staff, state agency personnel and operations and chamber for Council of State meetings" should land somewhere in the parking lot across from the History Museum along Wilmington Street.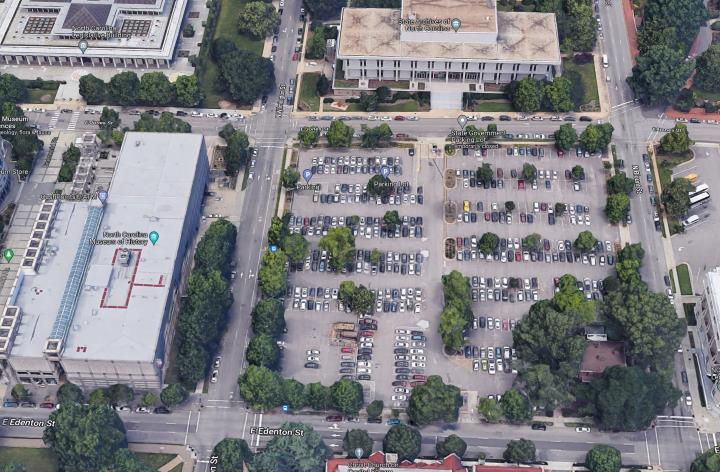 Planning and design will start soon because the budget also has a construction start date of July 1, 2023. The surface parking lots are zoned for up to 12 stories of development.
I also want to add that these initiatives executed by the state seem to follow a different development path than what I'm used to. Will we actually see demolition and construction on these dates? I have no idea.

On one hand, it's a big budget machine that probably just executes without thinking so it'll likely get done no matter the economic, political, or financial status of the day. On the other, I feel there's always some way to delay or cancel things. We'll just wait and see.
In addition to these bigger developments, instead of renovations, the Bath Building on Wilmington Street (shown in the top photo) is set to be demolished. Now I'm no architect but I'm told that the Bath building may be Raleigh's best example of brutalist architecture. Worth saving? I'll let you decide but the state doesn't have a good track record here I feel.
There's also about $5 million for renovations for the Old Revenue Building on Salisbury Street. I bet that's for interior work as the outside is still looking pretty classic.