Email readers: This blog post has a virtual reality image. Read the post on the blog to see it.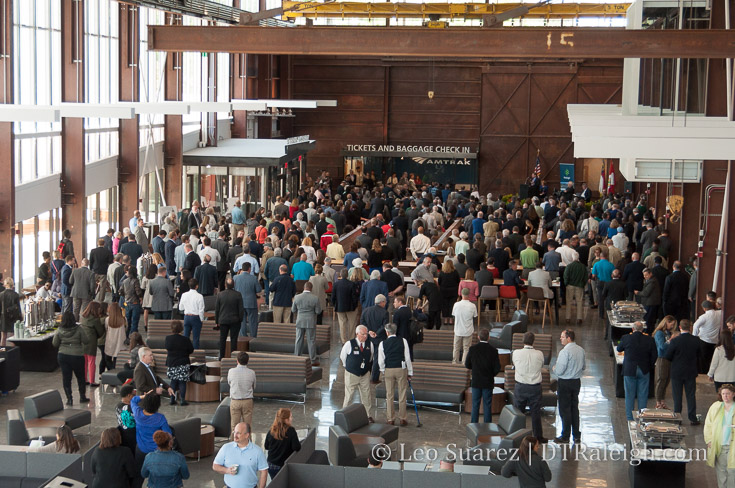 On Monday, April 30, 2018, a dedication ceremony was held for Raleigh Union Station. Current and former politicos, city workers, media, Raleigh city aficionados, and representatives from the railroad fandom gathered in the new station to celebrate the completion of the project.
Now that the station has been dedicated, it'll be put to use in June when Amtrak starts operating out of the new station with 10 daily trains. (up from 8 currently) Stay tuned for a city-planned event to continue to show it off to the greater community.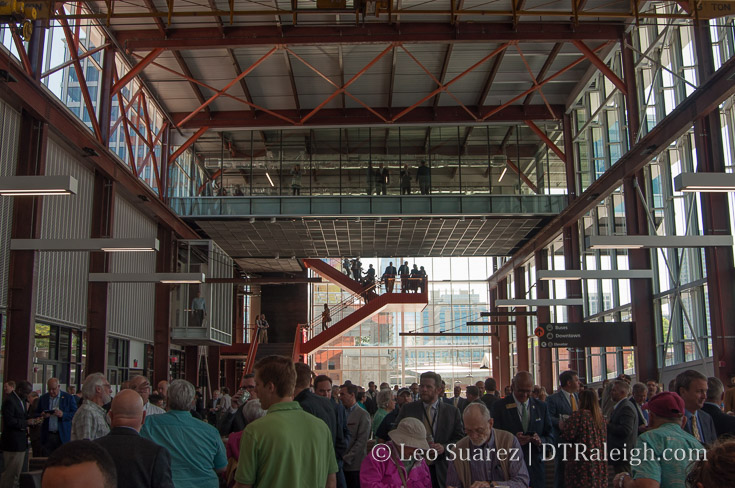 The new station is wide open with an abundance of natural light. The staircases are a joy to go up with each level showing a new view into and out of the station. The second-floor mezzanine facing north shows a unique perspective of the warehouse district and the Boylan Wye, perfect for train watching.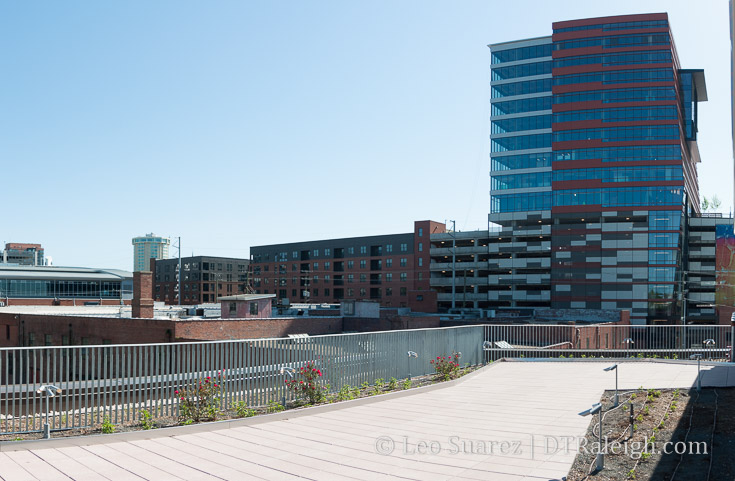 No doubt, Raleigh Union Station should impress and is such a wonderful gateway to our downtown and city. Expect more content in the near future as the station is up and running.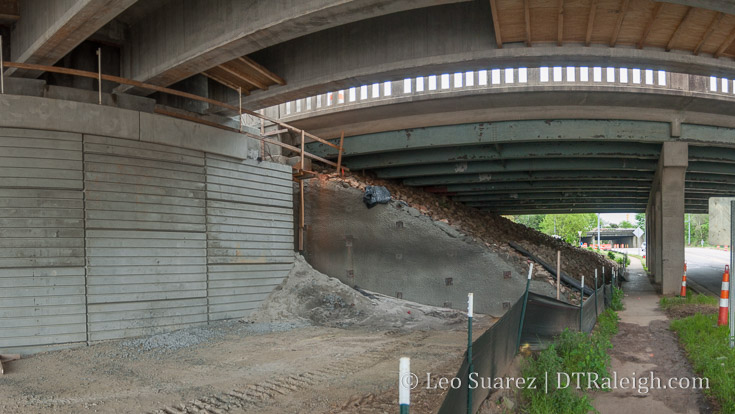 Here are some observations from a walk along Peace Street, specifically underneath the new Capital Boulevard bridge. The photo above shows the old bridge, on the right, and the new bridge, on the left. You can see with the upgraded design that a lot of space is reclaimed when you compare the old "rock mound foundation" versus the "concrete wall foundation" of the new. (like my technical terms?)
It's almost a vehicle lane, about 12-14 feet, on each side!
This made me pull out the map and below is the one shared from the NCDOT project page. When looking at it, up is West (peace going up/down) with Capital going left-to-right and the dark red being the new bridge.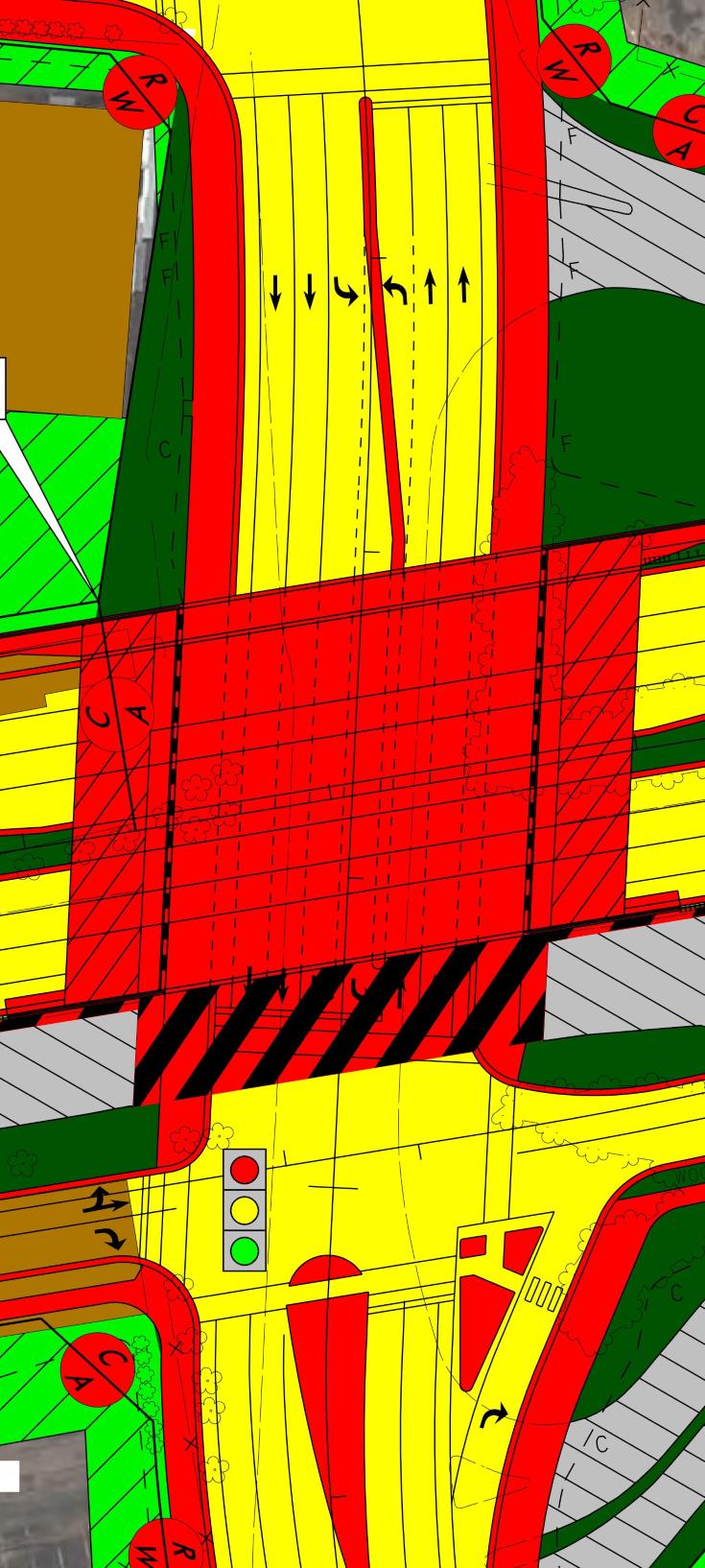 What is great to see is that while Peace is wider, it will still be a two-lane road just like today. The additional space is being given to turns lanes but also wider sidewalks and bike lanes. The bike lanes aren't very clear on this map but if you look hard, they are there.
I will say that some of the added road space is going toward center turn lanes also. Either way, the road has to slim down because the CSX bridge to the east isn't getting any wider.
Anyway, it's cool to see this come together one small piece at a time.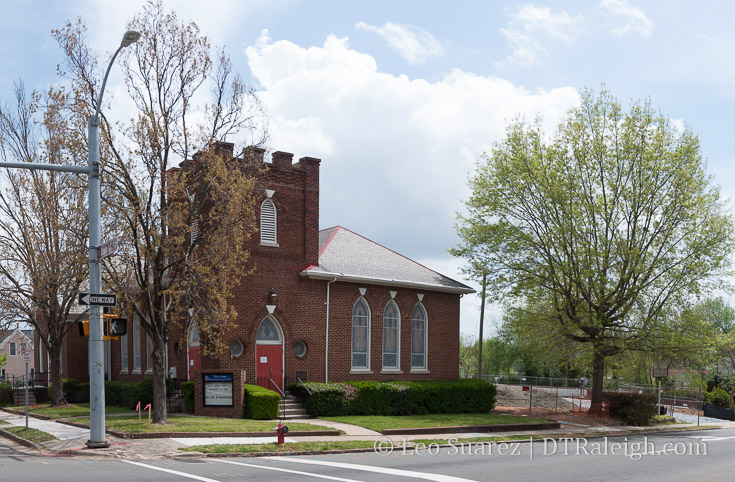 I found myself walking down Person Street one day and saw an excavator hacking at the Davie Street Presbyterian Church. As I do, I was curious what work was going on at this corner of east downtown.
From submitted plans on the city's website, it looks like the church is adding to their location. With a small back room being demolished, new space will be added here and throughout some of the surface parking lot along Person Street.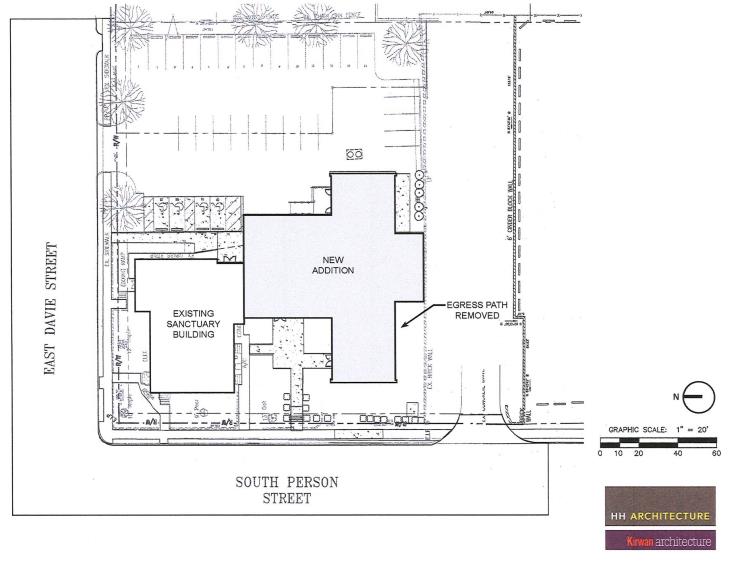 The churches in downtown have done a great job, probably the best job, of keeping their additions within character while using modern materials so I expect this new addition to match nicely with the historic sanctuary. Of course, I love to see surface parking eaten up for more people-centric uses.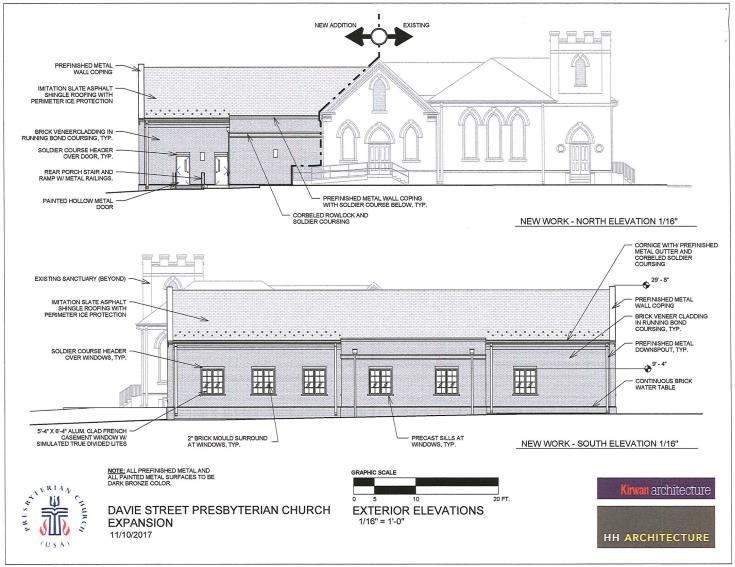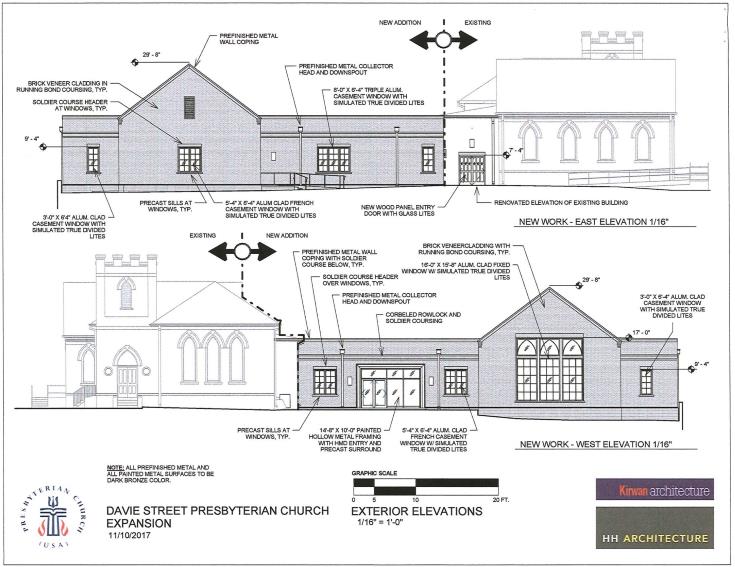 P.S. I have a growing affinity for the architecture of some of the churches in East Raleigh. It mainly comes from these crenulated towers. I'd love to work with someone with a better eye and love of Raleigh history to tell a story behind these. Examples include Gethsemane True Vine Holiness Church, Revelation Missionary Baptist Church, and Rush Metropolitan AME Zion.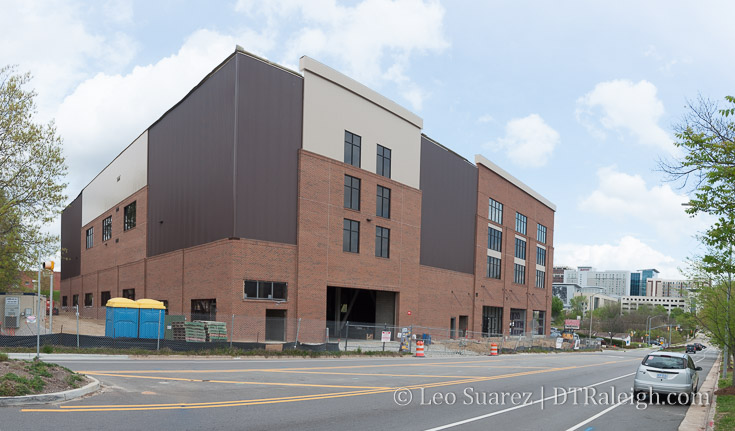 The storage facility being built on West South Street.
It could be worse.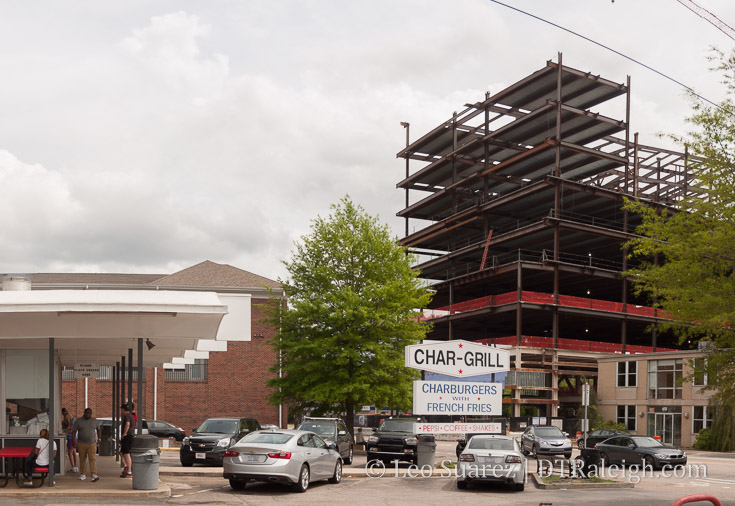 I've been enjoying the new feel on Hillsborough Street with all the steel going up at One Glenwood. This block will hopefully see an increase in pedestrian activity and pump more lunch seekers on the southern end of Glenwood South.
The former empty lot to tower conversion is some really great infill for downtown Raleigh and it's exciting to see it come along. Get out and walk that area if you can soon!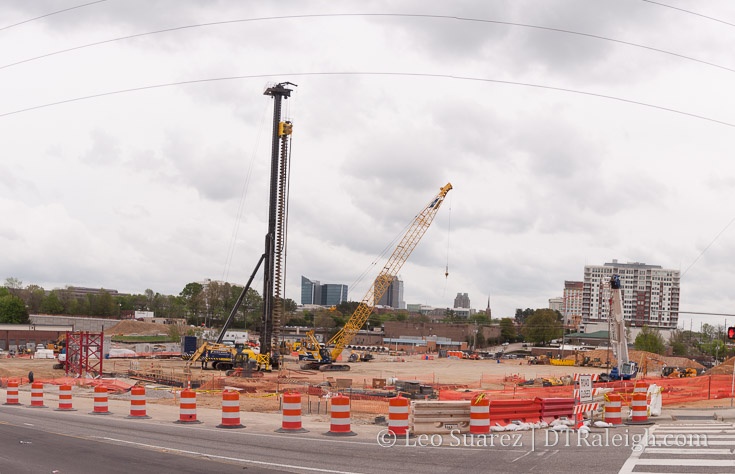 The photo above shows the site of Peace (unofficially Smokey Hollow), the 12-story apartment building planned at the corner of Peace and West Streets. Foundation work has been going strong for awhile and recently, I noticed the foundation for a tower crane pop up.
Seems like we'll be seeing this project rise up soon.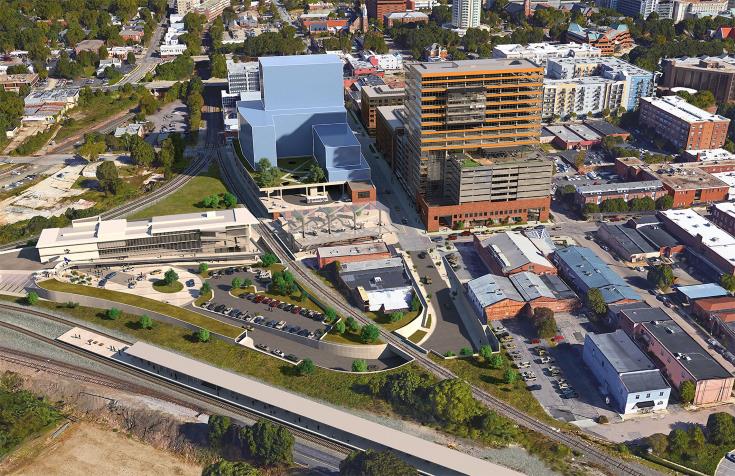 With a ribbon cutting date set (April 30 at 9:30 am by the way) for Raleigh Union Station, it is never too early to take a look at a new project nearby. For years, plans have been light about integrating buses near Union Station that there hasn't been much to post about. However, within Wake Transit's Fiscal Year 2019 Draft Plan, details arise about the bus facility planned next to our newest train station.
A hat tip to a long-time reader for pointing me to the rendering above, showing what such a bus station could look like.
Funded by the half-cent sales tax passed in 2016, FY2019 will allocate $700K towards design of this facility. This is in addition to $2.7 million for FY2018.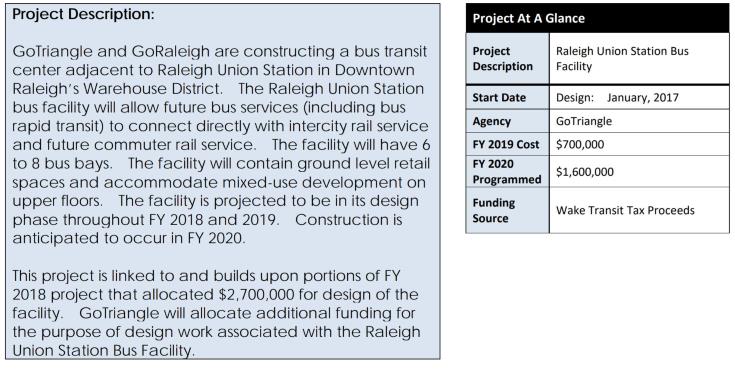 Located across the street from The Dillon and pretty much the only adjacent property to Union Station, I think it should not be a surprise that this building is set up for some major changes in the coming years.
The rendering, which readers should take with a grain of salt and is nothing close to final, suggests what a mixed-use bus facility could look like.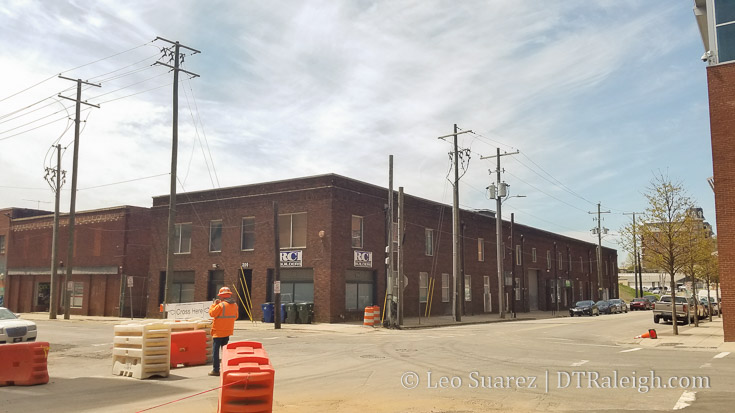 The Triangle Transit Authority already owns the buildings. With a zoning of DX-12, (Downtown Mixed use, 12-story height limit) I imagine a public-private partnership is in order to put some office, for example, over transit in this area.
I'd like to think too that The Dillon and nearby Citrix have also paved the way for how warehouse development can happen in the Warehouse District. There's no reason this facility could not attempt to keep some of the character that exists here.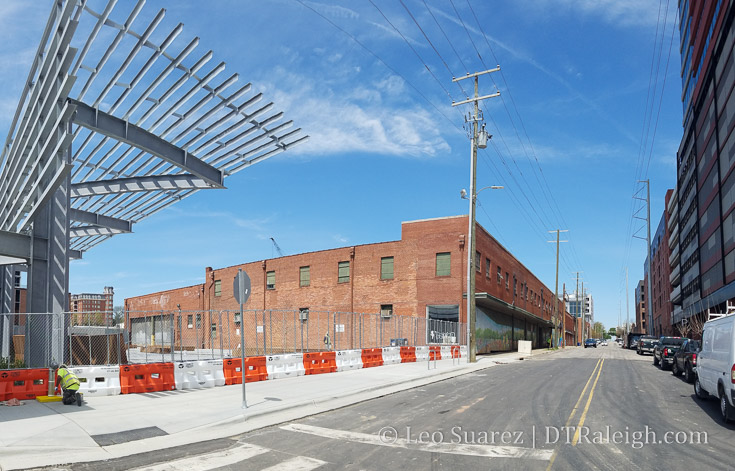 This area will truly be our city's transit epicenter and as the Wake Transit plan comes together through 2027, I see nothing but increased pedestrian counts here.
Coupled with all the changes coming to West Street (here and here) overall and how planners working on Dix Park want to connect downtown, these are all huge moving pieces that could really click in the future to make a great western side of downtown Raleigh.
Municipography is a summary of current issues going through the Raleigh City Council and other municipal departments in the city. The point is to try to deliver any video, photos, and text associated with the discussions happening at City Hall or elsewhere. Since this is a downtown Raleigh blog, the focus is on the center of the city.
I recommend email readers click through to the website to see the embedded video.
Discussion continues over a potential new development on Peace Street where a developer wants to build a boutique hotel. 615 West Peace Street, mentioned on the blog before, is zoned for 3-stories but after an initial application of 5-stories, negotiation with neighbors have dropped it to 4.
Shown above is the public hearing around this issue that took place this week and I think it's important for readers to watch. It gives you a sense of the council on density and rezoning cases.
On a positive note, I actually do think there is a sense of approving this but the council seemed to get into the weeds about the rooftop bar. A lot of the discussion focused on what can be done on a roof and some feel that a 4-story height limit in addition to a rooftop deck is basically the same as a 5-story building.
Here are the highlights if you don't want to watch the whole thing:
First few minutes re-introduces the issue as this is not the first public hearing. A history of the issue is given and an update on the latest conditions compared to current zoning.
During the support portion of the public hearing, I recommended jumping to 13:20, Sunny Miller speaks in the support of the nearby businesses.
At 17:38, a lawyer representing The Paramount HOA seems to show most concern over the rooftop amenities.
At 45:10, you can really get a sense of the possible frustration in the development community as the applicant tries to close with some final words about how long and costly the process has been.
At 46:45, enthusiastic support from Councilor Stewart.
For me, I find myself repeating myself when I say that I want the council to focus on bigger issues but instead are diving into the weeds of each case that's presented in front of them. I don't want to go off here but it just seems that if a council meeting wants to spend time on what the railings are going to look like, something is wrong.
Watch the video and decide for yourself. The conversation continues on April 17 as the council voted 7-1 (Stewart opposing) to delay a decision by two weeks.