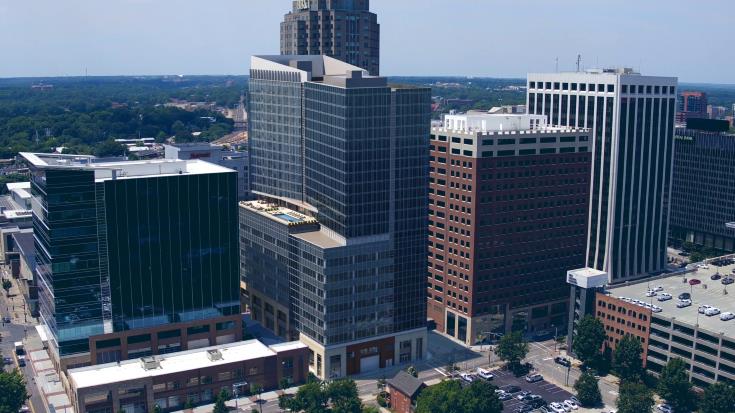 Over on Vimeo, there is a new video showing renderings of FNB Tower. This video is pretty cool and I can't wait to see work start on this project. This will make a dramatic change to City Plaza when finished.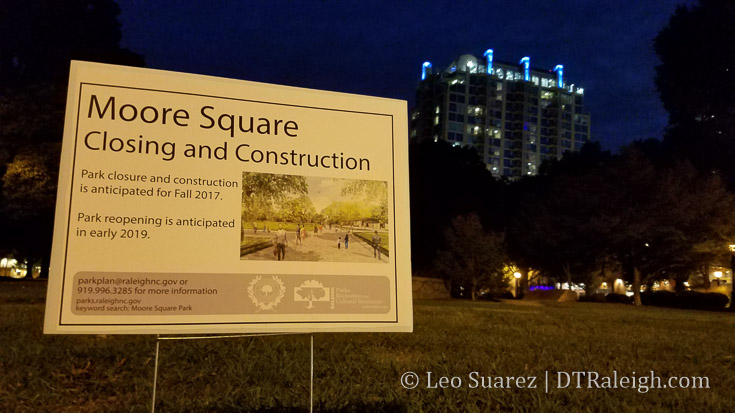 Looks like it is actually happening after so many years. Moore Square will close down this November and the redesign takes place throughout 2018.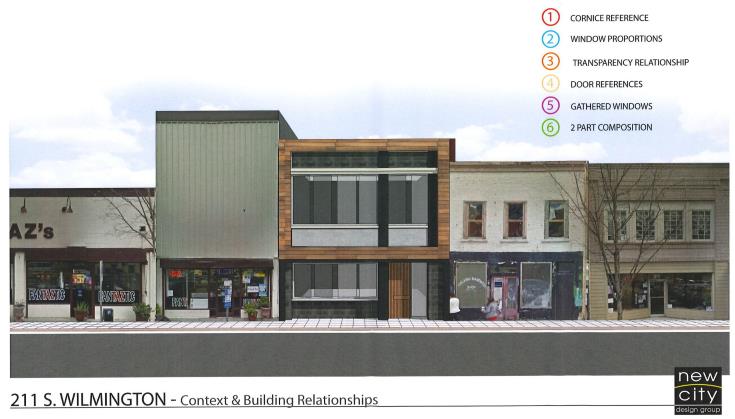 There's work taking place in the Moore Square Historic District that may see new life in older buildings.
Currently under review by the Raleigh Historic Development Commission is a new storefront for 211 South Wilmington. The building will be upfit with a new storefront that aims to maintain the scale of the district but with modern character. The plans, 128-17-CA, mention a two-story noodle bar for this space.
With the building being in a historic district yet featuring no major architectural features (from my unskilled eye anyway) I can't see any major controversy here.
For reference, here are the row of buildings today.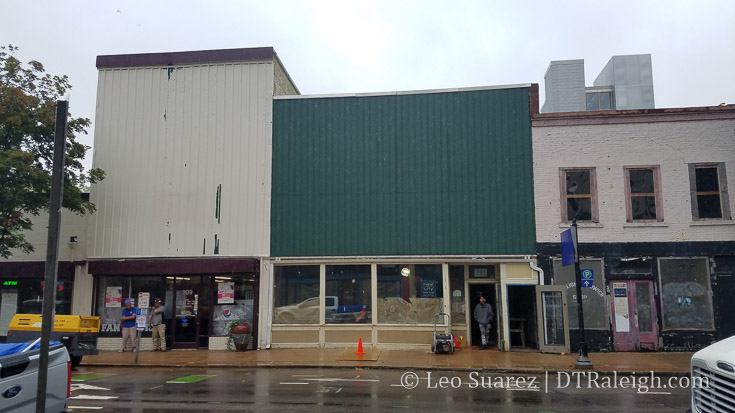 It's a shame that 211 South Wilmington didn't maintain its facade from the 1960s. The story of this building and the tenants that have cycled through would make a great follow-up.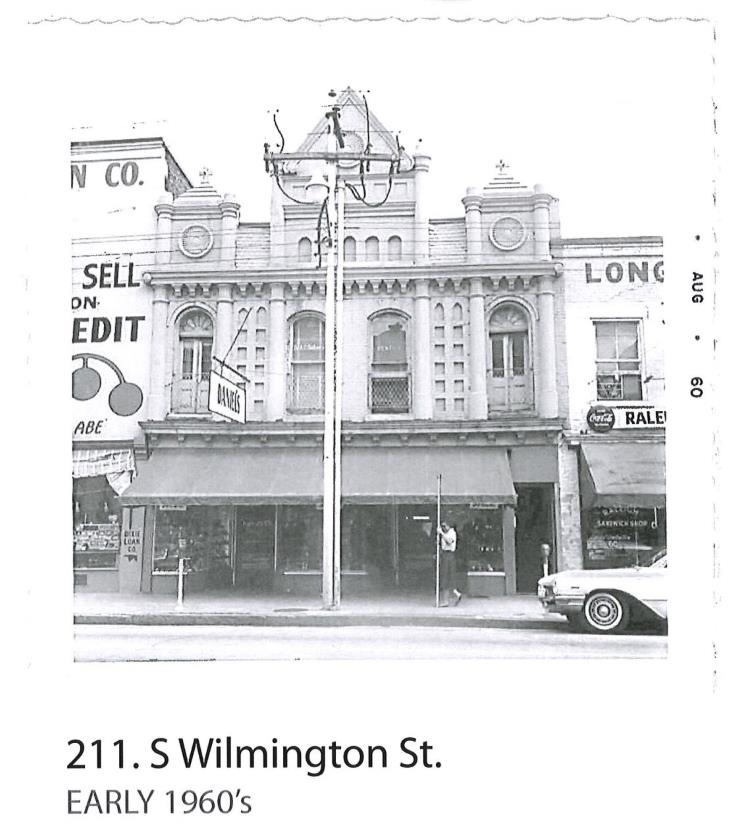 Around the corner at 107 East Martin, could something finally be moving in? This spot has been an empty shell since Raleigh Printing closed. (moved?) If anyone can remember when that happened, let me know but I want to say it was at least 10 years ago.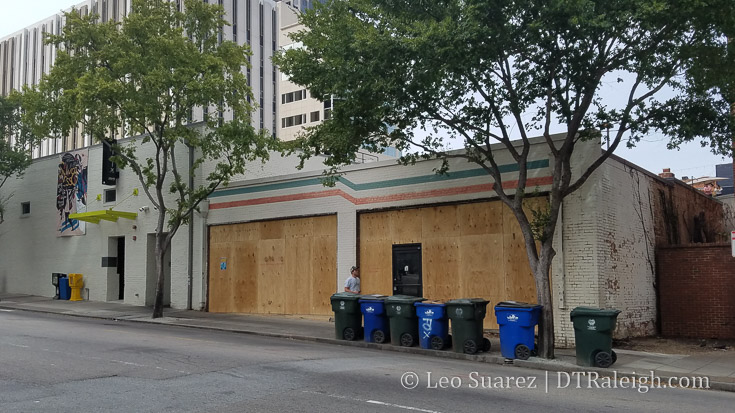 I'm happy to see some of the older buildings getting new life as these add diversity to our urban environment and play a huge role in keeping downtown more interesting.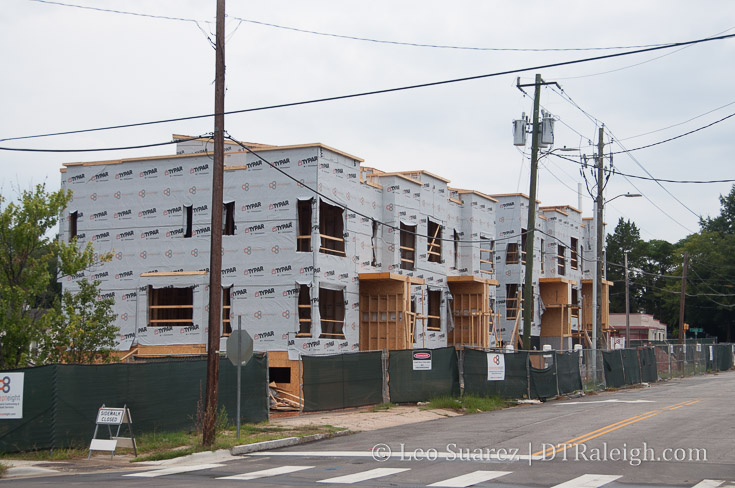 The townhomes called West + Lenoir are taking shape along West Street. The units are almost all sold at the time of this writing.
If you spend time in downtown Raleigh, it's not hard to run into historic photos of our city. Restaurants, shops, and offices have been getting photos from the State Archives office and framing them as part of their renovations and presence throughout the growing times of downtown Raleigh.
These photos are maintained, labeled, and identified by the good folks at the State Archives office. A local star among these efforts is Karl Larson who has done great work in helping to identify photos and where they may come from.
His detective work is top notch and this new Indiegogo campaign was an easy one for me. I encourage you to take a look and consider it if this kind of work is important to you.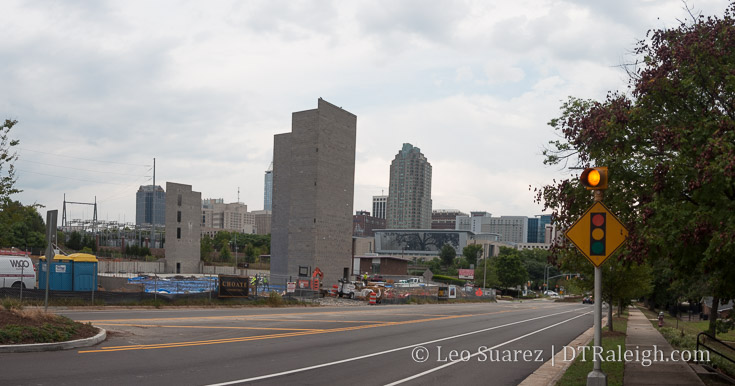 The NitNeil Partners storage facility on South is starting to take form. The four-story project will, fortunately, be much more urban in form than the newer ones popping up on Capital Boulevard. Just take a look at their rendering below.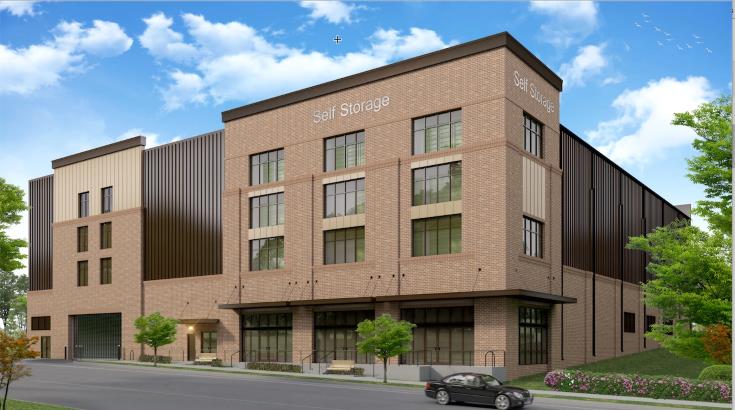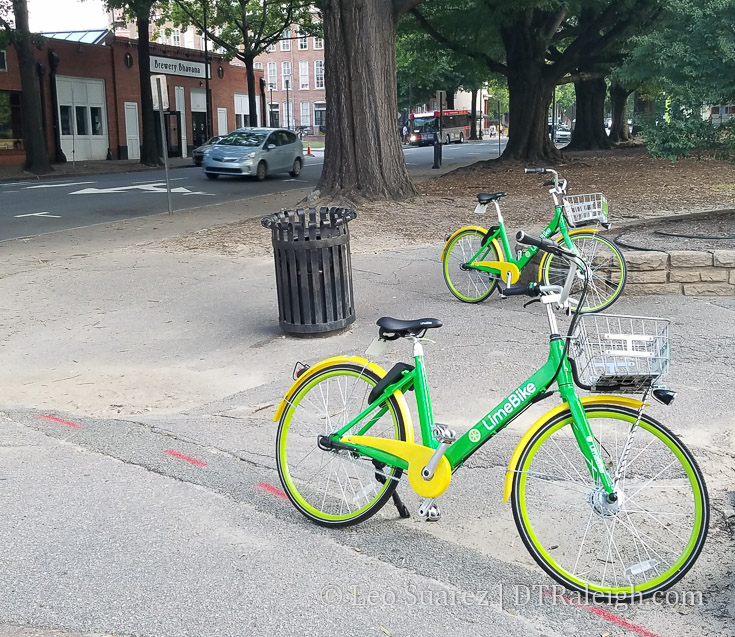 With so much attention going to the city's bikeshare system, planned to launch in Spring 2018, this was somewhat of a surprise for me. NC State helped launch a private installation of Limebike a few weeks ago and recently, the citrus-colored bicycles have been spotted around downtown Raleigh.
I couldn't help myself, I just had to try it. There was no signup fee and a 30 minute ride was only $1. (after my first free ride of course)
This system does not use any docks and relies heavily on the use of a smartphone app to help you get to a nearby bicycle. When I went out to use one, I couldn't find the first but found a pair two blocks away. With a quick barcode scan, the bike was unlocked and ready for use.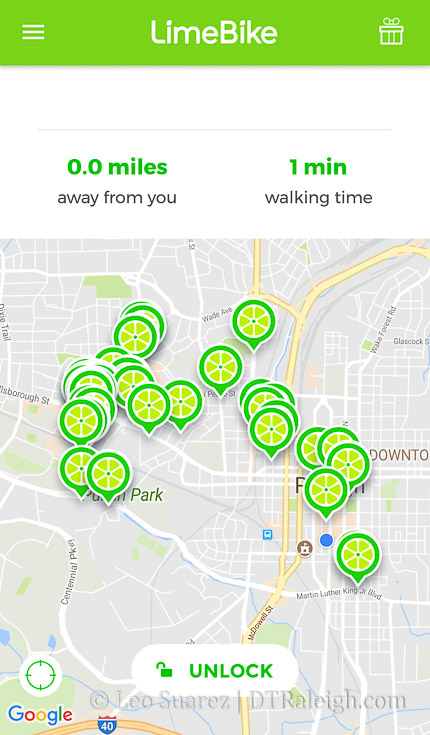 In theory, I could park it anywhere, allowing others to just grab it for their own ride. The site encourages you to park it where there is existing bicycle parking so after showing it off at home, I rode it back to the nearest park to leave it.
The experience was quite delightful, even with a cheery jingle when the bike is locked and unlocked.
There is cause for debate here. With these bikes around Raleigh and a second system coming next year, I believe this changes the dynamic for bikeshare.
In my book, this is not the most ideal system, fragmenting the user base and causing a poorer user experience. Limebike's reach won't be as wide as the city's system so there is overlap as well as individual coverage areas. To get the most, you need two apps, two sets of rules, etc.
That may seem simple to transit fans but we're trying to get adoption by as many people as possible. It's hurting the mission.
At the same time though, we may be in an experimental phase where the two systems can duke it out for user preference.
Either way, riding bikeshare in Raleigh has me excited and I hope for a far-reaching system with a plethora of options one day in the future. It'll be fun to watch.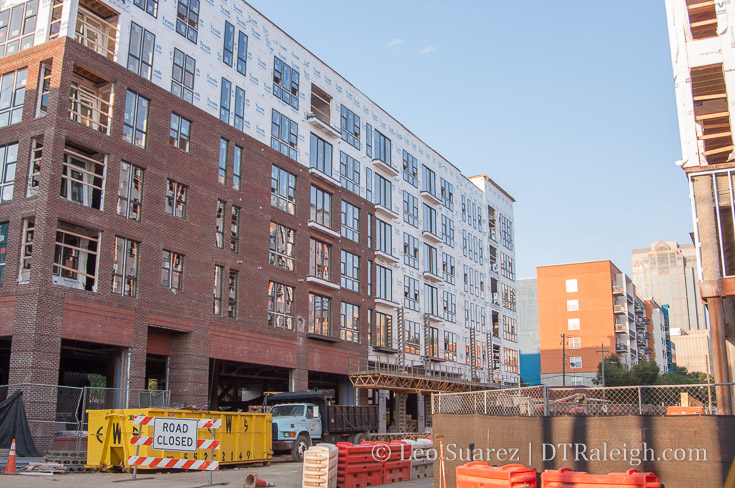 It hit me recently during a conversation in a downtown coffee shop that The Metropolitan apartments would have seen residents moving in this month. If you don't know the history, the project, while under construction, met an unfortunate fate and went up in flames in March of this year.
The developers plan to rebuild and the site is currently being cleared.
If it wasn't for the fire delaying the delivery of The Metropolitan, we could easily see the end to the multi-unit, mid-rise apartment product line in downtown Raleigh. At least for the foreseeable future.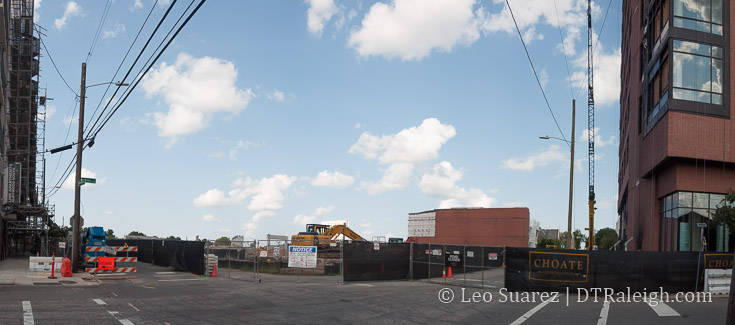 Barring any new project announcements, the apartment pipeline would have ended with The Dillon opening in 2018. Taking a look at the latest list of projects released by the Downtown Raleigh Alliance, we can see that there are no planned projects similar to these.
To be clear, I'm referring to the 5-7 story, wood-construction buildings with a larger footprint. Typically to make these work, developers have had to acquire multiple properties and combine them.
That's not to say the residential projects aren't flowing. The product is just changing.
Smokey Hollow plans to bring 445 residential units in a 12-story building on Peace Street. FNB Tower will mix up office and 247 residential units across 22 stories. 400H will also mix office and 220 units in a 20-story building. Details are still light on 301 Hillsborough but with a similar style to the other projects there's no reason to guess that more residential units could be included.
That's 900 units across three projects right there.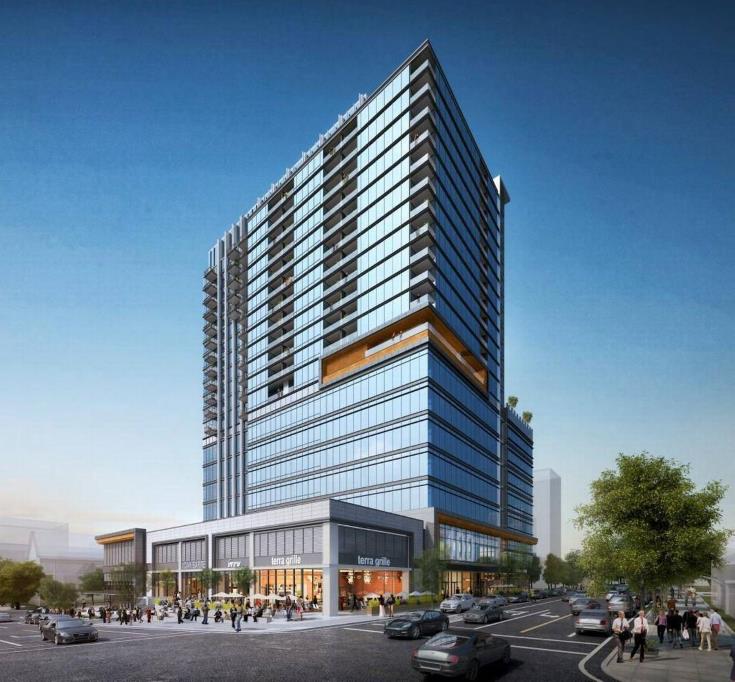 The other side of the picture is the rise in townhome projects. These are adding infill to the periphery of downtown. Currently under construction, we have:
115 townhomes are in the works and more are in the planning stages.
Perhaps we're at a point where combining multiple parcels for large footprint developments isn't economically feasible for mid-rise buildings. There could be other changes in the market that are affecting this. Downtown could also be much more livable than before, enticing buyers to purchase units than rent.
Maybe there is a hold on projects as plans for a downtown soccer stadium and big infrastructure changes to Capital Boulevard need to pan out for developers to pitch new projects.
You could look at it from a lot of angles. It's certainly a great topic to discuss.