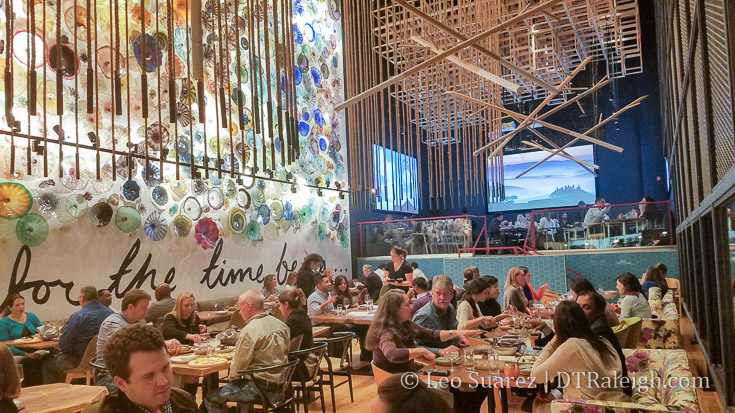 For this restaurant update, the energy seems to be building in and around Moore Square. There are a few delicious places to try now as well as ones to look forward to this year.
For a complete list of eats, drinks, and coffees in and around downtown, make sure to bookmark the DT Eats page. Try something new!
We'll first start out in Glenwood South as LM Restaurants has delivered a very unique experience in Vidrio. Located at the corner of Tucker and Glenwood, Vidrio is one of LM's platinum restaurants and a truly Mediterranean experience. The place impresses for sure.
The Cardinal, a house turned bar on West Street north of Peace Street, is now open. In addition to drinks, they serve cheap hot dogs, which are pretty good actually especially with a great view of downtown Raleigh.
Cafe Helios has closed and in its place, the folks behind Jose and Sons, a Mexican restaurant in the warehouse district, are creating a new concept called The Cortez Restaurant.
A craft beer bar, with the sign suggesting it will be called, "Craft Beer Bar", is going into the former Eden Lounge and convenience store near Glenwood and Hillsborough Street.
Work continues on a new bar called 616 Glenwood in the former Harry's Guitar Shop.
Tobacco Road Sports Cafe has now reopened on Jones Street, where Natty Greene's used to be in the Raleigh Electric Company Power House.
In their former location in the 222 Glenwood building, La Santa Modern Mexican is planned. You can follow their progress on their Facebook page.
On Hillsborough Street, The District is now open in The Dawson.
Hopping over to Fayetteville Street, the quick turnover of Bolt Bistro into Pizza La Stella is finished and the new restaurant is now open.
Tir Na Nog is back! After closing from their long-time home on Blount Street, the bar is back open on Hargett Street next to The London Bridge Pub. Last I was there, it was a bar only with plans for additions and a small food menu in the near future.
The Busy Bee has closed but quickly changed concepts to Trophy Tap and Table, which is now open.
Another change on Wilmington Street, Joule has closed and a new concept is in the works. St. Roch Oyster + Bar is being worked on and you can follow them on their Facebook page.
Cursed location? The restaurant space in the bottom of the Progress Energy building is turning over again and Tulum Restaurant and Bar, a Mayan-themed restaurant, is close to opening. You can check them out on their Facebook page.
Scott Crawford's new place, Crawford and Son, is now open on Person Street.
Ending the tour at Moore Square, Royale, an American bistro, is now open at the corner of Blount and Martin Streets. Check out the Royale burger below.
You can now get gelato, and crepes and waffles all at the same time by the way, in downtown at Amorino, which is now open along Davie Street in The Edison.
City Market Sushi has opened on Blake Street in City Market.
The Outpost, a tiki-themed bar at the corner of Hargett and Person, is now open.
The segway shop Triangle Glides moved out of their large space along Blount Street. A new restaurant is coming there from those behind the Pho Nomenal Dumpling food truck called Mofu Shoppe. Follow them on Facebook.
Sitting empty for years, the retail shop in The Edison parking deck facing Blount will now have a tenant. Growler USA is craft beer pub chain that is rapidly expanding and will open their first Raleigh location here.
Brewery Bhavana, the brewery and dim sum restaurant, continues to come along.
Raleighwood Provisions, a local foods store located in The Edison, continues coming together. You can follow them on Instagram and if you haven't, read about them in this N&O article.
A new coffee shop called Sir Walter Coffee is planned for, you guessed it, The Edison building. They claim to be a coffee, tea, and bottle shop.
Downtown's Taz is getting close on Oak City Market House of Fresh in the Skyhouse Tower. The place will be a small market and deli. They are now hiring. Take a look here.
Similar Posts:
Comments
Comments are disabled here. That's because we're all hanging out on the DTRaleigh Community, an online forum for passionate fans of the Oak City.