Tubes of Light by dtraleigh, on Flickr
2011, what will we remember you by? All-star weekend or Hopscotch 2? Could the food truck saga of this year be the one that sticks out in your mind? Or perhaps, if affected, you may still be dealing with damage from the April tornadoes?
On planning downtown Raleigh, this past year has been pretty active with long range plans becoming more detailed, less alternatives, and more decisions. Missing was another Raleigh Wide Open but there were plenty of events that kept spirits high. One of the biggest feather in downtown's hosting cap was the 2011 NHL All-Star game, bringing a new format from years past and was reviewed very positively across the hockey world.
As always let's first start with the 2011 wishlist. This list only consists of items that can be done in one year's time.
Bookstore
More Hours
Counter Service Food
Food Markets
Mass Transit Plan
For a second year in a row, a bookstore has not happened. Reading articles about Amazon selling a million Kindles a week this holiday season really isn't helping new bookstores open especially an independent store in a relatively low traffic, downtown area. Probably the best thing is for downtown residents and workers to support the Wake County express library on Fayetteville Street. The library is open Monday to Friday from 10am to 6pm so if you can work it into your schedule, give this location a shot.
I feel some businesses have tried to expand their operating hours this year. I didn't keep track of this one very well so correct me if I'm wrong. A few examples that I can think of are The Pit opening on Sundays, Wilmoore Cafe having weekend hours, Poole's Diner opening on Tuesday nights, and Mecca adding some hours as well. The wish really is to get to the point where downtown Raleigh is "open for business" at all times of the day and night so that people feel there are several options available to them. This pushes the 24/7 idea closer to reality.
Counter service food options are still out on the horizon. Chuck's attempted counter service but later changed it due to requests. Perhaps more residents in the area will help expand the quick and cheap eats category options.
The downtown Farmer's Market continued to serve up City Plaza each Wednesday this year during the warmer months, just like the last one. This is probably the closest thing to market style food buying that we're going to get for awhile. There is however a produce shop over in City Market that a lot of people don't know about. Walk over there and give them a try if you are into Farmer's Markets.
There was plenty of transit talk this year and plans are taking steps forward. In light-rail news, the city picked their preferred alternative which involves a light-rail line to enter downtown from the west on Morgan Street and hang a left on to Harrington Street to exit downtown to the north. A comprehensive bus plan has also been released with plans to significantly expand bus service around Raleigh and the rest of the Triangle. High-speed rail is also moving along with a new plan to bridge the trains over Capital Boulevard into Glenwood South as they head for Union Station in the warehouse district.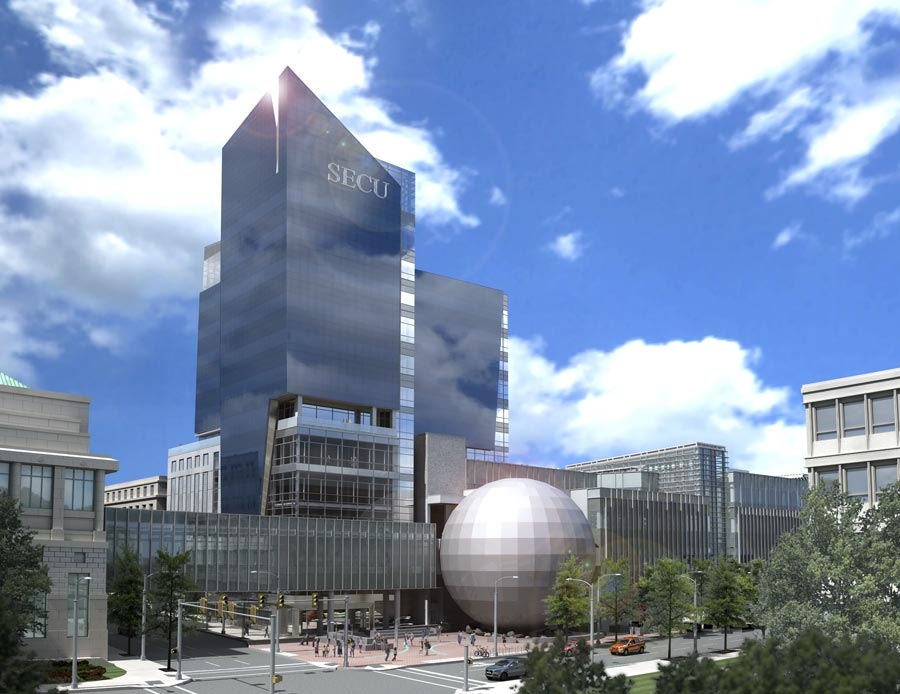 Construction in 2011
New building construction moved along in 2011 with projects continuing to take shape or break ground. Here is a list of construction projects we've been following all year.
Go here for a gallery of renderings of SECU and Green Square.
Other highlights of 2011:
Numerous electric vehicle chargers have been installed around the city with several in close proximity in downtown.
A large scale development project, The Edison, has scaled down tremendously.
The still empty lot where The L Building is planned now contains attractive banners to cover up the gray wall of the parking deck.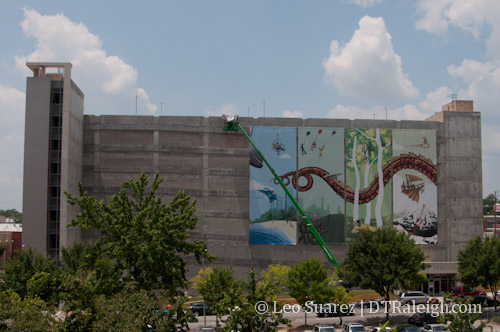 Similar Posts:
Comments
Comments are disabled here. That's because we're all hanging out on the DTRaleigh Community, an online forum for passionate fans of the Oak City.