Happy Fourth of July 2018, #Raleigh!

Since downtown's fireworks were abandoned this year for the fairgrounds, I decided to head to Knightdale to look back on the city. This year's "fireworks with the Raleigh skyline" made possible by Raleigh citizens launching their own. pic.twitter.com/KJ7GFLro7K

— Matt Robinson (@metroscenes) July 5, 2018

See tweet by @metroscenes of fireworks with the Raleigh skyline on Twitter.
Ten years ago today, there was a dedication ceremony held on the roof of our city's tallest building. The spire of the PNC Plaza, then called RBC Plaza, was lit up for the first time. As I noted in this August 2008 post, then RBC Bank CEO Scott Custer said:
The lighting of the RBC Plaza is a symbol of the progress of the revitalization of downtown Raleigh.
Ten years have gone by and the 33-story PNC Plaza is still the tallest building around. That could mean a number of things. Some of us may measure progress with height and flash while others with amenities and vibrancy.
A lot has happened over the last ten years in downtown Raleigh including a great recession that scrapped plenty of projects that may have joined PNC Plaza's height. A wave of apartments has crashed in downtown Raleigh since then and PNC Plaza remains the only building with residential units at that height.
You could say PNC Plaza was the end of an era.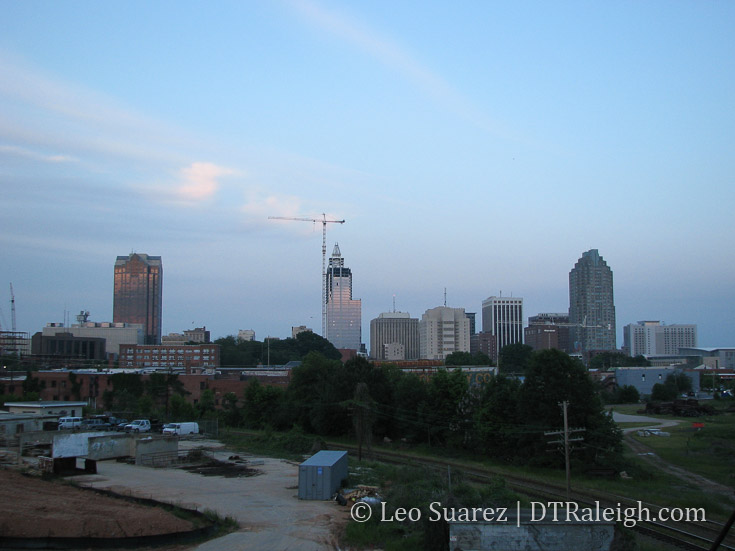 While height above 30 floors doesn't seem to be something popping up in and around downtown Raleigh since the completion of PNC Plaza, downtown continues to deliver new buildings that are filling in around her. People keep moving here and new businesses continue to open up here.
I'd like to think that the PNC Plaza spire lighting up ten years ago wasn't exactly a symbol of our revitalization but rather the homing beacon for future newcomers. It's also a welcome home sign to long-term residents journeying back.
It may be hard to spot but you can see it with the right window seat when landing at RDU at night.
It's become a part of our home.
Here's hoping we never miss a night with that light off.
Come discuss this and other downtown Raleigh-related topics on the DTRaleigh community.