It's been a slow news week but RalCon strives to keep posting as much as possible. Pictures have massively been lacking but we can make it through the slump. Some travel plans over this summer have pushed back my purchase of a new camera. Once I get it, you'll be begging for me to stop posting pictures. Until then we can still discuss other topics.
Summer is here and you can start to really feel the heat. This only means that it is time to relax from all of that stress at work by chilling next to a pool.(besides relaxing by reading a RalCon post while at work, right?) I hope most of you like to hang out by a pool as much as I do but this amenity is hard to come by when being in downtown. I decided to go through a running list of the aquatic features currently open or being built downtown.
RBC Plaza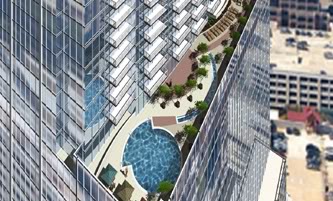 Up high on the 23rd floor, this pool should be a very cool feature for people living in RBC Centura's national HQ's building. Tenants on the south side of the building will be able to look over their balconies at people getting or trying to get tan. High diving from your balcony is not recommended. Coming summer of 2008.
The Tucker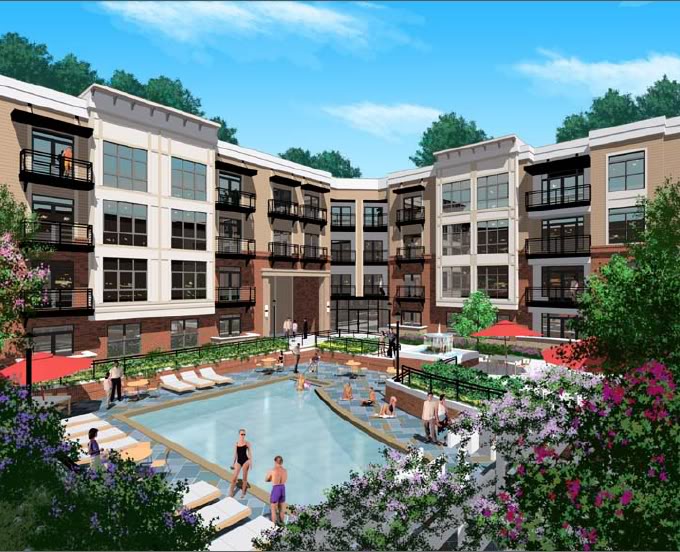 With the lower priced condos at this Glenwood South project, the pool will be covered with kids out of college, enjoying life out of school and less responsibility on the weekends. I may have too much fun if I lived here with a pool and Glenwood down the street. Coming summer of 2009.
West at North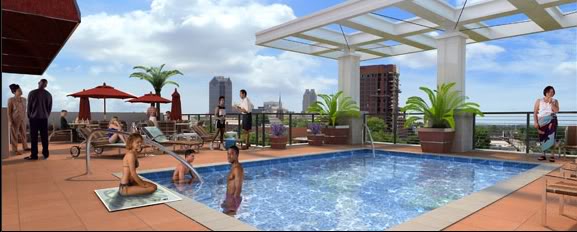 Another Glenwood South project. This pool is 16 stories up above; you guessed it, West and North Street. Even though I vote this building to have the most unoriginal name in downtown, it earns pretty high marks and I'm excited about it being built. This may be the hardest pool to get to, if you do not know someone living there. Anyone? Coming late 2008
The Paramount
I have always had a hard time finding any information about the Paramount. The high prices just don't work with me, I guess that is what it is. Anyway, I have to link it over to Raleighing for a tour of the building and pics of their pool.
The Lafayette Boutique Hotel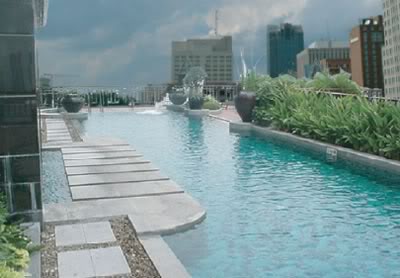 I have not found any concrete plans for this building or the rooftop bar/restaurant planned for this high-rise hotel. The pool is rumored to be a part of it and this rendering came out sometime last year. I think it will easily have the best view of Raleigh……if it ever gets built.

The Raleigh Municipal Fountain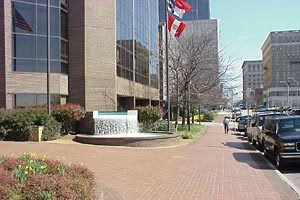 This little oasis is probably the most accessible of them all and is downtown's only hot tub. Some have criticized its small size but it is not the size of the pool that matters. It's the rushing waterfall that massages out my arms from lifting too many pints at the flying saucer. Open daily.
[UPDATE: 10-18-07]
The Hue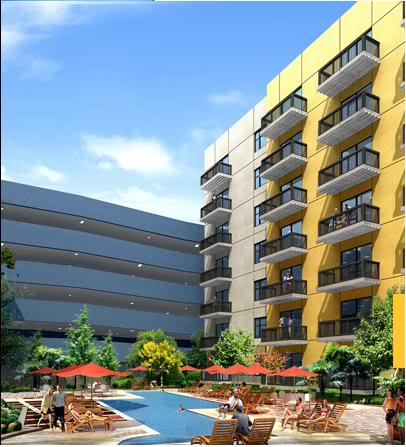 This cozy little pool will be wrapped on three sides by 7 floors of condos. To finish it of is a nice parking deck. Oh well, better than nothing.
[UPDATE: 6-11-08]
222 Glenwood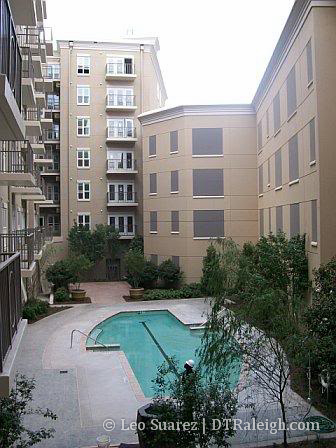 This post is just plain fun to update. Here is a new image from the 222 Glenwood pool. It looks pretty slick and the squares on the parking deck wall are a nice touch.
Thanks, Ashton!