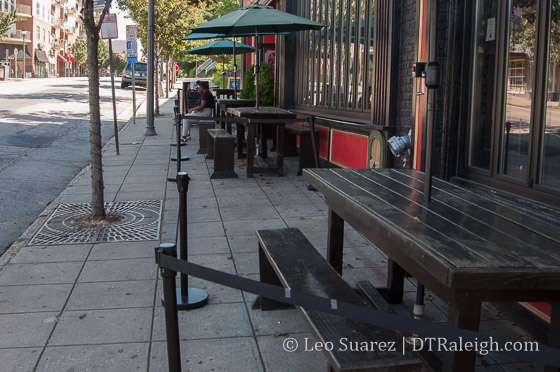 Municipography is a summary of current issues going through the Raleigh City Council and other municipal departments in the city. The point is to try to deliver any video, photos, and text associated with the discussions happening at City Hall or elsewhere. Since this is a downtown Raleigh blog, the focus is on the center of the city.
I recommend email readers click through to the website to see the embedded video.
I don't know about you but I am actually pretty relieved that these two issues, downtown parking fees and the outdoor seating ordinance, are winding down. It's amazing to see how simple issues like these really get the emotions flowing in people and create some bad press for our downtown.
Let's put these to bed.
Downtown Parking Fees

If the embedded video doesn't show for you, click here.
The above video has the council discussion. We recently talked about the proposed 7-day parking fee for the city-owned decks that was already approved and in the latest city budget. City staff also worked to come down on the hours of this fee to work with the concerned business owners.
In the end, a pretty fair plan of implementing a flat $5 fee for Friday and Saturday night starting at 5pm would go into affect at the end of this year. To clarify, if someone comes into a deck before 5pm on Friday, they are subject to paying the same rate as before (pre-5pm hourly rates) and then if they leave after 5pm, they must pay the additional $5 fee. That closes the loophole of parking at 4:59pm and not paying anything.
I asked David Meeker, a downtown business owner who worked with the city on these parking fees for his thoughts.
"City Council realized businesses would be affected by the parking fees. They ended going further than the businesses wanted to go but not as far as staff wanted them to go. It's a true compromise that will get the decks cleaned up without putting anyone out of business," says Meeker.
Outdoor Seating

If the embedded video doesn't show for you, click here.
In the video, you can see the presentation that gives some thoughts about what we've learned after the 90-day trial of the new ordinance around private use of public space. Reductions in overcrowding of sidewalks, pedestrian access issues, and enforcement issues were listed as some of the measurements for success with the new ordinance.
When looking at a snapshot between this year and last, what are called "quality of life" issues were at a decrease. Issues like littering, alcohol violations, sleeping in public space were among the list. It wasn't clear that the new ordinance was the cause but the way the presentation came out suggested that it could have been a factor.
After the presentation and discussion, the following motion was approved:
Change the Friday and Saturday night outdoor seating hours to end at 2am instead of the 1am during the trial. Sunday-Thursday would remain at 12am.
Ask city staff to further look into the need for the one person per 15 square foot rule.
Ask the Raleigh Appearance Commission to take a look at outdoor signage, stanchions, and furnishings to see if they can make a recommendation.
Hire two more inspectors to participate in enforcement.
I still don't see the need for "roping in" (if you will) the outdoor seating on Sunday to Thursdays since there were no problems on these nights but perhaps that can be seen as a compromise.
A lesson learned here is how important it is to communicate with our business community on any slight changes to permits. From the city's point of view, it may seem like a good move to test a new change for 90 days but at the same time, you are tinkering with business revenue. I'm a huge supporter of doing things on a trial basis but this one resulted in tens of thousands of dollars lost, as reported by some businesses.
Like I said earlier, I'm glad to move on from this topic but looking back, this was just not handled very well and a lack of communication was the main culprit in my opinion.