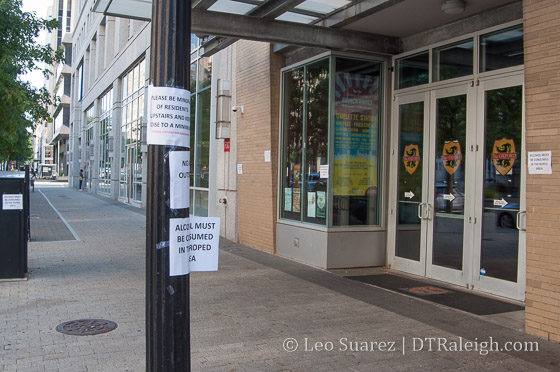 I took the photo posted above, click for larger, this past Saturday morning. I was out for a walk and Fayetteville Street is littered with these cheaply printed signs that say, "No Alcohol Beyond This Point." How many can you count in that photo?
I had to sigh and this is yet more ugliness coming from this sidewalk seating ordinance. It's literally ugly as these required signs basically tell visitors on Fayetteville Street, "Hey, this is a pretty crazy drinking street and not a pleasant place to be."
I was irate recently to see that the new ordinance forced businesses to consolidate their seating against the building. Ugliness resulted.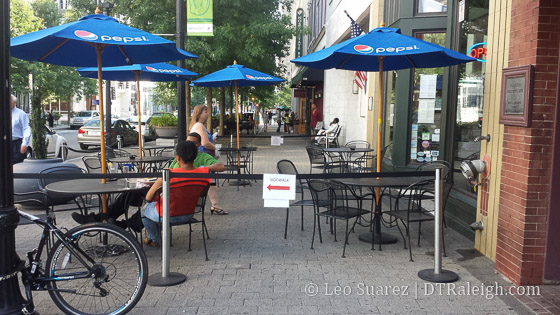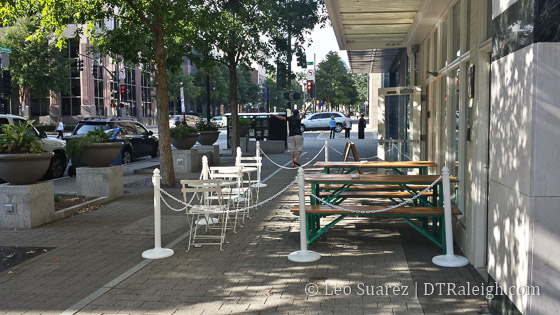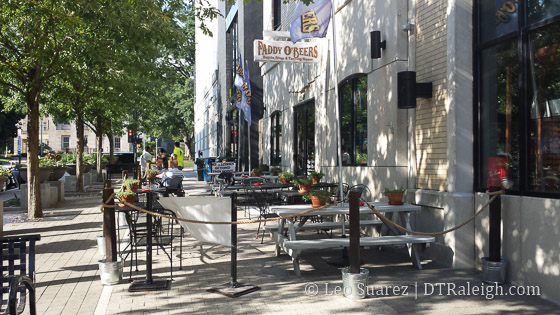 Sidewalks were completely blocked but was fortunately only short-lived as the split seating seems to be allowed once again. I hope so anyway.
This issue has been frustrating from so many angles.
What hasn't been talked about is the clear bias being shown here on this issue. Emotions are running high and decisions are being made in haste because of it.
A recent N&O article asks, "Does downtown Raleigh have a drinking problem?" There's so much exaggeration and bias going on here that it makes me face palm.
The tone of the conversations suggest that we've peaked, that we have too many bars, that the nightlife crowd is out of control. This may or may not be true but that doesn't matter from my point of view.
Emotions are leading the decision making process and that is not going to go well. Thoughts like, "Why would anyone be out that late?" or "Everyone should be sleeping at night." is what it really sounds like. It's a bias against people that partake in downtown's unique nightlife, something nowhere in the Triangle comes close to matching.
Isn't the city supposed to be an inclusive city, a true character trait of a 21st century city?
It seems that everyone is cherry picking the few bad apples. I'm talking about those that vomit after drinking too much or trashing our sidewalks. If you have traveled, it should be pretty clear that humanity is like this and it can be handled in two ways. Crack down on it or embrace it.
We're currently trying to crack down on it, a tactic I think we should avoid.
To embrace it would be to own the problem and just handle it. Where is the Downtown Raleigh Alliance, with their ambassadors and street cleaners, in this? They own street cleaners and have ambassadors that pick up trash. Is someone slacking on the job here?
I'd also love to talk to law enforcement. I bet enforcing the new ordinance is going to be quite the hassle with restrictions like "one person per 15 square feet." I'm sure they will have plenty of feedback to provide once the three-month trial is over.
My spidey-sense just goes off on this one because how could so few, create so much change?
From the N&O article:
The city said it received 51 complaints about downtown nightlife between June 2 and July 30. A dozen of them were filed by police or city staff, and 15 came from three people.
*Does downtown Raleigh have a drinking problem? via N&O.
That's 51 complaints across 58 days.
Who were those three people? What kind of pull do they have?
I haven't seen the data but I'm going to go out on a limb that they were mainly clustered around Friday and Saturday nights. A different way to look at it is that there were 51 complaints across 8 weekends, or 7 complaints per weekend.
It just doesn't add up to me.
And shouldn't Raleighites across the city, all the way up to Brier Creek, be upset about this? In the early 2000s, it was the entire city that paid for the Fayetteville Street makeover, taking the old Fayetteville Street Mall and making it a fancy parking lot.
Business boomed as you can see.
Why should so few have the say over what happens on our city's Main Street?
It's all ugly. The process of handling this "problem" as well as the ugly signs all over the sidewalks.
It doesn't show class. It doesn't show style. We've practically demoted ourselves from a burgeoning medium-sized city to a bustling college town.
Maybe we've outgrown the current class of downtown leaders.

Similar Posts:
Comments
Comments are disabled here. That's because we're all hanging out on the DTRaleigh Community, an online forum for passionate fans of the Oak City.