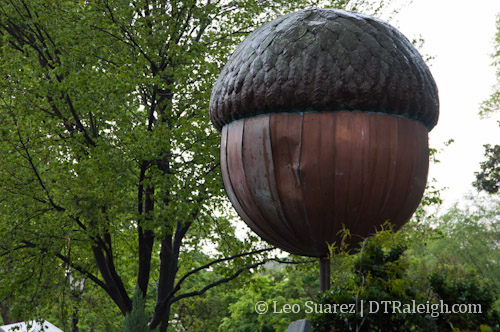 Blogging has been slow but work continues behind the scenes on a new project for the website. This I hope to share within a few weeks and hopefully gets the ball rolling. In the mean time, here's a topic for everyone to discuss over the weekend.
If you didn't know already, the acorn in Moore Square was damaged during the tornadoes in April 2011. A few weeks ago, the council approved some money to repair it so that it could be used at First Night, downtown's New Year's Eve party. Could it actually have been a good idea to leave the damage in the acorn as a way to remember the tornadoes of 2011? After the trees in the cemeteries are finally cleaned up, the acorn would have been the last thing to remember this event by.
One city councilor was thinking about this back then.
Do we fix it, or leave as-is in remembrance, like the Liberty Bell? @dtraleigh: NO! The acorn's been dented! http://t.co/Jg1p3k5

— Bonner Gaylord (@BonnerGaylord) April 16, 2011