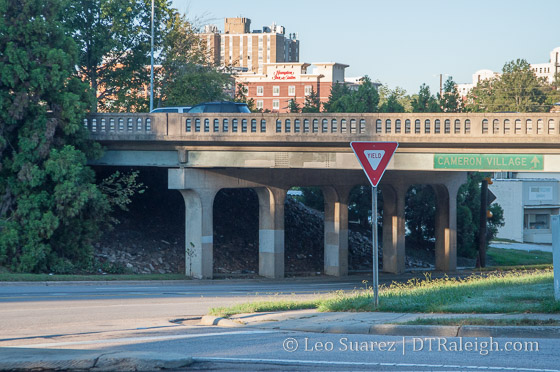 Municipography is a summary of current issues going through the Raleigh City Council and other municipal departments in the city. The point is to try to deliver any video, photos, and text associated with the discussions happening at City Hall or elsewhere. Since this is a downtown Raleigh blog, the focus is on the center of the city.
I recommend email readers click through to the website to see the embedded video.
During last week's city council meeting, there was a presentation with the latest updates on the bridge replacement projects that are going to take place on Capital Boulevard. This is a topic that's been covered here on the blog for almost five years and we're now under a year until construction starts.
If you need to play catch up, I recommend reading about the planned 'square loop' design here:
In addition to the Capital Boulevard bridge over Peace Street being replaced, Wade Avenue at Capital is also being replaced.

If the video does not show for you, click here.
Eric Lamb, Transportation Planning Manager for the city, gave a brief overview of the latest updates of the project. Here are some notes I took:
The project will remove the Jersey barriers and glare screens going down the middle of Capital and a landscaped median will be put in.
Seeing as how this is an NCDOT/City of Raleigh collaboration project, NCDOT will cover base costs with Raleigh covering enhancements like aesthetics, lights, etc.
The city's share for the project is now estimated to be between $12 and $13 million.
During construction, one northbound lane on Capital will be closed for about two years.
At some times, Capital will be closed entirely but crews will focus on nights and weekend closings.
The official detour will be to use Blount Street and Person Street/Wake Forest Road.
The new bridges will have an art deco design maintaining a theme with nearby railraod bridges.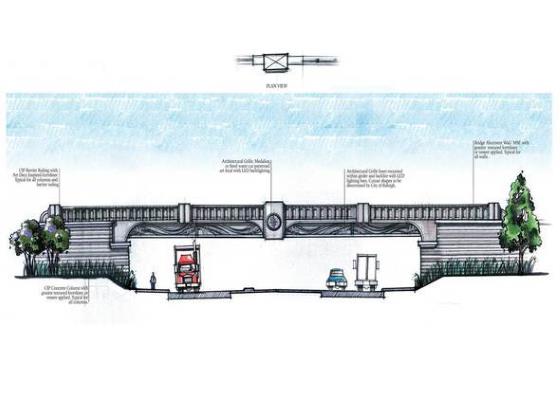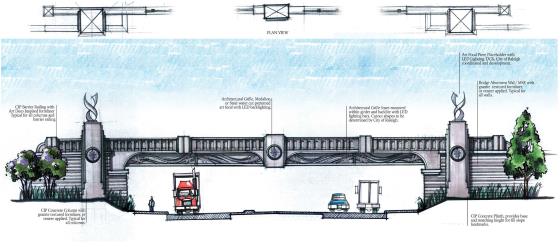 The major enhancements of each bridge primarily revolve around adding either lights or decorative columns or both. As you can see in the rendering, the columns could have public art on top of them of some sort. Only a concept is shown in the rendering not the final art piece.
Of course, the more you add, the higher the cost becomes. City staff broke it down into four available options.
Option 1: Full enhancements to both bridges: +$2.4 million
Option 2: No treatments at Wade, full enhancements at Peace: +$1.16 million
Option 3: Enhance both bridges, including lights but no columns: +$1.61 million
Option 4: Enhance both bridges without columns or lights: +$1.21 million
Full breakdown of costs for Peace Street.
With columns and lights: +$1.25 million
With lights: +$860,000
Without lights: +$660,000
Full breakdown of costs for Wade Avenue.
With columns and lights: +$1.16 million
With lights: +$748,000
Without lights: +$548,000
Those figures make it seem like lights are a $200,000 cost per bridge. The columns come in around $400,000 per bridge.
Option 3 seemed to be, according to the light conversation, the one councilors preferred but no decisions were made at this time. There is still more work to be done to prepare an agreement with NCDOT and when those details are more solid, there will be a followup presentation. That will probably take place in a few months.
Construction will first start at Wade in July 2016 with Peace Street seeing work in July 2017. Everything should wrap up during the Summer of 2019.
On a slightly related note, I haven't covered the Wade Avenue bridge much but I did notice this one little jewel in the renderings. Take a look at the Wade Avenue bridge design below. The right-most portion shows a greenway trail going underneath.

We know that the city wants to get a greenway to go along Capital and the Pigeon House Branch Creek which is mostly buried. In the future, the creek may be opened up and we all can walk or bike along it starting from a park that sits just north of Peace Street between Capital and West Street.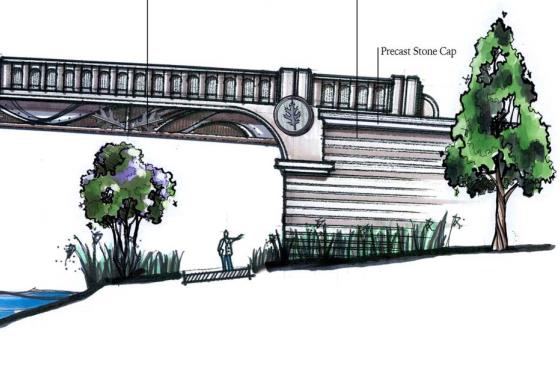 The rendering suggests that there are plans to keep a connection open here at the bridge for such a future project. Good stuff!

Similar Posts:
Comments
Comments are disabled here. That's because we're all hanging out on the DTRaleigh Community, an online forum for passionate fans of the Oak City.