As a reminder, there are some transit related events that are going on right now. Remind yourself by clicking here if you're not sure what I'm referring to. Anyway, two events are taking place in Raleigh this week and the downtown portion of the light rail plan is sure to bring controversy.
Some of the presentation materials have been posted online and I'd like to cover some of it here.
An excellent read, with images that I will be linking to, is over at The Indy. I recommend reading that first.
Rail route is blurry through downtown Raleigh via Indyweek.com
To recap, planners have a few alternatives to work with when the light rail trains, coming from the west, head towards downtown Raleigh. If you look at the initial alternatives study, the map of those routes look like the spaghetti bowl below.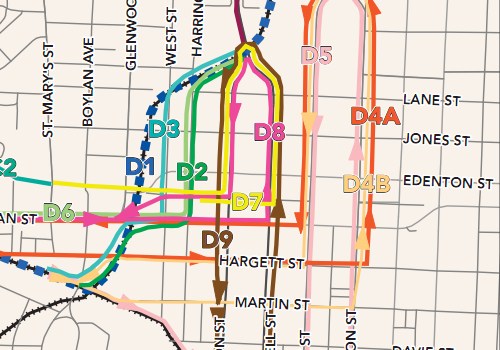 Click for full, larger view.
The next step planners took to eliminate some of these routes was to look at each one and evaluate them on five parameters:
Potential Transit Ridership
Consistency with Plans and Studies
Stakeholder Support
No Irresolvable Environmental Impacts
Technical and Financial Feasibility
If one of these parameters failed for the studied route, it was thrown out. After that elimination round, we were left with this map.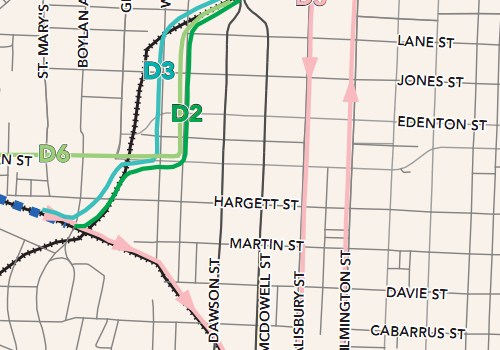 Click for full, larger view.
Four plans remain and it will be these four that are open for comment at the Triangle Transit events this week. We can step through each one and take a look.
D2 and D3
D2 and D3 are similar except for the street they head north on when leaving Union Station. D2 would have tracks on Harrington Street while D3 would put the tracks on West Street. Both routes bring the trains on a flyover over the Boylan Bridge and would result in something like you see here and here.
As the trains head to downtown from NC State in the NC railroad corridor, "difficulties" in having the light rail line play nice with freight and future high-speed rail are why the plans to go into the air are on the table. I'll admit the Boylan Wye is a complicated cluster of tracks but the freight rail companies do have a reputation of being against anything that could possibly disturb their operation.
According to planners, D2 and D3 would make the light rail line go right into Union Station, giving us that very important connection to other modes of transportation. It also avoids headaches with the track layout of the Boylan Wye.
These plans were moved forward because each one:
Capitalizes on potential development opportunities on the west side of downtown.
Serves both Glenwood South and downtown.
Does not include additional overhead structures.
Supports location of proposed Raleigh multimodal center (Union Station) concept.
Meets the Purpose and Need for the project
I'm not quite sure I agree with these. A train that goes into the air and weaves through downtown blocks may actually take away from development opportunity because it is consuming so much space for itself. Once the train weaves through, that land cannot be developed.
I haven't been to a meeting yet so I'll find out for myself later this week.
D5
D5 involves the same flyover going over the Boylan Avenue Bridge but instead of heading to the northern end of Union Station it goes south, towards the convention center. The line would run through the core of downtown, along Salisbury and Wilmington Streets, and back into the NCRR corridor to the north.
My feelings are the same with the flyover over the bridge but I'm not quite sure when the train finally touches down. This rendering and this rendering suggests that the train will most likely continue to be elevated all the way to South Street. Another thing to note is that other routes were turned down because they impact traffic on Dawson and McDowell Street. This leads me to think that D5 will continue to be elevated on South to go over McDowell and come down before Salisbury Street.
Again, lots of elevated tracks that take away from development opportunity. This plan passed because it:
Does not cross McDowell and Dawson Streets at-grade.
Penetrates core of downtown Raleigh.
Does not impact Morgan, Hargett, and Martin Streets.
Provides more direct access to the Convention Center.
Meets the Purpose and Need for the project.
D6
No renderings are provided for this scenario. Interesting.
D6 avoids the Boylan Wye and the possibility of going over the Boylan Avenue Bridge. The plan has the light rail line coming out of the NCRR corridor down by Charlie Goodnight's and it hits the street at Morgan. It continues East and takes a left turn onto Harrington Street and continues on its merry way. According to the report, the plan:
Avoids Raleigh Wye and does not interface with freight and Southeast High Speed Rail track issues.
Does not include additional overhead structures.
Capitalizes on potential development opportunities on the west side of downtown.
Serves both Glenwood South and downtown.
Meets the Purpose and Need for the project.
The negative with this plan is that if the light rail line went down Morgan Street, the optimal station stop would be at the intersection of Morgan and West Street, the Union Station stop. But if you've been out there to see it, Morgan is not quite so flat in that area, a requirement for a light rail station to be ADA compliant. I've heard this is also the more expensive alternative, but will confirm at the meeting, because a lot of road work would have to be done to get that Union Station stop, something that is very important to the connectivity of the system.
Wrapping Up
I like to see all the materials first before I choose which direction to take my opinion but from what I have seen so far, the D6 route seems to be the best choice on the limited amount of information available.
D6 is the most pedestrian friendly and turns downtown streets into more efficient modes of transit, moving more people through without building more roads or widening them. In my opinion, trains on elevated tracks that are not over roads take away from potential development.
I'd be really interested to see what kind of road modifications need to be done to Morgan to get that Union Station Stop at the West Street intersection. This will likely be my first question to answer at the meetings.
The Mayor's Passenger Rail Task Force supports a route similar to D6 and the Downtown Living Advocates are speaking out for the same thing.
Whatever your opinion may be, make sure to send it in.
Similar Posts:
Comments
Comments are disabled here. That's because we're all hanging out on the DTRaleigh Community, an online forum for passionate fans of the Oak City.