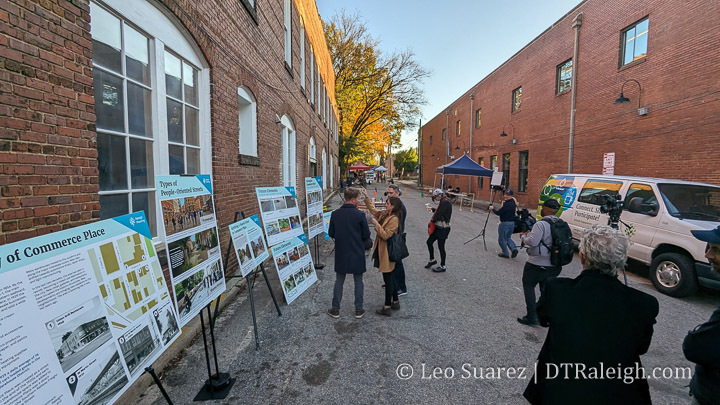 The city is making plans along Commerce Place and had it closed down for November's First Friday to give citizens and visitors a light taste of what it could become in the future. They envision a more people-centered place where cars are either allowed as "guests" or restricted all-together.
If you're not familiar with Commerce Place, the street runs just a single block in length, between Martin and Davie Streets, and functions more like an alley than a street. Sure enough, at the event I learned that the street used to function as the main alley to load/unload freight from the trains that would stop at the former Union Depot located across Martin Street. Below is my very rough map with labels to orient you. These locations make up the Depot Historic District which you can read more about here.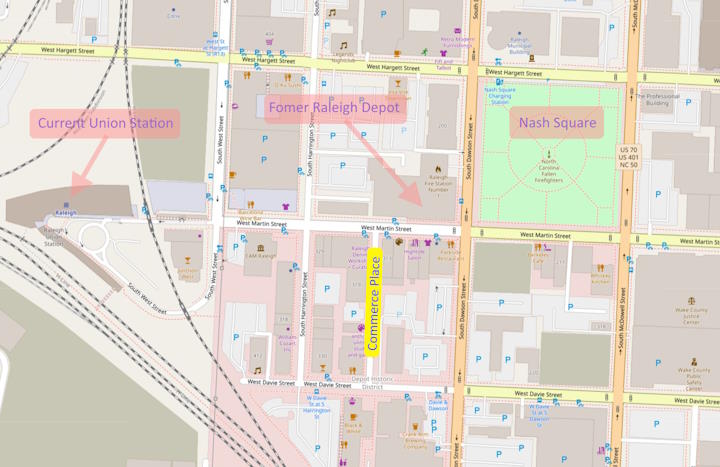 Today, Commerce Place operates mainly as an awkward, two-way vehicle street with parking on either side. I don't think I've ever driven down it but I'm sure on busy nights, you'll see cars passing each other by mere inches. Many a side mirror have fallen here on this street I bet.
Would it really be missed if it were closed to vehicles? If you stare at a map of downtown Raleigh, there aren't really any other blocks in the grid with a street down the middle so I'm thinking we could do without. A small mitigation plan for the few spaces that do face Commerce could be taken care of with some creative thinking.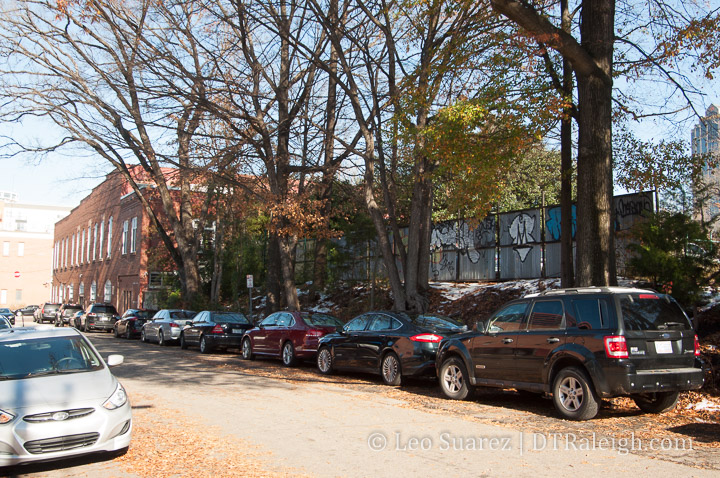 Development is also possible nearby. New residential has been in the works for years directly along Commerce. It'll be interesting to see if they ever pull the trigger on this plan, which we posted about here back in 2018. There's also possible development around the historic depot at the end of Davie Street, a pair of properties to the north of Commerce Place, and all the nearby plans as tracked by the Downtown Raleigh Alliance. I didn't even mention the Raleigh Union Station Bus Facility and residential tower that broke ground in the past few weeks.
I, of course, think the entire project is a great idea and more people-focused places can really add to the soul of downtown Raleigh. With the warehouses on either side, the street already has character and charm so if you bring the people to it, it'll make for a great space I'm sure. One of many examples of a similar change can be seen in the photo below. If executed well, it could be the blueprint for repeating it in other spaces across the city.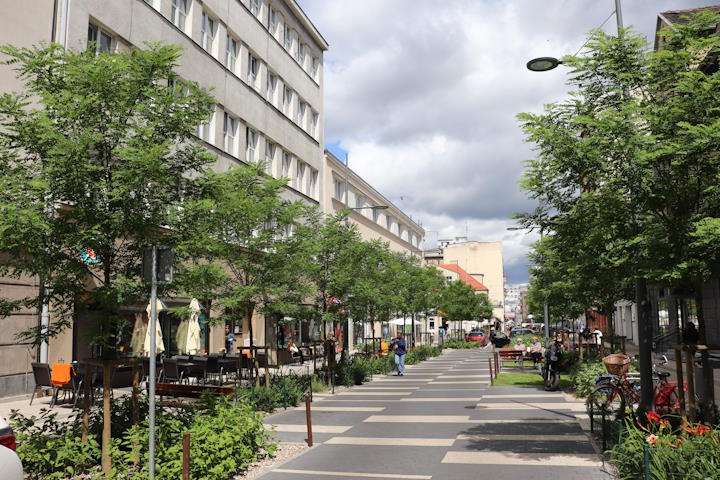 So what's next? As is typical with public projects, the feedback will be evaluated and over some time, I'm sure we'll see more events and temporary "furniture" installed on the street. This is a better way to go about it before making a larger, permanent investment. I encourage anyone to reach out to the city with their thoughts about it.
Similar Posts:
Comments
Comments are disabled here. That's because we're all hanging out on the DTRaleigh Community, an online forum for passionate fans of the Oak City.