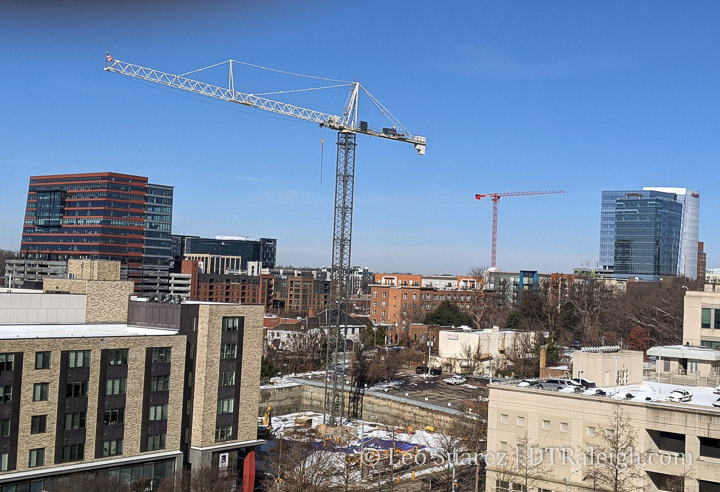 An easy thing to notice from following developments, not being in the industry by the way, is that a lot of planning goes into all these things. It's probably an underappreciated aspect of building larger structures but of course it is; there's a lot going on behind the scenes. When it all starts to come together and construction starts, that's when it feels real.
In just a few short weeks, new tower cranes have popped up in downtown. We're still building stuff and that's great for downtown's vitality and future. Investments continue and that's a sign for optimism for downtown Raleigh. Let's recap the things we can actually see being built right now.
Hilton Garden Inn/Homewood Suites
Shown in the foreground of the above photo, a new hotel is coming to the corner of McDowell and Davie Streets. The building will have two brands which include a Hilton Garden Inn and Homewood Suites. That's 259 additional rooms within walking distance to Fayetteville Street, the Raleigh Convention Center, and the Warehouse District.
The Hampton Inn on Glenwood is Hilton's first presence into downtown Raleigh so this would make it their second offering. I imagine a variety of brands is great to see. Plus, another rooftop bar option isn't bad either.
400 Hillsborough
400H for short, the tower crane at 400 Hillsborough was met with lots of excitement on the Community when it went up around Thanksgiving 2021. 400H is a true, mixed-use project with office, retail, and 242 apartments in a 20-story building.
For new office space to be built, I just can't emphasize enough the optimism for downtown Raleigh here. Not everyone is working from home all the time and I believe innovation and creativity takes place more easily in-person.
The residential portion makes sense to me as downtown Raleigh is near capacity as far as residents go. We should be seeing the building open up in late 2023.
Platform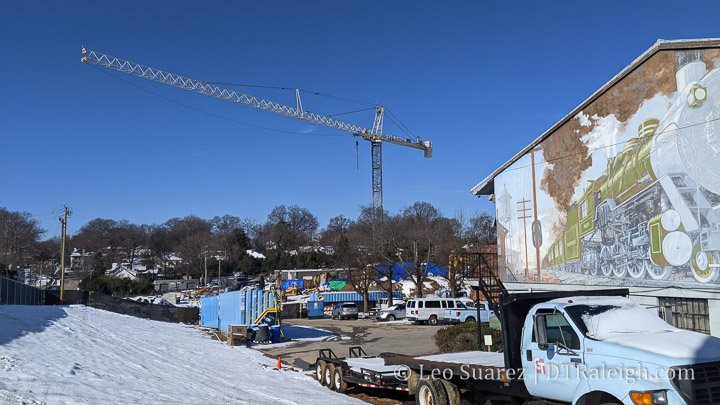 A crane is up on East Cabarrus to build Platform, a new residential building for over 430 units. That's downtown's largest complex yet!
Playing off the proximity to Raleigh Union Station, the building will have an excellent view of the rail lines going through the Boylan Wye including the station itself. Train-themed designs will probably be used to give it that modern warehouse feel.
Raleigh Magazine has an excellent writeup on what's to come here so I'll bounce you over to them.
Seaboard Station Block B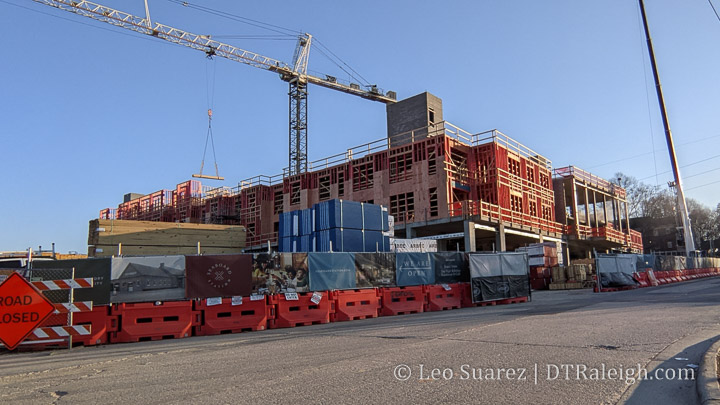 Already well into construction, Seaboard Station's first new building in a long time will be Block B, a 298-unit apartment building. In addition to ground-floor retail, this building starts a multi-project overhaul of Seaboard Station itself. There are plans for more residents and hotel units for Seaboard in the future so what once was a district of shopping may grow into a much more active district on downtown's northern end.
You can check out what's planned at Seaboard Station here.
Coming Soon
Not quite crane-worthy, or at least not yet, but dirt, concrete, and wood is being moved at a few other spots in downtown. We're keeping our eyes on a few other spots as well.
Dukes at Cityview – townhomes are being built on South West Street
615 Peace – Condos are almost sold out along West Peace Street
Person Street Apartments – A construction site is being prepped for about 100 apartments on Person Street
Seems like the name of the game is all about residents. In this post, I've mentioned projects that will deliver over 1,000 homes that are currently being built in downtown Raleigh. My long-time hope is that retail truly follows rooftops and downtowners can then support a thriving shopping scene.
Cheers to 2022!
Similar Posts:
Comments
Comments are disabled here. That's because we're all hanging out on the DTRaleigh Community, an online forum for passionate fans of the Oak City.