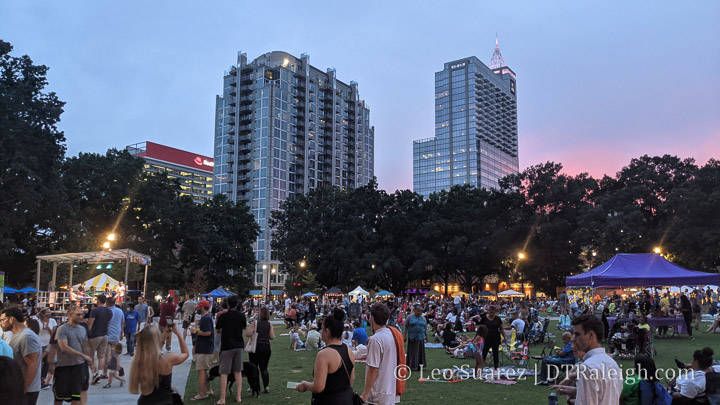 Wow. I've certainly done plenty of blog birthdays but now at year 15, it feels a little special. Sure it's a typical milestone to celebrate for a lot things. Maybe not as worthy as the ten-year post, I really liked that one by the way, but I wanted to try a little reset and reflection today. For the new followers in the room, and long-time readers, let's start at the beginning as I (re)introduce myself.
My name is Leo Suarez and I am a downtown Raleigh resident. I started this website in January 2007 and wrote about all kinds of things including development, city council meetings, urban planning, new restaurants, and a few other topics. The focus though was, and has always been, downtown Raleigh.
While my job and hobbies are pretty typical, I am 100% dedicated to an urban lifestyle as much as Raleigh can provide me. The meaning of urban lifestyle certainly has evolved over the 15 years that I have been running this blog as well as the younger brother site, the DTRaleigh Community, but one core principle seems to be the same.
The social component in and around downtown has stood up for these 15 years and I believe it will always be a concrete principle in pretty much all aspects to downtown experiences.
I have been pro-resident from day one since I moved into my apartment as a fresh, single college-graduate on Fayetteville Street in December 2006. Now, living in a house east of Moore Square, married, with a young daughter, there's certainly a new dynamic for some things but being social is what differentiates this area compared to the rest of the city.
And that's what I'm here for. It's all about people and the interactions we have between these collections of buildings. It's quite nice to be honest.
Let's be Social!
Speaking of socializing, a group of us meet up every second Thursday of the month, organized on our Meetup page, and I hope you can come out to the February meetup. Come say hi, there's no agenda.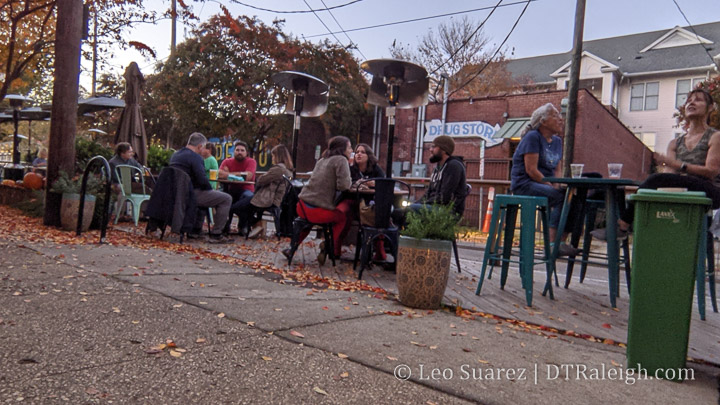 All the buildings and roads make up the playground for socializing humans. It's a visual feast of treats from people watching to the variety of architecture.
Downtown residents are certainly a small group. The Downtown Raleigh Alliance says there are 21,000 residents within a mile-radius. That's less than 5% of the total population of the city. It's growing though for sure as it seems every year, hundreds of new apartments, townhomes, or condos are opening up. New residents keep coming. (Welcome by the way!)
But beyond residents, downtown plays host to visitors. For work or play, people spend time here and they are socializing to a certain degree. That's probably why we get folks from all over Raleigh, and beyond, at our meetups and commenting on the Community. Downtown seems to be for more than just those that live here.
Socializing in downtown is probably assumed to mean eating or drinking in any of the numerous bars or restaurants here. That's typical for sure but there's even more. Coffee shops, records stores, grocery stores, hair salons, and office lobbies. The more time you put into it the more social it gets.
For me, people watching and random encounters have been very memorable and it's almost addictive to be around.
Last, there's the sidewalk. I've walked all over, snapping photos for the blog, for years and the sidewalk is like the nerve center of downtown Raleigh. I read it somewhere so can't take credit for this but people attract people. Simply put, the idea of walkable mixed-use areas is always attractive, whether it be for business, for recreation, or something else. That's why it was copied in the shopping malls of the 20th century, like at Crabtree Valley Mall, and it's being copied right now in North Hills and other developments in our area suburbs.
15 years feels long enough to notice plenty of trends but still young enough that I need to wait and see if these trends stand the test of time. I'll be betting on people and their desire to socialize being a driving-force for downtown Raleigh for years to come.
Here's to being social, past, present, and future! Happy 15! See you out there.
Similar Posts:
Comments
Comments are disabled here. That's because we're all hanging out on the DTRaleigh Community, an online forum for passionate fans of the Oak City.