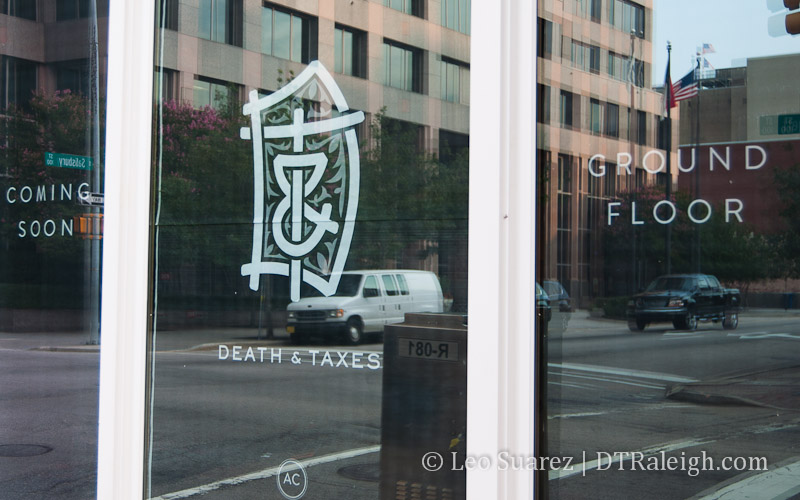 Summer nights in Raleigh are good for sweets and ales. Maybe not at the same time but if you happen to like a beer after a sweet treat, this season's eats news has you covered.
For a complete list of eats, drinks, and coffees in and around downtown, make sure to bookmark the DT Eats page. Try something new!
We're still waiting on the newest Ashley Christensen restaurant, Death & Taxes, to open at the corner of Salisbury and Hargett Street. Fancy signs are up covering the windows. Oooooooo.
Nearby along Fayetteville Street, Happy and Hale has opened in one of the city plaza kiosks. Their salads and juices look pretty tasty.
The dessert and cocktail bar, Bittersweet, has opened in PNC Plaza along Martin Street.
After closing down Isaac Hunter's Oak City Tavern at 112 Fayetteville Street, the guys behind the outfit have opened a Roaring Twenties themed bar called Common 414 at 414 Fayetteville Street. They officially open in less than two weeks.
Meanwhile back at 112 Fayetteville, someone else has put some work into the space and is opening up another bar. No official word is out there about it but I heard they have had a soft opening and should be open soon. [UPDATE: Just learned today that the place is called Capital City Tavern and they are indeed open.
A small shop, Harvest Sundries & Deli, has opened in the Progress Energy building. Sounds like a good place for a cheap breakfast or lunch.
The people behind Tasty 8's Hot Dogs is doing a big renovation job at the space where Spize Cafe used to be and I think it looks great. Gourmet hot dogs are in our future.
Lucettegrace is a bakery that's "Coming Soon" according to their website. They plan to be on Salisbury Street kind of behind Capital Club 16.
A new coffee shop is coming to Seaboard Station. Brew plans to open in the row of shops along Seaboard Avenue and they are crushing their kickstarter! Raleighites love their coffee.
Also in Seaboard Station, Night Kitchen Bakehouse and Cafe will be opening in October, according to a TBJ article. The bakery will have "breads, pastries, sandwiches and salads" and be open for lunch and breakfast.
A bread shop, Boulted Bread, has opened on South Street. You can find their goods at the shop or at the Wednesday afternoon Farmer's Market at City Market each week.
Work is slow but progressing on the empty space between Second Empire and the Holiday Inn, future home of Taverna Agora. The restaurant is relocating from Glenwood Avenue to this space on Hillsborough Street. Their website says they will move this winter.
Chef Scott Crawford has, or is, leaving his spot at Herons, the fine-dining restaurant at Cary's Umstead Hotel. He is taking on two new projects in downtown Raleigh. First, is Standard Foods, a grocery and restaurant in Person Street Plaza.
Crawford's second project is Nash Tavern, a classic American style tavern, in one of the buildings on the south side of Nash Square. A lot of planning is going into this one so it most likely will be a 2015 project.
In Glenwood South, DeMo's Pizzeria & Deli has opened in the 222 Glenwood building.
Clouds Brewing, formerly called Storm Clouds Brewing, in the old Napper Tandy's space near Powerhouse Plaza is looking close to opening. There are some construction photos on their Facebook and the TBJ has a nice article about them, saying they will open next month.
you'll be able to pay when you enter, receive a bracelet and pour your own beer from 40 different taps.
*Hey Triangle: Order your fall beers from Facebook
Visible work hasn't yet started on the Raleigh Beer Garden or the 100 taps that will be inside this place.
We've watched construction on the building at the corner of Tucker Street and Glenwood Avenue, planning to house a Carolina Ale house, all year. I read awhile ago that they planned to have the Ale House open before football season so there really isn't much time left. Will they make it? Not sure.
Similar Posts:
Comments
Comments are disabled here. That's because we're all hanging out on the DTRaleigh Community, an online forum for passionate fans of the Oak City.