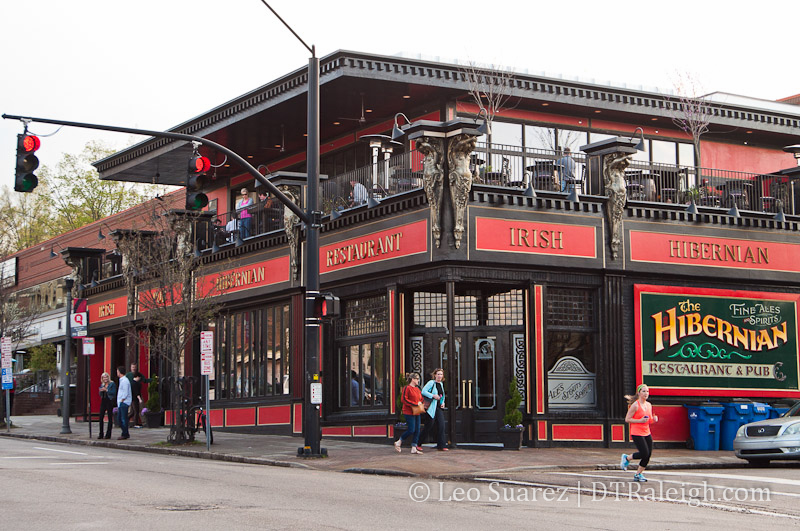 Beer, bakeries, and bread might be the theme for 2014. Downtown Raleigh continues to see more openings than closings and while some places close, the spaces aren't empty for long.
For a complete list of eats, drinks, and coffees in and around downtown, make sure to bookmark the DT Eats page. Try something new!
The Person Street Bar has opened up and quickly become a neighborhood favorite. The Person Street plaza area is really coming around.
Pictured above is the new Hibernian Pub, rebuilt with two floors and a great outdoor patio.
The Raleigh Beer Garden is still in the design phases. The upcoming beer spot is having trouble getting through city planning unfortunately. The problem? What else but parking.
The North Street Beer Station, a bottle shop in Glenwood South, has opened up. It should officially open with fully stocked shelves soon. The place plans to install a takeout window and even deliver beer.
In the former Draft space in the 510 Glenwood building, The Oakz has opened up.
A new brewery called Storm Clouds Brewing plans to open in July according to their website. They will occupy the space where Napper Tandy's used to be on West Street.
A new coffee shop in Seaboard Station is being worked on called Brew.
Staying with coffee, the shop Oak City Coffee Roasters have set up on West Hargett Street near the train tracks.
Happy and Hale, the downtown juice and veggie people, want to set up in one of the kiosks in City Plaza.
The owner of Taverna Agora, Lou Moshakos, wants to move his restaurant from North Raleigh to the empty building between Second Empire and the Holiday Inn on Hillsborough Street.
Moshakos is also bringing a Carolina Ale House to a new building at the corner of Tucker and Glenwood Avenue.
Also for Hillsborough Street, the restaurant space on the top floor of the Holiday Inn has been remodeled into the Skye Tower Lounge.
A new bread store, Boulted Bread, is planned to open in the cluster of retail shops on West South Street.
A dessert and cocktail bar called Bittersweet is close to opening in the PNC Tower along Martin Street.
The tasty treats just keep coming. Lucettegrace is a bakery planning to open in the former Crossfit space on the 200 South Salisbury block.
Tasty 8's will be a gourmet hot dog joint opening on Fayetteville Street where Spize used to be on the 100 block.
The Berkeley Cafe has now reopened. The owner of the former Sadlack's Heroes on Hillsborough Street has given it a little makeover and made a cool hangout spot.
Bada Bing pizza has been taken over and is going to become DeMo's Pizzeria and Deli. They should have the remodel done with the restaurant open this month or next.
Similar Posts: