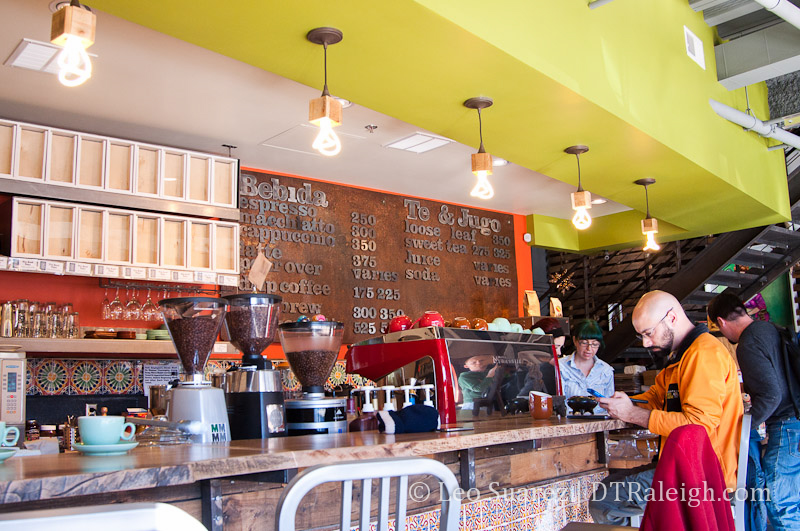 It's been a colder winter compared to last year. It only takes rain or the occasional snow to slow things in downtown Raleigh. This season, we have new coffees and a few eats worth trying.
For a complete list of eats, drinks, and coffees in and around downtown, make sure to bookmark the DT Eats page. Try something new.
Let's first get the good news out the way. (*sarcasm) A Subway is opening in the Wells Fargo tower almost directly across from the Salisbury Street location. I haven't yet asked if this is just a move or an entirely new restaurant. If anyone knows, please share.
Garland has now opened their restaurant space. This now completes the triple threat at 14 West Martin Street with Neptunes Parlour in the basement and King's Barcade upstairs.
The Station opened in late Fall and has all winter to get things worked out before the Spring. With a fantastic outdoor patio, this place is sure to be busy when the temperatures rise.
Café de los Muertos, pictured above, is now open in The Hue. They did a really nice job with the space offering an upstairs "nook" for hanging out. In the warmer months, the garage door-style window will really make the place open up.
Oak City Meatball Shoppe has opened in the Red Hat tower along Davie Street. In addition to servings tasty balls, the shoppe also has a decent drink list and currently stays open late after serving dinner. Plans for lunch hours are upcoming.
Work continues at the Person Street Bar and you can follow their progress on their Facebook page.
Wine Authorities has now opened in the Person Street Plaza. This is their second location in the triangle, their first being in Durham.
Speaking of wine, The Wine Feed has moved from their space in the Carter Building to a full shop in the Hampton Inn space along Glenwood Avenue. The new store offers wine fans longer hours and you can drink wine at their new bar.
Plates is now open in the former Zely and Ritz space in Glenwood South.
After a nice makeover, Gringo a go-go is now open in the building at the corner of Edenton and Person Streets. Get your taco fill!
Napper Tandy's has moved out of their space near Powerhouse Plaza and into the former Murphy's Law space, next to Dos Taquitos Xoco, in Glenwood South.
Amra's in Glenwood South has closed but is only changing management and will re-open very soon.
Mentioned on the blog last month, there are plans for a beer garden at 614 Glenwood Avenue. Hopefully we'll see movement on this in the Spring or Summer.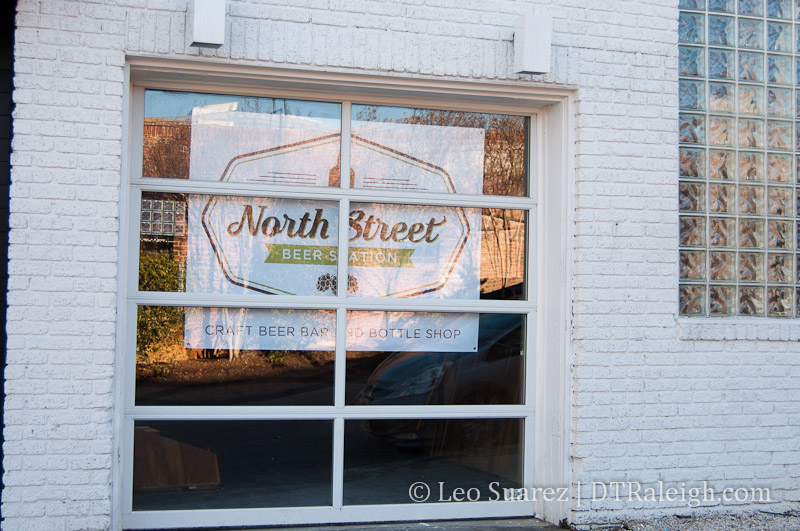 A new bottle shop is planned for Glenwood South. A sign, pictured above, for North Street Beer Station has popped up at the space between Clockwork and The Rockford along West North Street.
Staying on beer, Paddy O'Beers has opened in the Alexander Square parking deck retail spaces along Fayetteville Street.
Next month, The Oakz will open in the former Bogart's space in the 510 Glenwood building.
Similar Posts:
Comments
Comments are disabled here. That's because we're all hanging out on the DTRaleigh Community, an online forum for passionate fans of the Oak City.