I noticed the other day while walking down Hillsborough Street the "Coming Soon" sign in the building next to Second Empire. Don't get excited about this if you are not already familiar with it, that sign has been there for over a year. Now I understand that the times are tough and the restaurant business is competitive but these "Coming Soon" signs have got to go.
Tyler's Teaseroom
No one wants the Tyler's Taproom rumor to die. It seems to pop up every now and then and any movement over at Seaboard Station has beer lover's screaming for the taproom to finally open. First mentioned on the blog over two years ago, the Raleigh location tease is still up on their website with the "Coming Soon" details taunting you to keep believing.
Glenwood South Ale House
Mentioned in November of 2008, a new member to the rooftop drinking army of one was going to be Carolina Ale House at the corner of Tucker and Glenwood Ave. As of a few weeks ago, the "Coming Soon" sign was still up on the glass windows facing Glenwood. Reliable sources have told me that this Carolina Ale House is not happening so don't let the sign fool you.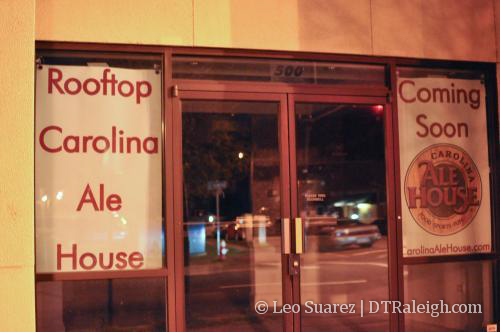 Signs from March 2009.
Of course, I would love to be wrong and for all these possibly great places to finally open up and contribute to downtown Raleigh. But after years of "Coming Soon", the best the signs do is give the tourists something to look forward to on their next visit, or the one after that, or the one after that……
Similar Posts: