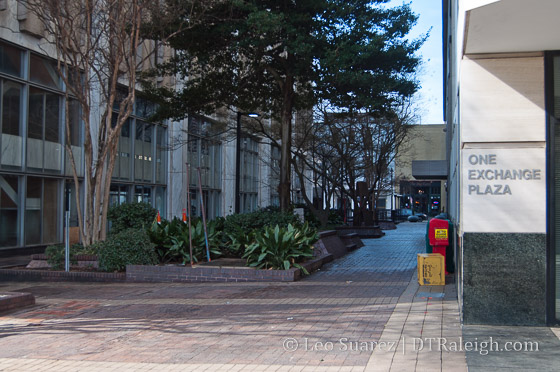 Last month, the city had a public meeting at the Raleigh City Museum and showed off more firm plans for the remake of Exchange and Market Plaza. This is a project that coincides with the renovation of 227 Fayetteville Street, announced almost a year ago. First, background reading if you need it:
*Innovate Raleigh Opens Up 227 Fayetteville Street, Renovations Underway – January 25, 2013.
In addition to the work being done at 227, the plazas to the north, Exchange Plaza, and south, Market Plaza, of the building are getting a refresh. Here are the plazas in Google Maps.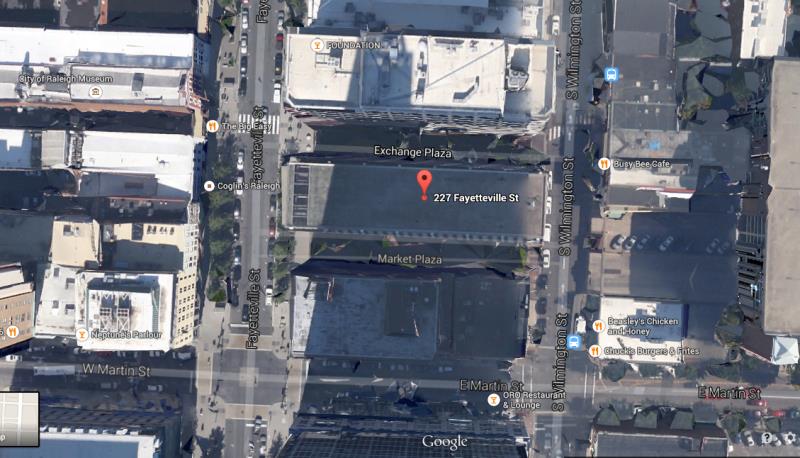 Market and Exchange plazas still have the look of when Fayetteville Street was closed to traffic and was a walkable mall from the 1970s to the early 2000s. Any new readers should know that the current design of Fayetteville Street was implemented in the mid-2000s and ended the era of the Fayetteville Street Mall. However, the same planters, benches, and pavers still exist on these two plazas from that mall time period.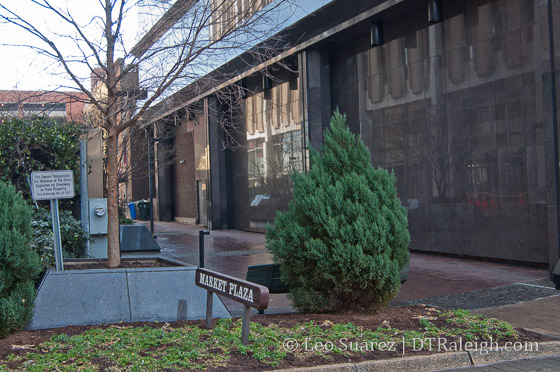 This year, we expect construction to start on the remake of the two plazas. There's more information about the entire project on the city's website.
Here's my attempt to break down the latest information.
Overview
Like I've mentioned before, the two plazas are around the currently under renovation 227 Fayetteville building and the new designs attempt to both compliment the adjacent buildings and bring unique public space to downtown Raleigh. There are plans for outdoor seating for nearby restaurants as well as public seating similar to what City Plaza currently has.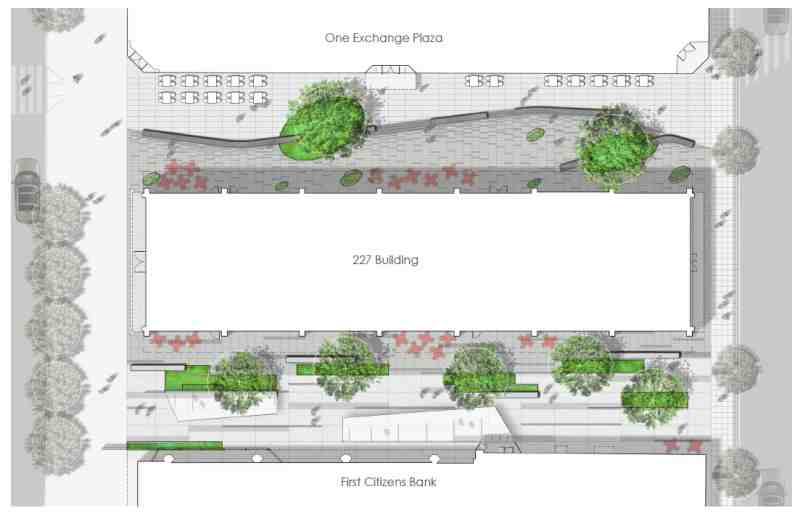 Visibility was a key focus here. The plaza designs attempt to trim back some of the greenery in order to give pedestrians a deep line of sight through the spaces. Adding extensive but tasteful lighting will hopefully make the spaces feel comfortable and friendly during nighttime use.
Programming was also considered. There are plans for how to fit different sized tents on the plazas for small events. The next Beerfest won't be setting up here but smaller arts, maybe First Friday gatherings, would be more appropriate.

One important obstacle that I thought was interesting was the need to protect the 227 basement. If you look at the sketch above, you can see how the basement protrudes a few feet underneath both Exchange and Market Plazas. A heavy car or truck can't set up on top of that so the design has to prevent that.
Exchange Plaza
The new Exchange Plaza will be more about walking and seating rather than events. The space is somewhat divided with a low wall for impromptu sitting as well as comfortable separation between the retail seating, that of current restaurant Bolt, and public space near 227 Fayetteville.
Here are some renderings for the possible future of Exchange Plaza.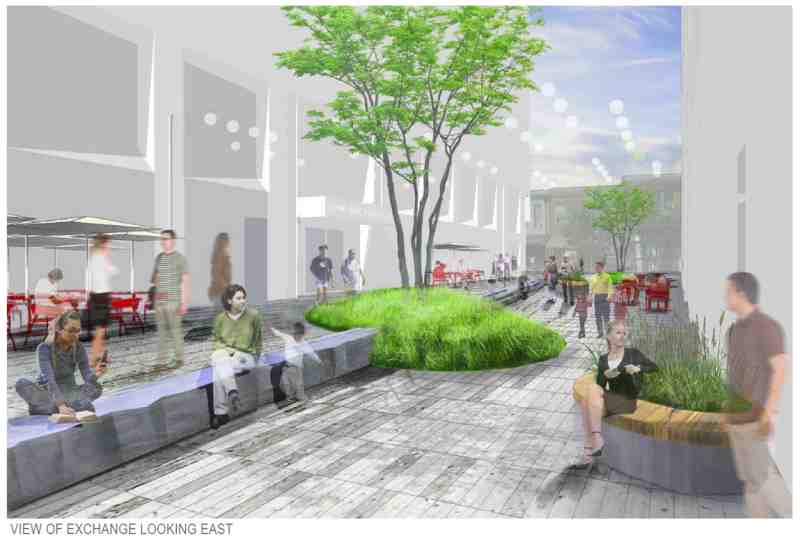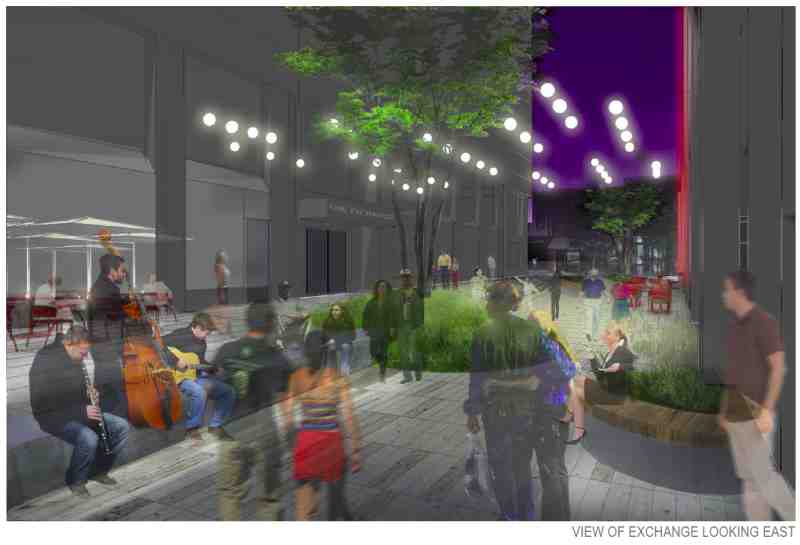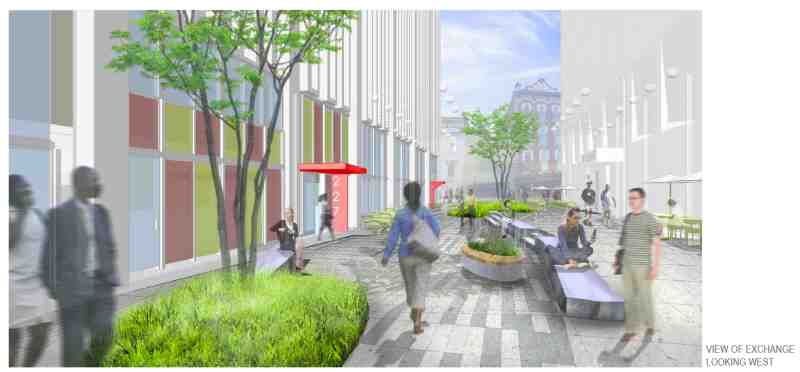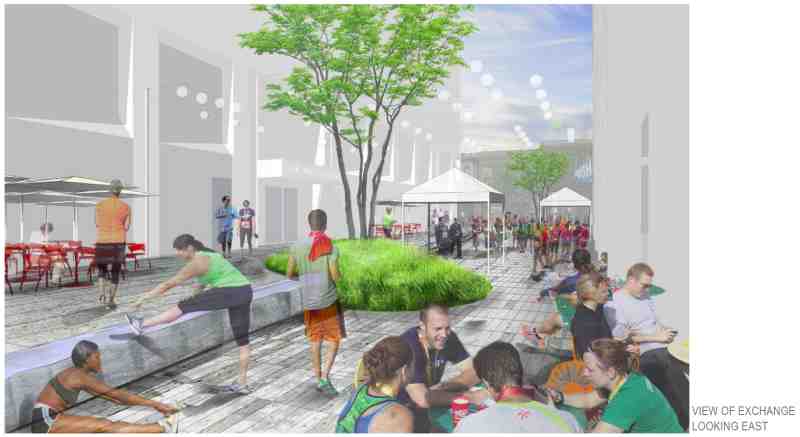 Only two trees are planned for the plaza. This is to help with that visibility factor, to allow pedestrians to see all the way through the plaza and feel welcomed to walk through it. The area around the tree roots would be appropriately landscaped.
The planters you see, on the right of the first two images, would not be permanent and can be moved if this space fits the need for some small event. Outside of events, the planters will accompany seats and tables, the same ones on City Plaza, for downtowners to enjoy.
Lighting would consist of overhead bulbs in a grid-like pattern. There was indication that special care would be taken into the lighting to make sure it wasn't overpowering but at the same time bright enough to make the area feel safe.
Market Plaza
Market Plaza, true to its name, offers more of an opportunity for events. In my opinion, there's a bit less desire here to stop and hang out but walking through looks like it'll be a nice experience.
The renderings.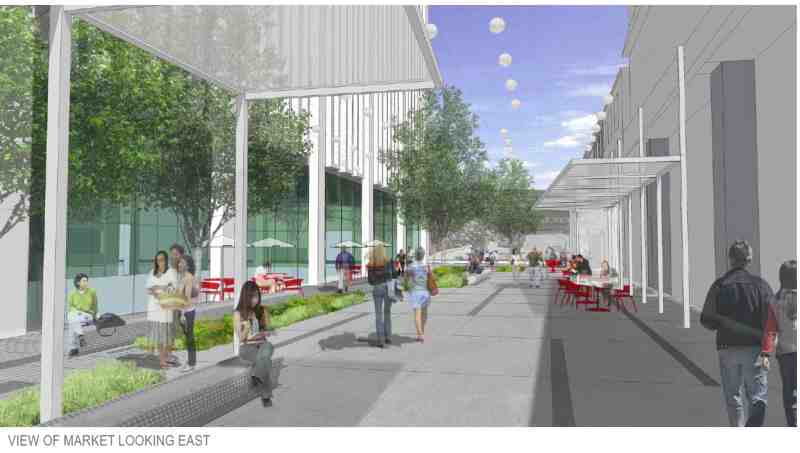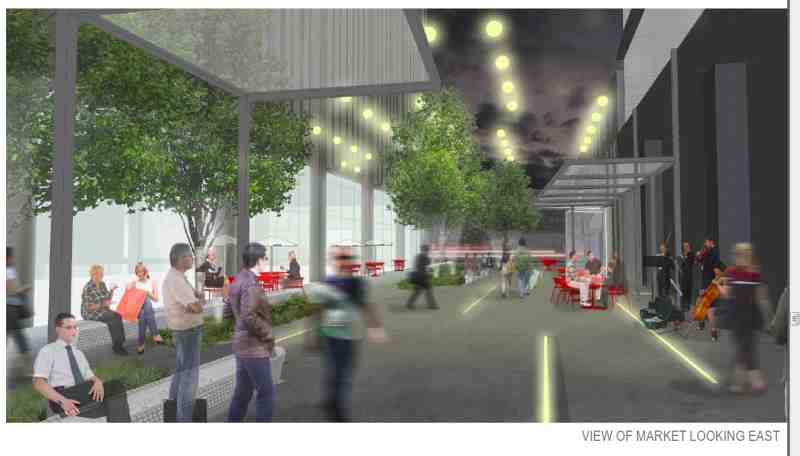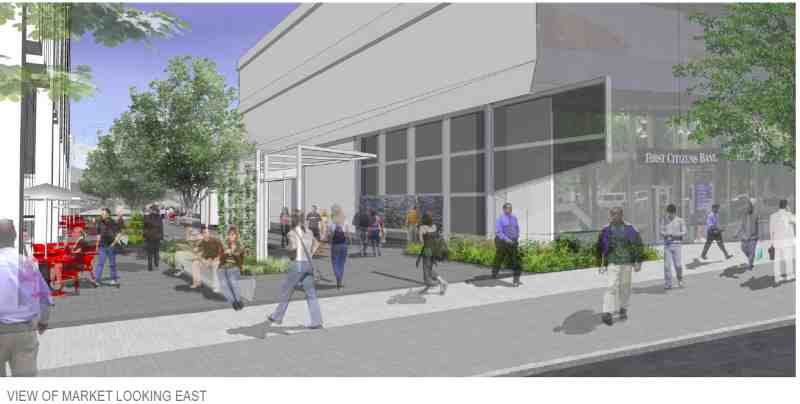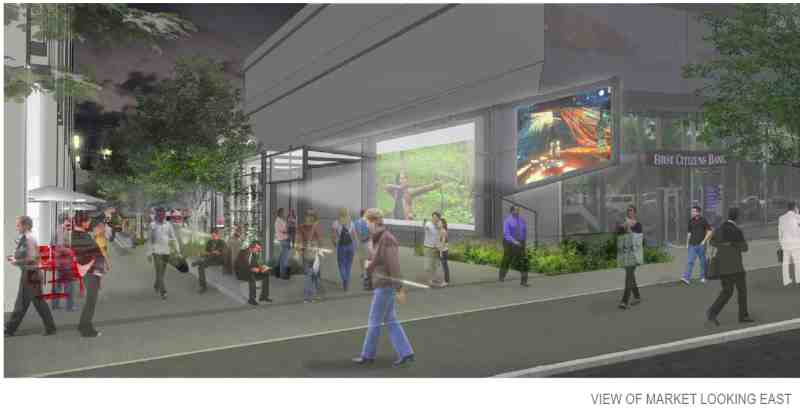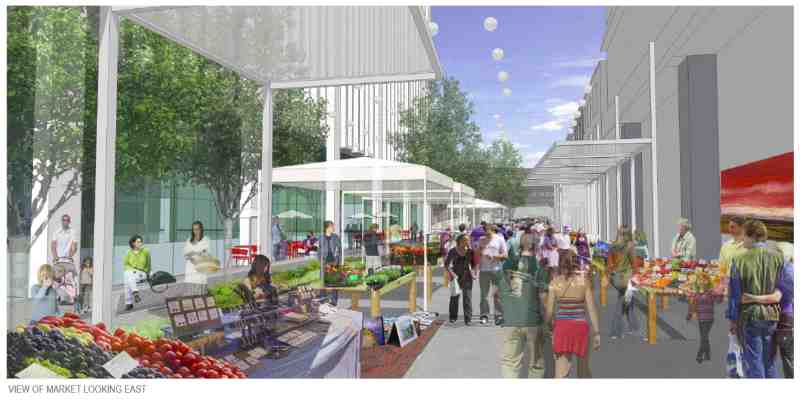 The new plaza is more uniformly shaped with a more defined public space compared to Exchange Plaza. This allows for more flexibility and physical space for event setups. It's almost as if the new plaza is built for walking down a market with vendors set up on your left and right.
The plaza is planned to have a few shelters, a bad comparison would be something similar to a bus shelter, offering pedestrians something comfortable to gravitate too. The same public seats and tables would be scattered around the 227 side of Market Plaza as well.
One compromise here is with the electrical boxes that are placed closer to the Fayetteville Street side of Market Plaza. It was deemed too costly to move or bury them so this piece of infrastructure stays and will be hidden in a creative way. You can see how one rendering proposes projecting some video onto the wall of First Citizens Bank from that piece of utility.
The lighting would be similar to what was proposed at Exchange Plaza.
Wrapping Up
I'll admit my first reaction to the plans are of enthusiasm as any decent plan to activate the plazas is better than what we have there currently. I'm a little skeptical on how the plazas will function during events. Market Plaza seems like it has a better chance and I don't see much happening at Exchange Plaza when it comes to proper programming.
Still, events are not the only thing that happen in a downtown and I think these spaces only enrich urban Raleigh. They help set the stage for random encounters, those serendipitous moments between pedestrians, that can't happen anywhere else in the city. It's fitting to create these spaces around 227 Fayetteville, a building that will host entrepreneurs and people that believe in that kind of urban business ecosystem.
This project's timeline has construction planned for late Summer 2014 and completion in Spring 2015.
Similar Posts:
Comments
Comments are disabled here. That's because we're all hanging out on the DTRaleigh Community, an online forum for passionate fans of the Oak City.