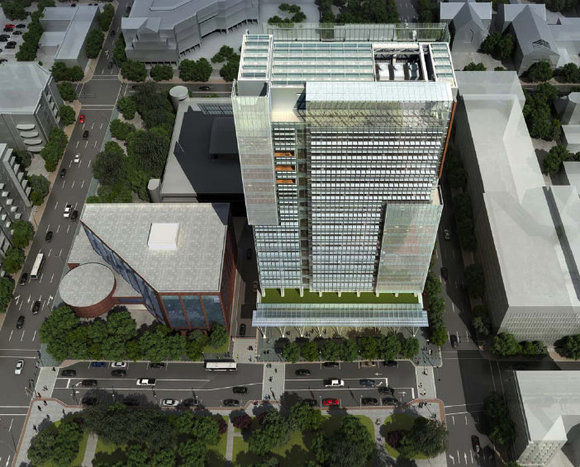 Today is a day for the downtown skyline fans as the proposed public safety center, named after Mayor Clarence E. Lightner, is put in front of the Raleigh City Council for approval. A 'yes' vote comes with a tax increase later on even though the price tag has fallen some due to the slow economy. A 'no' vote will probably send the project back for re-evaluating and some expected cost cutting. Its a tough call but investment in the city's safety needs, those that are planned to grow over the next few decades, should not be cut too short.
Read these N&O articles as a prerequisite, from where the above rendering is from, and stay tuned to your favorite news source later this afternoon to find out what happens.
Photo Galleries | Proposed Raleigh Public Safety Center 12.21.09
A new public safety center and higher taxes? Raleigh city council decides tomorrow 01.04.10
[UPDATE]
The decision was delayed. See you in two weeks.
The Raleigh City Council received information about the Clarence E. Lightner Public Safety Center at its meeting on Jan. 5. No vote was taken. Council members will resume discussion of the project at its next meeting on Jan. 19.
[1/19 Update]
A lot of new talk in the last two weeks has been about the almost $700,000 for the art pieces in the new building. This amount comes from the 0.5 percent of funds required to be allocated to art in new public buildings. This was passed about a year ago. The new safety center is estimated to cost $140 million. Double check the math but 0.5 percent of that is where the $700,000 comes from.
With that said, there are a couple points I want to mention.
First, I believe that there is something to be said about pride in a workforce. I believe that highly rated facilities and workspaces can really influence the morale of those working inside. I also believe that when looking for new, experienced talent that hiring this workforce can produce better results when there is something to proud of. The art as part of the safety center project has a part in that pride and maintaining morale.
At the same time, I do not believe it is unreasonable for the planners to provide a cost/benefit report of ALL public buildings. Morale and pride are hard to measure so you will not see this in any report. There has to be some kind of balance between getting the job done with the absolute bare minimum and approving Picassos for the showers on the top floor. What would you rather have; a council that provides its safety force the right tools for the job or one that provides the tools and expects the job done with what is provided? The naysayers on the council need to provide evidence that there is excess in the safety center's plan in order to convince me otherwise.
Another point I want to bring up is the very fact that the $700,000 is being questioned. 0.5 percent of funds on all new public buildings will go towards art. That rule was passed. Done and done. You talked the talk now walk the walk. How can some members of the council simply renege this requirement just because it is a down economy? If the 0.5 percent art commitment is dropped, what other things will be dropped? What kind of example is this setting for future developments?
A compromise is more appropriate in order to get the $700,000 worth of art in the building. Why not agree for it to be bought at a later date or be purchased in small increments over several years. In my opinion, a compromise because of the current economic state is fair but dropping it completely shows a weakness in the council to 'stick to its guns'.
Just your average citizen's opinion.
If you want some additional reading before the discussion by the city council today, consider these reads:
The recent call by Wake Republican Party chairman Claude Pope for a referendum on the construction bonds for the proposed $205 million Lightner Public Safety Center in downtown Raleigh met with resistance from the mayor and city manager. "This decision is about public safety, not politics" Mayor Charles Meeker said.
via Let the voters decide on debt – News – NewsObserver.com.
Cutler said between 1,800 and 3,900 jobs would be created by the construction, factoring in contractors and builders, as well as indirect employment from services such as coffee and food.
via Raleigh Public Record » City Council Featured News » Council hesitant over the Lightner center.
Similar Posts:
Comments
Comments are disabled here. That's because we're all hanging out on the DTRaleigh Community, an online forum for passionate fans of the Oak City.