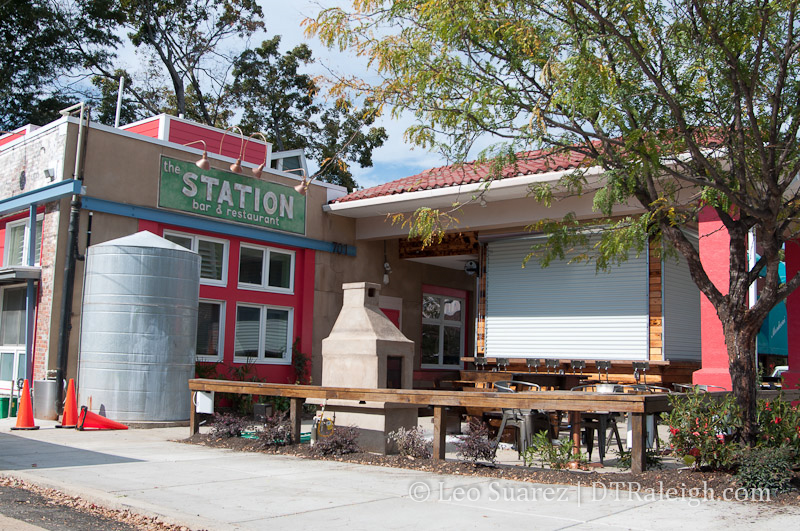 Now that the usual hectic September is over, we're in the middle of wonderfully cool temperatures as Fall swings into downtown Raleigh. As far as the eating and drinking options go, there's plenty of new and upcoming options out there for us to cover.
The list continues to grow as new places are outpacing closings. Here's the restaurant roundup for this Fall:
Starting with upcoming drinking spots around Person Street Plaza, The Station, pictured above, is looking real good and close to completion. The new bar and restaurant could open soon so check out their Facebook page for a lot more photos of their very unique outdoor space.
Near The Station, the Person Street Bar is being worked on in the renovated shopping center. They have a Facebook page up.
Next door, the Durham-based wine shop, Wine Authorities is working on their second location.
And for equally good but non-alcoholic treats around Person Street, Yellow Dog Bread Company is now open. The small bakery makes various bread products and is a nice place to grab a treat and a coffee. I'm all for new places that make croissants!
The good guys behind The Wine Feed are moving from their space below The Carter Building along Glenwood Avenue and into the retail space in the Hampton Inn.
Garland should be wrapping up the final touches on the interior space. There's a sign on their takeout window saying that they are hiring and that they will open their doors soon.
The upcoming coffee shop, Cafe de los Muertos, still hasn't opened but they are making progress. There's a slide-open, garage-style, window installed and the counter is built out. They're located in one of the spaces of The Hue along Hargett Street.
Ashley Christensen's newest, Joule, has opened in the former Wilmoore Cafe space along Wilmington Street.
Jimmy V's Osteria and Bar has opened in the lobby of the Sheraton. In addition to a nice lobby refresh, the restaurant takes over the former hotel bar and outdoor patio.
A little north of downtown, Stanbury has opened on Blount Street in the former space of Market.
Still the same as this past summer, Ashley Christensen is working on a new restaurant called Death and Taxes for the bottom floor of the recently renovated Raleigh Industrial Bank building.

A small, "off the beaten path" bar with a little attitude has opened next to the Black Flower along Peace Street called The Flash House. (pictured above via blurrycam) This place will make a perfect late-night break from any hectic Glenwood South night.
The space for Oak City Meatball in the Red Hat Tower along Davie Street is coming along. I got a glimpse of the space while they were working on it and the walls are painted, the counter in place, and a long bench on the back wall. Looks like it just needs furniture, the essentials, and food before this place opens. Their Facebook page keeps teasing a close opening.
Work continues on the former Zely and Ritz space, going to be called Plates, along Glenwood Avenue. If I recall correctly, I remember plans for an October opening so they are either delayed or real close to opening.
The modern Mexican restaurant in The Depot, Jibarra, has closed and quickly re-opened with a new concept and menu. Called Jose and Sons, the place feels a bit more fun and lively with more Tex-Mex options. Fans of Centro and Dos Taquitos Xoco should give this place a try.
We've mentioned it before on the blog but Gringo A Go-Go will be a new taqueria at the corner of Edenton and Person Streets.
For a quick coffee fix near the 400 or 500 block of Fayetteville Street, there's a new coffee shop in the Sheraton Hotel lobby called Cafe Siena.

Niall Hanley, the one behind the previously mentioned The Station bar and other downtown restaurants/bars, has been reported to be working on a beer garden concept for the building at 614 Glenwood Avenue. Currently, nothing seems to be moving along but they must be pretty busy with The Station almost done and the re-building of the company's Hibernian restaurant also located on Glenwood Avenue. (pictured above)
There's a web presence for a new coffee shop called Brew for Seaboard Station but not a lot of details out there yet. Must be early in the process.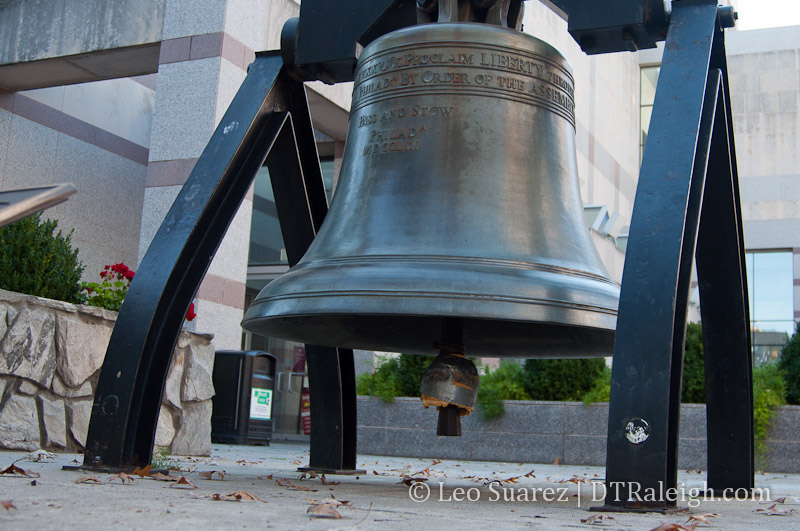 Just a quick one today. On a recent walk around downtown Raleigh, I saw that our Liberty Bell replica, located on the bicentennial mall, has been muffled. Hopefully this isn't a permanent thing. There's a bad joke out there, for some anyway, because the liberty bell is located across the street from the state legislature building.

While looking up some history about the bell, I found this nice WRAL segment about it. If the video doesn't load for you, jump to the source.
[UPDATE: 11-10-13]
On a recent walk today, I noticed the bell was not muffled anymore. So we rang that thing as loud as we could.

You almost don't want to believe this until you see it. The story that has really turned me, and others I talk to, into pessimists is the one about the upcoming new building at 500 Glenwood Avenue. It is planned to house, in addition to other businesses, a Carolina Ale House and after almost five years, it looks like this project will finally get started.
In the coming days, we should see the building at the corner of Tucker and Glenwood Avenue come down and make room for a new, three-story building for a rooftop Carolina Ale House restaurant and additional retail space in the other floors. Some construction fencing is now up and even the R-Line stop at this corner has been moved down a bit along Tucker Street.
I have no doubt that the Ale House here will do some pretty good business as the brand has over 20 other locations to bring experience from. If you've never been, the Ale House is a sports restaurant with a "something for everyone" menu and an extensive beer list with enough choices for safe beer drinkers to try something new but not enough to satisfy the craft palate.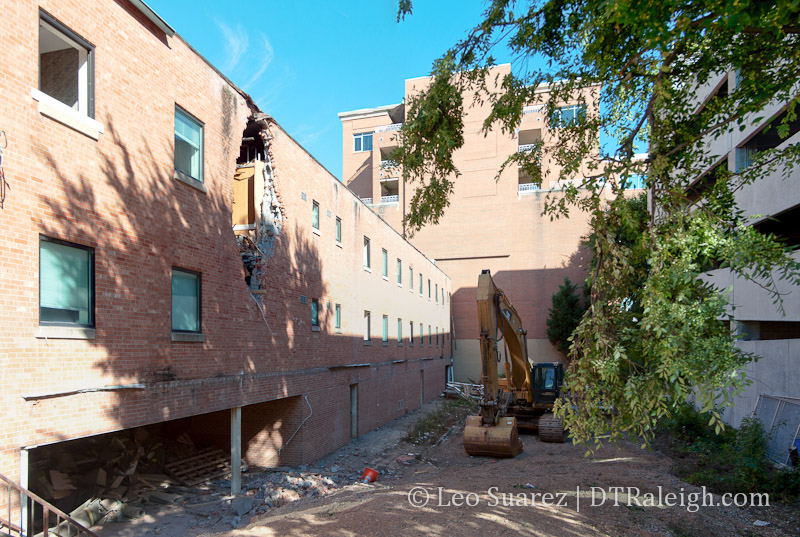 Let's hope for smooth sailing ahead on this project so that doors will open in late 2014. Jump to this link to the Triangle Business Journal for a rendering of the upcoming building.
I've noticed a lot of sidewalks with these Xs pop up around downtown. It typically means they are marked for replacing.
To expand this urban environment that we experience, tall buildings are nice but it's the details, the stuff we don't notice every day that's worth looking at. Sidewalks are the arteries of a downtown and we should keep them clean and healthy.
The Raleigh Urban Design Center has a new schedule of urban-related lecture forums and they stick with the theme of, "Raleigh 2025 – What's Downtown Got To Do With It?" Last season, there were some pretty good ones related to bike sharing, downtown living, and open space. Here are some that you can watch again.
Lecture Forums
Urban Design Center
220 Fayetteville Street
12 Noon – 1:30 pm
While adding these events to my calendar, I decided to tweak them so I could share them with readers. Here are the XML, iCal, and HTML links for sharing. Hopefully they work with your personal calendars.
The events are all free and take place during weekday lunch hours. Go over to the city's website to see all the topics but here are a select few that really focus on downtown Raleigh.
The Great American Downtown – 2025
October 23, 2013
Mitchell J. Silver, Chief Planning & Development Officer and Planning Director, City of Raleigh
What is the experience of place in great cities of the future?
How can Raleigh make it happen?
Who will be living in Raleigh in 2025?
Jobs + Talent 2025
December 4, 2013
James Sauls, Director, Economic Development, and Derrick Minor, Innovation and Entrepreneurship Manager, City of Raleigh, Economic Development Department
What types of industries are we trying to grow locally and recruit nationally?
How important is talent recruitment and retention to a community?
How do you establish a culture of innovation and creativity?
Back to the Future in Raleigh
February 12, 2014
Eric Lamb, PE, Transportation Planning Manager, City of Raleigh
How will people move in the City of Tomorrow?
How will the evolution of technology change the way we need to travel?
Are there places around the world today where we can glimpse the future?
Population Growth, Sustainability, and the Need for Urban Greenspace
April 23, 2014
Danesha Seth Carley, PhD., Assistant Professor, Department of Crop Science, NC State University
Is there a place for "green space" in the city of the future?
How can we increase and protect our green space and what value does that bring to our community?
How will the city be feeding itself in an era of diminishing resources and increasing carbon footprint?
Downtown: An Engine for Wake County's Tourism Strategy
May 21, 2014
David Diaz, CEO, Downtown Raleigh Alliance, and Julie Brakenbury, Director of Services, Greater Raleigh Convention and Visitors Bureau
What is the role of a downtown in attracting visitors?
What are downtown Raleigh's key strengths challenges as a center for tourism?
How does the visitor bureau quantify the economic impact of downtown Raleigh's tourism assets?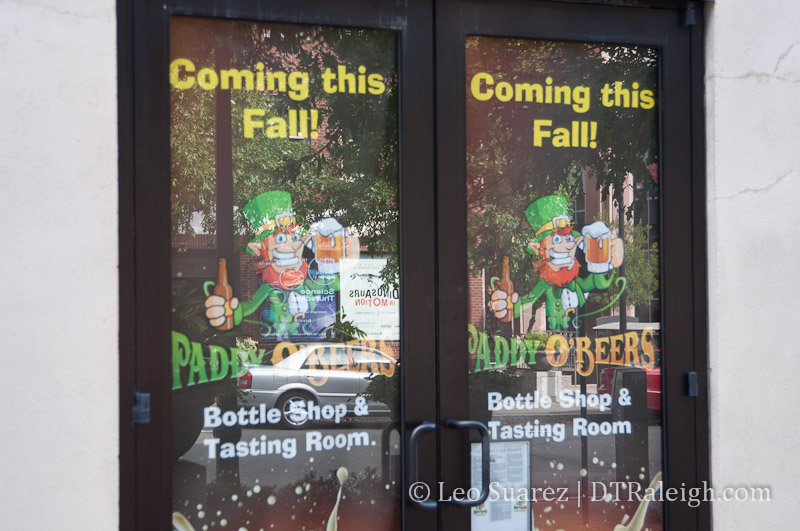 The downtown Raleigh beer drinking scene is a varied one and the next group to step in are the folks behind Isaac Hunter's Oak City Tavern and Coglin's. They are planning to open a bottle shop for the retail spaces in the Alexander Square parking deck facing Fayetteville Street, across the street from Isaac Hunter's, a popular weekend spot.
Paddy O'Beers (Patio beers???) will sell craft beers in bottles and kegs. They also plan to set up some outdoor seating in front (a Paddy O' perhaps?) and a tasting bar so drinkers can hang for a bit.
The beer options in downtown Raleigh are extensive and continuing to grow. Expect Paddy O'Beers to open within a few months.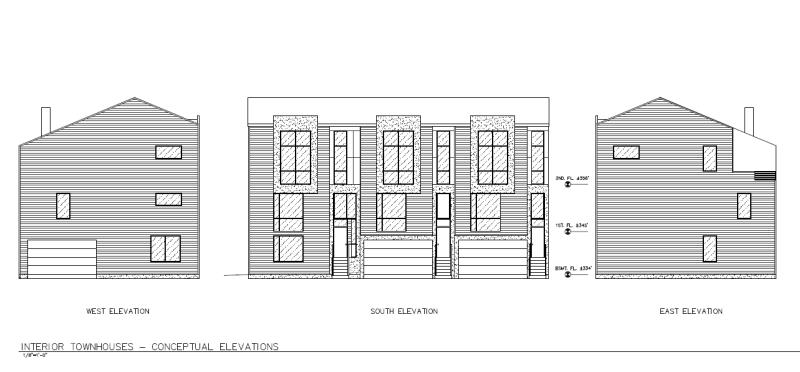 There's a development plan on the city's website that shows some new residential in the works for Glenwood South. 220 The Saint as it's called has a combination of 49 condos and townhomes for an awkward lot on the block bounded by Jones, Lane, Boylan, and St. Mary's Street. (see the map)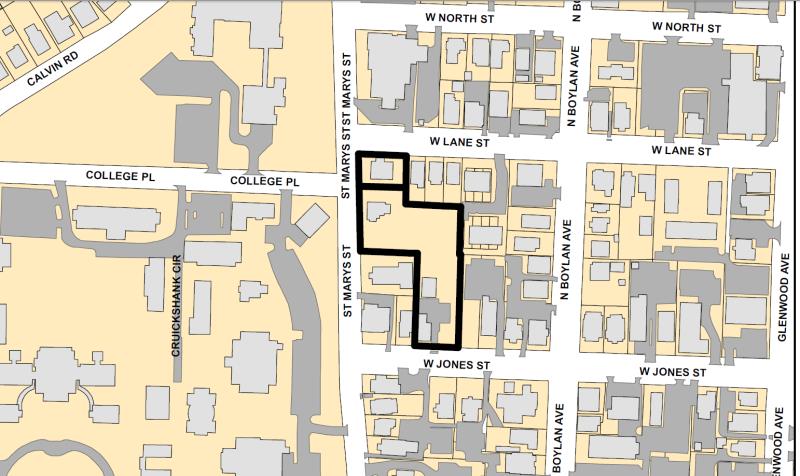 Indeed, the tetris piece you see there is one lot and is currently very underutilized. The development will replace two houses along St. Mary's street in exchange for on-site parking and 49 units spread across three buildings, some being condos and others townhomes.
The renderings in the submitted site plan are very preliminary but do show something that's less dense than what we may have been used to in Glenwood South. I'm referring to the nearby apartment buildings at 712 Tucker and St. Mary's Square.

If you look at the proposal on the city's website, you can see that a new driveway on Lane Street will be built for access into the development, the larger building includes the parking underneath.
Other things to note from the development proposal are that the units will be 1 bedroom and the density is now raised to about 30 units per acre. (up from just 1) There are two houses that will be demolished for the development that front St. Mary's Street and no historic significance seems to exist.

While not too exciting on paper, this is infill development that Glenwood South continues to attract and we may see more and more of this if the larger apartment developments continue to be successful.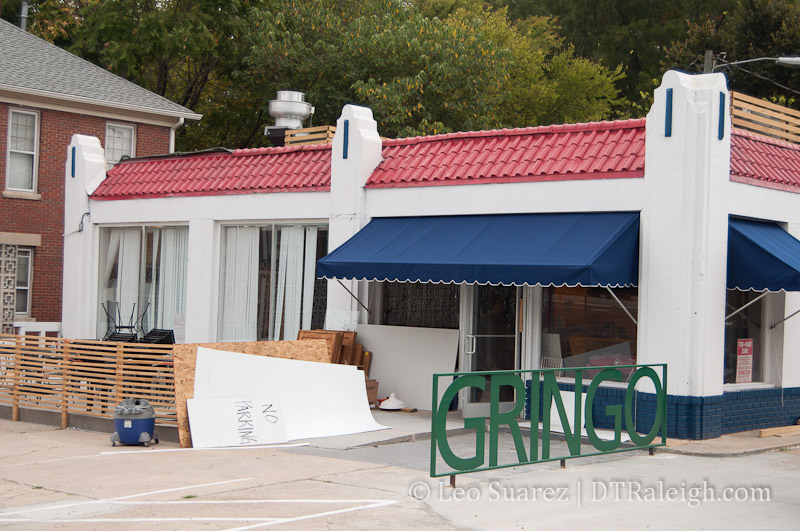 Ben Shelton, the chef behind Lily's Pizza in Five Points, is opening up a new place at the corner of Person and Edenton Streets. Gringo A Go-Go will be a taqueria with some pretty authentic Mexican dishes.
Finally, this space is being given some real TLC as the former convenience store and Reuben's diner kind of put in half the effort. I wonder too if the new thing to do is build a unique bicycle rack out front that represents your place a bit. When I walked by to take the above photo the place looks almost finished so expect it open sometime in the near future.
As always, you can see the ever growing list of downtown food and drink on DT Raleigh Eats.