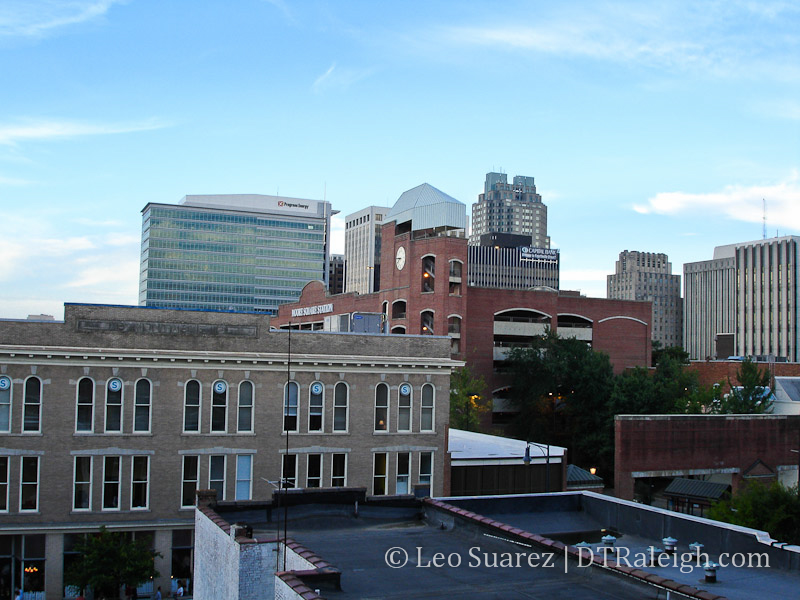 Lucky number seven? The blog has made it another year and maybe this time I will figure out something to do to celebrate it. A Raleigh beer perhaps?
What I do like to do is use this time to dig into the photo vault and take something out. Sure we all like the real historic photos but it can be amazing to see the difference in just a few short years. Above is a shot from the Wilmington Station Deck looking south on a warm July day in 2006. What's different?
I'm thinking of throwing a party at number 10. Until then, we can plan for it and enjoy the downtown. Cheers!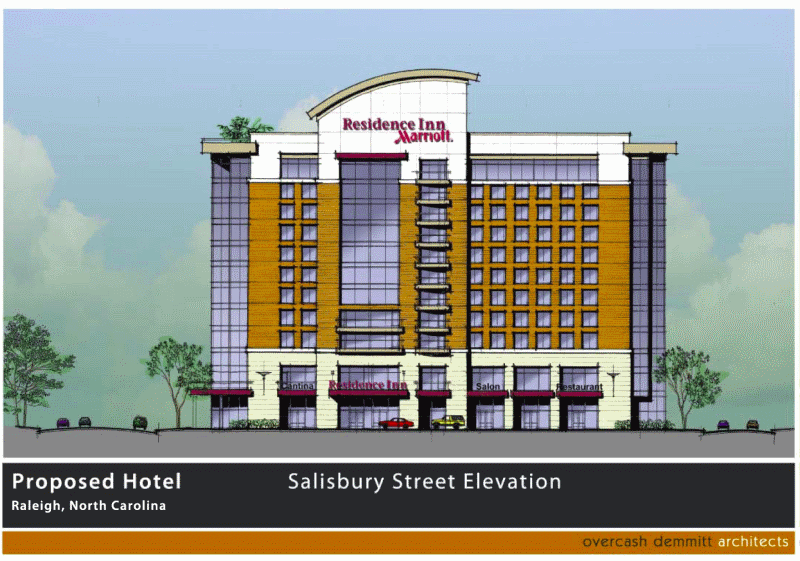 During Tuesday's Budget and Economic Development Committee meeting, a deal was approved for the City of Raleigh and Summit Hospitality Group to move to the next step in bringing a new hotel to the convention center area. The current lot on Salisbury Street, just south of the convention center and facing the Performing Arts Deck, would be the future home of a Marriott Residence Inn.
As part of the deal, the city-owned land would be sold for $1.73 million plus other requirements. No new parking will be built to support this hotel as they plan to lease spaces out from the Performing Arts Deck. This means that the deck will get a more formal parking control system compared to its less structured operation today. Visitors will be able to enter and exit the hotel directly from it.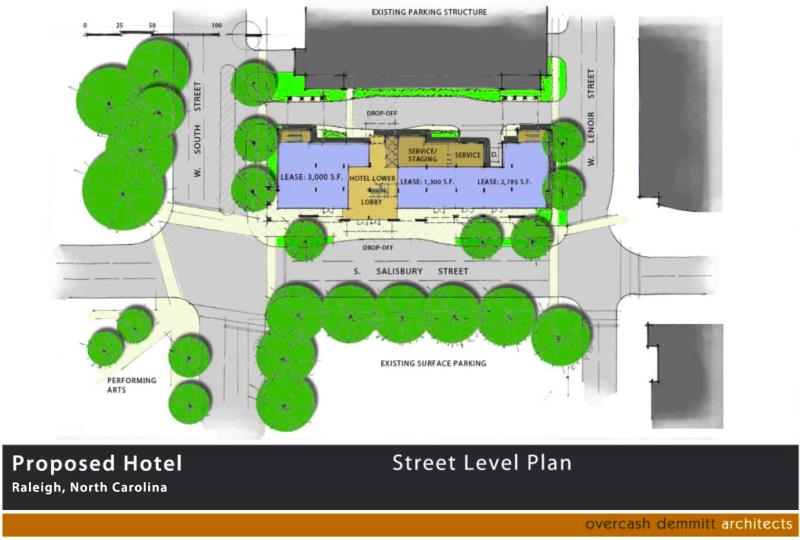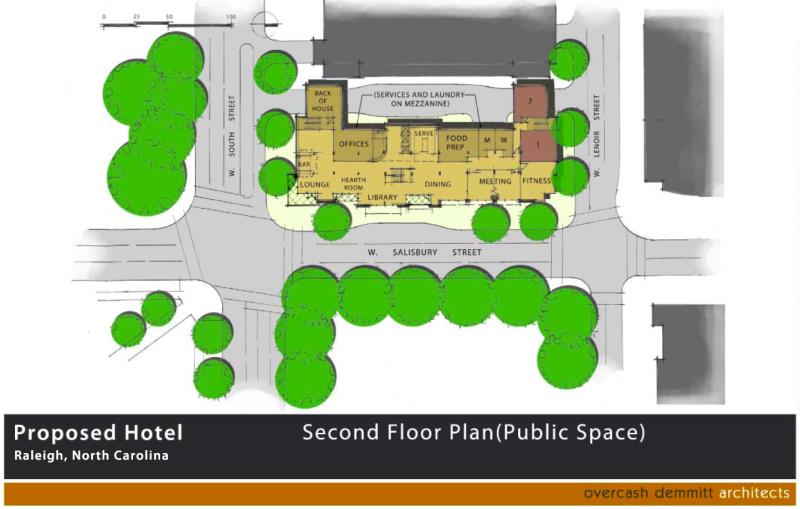 The hotel is planned, at this point, to have approximately 140-154 rooms and ground floor space for retail and/or restaurant. If you look at the floorplans above, the bottom floor is predominantly comprised of that retail/restaurant space in addition to the lobby. The second floor, also shown above, are guest services, the lounge, etc.
The hotel also plans for "A rooftop level consisting of heated space and a terrace with views of the City."
Happy to see this project move forward as we haven't heard a thing about it in about a year.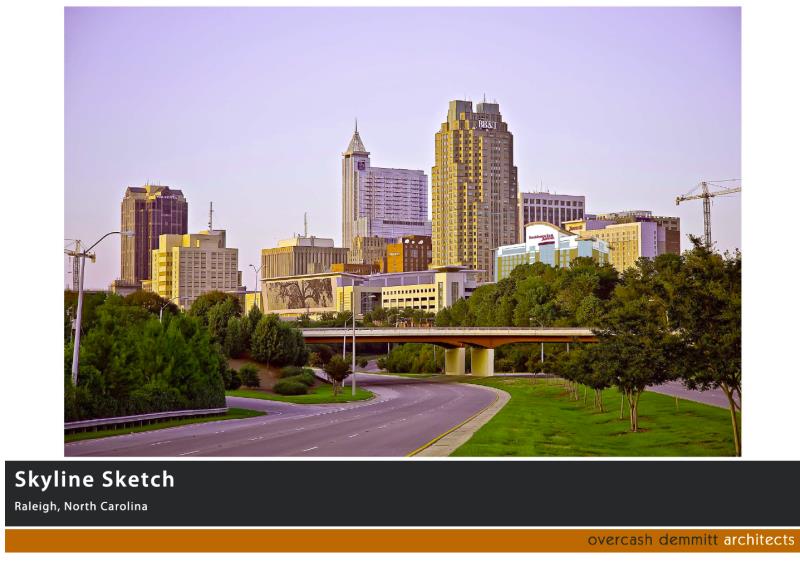 Listen to an interview of Raleigh's Chief Planning Director, Mitchell Silver on our growth and how to handle it. If the embedded audio doesn't show for you, click here.
With a quarter-century of experience, Silver is well-placed for this job. Since 2005, he has been working to turn Raleigh into a world-class city with a modern transit system and livable neighborhoods. He says the biggest challenge is adapting his planning to the city's growth.
*City Planning In One Of The Fastest-Growing U.S. Cities via Here and Now.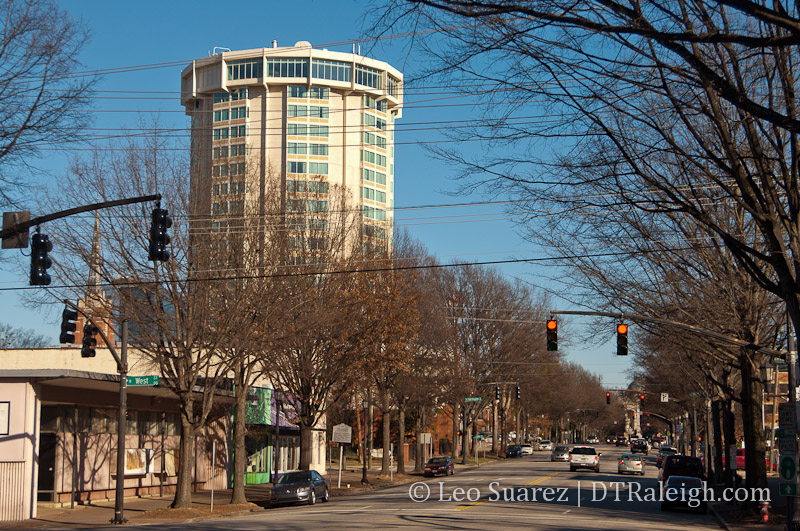 The rotund building on Hillsborough Street that we all either love or hate has some news this week. The former Clarion hotel has now changed back to a Holiday Inn. This coincides with some renovations to the lobby, rooms, and front entrance including a new sidewalk plaza out front.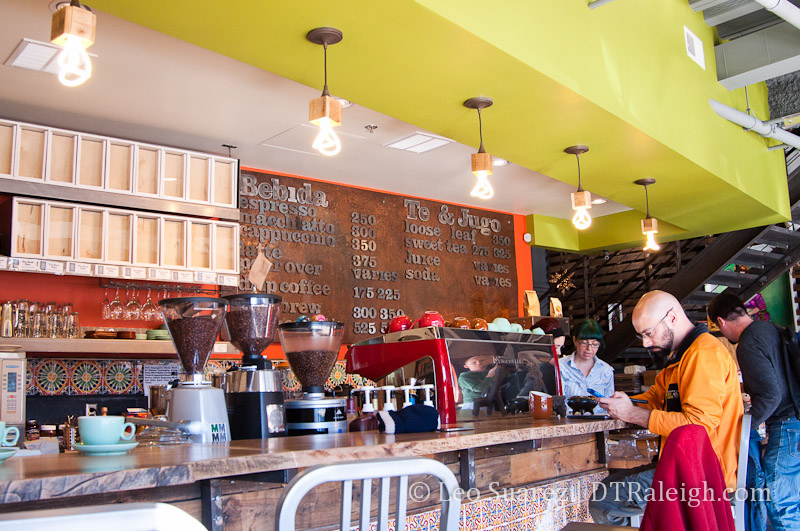 It's been a colder winter compared to last year. It only takes rain or the occasional snow to slow things in downtown Raleigh. This season, we have new coffees and a few eats worth trying.
For a complete list of eats, drinks, and coffees in and around downtown, make sure to bookmark the DT Eats page. Try something new.
Let's first get the good news out the way. (*sarcasm) A Subway is opening in the Wells Fargo tower almost directly across from the Salisbury Street location. I haven't yet asked if this is just a move or an entirely new restaurant. If anyone knows, please share.
Garland has now opened their restaurant space. This now completes the triple threat at 14 West Martin Street with Neptunes Parlour in the basement and King's Barcade upstairs.
The Station opened in late Fall and has all winter to get things worked out before the Spring. With a fantastic outdoor patio, this place is sure to be busy when the temperatures rise.
Café de los Muertos, pictured above, is now open in The Hue. They did a really nice job with the space offering an upstairs "nook" for hanging out. In the warmer months, the garage door-style window will really make the place open up.
Oak City Meatball Shoppe has opened in the Red Hat tower along Davie Street. In addition to servings tasty balls, the shoppe also has a decent drink list and currently stays open late after serving dinner. Plans for lunch hours are upcoming.
Work continues at the Person Street Bar and you can follow their progress on their Facebook page.
Wine Authorities has now opened in the Person Street Plaza. This is their second location in the triangle, their first being in Durham.
Speaking of wine, The Wine Feed has moved from their space in the Carter Building to a full shop in the Hampton Inn space along Glenwood Avenue. The new store offers wine fans longer hours and you can drink wine at their new bar.
Plates is now open in the former Zely and Ritz space in Glenwood South.
After a nice makeover, Gringo a go-go is now open in the building at the corner of Edenton and Person Streets. Get your taco fill!
Napper Tandy's has moved out of their space near Powerhouse Plaza and into the former Murphy's Law space, next to Dos Taquitos Xoco, in Glenwood South.
Amra's in Glenwood South has closed but is only changing management and will re-open very soon.
Mentioned on the blog last month, there are plans for a beer garden at 614 Glenwood Avenue. Hopefully we'll see movement on this in the Spring or Summer.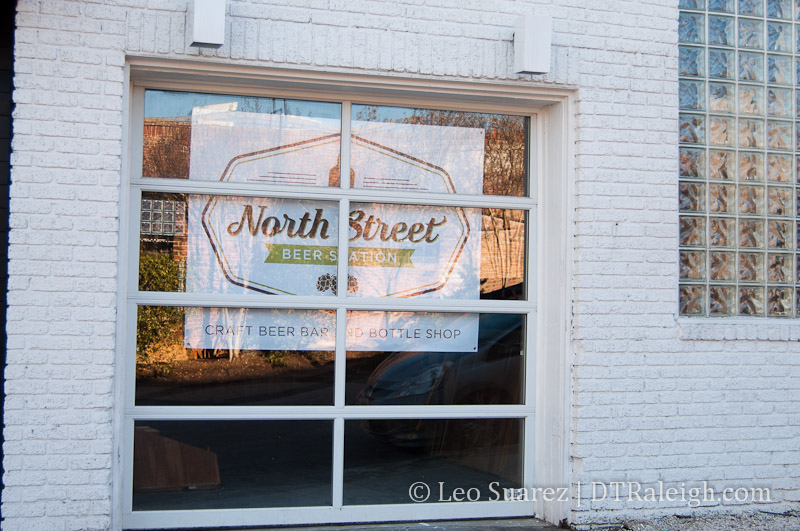 A new bottle shop is planned for Glenwood South. A sign, pictured above, for North Street Beer Station has popped up at the space between Clockwork and The Rockford along West North Street.
Staying on beer, Paddy O'Beers has opened in the Alexander Square parking deck retail spaces along Fayetteville Street.
Next month, The Oakz will open in the former Bogart's space in the 510 Glenwood building.
From my inbox to yours: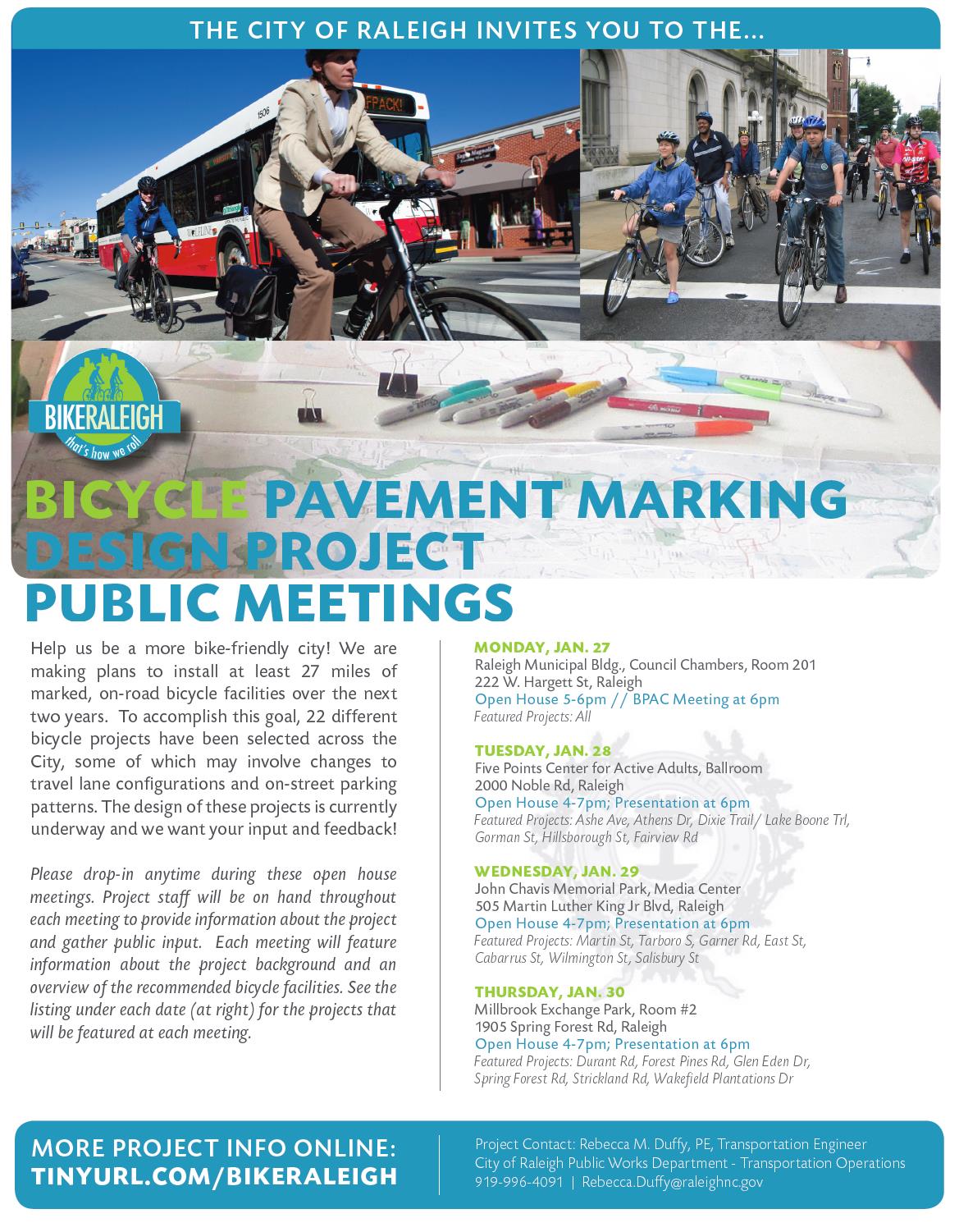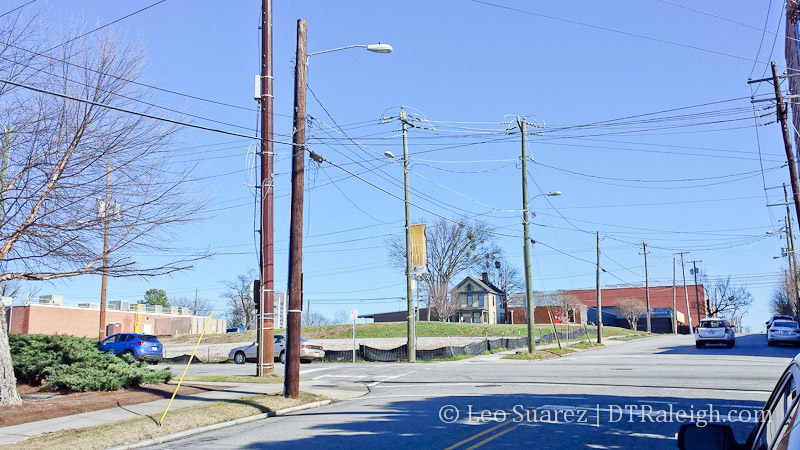 It was practically a year ago that we heard that the on-hold Powerhouse Plaza, an 11-story tower with hotel and office space, switched to an apartment project. The rest of 2013 was pretty quiet about this upcoming residential building but now, according to this TBJ article, Grubb properties wants to break ground sometime this Spring.
Snooping around the internets for more information, Cline Design has a rendering of the building that will sit at the northeast corner of West and Jones Streets. Named "The Link at Glenwood," this project infuses even more residents to Glenwood South. See their rendering below along with description.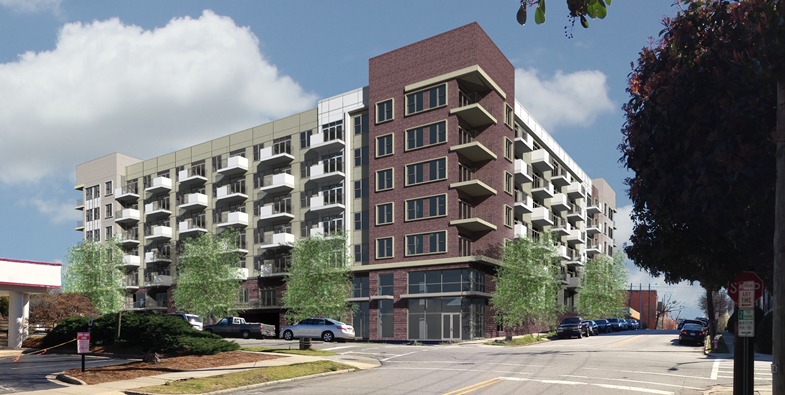 This 203-unit, wood-framed, multi-family project is part of Grubb Properties' Link apartment brand, and located in the vibrant Glenwood South district, a growing urban living community in the heart of Downtown Raleigh. Within walking distance to several shops, restaurants, and clubs, situated on a two-acre infill site, a density of over 101.5 units per acre is achieved with and integrated below and above grade parking deck for approximately 187 cars. Six floors contain a diverse mix of studio, one and two-bedroom units. An integral Clubhouse & Leasing center contains ample space for resident gatherings, a complete fitness center, and a large outdoor pool & terrace area with a summer kitchen pavilion. The architectural design blends contemporary forms with durable, traditional materials such as stone veneer, cementitious siding and stucco, creating a well-balanced transition between the commercial and residential uses on Glenwood, Jones, Harrington, and West Streets as well as the immediate surrounding contextual area. Jones Street will be maintained as a "green street" by providing new tress and pervious paving along portions of the sidewalk. In addition, new trees will be provided along West and Harrington Streets.
*Cline Design – The Link at Glenwood
Maybe a few power lines could stand to be buried, you think?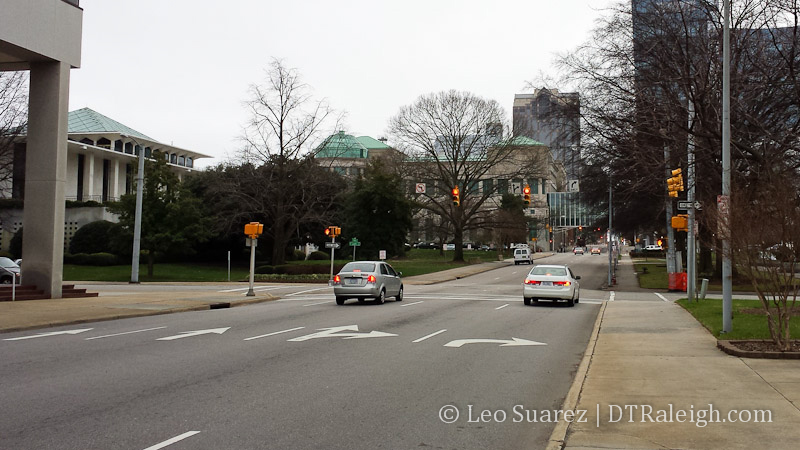 As part of a federal grant, the City of Raleigh is receiving funds to apply marked bicycle facilities around the city. From the city's website to the blog:
The City of Raleigh received a $1.1 million dollar grant from the federal Congestion Mitigation and Air Quality Improvement (CMAQ) program to construct at least 27 miles of marked, on-road bicycle facilities. A proposed list of twenty-two bicycle projects have been selected in order of adopted bicycle plan priority and previously adopted CIP projects. The design of these projects is currently underway and the lead consultant is Vanasse Hangen Brustlin, Inc. joined by Alta Planning + Greenways, Inc. and Kittelson & Associates, Inc.
*Bicycle Pavement Marking Design Project
We'll have to wait for the designs to see what kind of "marked, on-road bicycle facilities" will be created but $1.1 million dollars spread across 27 miles doesn't sound like much. I expect a mix of bike lanes and sharrows.
Here are the streets being looked at within downtown.
Wilmington Street from Saunders Street to Peace Street
Salisbury Street from Martin Luther King Jr. Boulevard to Lane Street
Martin Street from West Street to Tarboro Street
Hillsborough Street from Morgan Street to Salisbury Street
E. Cabarrus Street from Wilmington Street to Chavis Way
W. Cabarrus Street from Western Boulevard to Salisbury Street
See the link to the city's website for more information.