Mayor Nancy McFarlane's 2015 State of the City speech. The speech starts at 11:45.
If the video doesn't show up for you, click here.

Municipography is a summary of current issues going through the Raleigh City Council and other municipal departments in the city. The point is to try to deliver any video, photos, and text associated with the discussions happening at City Hall or elsewhere. Since this is a downtown Raleigh blog, the focus is on the center of the city.
I recommend email readers click through to the website to see the embedded video.
At last week's city council meeting, city staff presented a high-level overview of some of the city department's challenges and positives that our recent growth in downtown Raleigh has created. This is in response to downtown developer Greg Hatem's comments about the vibrancy in the city center.
Also discussed was Raleigh Union Station and a plan to cover cost increases.
Downtown Activities Update

If the embedded video doesn't show, jump to the city's website to watch. It starts at 1:15:22.
From the agenda:
During the January 20, 2015 meeting the City Council heard comments from Greg Hatem (Empire Properties) regarding vibrancy in downtown Raleigh. Staff was directed to prepare a plan evaluating the various elements involved in the growth and increased activity downtown. A presentation will be provided by staff outlining efforts currently underway and proposed next steps to address the issue.

Recommendation: Receive as information.
I really enjoyed this presentation by our city's staff including City Manager Ruffin Hall's introduction. Sure, Greg Hatem may have made a claim that downtown Raleigh is "unlivable" but the report shows that there are many factors going on here and his story could be just a small piece of the downtown pie. It seems like staff and the council recognize that collaboration between many entities is necessary to move downtown towards the adopted vision, the one being discussed in the latest downtown plan.
This is why I love downtown. It's a place with a highly complex fabric of services and uses that should be enjoyed by all Raleigh denizens and visitors through variety and balance.
This conversation questions the downtown Raleigh nightlife and whether it is in balance with the rest of her uses.
From the city's point of view, there are concerns. If I was in a wheelchair, how would I get across a sidewalk that's packed with bar patrons? When Fayetteville Street is packed with taxis and cars, how does an emergency vehicle get through to treat someone? Is the trash that's leftover healthy for our air or water when it runs off? How do you balance all that but not stifle growth and economic development?
In my opinion, these side conversations need to be taken into the new downtown plan and documented. That way current and future city leaders have a reference to work with as downtown grows and new issues are presented. There isn't one clear cut answer for each challenge but the answer becomes easier when all parties are working together.
Raleigh Union Station Update

If the embedded video doesn't show, jump to the city's website to watch. It starts at 1:47:20.
The council unanimously supported spending more money on Raleigh Union Station in order to make up for rising utility costs and property values. Staff did find ways to reduce costs of the project, some being cutting the planned stormwater garden and changing up the platform, in order to keep things moving forward.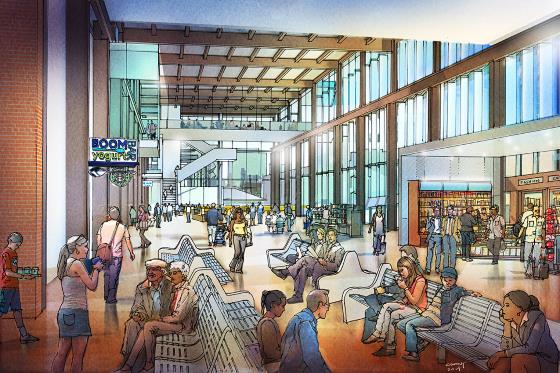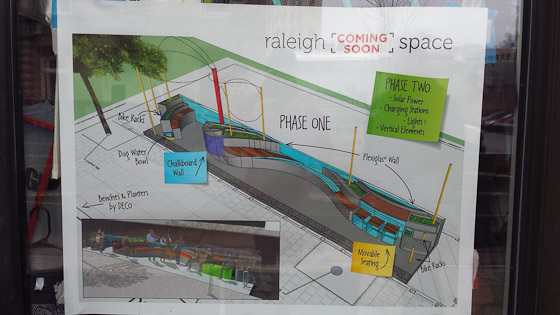 I spotted this poster right in front of the Raleigh Space Parklet located on Salisbury Street. It gives you a good idea where Raleigh's first parklet is heading. Since we last saw it in November, the space is hugely different and looks to be almost finished with phase 1.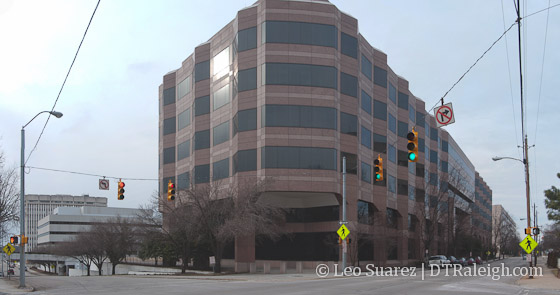 I try to change up the general location of each blog post in order to touch all sides of downtown Raleigh as the months go on. One area that hasn't gotten much love on this site is the State Government campus, the collection of buildings to the north of the historic Capitol building. Home to thousands of state employees, very little has changed here in the eight year lifespan of this blog.
The Green Square project being possibly the only exception, the state government campus isn't seeing the same revitalization that the rest of downtown Raleigh is. And why would it?
From an urban perspective, the campus is nothing but sprawl, fitting in with similar office complexes in RTP than the buildings in downtown Raleigh. It serves a single-purpose; state government which consists of the offices and the politics around it. (protests included)
Sometimes called, 'The Black Hole' of downtown, the campus operates on a 9am to 5pm, Monday to Friday schedule creating a ghost town outside of those hours. There really is no reason to be there unless it's a protest or you're doing work with the state.
I could almost just ignore this area on the blog as most of it is pretty much owned by and operated by the State of North Carolina and the planning dynamic and motivation is a universe apart than that of the City of Raleigh. It just feels more difficult to get the equivalent planning information from the state than from the city.
However, the state government campus can't exist in it's current form forever and I'm secretly cheering for an overhaul of that campus. This is why Governor McCrory's mention of "Project Phoenix" has piqued my interest.
Project Phoenix looks to replace or completely overhaul some of these buildings and bring them up to modern standards. In addition, the Governor has been quoted as saying a newer campus will break away from that single-use environment and include private businesses with hopes of generating activity outside of typical work hours.
The project comes as the state of the campus today is pretty grim with reports claiming billions of dollars are needed to straighten it out. From this recent TBJ article:
Failing HVAC systems, faulty fire alarms, water seepage and asbestos are threatening the safety and security of nearly 10,000 state government workers and contractors who commute into downtown Raleigh each day.

Some buildings are in such poor shape that state agencies have started looking for leased office space instead.

According to a recent State Construction Office report, North Carolina is facing more than $3.9 billion in building deficiencies statewide due to deferred maintenance and repair issues, much of that among the state government's downtown complex in the Capital City.
*Several state agencies mull move outside of downtown Raleigh
Two buildings mentioned during press conferences and interviews were the Albemarle Building and the Archdale Building, which apparently are in such bad shape that the idea of demolition is on the table.
It's all talk at this point as plans or concepts have not been released and there's a State General Assembly to go through but the project could have an astounding impact on downtown Raleigh.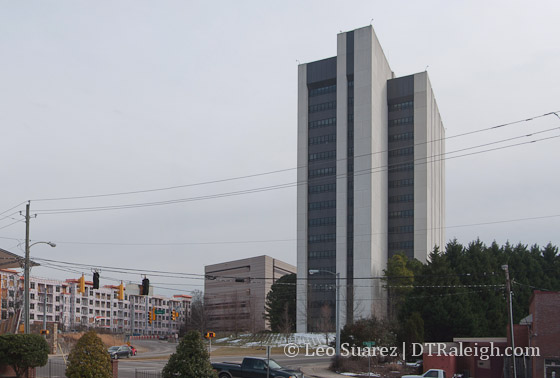 If the state government campus wants to be woven into the fabric of the other districts in downtown Raleigh, the Fayetteville Street area would be the easiest as a north/south traffic flow already exists. With that in place, access to Moore and Nash Square would follow and even the future Raleigh Union Station.
It's unfortunate that connectivity to Glenwood South to the campus is a much bigger challenge. The huge gap between Jones Street and Peace Street, created by the railyards and Capital Boulevard, is a barrier for east/west traffic flow. Perhaps one day if thousands more workers and maybe residents are here, some bike/ped bridges could jump across the railroads and Capital Boulevard.
Lots of room to dream here. We'll keep an eye on this one.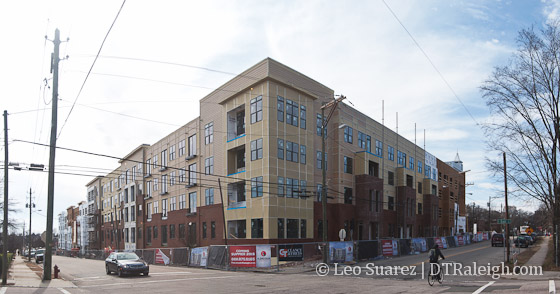 The Lincoln has fully taken shape and the facade is going up around it. With a planned completion time of this summer, there are only a few more months to put the final touches on this project.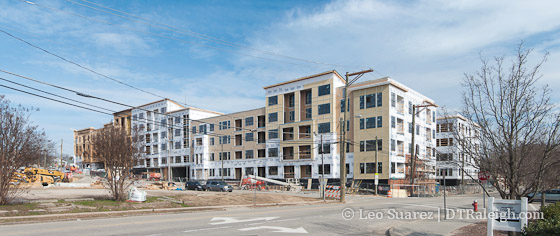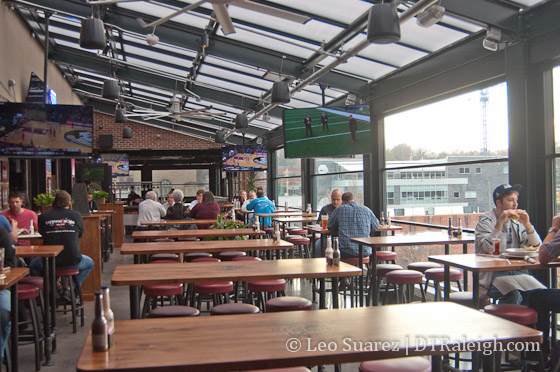 Each year, downtown Raleigh seems to have a burst of new shops. 2013 was the year of the bottle shop. As we wrapped up last year, I think it's safe to say that 2014 was the year of the bakery. 2015 could be the year the barcade but that's still left to be seen. Here's the list of Winter openings and coming soons for 2015.
For a complete list of eats, drinks, and coffees in and around downtown, make sure to bookmark the DT Eats page. Try something new!
Pictured above, the Glenwood South Carolina Ale House is finally open after being announced years ago. On the top floor of the new 3-story building at the corner of Tucker Street and Glenwood Avenue, the flagship restaurant has some pretty nice views and plenty of space for large sports parties.
For the rest of the building at 500 Glenwood Avenue, plans are in place to set up a Mediterranean restaurant and a banquet hall. When I asked, I was told that these were hoping to be ready by August of this year.
The construction work on the Raleigh Beer Garden is really taking shape. The beer garden, with over 100 taps, should be open later this year.
Pho Pho Pho Noodle Kitchen & Bar is now hiring for the restaurant going into the former Oryx space in the 510 Glenwood building. Owned by Quy Duong, who also owns Sushi Blues, the new spot will be "bringing authentic Vietnamese cuisine and crafty cocktails" to Glenwood South.
Could this be a cannoli from the upcoming Italian restaurant Big Boom? (planned for the corner space in 510 Glenwood)
Cannoli !!!!!! #bigboomraleigh @BigBoomRaleigh #foodporn #foodphotography #TRW #j1sphotography #stillfocused ~j1s pic.twitter.com/IWNPW1iQOD

— J1s Photography (@j1sphotography) January 27, 2015
The downtown bakery scene has really heated up with the opening of Lucettegrace on Salisbury Street. There are some very tasty pastries, almost works of art, here and I highly recommend.
Rounding out the 2014 year of the bakery is Night Kitchen Bakehouse and Cafe in Seaboard Station. I've picked up some delicious breads here recently and is another recommendation.
The Level Up, Kitchen and Barcadium, located at 126 South Salisbury Street, is opening very soon. The place wants to serve pub food and craft beer around classic arcade games.
Still nothing new, of significance, on Ashley Christensen's new place, Death and Taxes, planned for 200 South Salisbury Street.
On Fayetteville Street, La Volta has closed but has quickly turned around to a new Caribbean concept called The Twisted Mango.
The restaurant space in the Marriott Hotel is open again but this time as Rye Bar & Southern Kitchen.
A small, cozy bar, called Anchor Bar, has opened on the 200 block of Fayetteville Street.
WRAL reports of a new brewery coming to downtown Raleigh by the owners of Bida Manda. The article says that the location hasn't been determined but I was at a Central CAC meeting about 2-3 months ago and the same owners were there presenting plans for a restaurant at 501 South Person Street. (The CAC didn't vote for the needed rezoning) The renovated church at 501 South Person is probably not big enough for a brewery so either there are two projects going on by the Bida Manda folks or this is where the brewery is trying to go.
Mo's Diner has changed their name to Holly's on Hargett.
A Facebook page and website for a gastropub called Whiskey Kitchen has popped up. The maps show it going at 201 West Martin Street.
The Boxcar Bar and Arcade has opened in the warehouse district on Davie Street. They are continuing to add more games and is a pretty fun place to visit if you're into video games.
A cockatil supply and tasting bar called ABV, run by Crude Bitters and Sodas and Eco-Tech Draft, is open at 517 West Cabarrus Street.
The folks behind The Busy Bee Cafe and Trophy Brewing have opened a Bottle Shop, The State of Beer, at 401 Hillsborough Street. The new shop sells craft beer and tasty sandwiches.
Highlighted on the blog last week, work continues on the new space for Taverna Agora on Hillsborough Street.
A coffee, wine, and beer shop called Drink, Drank, Drunk has opened near the West Morgan Street and Hillsborough Street roundabout.
Nearby, in the 927 Morgan Apartment building, P.G. Werth's is now open.
The highly anticipated opening of Standard Foods is coming soon as the restaurant, grocery store is now hiring.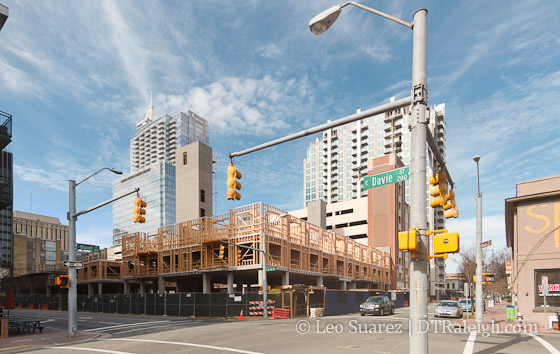 The Edison Apartments at the corner of Blount Street and Davie Street.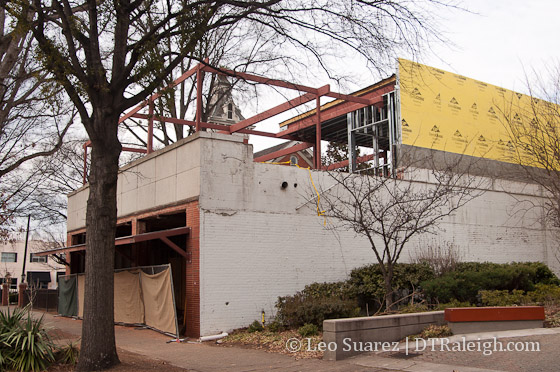 The renovations happening at 326 Hillsborough Street are really showing off these days. The restaurant Taverna Agora, currently in North Raleigh, is planning to move to this spot in downtown Raleigh. New awnings and lots of work on a second floor are visible from the street.
This building has been empty for several years. At one point, next-door neighbor Second Empire had plans to renovate this space but that never came to be.