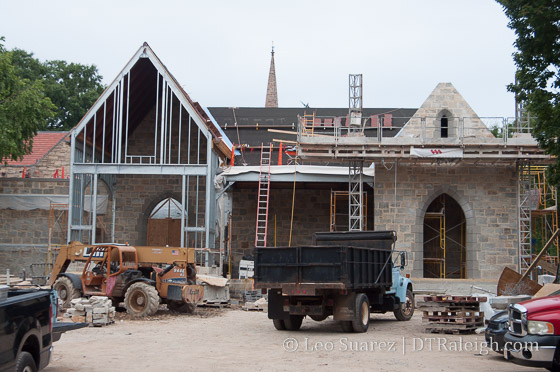 The latest addition to Christ Church is starting to really take shape these days. You've got to hand it to them for trying to make their newest expansion along Edenton Street match the historic building. They have an album of construction photos on their Flickr page.
Readers of the blog should not be surprised that there is a lot of momentum coming soon to Peace Street. The Smoky Hollow project near Peace and West, Devereux Meadow park, the new Capital Boulevard bridge, and new developments in Seaboard Station, including a Harris Teeter, are all going to dramatically change the look of Peace Street.
I went out there to take photos and I'm putting some lengthier stuff together, which I hope to finish soon.
Speaking of the bridge over Peace, put August 18 on your calendar as a public meeting about the Capital Boulevard bridge replacement project is planned.
Save the date! A public meeting is scheduled for Aug. 18 to discuss the Capital Blvd. project and traffic impacts. Details to be announced.

— Raleigh Planning (@RaleighPlanning) August 4, 2016
Stay tuned.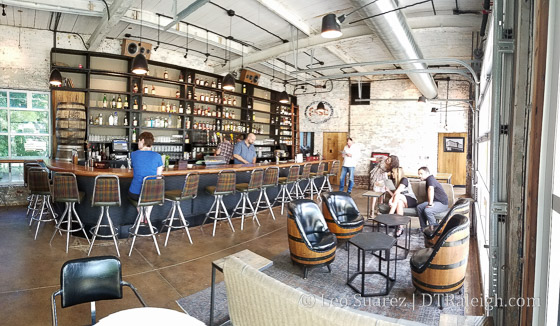 After years of being empty, the old Esso gas station on Hillsborough Street now has life in it. Dram and Draught, a whiskey and cocktail bar, is now open and adds some neighborhood bar vibes to this area of downtown Raleigh.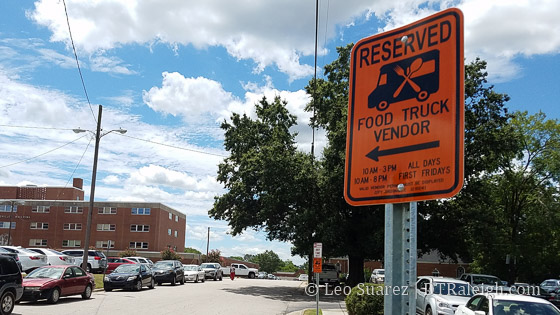 This week, a six-month pilot program starts for having food trucks in and around downtown Raleigh. This means that the trucks can operate outside of just events. There are four areas for the trucks to set up at including:
South State Street near the NC DMV along New Bern Avenue
Polk Street near the state government
South Bloodworth near the Pink Building
Harrington Street near HQ Raleigh
The hours for the trucks to be here are between 10am and 3pm. On First Fridays, they are allowed out there until 8pm.
The food truck debate really does put our public spaces, more specifically the public on-street parking spaces, into view. Parking, and the threat of reducing it, gets emotions running. In my opinion, these designated food truck areas provide a greater public good then a few more parking spaces. They support a diverse of uses, especially a use that provides to pedestrians in an urban area rather than vehicles in an urban area.
Skepticism over food trucks isn't new in Raleigh. The City of Raleigh Museum has a good blog post about the debate over ice cream trucks in Raleigh during the 1960s.
Before the modern food truck, the ice cream truck fought for the ability to sell in Raleigh. The main points of contention were child safety and littering. City officials and parents argued that ice cream trucks were a hazard to the community and posed a threat to children. Like food trucks, ice cream trucks divided the community.
*Not Jumping for Joy: Raleigh's Contentious Relationship with Ice Cream Trucks
Are food trucks really an issue or is Raleigh just being Raleigh?
Hopefully, the pilot program goes off well and more food truck areas can be added to the list.
Downtown continues to add new places to drink and eat. The outdoor seating options coming in the next few months will make you start wishing for Fall. (if the current heat hasn't already done that)
For a complete list of eats, drinks, and coffees in and around downtown, make sure to bookmark the DT Eats page. Try something new!
Vidrio, the Mediterranean restaurant planned for the corner of Tucker and Glenwood, plans to open soon.
With no activity for awhile, the former Benelux Cafe location in City Market has a new restaurant. Cafe Lucarne, with the backing of those behind The Stanbury restaurant, is now open.
The same folks want to open something else nearby, in the former Battistella's space at the corner of Blount and Martin Streets so look out for that later.
A gelato shop is opening in the Edison Lofts building, facing Davie Street. Amorino is an international cafe with US locations in Chicago, New York, Vegas, Beverly Hills, San Francisco and soon, Raleigh!
James over at the Raleigh Public Record noticed a permit for a new bar on Hargett Street called The Volstead Bar. There's nothing much outside of that so we'll keep an eye out for it.
The paper is down and 42 and Lawrence is now open in the Skyhouse Apartment tower. The organic coffee bar and juice rail is quite a unique experience.
On Hillsborough Street, the whiskey bar Dram and Draught might be open as soon as you are reading this as they are very close. The space looks well done and it's good to see some activity on the old gas station that was empty for many years.
#DramAndDraught starting it off right. Way to go @kevindbarrett looks great @NewRaleigh #RaleighNC pic.twitter.com/VRwdCB7BqR

— Charlie Allen (@charlesballen) June 7, 2016
The Person Street area got some big news recently as chef Scott Crawford announced a new restaurant for the former Piebird space on Person Street. Crawford and Son will be a 60-seat restaurant serving modern southern food.
Nearby, a new speakeasy is planned by Jason Howard, formerly of The Rockford in Glenwood South.
Over near Nash Square, Parkside is now hiring.
There have been lots of photos of Whiskey Kitchen's new outdoor seating. (see below) They plan to open very soon.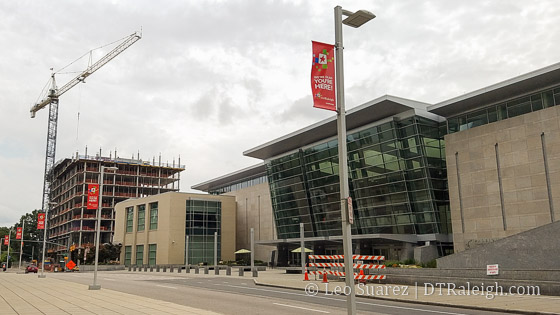 Checking in with the Residence Inn being built next to the Raleigh Convention Center, the hotel on Salisbury Street was working on the ninth floor. Below is my shot from the sidewalks as well as a photo from Twitter from the air.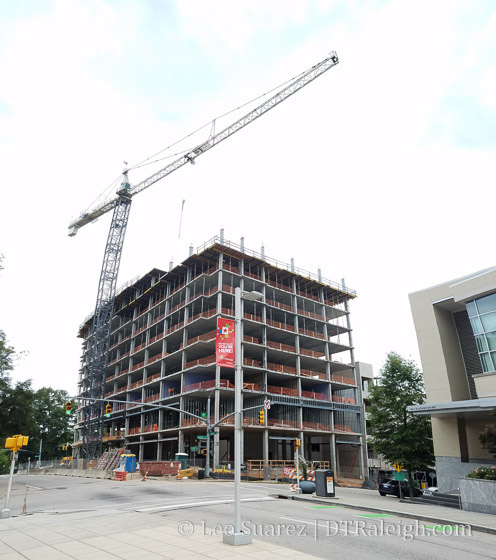 Nine stories built at Residence Inn Raleigh in Downtown. #CJScreates pic.twitter.com/MM5j37zcmg

— ColeJenest & Stone (@ColeJenestStn) July 14, 2016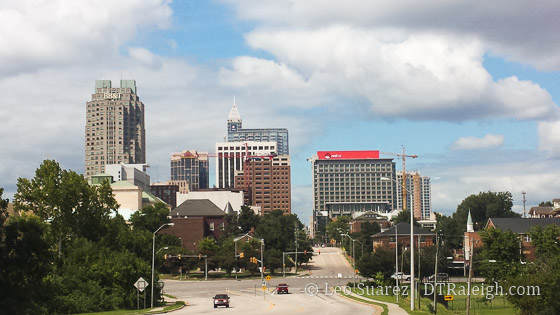 I'm contributing to a new online site called Raleigh Agenda. They launched earlier this month and I'm hoping to expand on some greater Raleigh development and other topics there as an addition to the blog. I recommend you check it out and subscribe to the email newsletter.
I have a post up there now about the city's southern gateway and the vision plans around invigorating this tired, neglected area of the city. From the article:
It may be ironic then that this area, the Southern Gateway, is lacking the same kind of investment that other areas of the city are experiencing. An extremely vehicle-accessible area with roads like Saunders, Wilmington, MLK Boulevard, and the behemoth, I-40, are actually negatively impacting new investment.
*The City of Raleigh wants to improve the Southern Gateway via Raleigh Agenda.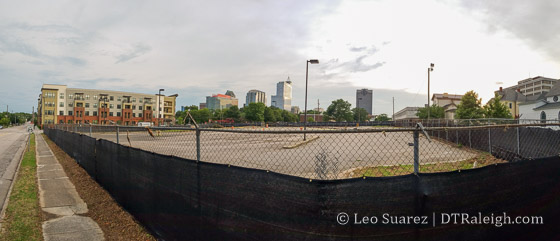 Site clearing is taking place along the 400 block of East Hargett Street. The Hargett Place townhomes are planned for this area.
For a refresher of what is planned, jump back to this March 2016 post.