Fall has arrived in downtown Raleigh.

Here's a construction update on The Lincoln, an apartment building being built to the east of Moore Square. Some parts of the project have topped out, giving you a sense of how big it will be. The Martin Street half is busy finishing the parking deck and the units surrounding it will follow.
Enjoy the photos taken from each corner. A sign on the site says The Lincoln will be completed in Late Spring 2015.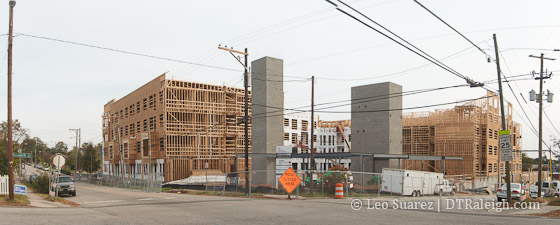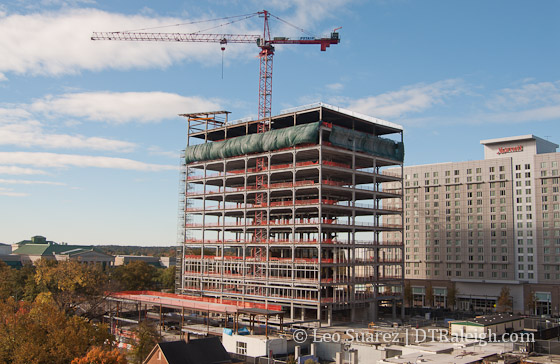 Here's a nice Fall photo of the Charter Square construction site on the south end of Fayetteville Street. The southern tower has topped out and siding is starting to rise up along each side. You can also see the space for the future northern tower to the right in the foreground.
What I kind of wondered about was the low-rise section being built along Wilmington Street. In the past, I had actually assumed that the building footprint was to go from the Fayetteville Street sidewalk to the Wilmington Street sidewalk but that's not the case here. I'll admit to overlooking this when presented with the one rendering back in 2013.
Digging out the site plan from the city's website we have this screenshot below.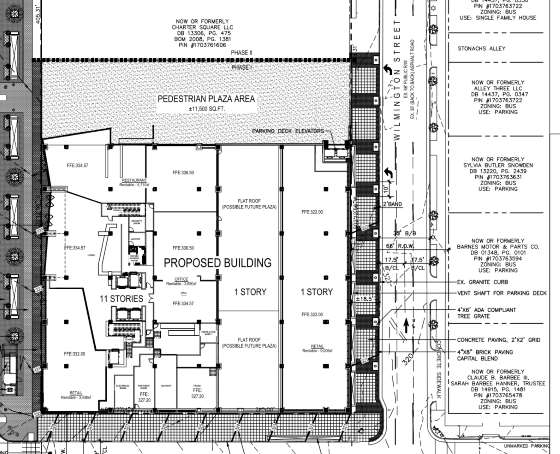 This site plan shows that there will be a one-story building along Wilmington Street with about 9,000 square feet of retail space. Between it and the southern tower of Charter Square would be open space. The text on the site plan calls it "Flat roof (possible future plaza)" Indeed when looking at what is being built now, a roof seems to be going in.
To the immediate north of the tower and retail spaces is a pedestrian plaza cutting the block in half. The northern tower, which is still in the planning phases as of today, would complete Charter Square.
The plaza adds some nice complexity to this block as it aligns with the existing Fayetteville Street crosswalk and the pedestrian entrance to the Marriott hotel. The site plan also shows retail/restaurant space on the northwest corner but mostly facing the plaza. I wonder if this is the space where Eschelon Experiences' new restaurant may go?
The building should be done by Summer 2015.

Neat stat: @DowntownRaleigh has lower % regional office vs competitor cities = Downtown upside, low congestion pic.twitter.com/Bb45ZhPBNV

— Joe Milazzo II (@RTATriangle) October 30, 2014
Here's something that I just had to share. I found this graph very interesting. If you can't see the embedded tweet click here.
It shows that 8.6% of office space in Raleigh is located downtown compared to other cities that we generally compete with. Raleigh's downtown really is small for the city of our size and the reverse rush hour traffic pattern that we have is very unique.
On the flip-side, perhaps this lack of office space has allowed the residential and arts communities to grow in downtown. Something to think about.


Kind of following up on a recent post about the upcoming apartment project, called The Gramercy, here is a photo of the corner of Glenwood Avenue and North Street. The site has been cleared of the former buildings and is ready to start construction.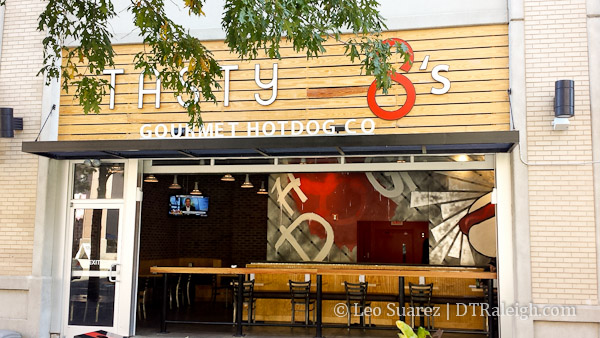 The year of the bakery continues with some very delicious looking places that should be opening soon. Some new renovations are included in this season's update including some activity on Hillsborough Street. This area primarily doesn't see very many new shops and retail so perhaps this is the beginning of something.
For a complete list of eats, drinks, and coffees in and around downtown, make sure to bookmark the DT Eats page. Try something new!
Tasty 8's has opened on the 100 block of Fayetteville Street. (pictured above) They have really done a nice job with renovating the space and the gourmet hot dog menu looks, well, tasty!
Across the street, Capital City Tavern has opened where Isaac Hunter's Oak City Tavern used to be.
We're still waiting on the contemporary patisserie, Lucettegrace, to open, located at 235 South Salisbury Street. They are currently hiring so perhaps the opening is soon.
Ashley Christensen's latest, Death & Taxes, is still undergoing work at the corner of Salisbury and Hargett Street.
Posta Tuscan Grill, the restaurant in the Marriott Hotel, has closed and is being redone into Rye Bar & Southern Kitchen. The new restaurant concept should be open this winter.
Seaboard Station has landed a coffee shop. Brew is open along Seaboard Avenue serving coffee, tea, and beer ever day.
Seaboard Station is also getting a bakery. Night Kitchen Bakery and Cafe is currently hiring and you might run into them at nearby events. Check their Facebook.
Taverna Agora is moving from their location in North Raleigh to Hillsborough Street. Their space next to Second Empire is currently being renovated and you can see steel rising above the building. Rooftop seating perhaps?
Nearby, a beer bottle shop is coming to 401 Hillsborough Street. The shop hopes to open this winter.
Standard Foods still has their sign up for a "late Fall" opening.
In Glenwood South, Clouds Brewing has opened up on West Street in the former Napper Tandy's space.
Work continues on the Raleigh Beer Garden, a 100-tap beer garden located at 614 Glenwood Avenue. Follow their Facebook page for updates.
The building at the corner of Glenwood Avenue and Tucker Street is finishing up and the Carolina Ale House, planned for the top floor, should open sometime before the end of the year.
In the 510 Glenwood building, a Vietnamese noodle shop is planned for the former Oryx space. It will be called Pho Pho Pho Noodle Kitchen & Bar and you can see work actively taking place.
Same building, Vincent Barresi, owner of Vincent's in North Raleigh, is opening an Italian restaurant at the corner space where Myst used to be. The new place will be called Big Boom.
Shuckers Oyster Bar and Grill has opened in the rear space of the building where Bogart's (and more recently Cantina South) used to be.
Eden Ultra Lounge has opened at 3 Glenwood Avenue where the former Dive Bar used to be.
Another bottle shop and beer drinking locale has opened, located in the former Amra's space, called The Stag's Head.
Aiko Bar and Lounge has now opened where Dual Lounge used to be. You might remember the story behind Dual as it was a product of the show Bar Rescue on Spike TV. Guess they couldn't save that one after all.
After Benelux Cafe moved out of their space in City Market, plans for a new coffee shop quickly came out. Expect City Market Cafe to open soon.
In the Warehouse District, it looks like Spy Lounge has closed at 330 West Davie. In the works is a bar and arcade called The Boxcar Bar. If you don't check them out, at least play some Pacman on their website.
Raleigh NC: Happy to be kicking off an update of the Wake Co Transit Plan, with @KimleyHorn Look forward to spending more time there.

— Jarrett Walker (@humantransit) September 11, 2014
Jarrett Walker and his transit consulting company were recently hired to be a part of the update to the Wake County Transit Plan. Below is a radio interview with Walker at a Kansas City station that gives you a taste of his thoughts on transit including street cars, light-rail, and a frequent bus network. Download the MP3 directly if the embed player doesn't work for you.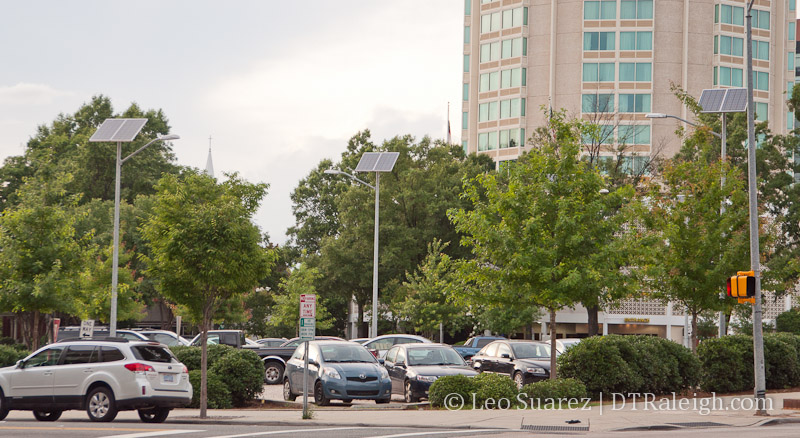 This story is as old as the blog itself so it is kind of exciting to revisit an "old" development. Articles in the news have reported that the city is in talks with interested developers to build on top of the city-owned property at 301 Hillsborough Street. From the North Raleigh News:
Raleigh staff have received at least two "substantial and serious offers for the property," 1.2 acres of parking located two blocks west of the Capitol, according to a staff report.

Worth an estimated $3 million, the southwest corner of Hillsborough and Dawson streets soon could attract another sizable project.

"Whoever builds there, it's going to be a fairly good-sized building," said city attorney Tom McCormick.
*City again ready to sell 301 Hillsborough for high-density development via www.northraleighnews.com
Nothing is out yet so a little refresher to this story is appropriate at this time.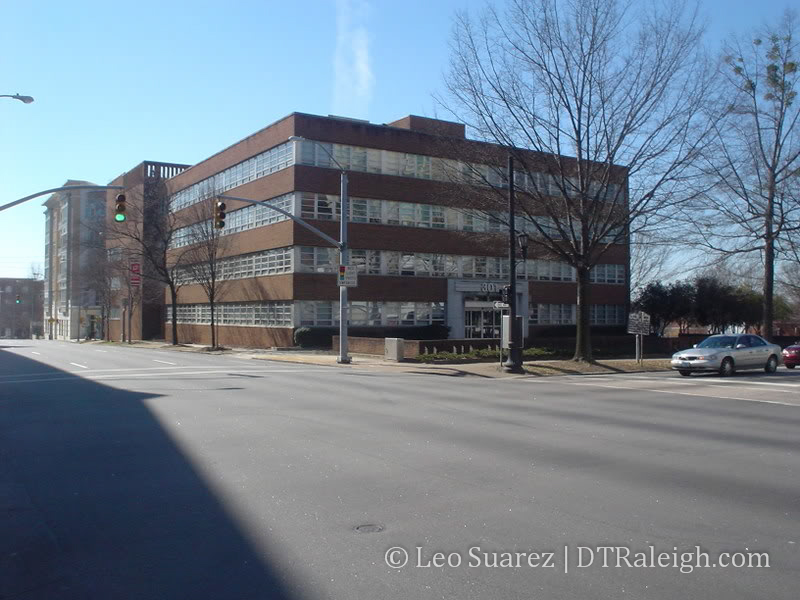 In 2007, plans for a 25 to 32-story tower named 'The Hillsborough' were out by the father and son developers, Ted and David Reynolds. This is the same team that brought us The Quorum Center.
The new tower was planned to be mixed-use with hotel, office, residential, and ground-floor retail. Plans and height flexed a little bit during that year but planning moved ahead enough to demolish the current building on site, shown in the 2007 photo above.
The cleared site sat empty for awhile. There were no changes about 12 months later as 2009 came upon us.
As with a few other downtown projects, the 2009 recession affected The Hillsborough most likely and no progress was made after this. Later that year, the city filled in the hole and it eventually became a parking lot in order to generate some revenue. Campbell Law School, located across the street, uses this lot for parking today.
Speculation on the site's future could go in all sorts of direction here so this post acts as an open thread for RalCon commenters.
I've always seen Hillsborough Street as a central location to downtown districts so a hotel could be an option. There's easy vehicle access to the site using the Dawson/McDowell pair and it's a short walk to the state government district, Fayetteville Street CBD, Warehouse District and Glenwood South.
There currently isn't much office space along the Dawson/McDowell corridor but that doesn't mean new space couldn't be built.
Residential, as in apartment rentals, are never off the table it seems these days. Either way, a large parking component will likely be built here.
More to come in the near future.