Announced on Tuesday May 23, First National Bank will be the anchor tenant of FNB Tower, the former Charter Square north project that we have been tracking here on the blog. Jump straight to the press release for full details.
The key points to pull out from the release are:
22-story development called FNB Tower
Ground-floor retail space
240 residential units
First National Bank will occupy 40,000 of 150,000 square feet of space
LEED Platinum design building
Groundbreaking in December 2017, completion in Summer 2019
The Charter Square projects have gone through numerous changes but this feels like a solid enough update to instill confidence in seeing a crane set up on that site later this year.
This will be a good one to watch as this view from will drastically change. City Plaza is going to be one heck of an urban space in a few years!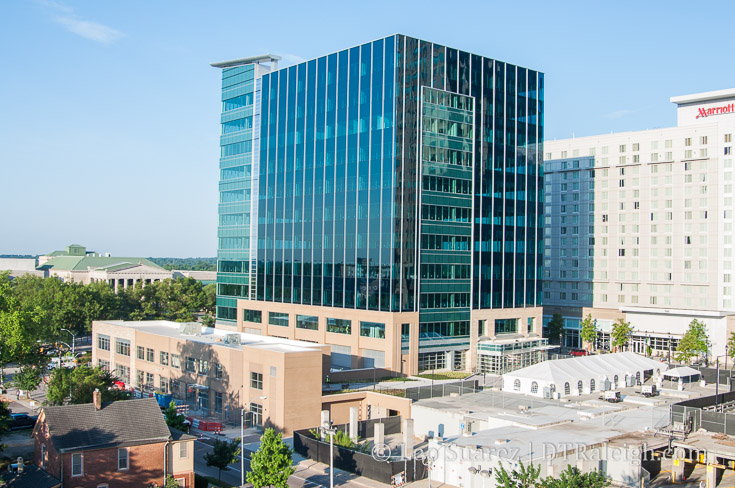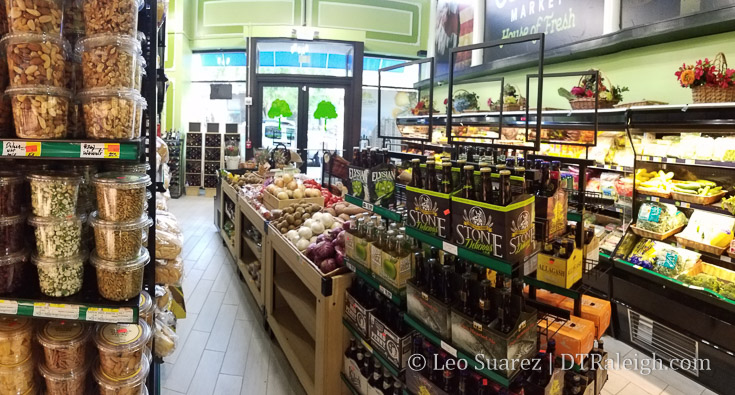 The convenience store king of downtown Raleigh, Taz, has opened up Oak City Market House of Fresh in the Skyhouse tower. The shop is part deli, part grocer with a wide selection of produce, meats, and other essentials. What I like about this one is that the items are packed in there, as an urban store should be.
When you couple this up with DGX Raleigh nearby, you have some pretty convenient options along Blount Street.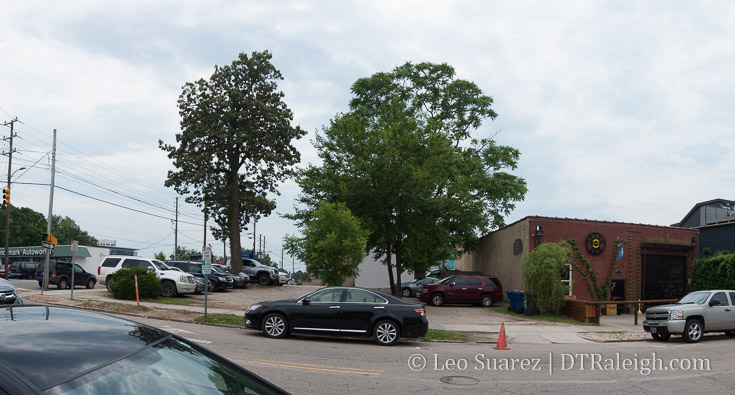 A rezoning request has popped up for 404 and 406 South Dawson Street, the lots at the corner with Davie Street. The empty lot next to Crank Arm Brewing is currently used as parking but will definitely change as the rezoning request asks for a higher height limit.
The rezoning request is to raise the height limit on those properties from 4 to 12 stories. From our city's development code, we have the following levels:
3 stories / 50 Feet max
4 stories / 62 feet max
5 stories / 75 feet max
7 stories / 90 feet max
12 stories / 150 feet max
20 stories / 250 feet max
40 stores / 500 feet max
You can assume Empire Properties, the owner of the sites, want to do something in the 8-12 story range.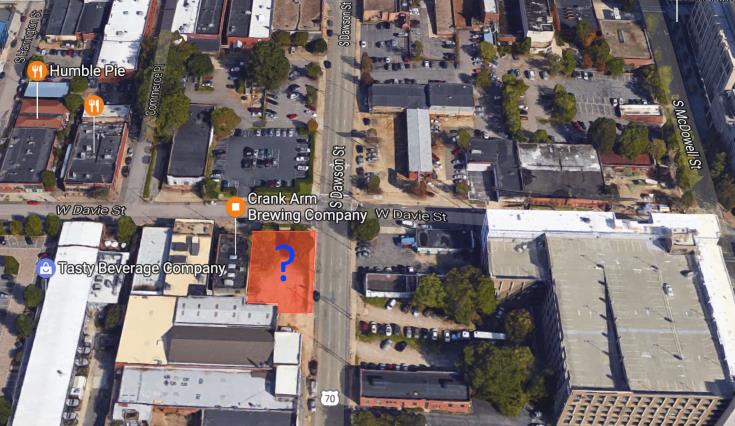 The request contains brief minutes from a meeting of nearby property owners and only hints at discussions about a mix-use tower with ground-floor retail and office. It's possible that residential may be included as well.
The submitted request also hints at being able to start on the project as early as 2018.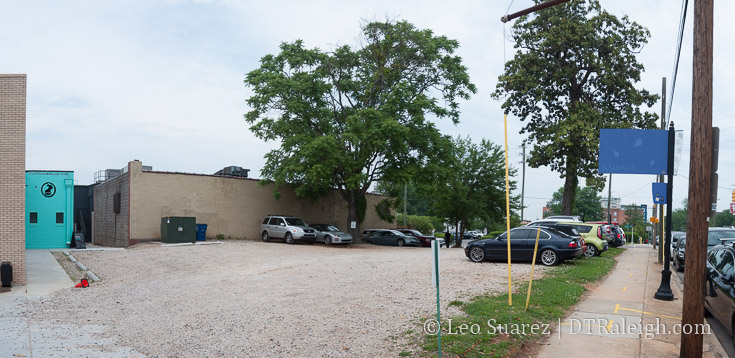 The Dillon, located nearby, will now be in good company if this Dawson-Davie tower is use for office. The real gap, I think at least, is to have a warehouse district hotel. That would be a nice feature for the growing district, one that also compliments the new Union Station.
The next steps, I believe, are to move it for approval by the Planning Commission in the next several months.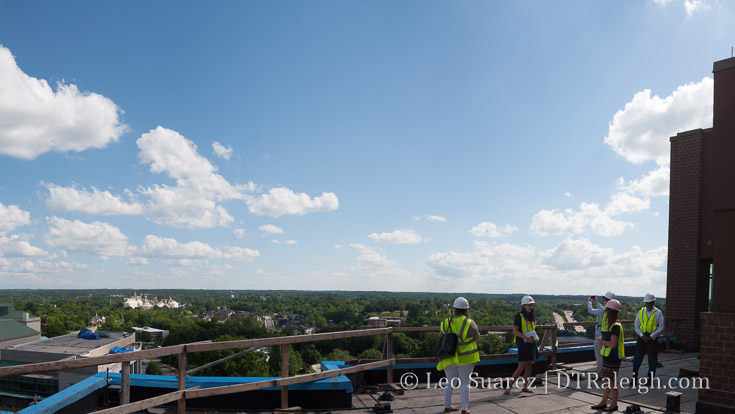 A big thanks goes out to Summit Hospitality, a local development group behind the Residence Inn hotel on Salisbury Street, for inviting me along one of their recent hard hat tours of the building. The hotel is nearing completion and should be welcoming guests in June.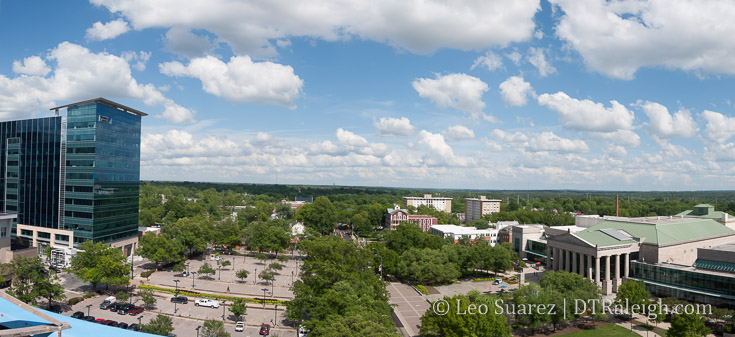 With a contemporary flare, the hotel is not the typical Residence Inn. Included is a rooftop bar that the owners want the locals to embrace as well. Situated on the southeast corner of the building, the outdoor patio overlooks the performing arts center and the lush green tree canopy south of Raleigh. (shown in the two photos above)
Once finished, it should be a draw as it'll be the highest outdoor bar in downtown Raleigh. The owners are also local conscious rather than make it "hotel bar generico".
I'm excited but I just can't help be teased at the view from a top floor corner suite on the northeast corner and think, "Why wasn't the bar on THIS corner?"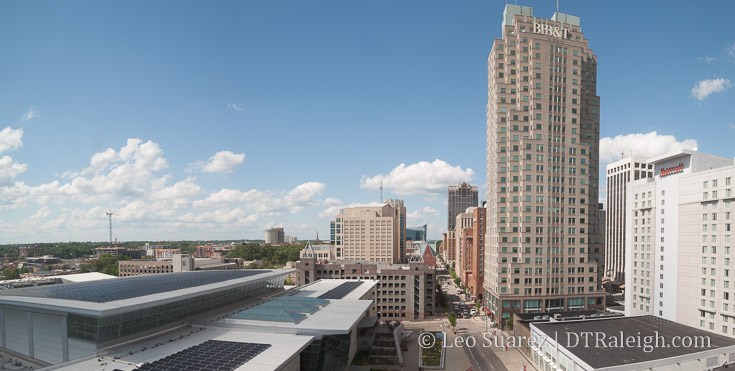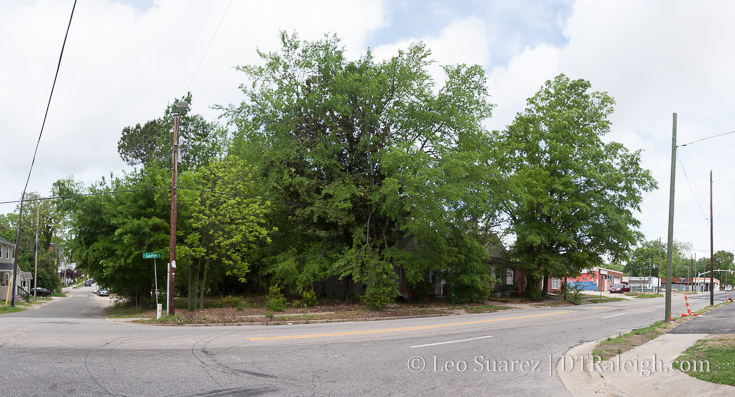 At the corner of Dorothea Drive and Saunders Street, ten 2-bedroom townhomes are planned for an area that's seeing a lot of new residential. SR-036-17 shows two buildings with five units each at the corner with a driveway along Dorothea.
The property is actually much bigger than this actual townhome cluster with some of it being used as a riparian buffer to the nearby stream. (if I'm reading this site plan correctly)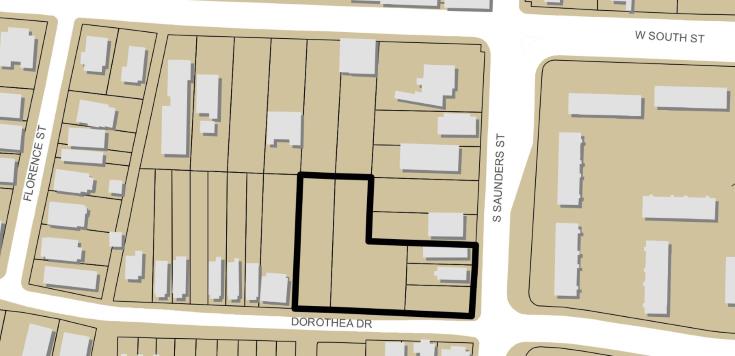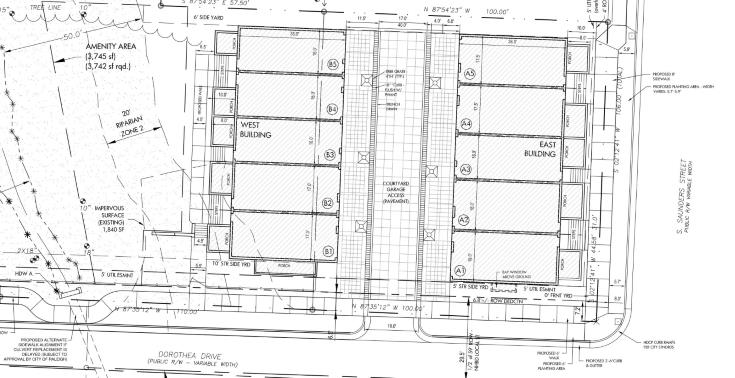 The property is mostly wooded with a pair of houses along Saunders that are set to be demolished.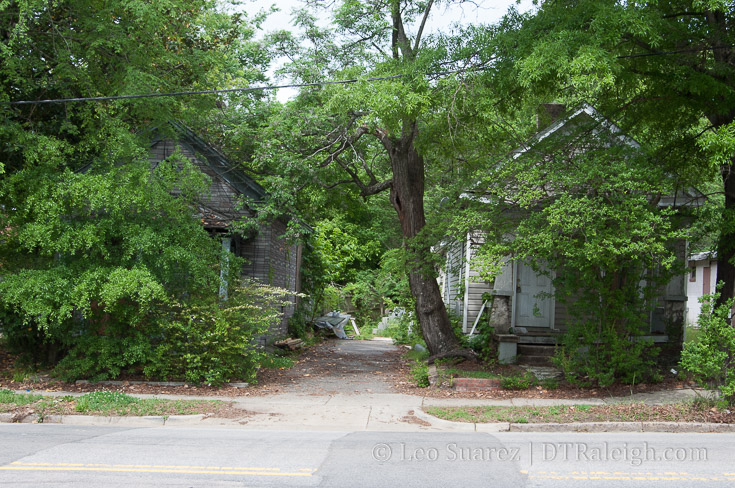 With the amount of activity in this area, the Fourth Ward units aren't alone so I created a Google map showing the activity taking place in the area. If you can't see the map, click here.
Let me know if you think of anything else to add in this area. I'll update it as announcements come out. This also does not include any onesie-twosie house renovations that are taking place nearby in Boylan Heights and Rosengarten Park.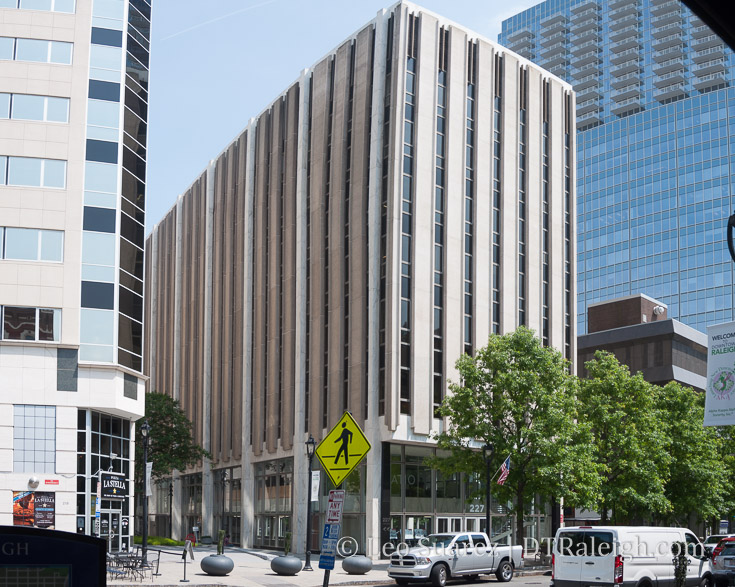 It was announced last week at the Downtown Raleigh Alliance's State of Downtown Raleigh 2017 event that the YMCA will be opening a space on Fayetteville Street later this year. The new location at 227 Fayetteville will take up about 26,000 square feet in the upper floors of the building.
That's a great amenity for downtown workers and residents, supporting the 7-day, 18-hour type downtown that we're slowly becoming.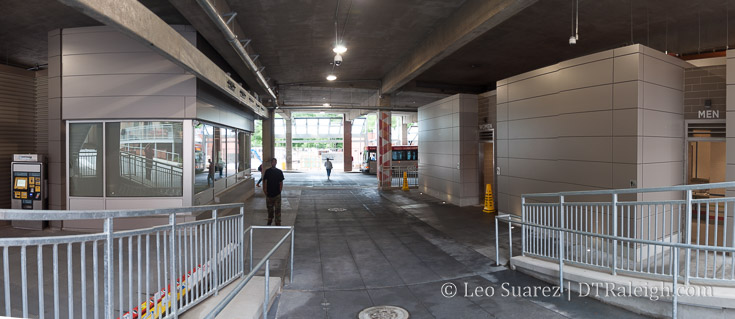 A sneak peek at the GoRaleigh Transit Station as it wraps up construction. We're in the final weeks here and next week, all the bus routes will move back into the station. The renovations include new bathrooms, an upgraded kiosk, lots of digital signage, and smart card pay stations among others.
The walk from Moore Square to Fayetteville Street through the station as well as Exchange Plaza will be just delightful.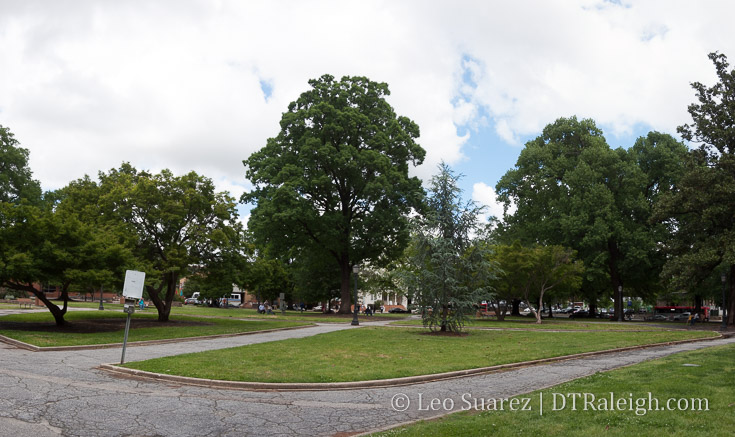 While walking through Moore Square recently, I couldn't help but feel that the square is primed and ready to go on its upcoming renovation. With the nearby GoRaleigh Transit Station renovation wrapping up, Moore Square's number is coming up.
Indeed, the square is planned to start construction this Spring but the bus station needs to finish and be able to operate all the bus routes within rather than along the square's Martin Street side. That should take place on May 1, according to GoRaleigh.
All routes move into GoRaleigh Station next Monday, May 1st. What platform serves your bus?#transit #GoRaleighStation #dtr pic.twitter.com/CiErsg3TTV

— GoRaleigh (@GoRaleighNC) April 25, 2017
The acorn's been moved and the bus station's facilities are up and running. That makes it feel like we're in the last few weeks of the current iteration of Moore Square.
Also, the city's parks department has announced a new information center for Moore Square in the Norwood House located next to City Market on Martin Street. The house has seen businesses come and go over the years. There's a great renovation story, with photos, from Maurer Architecture on the house:
Built around 1877 for Sheriff J.M. Norwood, this 1,600 sq ft historic renovation and relocation project utilized historic tax credits for commercial use. Located in downtown Raleigh near City Market, the Norwood House was home to the offices of Maurer Architecture from 1996 to 2008. This project received the Anthemion Award from Capital Area Preservation and the Sir Walter Award for Community Appearance.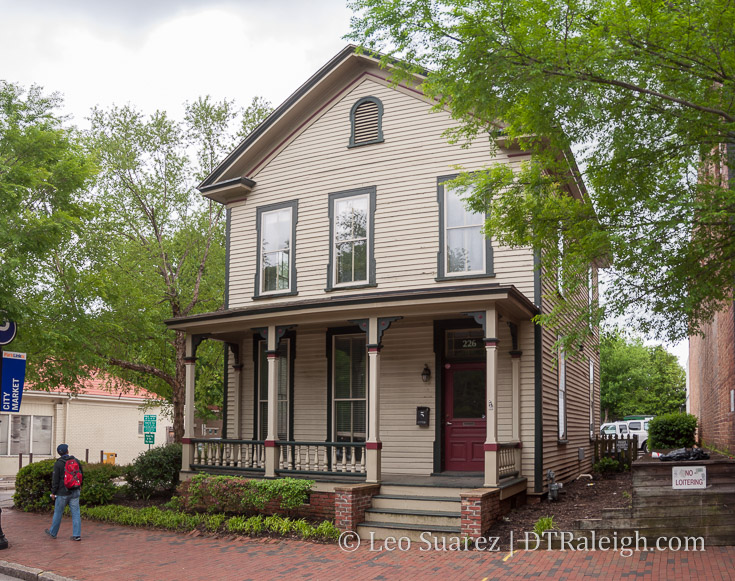 Moore Square has so much going for it organically that it doesn't need to act like an event space any more, something that I would argue was overdone here in the 2000s. The new design should enhance the spontaneous, spur-of-the-moment occurrences that can take place, an essence being in downtown.
You can see more about the project on the city's website. The Moore Square makeover should be finished in Spring 2018.