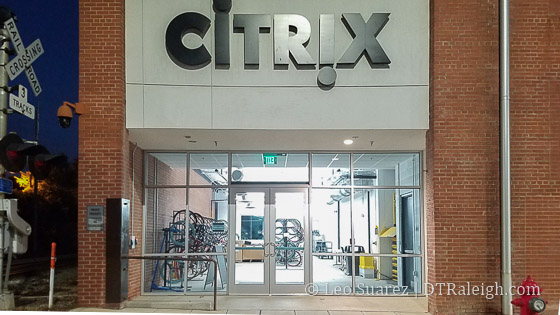 Bike parking at Citrix along Hargett Street. While private, this is probably the peak of bicycle parking in downtown Raleigh.
On Nov 8, or now if you're into early voting, Wake County residents will see this little box on their ballots. This blog, along with a list of other fine persons and organizations, endorse a FOR vote for transit and the sales tax to pay for it.
For downtown Raleigh, and anyone that wants to see the area notch it up on transit-related infrastructure and service, this is a huge addition to the central role that the area plays in the movement of people in our city. The map below shows you how key the core of Raleigh becomes in this 10-year plan.
If you're looking for a summary of the transit plan that this sales tax increase will fund, along with maps, FAQs, and a breakdown of the monetary side of things, head over to the Regional Transportation Alliance's wrap up page.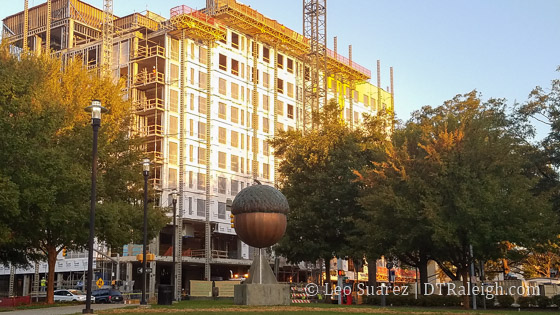 Raleigh's giant copper acorn has a new home. It was moved from Moore Square to the corner of South and Salisbury Street. I imagine the reason is to clear the way for the impending redesign of Moore Square.
The construction shown in the photo above is the new Residence Inn on Salisbury Street.

Email readers: This blog post has a virtual reality image in it. I recommend you click through to the site to see it.
New eats are tasty but what can also be exciting, to me anyway, are reasons to revisit some places as they are doing new things or new folks are bringing a new twist on it. This season's update shows a lot of new concepts in old places, hopefully bringing you back in for a fresh take.
For a complete list of eats, drinks, and coffees in and around downtown, make sure to bookmark the DT Eats page. Try something new!
Kicking things off are new brews from Oak and Dagger. The pub is now opened, shown at the top of this post, in the former Tyler's space in Seaboard Station. In addition to their already running bottle shop, the brewery has a small menu of eats and lots of space for large parties.
Sort of near the Person Street area, Brewerks, a cafe and bakery in the former Quality Grocery space, is now open.
Scott Crawford's new restaurant, Crawford and Son, in the former Piebird space was on schedule to be completed by the end of October. The place seems to be close to opening and you can subscribe to updates on their website.
In the Warehouse District, Parkside is now open on the corner of Martin and Dawson. They are open for lunch and dinner every day.
The Morgan Street Food Hall has a running website and is taking applications for those interested in setting up inside. It was reported that Ed Mitchell is bringing Que to the location as one of the first ones to sign up.
In Moore Square, Empire Eats was chosen to run the food kiosk in the upcoming Moore Square redesign. Called Square Burger, they will be serving burgers with (wait for it) square patties on potato buns.
City Market Sushi is planning to open in November. Located in the former Troy Mezze space, the folks behind the new restaurant want to offer a more casual, and less expensive, approach to sushi.
Amorino, the gelato shop coming to The Edison Lofts, is still being worked on. Last I saw, it looked like there is a lot of work to be done.
The Outpost will be a tiki-themed bar located in the house at the corner of Hargett and Person. In addition to their casual atmosphere, the space will reach out to non-profits looking for space for events. They should open very soon.
Even though Niall Hanley is busy with the Morgan Street Food Hall, he's working on a new concept for the basement under Caffé Luna. Named Watts & Ward, you'll enter the 6,000 square foot bar from the steps facing Blount Street under the Montague Building.
Raleighwood Provisions is a new project from those behind Bittersweet. Located in The Edison Lofts, the shop will sell a wide variety of high-quality, local foods. The plan is to open before the end-of-year and you can follow them on Instagram.
The new restaurant in the former Battistella's space will be called Royale and hopes to open by the end-of-year.
On Hillsborough Street, Dram and Draught is now open, serving beers and whiskey out of the old Esso gas station.
The District, going in the former Hadley's space in The Dawson, is now hiring. They will serve "asian-inspired cuisine with a southern influence" and hope to be open mid-November.
In Glenwood South, Vidrio, the Mediterranean restaurant for the corner of Tucker and Glenwood Avenue, is now hiring.
In the West at North building, Little City Brewery is now open.
Remember the Tobacco Road Sports Cafe? Well, they were supposed to be open sometime soon but still no update on their new location in Powerhouse Plaza where Natty Greene's used to be. They were doing some hiring about a month ago so hopefully it's any day now.
On Fayetteville Street, Bare Bones is now open and serving up beer, burgers, and ribs. The new restaurant from Eschelon Experiences is located in the PNC Tower where Zinda was formerly located.
Nearby, Carroll's Kitchen, the non-profit restaurant with a mission to help homeless women, is now open at the corner of Martin and Wilmington Streets.
Living Kitchen, the raw and organic restaurant, has now opened in Charter Square.
Wahlburgers, a burger chain started by actors Mark and Donnie Wahlberg, is coming to The Hudson where The Oxford was formerly located. It'll be the first in North Carolina.
Bolt Bistro is changing concepts. In a month or so, the place should reopen as Pizza La Stella, serving pizza to Fayetteville Street patrons.
The London Bridge Pub is adding a kitchen. With their expansion into the next door space, they have plans to add a small menu and build from there. The food should start cooking in mid-November.

Email readers: This blog post has a virtual reality image in it. I recommend you click through to the site to see it.

It's the future!

Well not quite. This post is more a test than anything new but personally, I'm getting into virtual reality and thought I'd try something for the blog.

The embedded "immersive photo experience" above shows a 360 degree view of the state capitol and Fayetteville Street on an early weekend morning. Click and drag your way around right here in the browser.

While the technology isn't bleeding edge, it is kind of amazing that I built that using my smartphone. It reminds me of a Google street view image and now that I can build them myself, there might be some opportunities to drop in a very up-to-date view right here on the site.

For all the readers reading RalCon through your virtual reality headsets (all zero of you according to my analytics) I'm still trying to figure out how to pair this experience with a full headset. The full-screen option doesn't look good on my Samsung Gear VR but my reading says it should work on a Google cardboard. For anyone else that might be into it, I'd love the feedback.

Let me know what you think and we'll see where this goes. Expect a few more in the coming weeks as I tinker around with it.

Fiber is indeed coming as Google's ad campaign continues on. It's no secret now that the building at 518 West Jones Street will be home to the area's Google Fiber offices. Or maybe showroom? Storage room? Who knows.

Either way, Google has been very hush about the work that's taken place in Glenwood South and now you can see the new branding on the building windows. Hopefully there will be more additions to the sidewalk area cause I've always found it to be a desert in the summer. (or extra cold in the winter)

Google Fiber may be great for the area but I'm still eager to see how this building will be used once they are up and running.

There's a new podcast out now and its focus is on Transit in Raleigh. I just finished listening to their second episode which is a great interview with our city's transportation planning manager, Eric Lamb.

Called Inbound Raleigh, the podcast wants to talk about all the different ways to get around Raleigh that don't involve a car on a street. After listening to the first episode, it really shows you how many different transit-related projects we have in the pipeline. We have bike share, a transit referendum next month, a bike plan, sidewalk expansions, a train station, and a lot more.

The podcast is run by Jennifer Suarez and James Borden, both of Raleigh Public Record fame. (Disclaimer, Jennifer is also married to yours truly.)

If podcasts are a way that you enjoy getting your media then I encourage you to subscribe wherever you get your podcasts and/or listen to Little Raleigh Radio. They have been instrumental in getting the podcast off the ground and always deserve love when they help launch new projects.

We haven't visited the construction site for Raleigh Union Station in a few months and this weekend, I went out to catch up on the progress. The weather was nice and the clouds were amazing, helping me land some great exposures of the site.

The photo above is the "money shot" of the station, taken from the Boylan Avenue bridge. A lot has happened since I grabbed a photo from the same spot in April.

Looking around we can spot a few things taking shape. Check the above photo out on Flickr so you can zoom in, out, and around.

In the foreground in front of the Dillon Supply Co. sign, the ticketing and baggage claim area is coming together. This area will also house Amtrak offices and general operations rooms.

The station will actually be bigger than the old warehouse that was at this location as this kind of exoskeleton of steel is starting to wrap it.

It wasn't much of a renovation but rather a reuse of some parts (and that's still a stretch) as the building was gutted to the bones. This new framing should create the spaces for the new retail and restaurant space and their outdoor balconies and walkways.

I can probably guess that the mound of earth around the site came from the Union Station project as lots of land had to be moved for the parking lot and the new entrance along West Street.

Above, you can see what the end of West Street looks like today. This mess will eventually have West Street going underneath the rail line and into the station. For additional reference, I've thrown up the site plan, with a few minor edits, which you can see how vehicle traffic is supposed to flow.

The last major thing I noticed was the process of working with the tracks themselves.

Looking at the station from Cabarrus Street, you will notice that only the active line to the current train station is intact. The rails on the left in the two photos above serve the station today while the rails on the right end before the construction site. It looks like that line is down for awhile until the bridge is built over the lowered West Street.

There also used to be other rail lines, two of these offshoot kind of tracks, in this area but those are gone now. Here's an aerial shot from Google Maps to show you the four tracks mentioned here.

No doubt, this track rearrangement is making room for the new platform that will take passengers through a concourse underneath and between two new tracks. You can see that if you jump back up to the site plan.

Here are some other photos from my walk around the site.