I recently took a walk around East Peace Street and there is just so much happening here these days. On this particular weekday morning, the sounds of construction dominate. The hum of machinery, the beeping of vehicles, the hammering of nails are just some of the things you hear if you wander around Peace, Person or Wilmington Street.
These two blocks are just mushrooming with new developments. It's not surprising that the new construction is predominantly residential as that is the current trend.
Built up now are some new townhomes and carriage homes at Blount Street Commons. A lot of land has been cleared along Person Street for even more of these.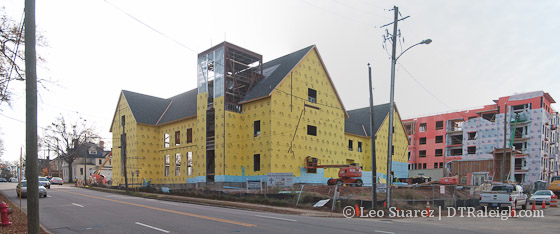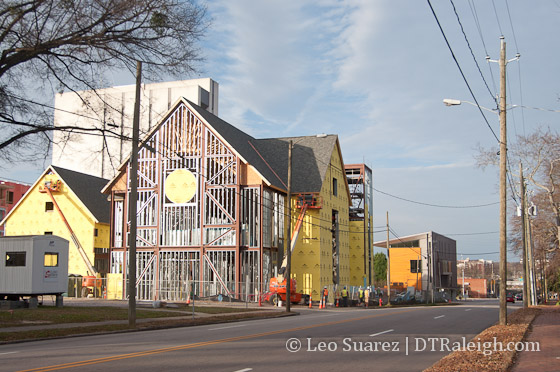 You can now get a sense of the space that the Holy Trinity Church on Peace Street will take as the building shell is pretty much wrapped up.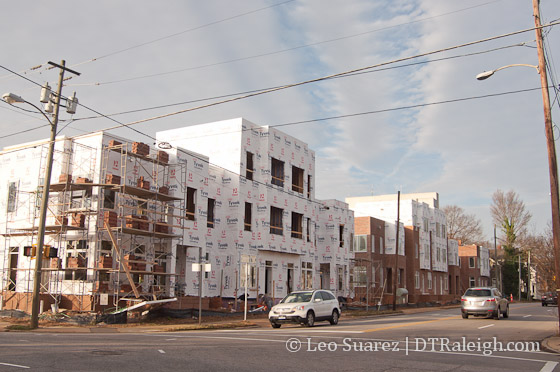 More townhomes at Peace Street Townes are moving along nicely with the entire site out of the ground now. A lot of brickwork has taken place and the first units are close to being ready.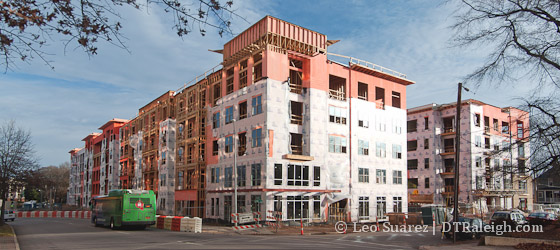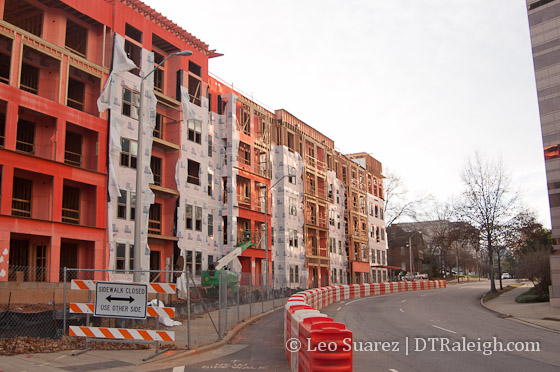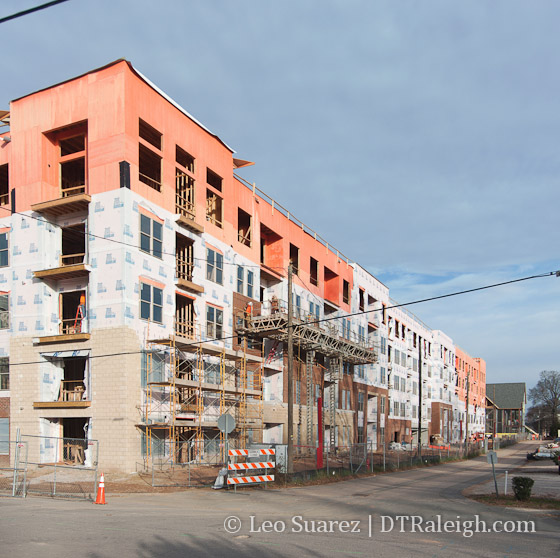 The largest presence here is the Elan City Center project, a five-story apartment building with about 213 units. There isn't any ground-floor retail here but with Seaboard Station just across the street and the non-active government district nearby there may not be a big reason for it.
I'll be interested to see more about Elan City Center as the project kind of just popped up and I'm not sure what kind of local presence there is here. There are no plans for this on the city's website and their website showcases it as a 'North Carolina project' rather than a 'Raleigh project,' mistakenly using Charlotte's skyline on their website.
In a hot rental market, complacency in management is common, as I've heard is the case in some of the newer buildings in or near downtown. Hopefully that's just a few isolated incidents.
I just wanted to share this real quick. Here's the video from this week's transit meeting that took place at the Raleigh Convention Center. It was a great presentation by Jarrett Walker and I encourage readers to watch the whole thing.
In addition, you can follow the planning process at Wake Transit and it should wrap up this summer.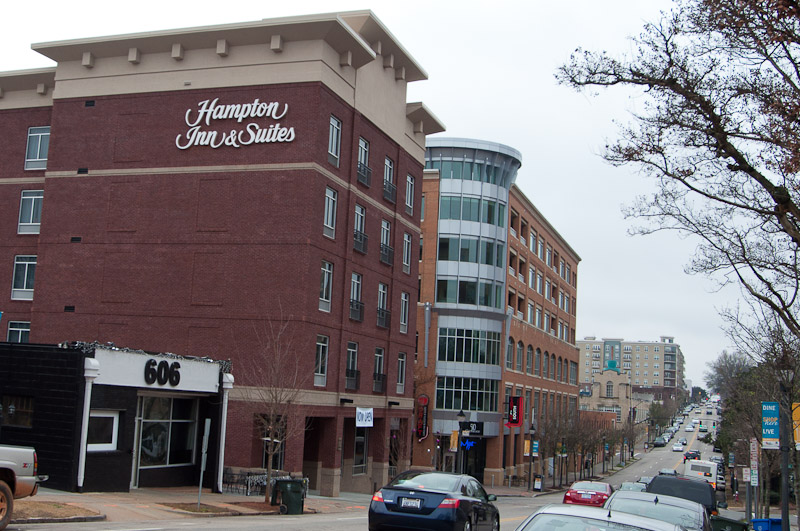 During this week's Raleigh City Council meeting, money was approved to go towards a Downtown Hotel Market Feasibility Study. The city's press release sums it up.
Downtown Raleigh has changed dramatically since the last hotel market study for the area was completed in 2003. The rebirth of the center city has included a return of vehicular traffic to Fayetteville Street; the openings of the Raleigh Convention Center, City Plaza and Red Hat Amphitheater; and new quality housing, office, retail and dining establishments.

The City of Raleigh considers that these new developments warrant an updated hotel market analysis for Downtown. The City Council voted unanimously today to partner with the Greater Raleigh Chamber of Commerce, Greater Raleigh Convention and Visitors Bureau, and Downtown Raleigh Alliance on funding a new Downtown hotel market feasibility study. The City will contribute $20,000 toward the $55,000 study; the remaining $35,000 will come from the three partnering agencies.

The hotel market feasibility study for the Downtown area will include site analysis, a review of rooms and public space needed, hotel type and quality recommendation, impact on the Convention Center complex, and analysis of public/private partnerships existing in the industry.

In addition to funding the hotel study, the City of Raleigh, Chamber of Commerce, Convention and Visitors Bureau, and Downtown Raleigh Alliance will design a request-for-proposals (RFP) to recruit a study consultant and analyze the results and recommendations of the study. The City plans to work with representatives of the partnering agencies in forming a steering committee to develop the RFP and work with the selected consultant to complete the study.

The Downtown hotel market feasibility study is expected to begin in March. It will take approximately four months to complete the project.
*City Council Approves Downtown Hotel Market Feasibility Study
Outside of the actual buildings that the hotels are in, there hasn't been much discussion yet on this topic so I thought it would be good to kickstart that a bit.
Let's start with what we have so far:
That is a total of 1,127 currently active rooms within the generally accepted downtown Raleigh borders. An upcoming project to add to that is:
Residence Inn at about 600 South Salisbury Street, bringing approximately 150 rooms.
The Residence Inn is the only hotel project that I know of that has any real traction. That brings our total to about 1270 rooms.
Small, but growing, is the amount of Airbnb spaces in and around downtown Raleigh. The online space-rental service is rapidly growing across the country and a quick search for Raleigh shows some options in downtown.
I bring this up as the city is currently wrestling with how to properly regulate this service. From an N&O article:
The city won't be punishing people who offer their homes for rent on Airbnb just yet, but some members of its governing council have dug in against the Internet-powered room-rental service.
*Raleigh City Council draws debate lines on Airbnb rentals
A debate on Airbnb in Raleigh could be its own blog post but you could argue that there are mixed messages going on here. For years, city council has said that more hotel rooms are needed in downtown Raleigh. Along comes an innovative service (we're an innovative city right?) to offer more staying options for visitors and we're stumbling over how to handle it?
It could just be as simple as a liability discussion really but I'm not an expert on this topic. Currently Airbnb options in downtown Raleigh make up less than 2% of the available room inventory from browsing the website.
The last hotel tidbit I want to mention is the historic Sir Walter Raleigh building at the corner of Fayetteville and Davie Streets. Opened first as a hotel in 1923, it was the premier hotel for visitors in Raleigh for decades before being converted to apartments in the 1970s.
Talk of converting it back to a hotel is not new and there is a 2008 Triangle Business Journal article that describes a failed attempt at doing this:
Hopes of returning the historic Sir Walter Hotel in downtown Raleigh back to its original splendor as a showcase inn have fizzled out.

…..

Alas, the project was contingent on HUD agreeing to transfer the rent subsidy vouchers from the Sir Walter to Saint Aug's. Despite a letter-writing and lobbying campaign by Raleigh leaders and several members of North Carolina congressional delegation, HUD never approved the swap.
*Sir Walter Hotel revival dies as feds block shift
I imagine the Sir Walter could be a very unique boutique hotel, something entirely new in downtown Raleigh at this point. The hotel market study could shed some light if downtown has enough pull to sustain a boutique hotel compared to a national brand.
Building a new hotel is probably much easier than renovating an existing one, like the Sir Walter Raleigh, but the end product could probably not be matched by any new construction for years to come if done right.

This week I went on a walk up and down Glenwood South and took some photos of random projects in the area. I just wanted to share some of them for those that haven't been in that area recently.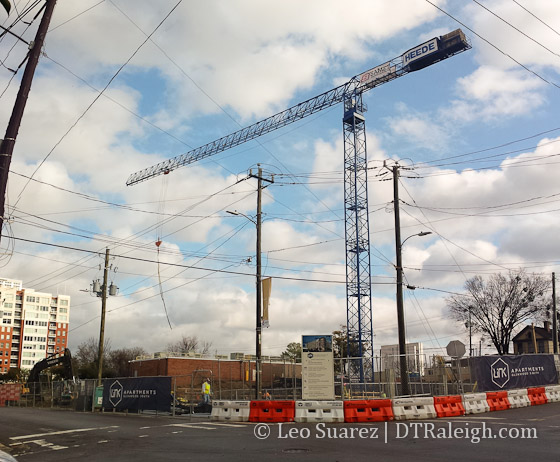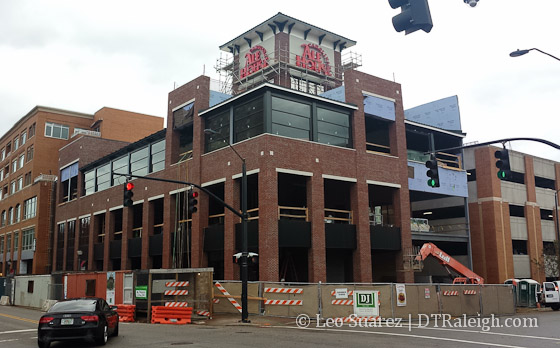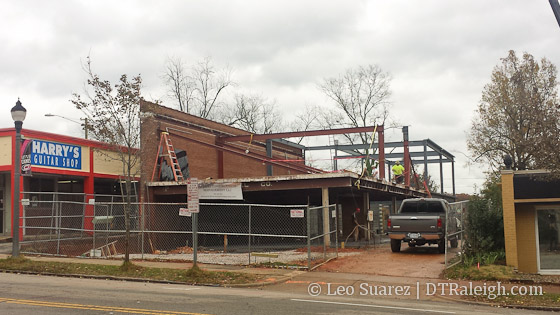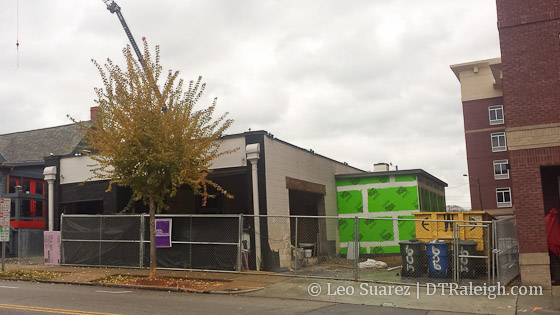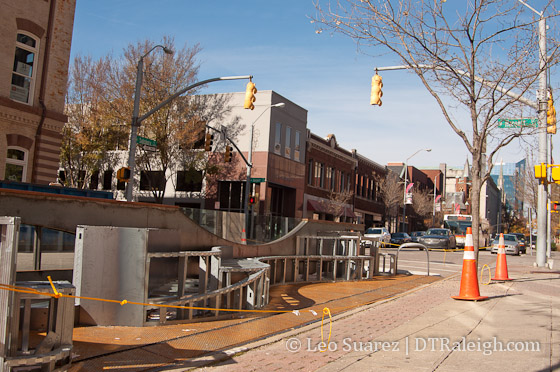 The Raleigh Space parklet on Salisbury Street continues to evolve and the team is still working on it. The parklet was installed in early October and is Raleigh's first.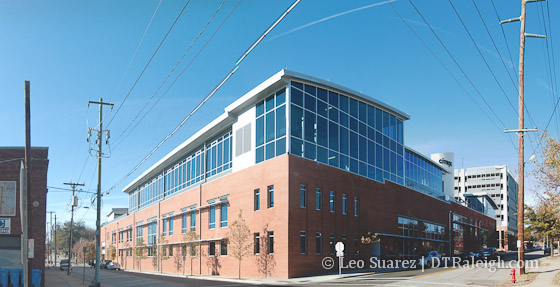 Over the last few months, the polish has wrapped up on the new Citrix office site along West Street and today employees are moved in. In case you haven't seen them, there are some fantastic photos of the new complex up on the company's Flickr page that you should take a look at.
The opening was big with a lot of media coverage. The mayor, the governor, and other VIPs were all at the official opening. The politicians and the city love this stuff and used it in a well-made video to promote Raleigh and Citrix. I have it embedded below for viewing or you can see it directly on YouTube here.
A company and city on the rise: Citrix moves to downtown Raleigh on YouTube
Now that we're rolling here let's take a look at the site.
To a degree, the office portion of the Citrix complex is not mixed-use with the building being purely dedicated to employees. However, if you zoom out that is kind of how the warehouse district is made up these days.
Davie Street contains a mix of restaurants and bars and probably has the most activity but besides the mixed-use nature of The Hue apartments, the single-purpose warehouses and buildings are just that. The future of the district's urbanity is still uncertain.
The Citrix parking deck does contain some retail spaces along the length of Morgan Street. Walking by, there is a lot of space here and a huge amount of sidewalk in front. I would imagine that this will open the parking deck for visitors who want to go here and will create a more mixed-use environment.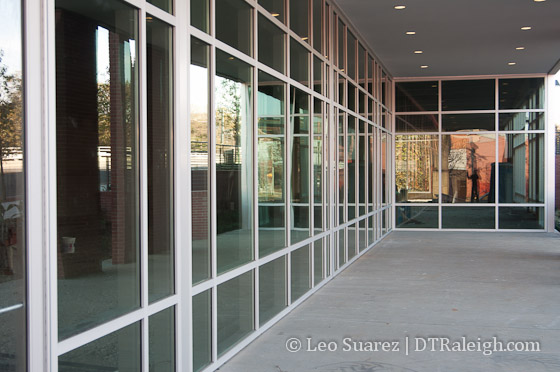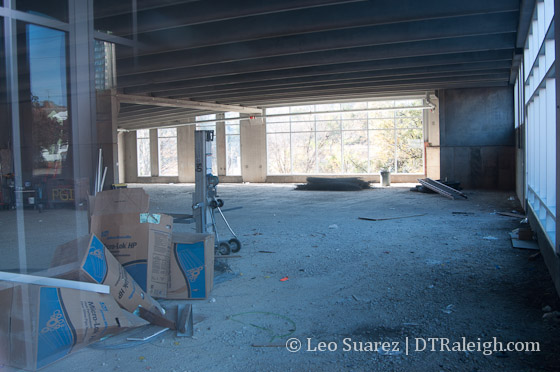 If you go look, you can see that there is plenty of space for all kinds of uses here. The space even has west facing windows overlooking the railroad tracks.
Weekend days and weekday nights are still pretty calm for the warehouse district so my guess is that these retails spaces may sit empty for awhile. However, if the politicians and media are to be believed and Citrix is the great catalyst that we've been waiting for, then I hope that I am wrong.
Fall has arrived in downtown Raleigh.

Here's a construction update on The Lincoln, an apartment building being built to the east of Moore Square. Some parts of the project have topped out, giving you a sense of how big it will be. The Martin Street half is busy finishing the parking deck and the units surrounding it will follow.
Enjoy the photos taken from each corner. A sign on the site says The Lincoln will be completed in Late Spring 2015.