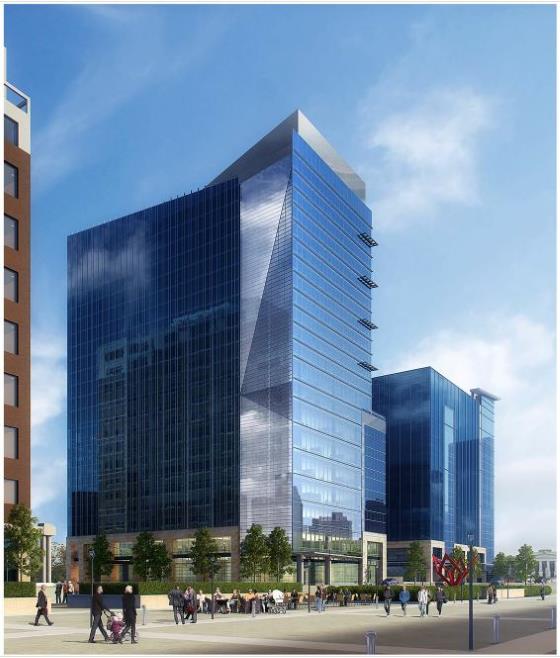 More matching the already built south tower, the Raleigh appearance commission will be reviewing the latest renderings of the Charter Square north tower with this rendering above. The 23-story, mixed-use tower has been in the planning stages for quite a few years so could this finally be the final design?
I personally was a fan of the previous renderings. This newest one "smooths out" the edges a bit by removing the vertical "fins" which I thought added some upward "interestingness." (sorry for all the quotes)
Should make for a great project though.


I call it the "Boiling" Wye as the activity has really heated up!
The photo above was taken from the Boylan Avenue bridge and ahead of the Raleigh skyline, you can see the construction site of the upcoming Raleigh Union Station. More than the building itself, work is/will be taking place for the parking lot, concourse, and new platforms at the tracks.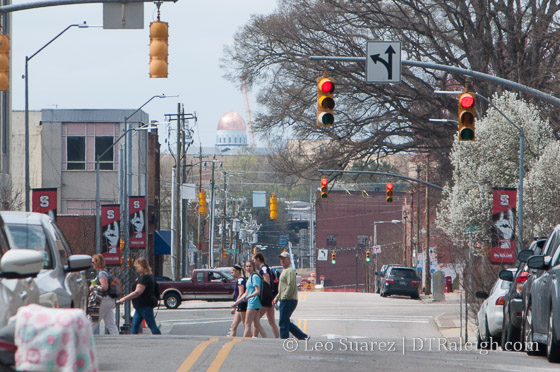 I was walking down Fayetteville Street recently on a gorgeous Spring afternoon. On this particular day, a Saturday with no major events taking place, people were wandering the sidewalks enjoying the same comfortable weather. I've done the walk thousands of times but it was when I noticed a small, new detail that refreshed my perspective and sense of where I was just a tiny, little bit more.
I was crossing Martin Street and to my right, way in the distance, I could see the newly placed dome of the large Catholic church being built to the west of downtown. For a quick second, I had a new perspective of where downtown was located in relation to other areas of my city.
This has nothing to do with the church itself, I'm not a very religious person. It's the idea of being able to view, in the distance, other parts of our city that gave me a sense of place in relation to other places in Raleigh.
I want to think this feeling is an aspect of the term "sense of place." (or at least that's how I interpret it)
The same could be said of the towers in North Hills as you cross Dawson Street. When walking, I always look north up Dawson and can see where North Hills is located.
On Peace Street, you can see the apartments at Cameron Village.
There may be more examples of this but I thought it was cool to kind of reflect on what downtown is also a part of. We follow what is happening in downtown but while out walking, it is nice to see (literally) the city we're a part of taking shape around us.
I feel like these are little details that make it special to be in downtown Raleigh.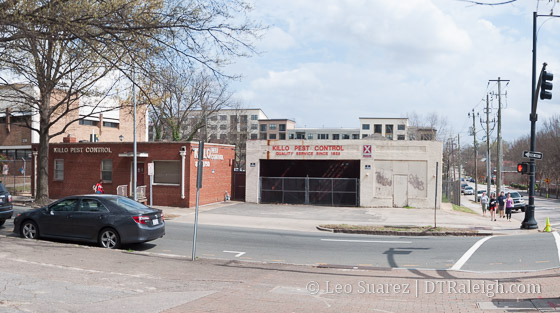 This may not be new news but it is new for the site and for readers to start following. It was reported back in January of this year that the site of Killo Pest Control, at the corner of Martin and Person Streets, was sold to the same developer behind The Lincoln for $1.1 million.
Important to note is that the 0.21 acre site, shown above, is surrounded by over 2 acres of city-owned land, which they have shown interest in stirring new development here. The Moore Square redesign, planned to start this summer, is most likely meant to be that catalyst that gets this area going.
Below is map of the block sitting to the east of Moore Square with some labeling in color. The map was taken from iMaps.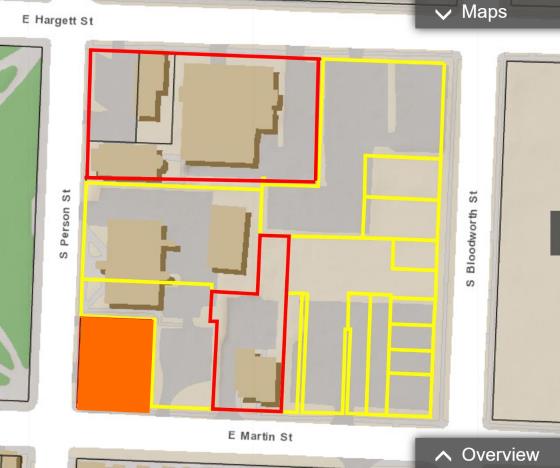 Orange: Killo Pest Control
Yellow: Owned by City of Raleigh
Red: Owned by others
That block is all set for new buildings. It'll be interesting to watch.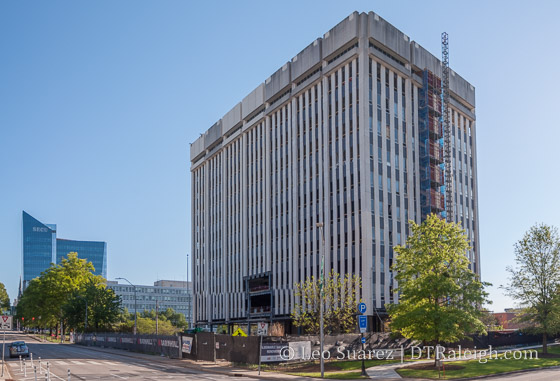 The renovation of the Albemarle Building is well underway. The project on Salisbury Street is part of the governor's Project Phoenix, a plan to upgrade the state government complex in downtown Raleigh.
This renovation may or may not have a big impact on the surrounding area. A modern office upgrade isn't going to create new activity during off-hours especially on weekends. The government may save on maintenance costs in the long run but this project, I feel, won't support any of the governor's claims of creating new development activity and life in and around the state government complex.
It's possible that if the capacity of workers in the Albemarle Building has increased, more downtown workers may create more business. I feel like that's a stretch though. Either way, great for the folks working there but this "suburban-urban" building may bring a negligible contribution to downtown's revitalization.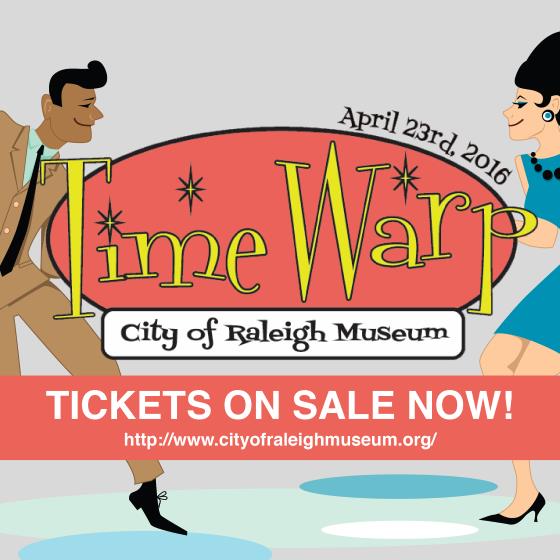 As an effort to go back to my roots and promote more quality events in downtown Raleigh, I wanted to make sure readers were aware of two big ones this weekend.
First, the City of Raleigh Museum's annual event, Time Warp, is taking place this Saturday night. Yours truly will be there working the event a bit and if you have not yet bought a ticket, you can now take a look at the final plans and auction items.
The museum will be taken over by supporters enjoying live music as well as food and drink from local businesses. The past events have really been a good time so I hope you will consider it. As a member of this year's board, we're hoping to meet our fundraising goal to support the opening of new exhibits.
Next, an event that's glazed in local is Shop Local Raleigh's Brewgaloo, the beer festival that is taking over Fayetteville Street this Friday and Saturday. It's become the largest North Carolina Beer festival and is the perfect opportunity to try all things NC craft beer.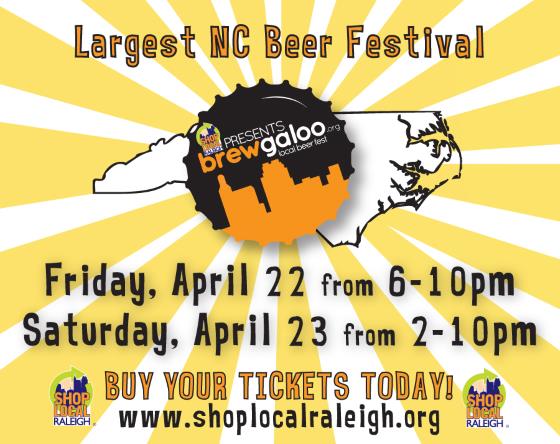 Lots of Raleigh cred is gained from going to both events. Cheers!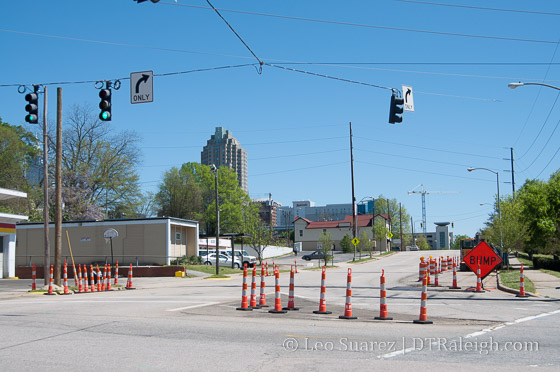 The two-way conversion of South and Lenoir Streets have begun. You could loosely call this a phase 2 project as parts of Lenoir and South were converted to two-way years ago when the Raleigh Convention Center opened. Now, the city is finishing the conversion so that the streets operate as two-way from end-to-end.
For all the details, jump over to the Lenoir & South Street Two-Way Conversion project page on the city's website.
Going west to east, South Street is two-way in Boylan Heights but flips to one-way (east bound) at South Saunders. Shown in the photo above, utility work is taking place and throughout the year the street in this area will contain bike lanes, landscaped medians, and travel lanes going in both directions (of course) up to Dawson. At Dawson is where South flips back to two-way.
Along South through downtown, the street flips back to one-way (east bound) at Wilmington Street. There will be one travel lane in each direction from here all the way to East Street. The traffic light at Bloodworth Street will be removed and replaced with a four-way stop.
Lenoir Street looks less complicated. No conversion work is needed on the west side of downtown and the work begins at Wilmington Street. The east bound one-way street between Wilmington and East will be converted to one-lane in each direction. The traffic lights at both East and Bloodworth will be replaced with four-way stops.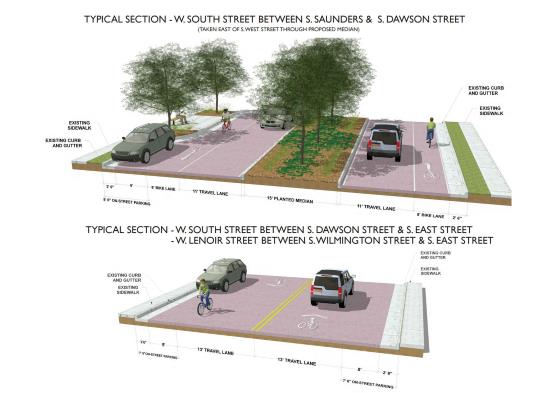 As someone who travels in this area by car and bicycle, this conversion is very much welcomed. It'll also be a nice alternative when Fayetteville Street is completely closed during event season.
It's the perfect day for cheese & wine & sunshine – enjoy half featured wines today! Open at 5! #DTRaleigh pic.twitter.com/f5y4XblUO6

— Babylon Restaurant (@eatdrinkBabylon) March 30, 2016
The Glenwood South Neighborhood Collaborative is inviting everyone to their first of an ongoing event called Glenwood Faire. The neighborhood event combines food from Glenwood South restaurants as well as volunteer and activity groups all around a fantastic social setting.
The event takes place at Babylon and tickets get you food from 10 restaurants. Buying your ticket in advance is the best option as it is only $10, while door tickets cost $15.
Glenwood Faire
Date/Time: Sun., April 17 from 1 p.m. to 5 p.m.
309 North Dawson Street
Raleigh, NC 27603
919.838.8595
Buy Tickets Here
More than simply a "taste of" event, Glenwood Faire aims to create collisions between people in order to build stronger ties in and around the neighborhood. The GSNC has a proven track record of doing such things around creative projects so extending it to food is a great project.
These regular opportunities to join each other at quarterly parties are sure to promote the kind of relationships that make this neighborhood a unique model for downtown life.
Read more about the event on the Raleigh Downtown Living Advocates.