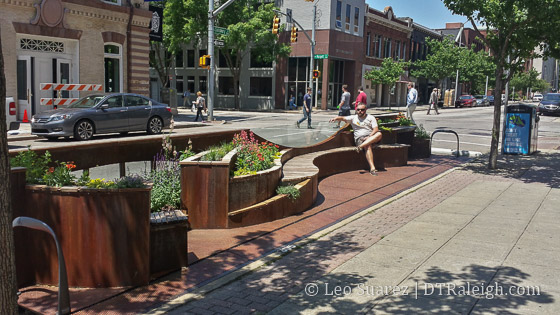 The Raleigh [ ] Space parklet on Salisbury Street is looking real good this Spring.
Coming up during this week's Raleigh Appearance Commission meeting are plans for the 13-story, 158′ Hilton Garden Inn tower. This project is planned for the northwest corner of Davie and McDowell Streets. With a ground floor lobby, floors 2-5 are for parking, and 6-13 for hotel rooms.
After looking at the documents shared in the meeting agenda, the site is predominantly replacing the Turn Key Tire shop that sits right at the corner along with the brick, one-story warehouse that runs along Davie Street. As a result, if I'm reading this right, the building next door with the trophy shop will also be removed too and the tiny little building nearby along McDowell.
And what a cleanup job this will be as tons of utility lines and terrible sidewalks will be removed and replaced, in front and around the building. Behind it, a public alley will be built for loading/unloading of trash and other services. There's a vehicle entrance on Davie Street and the plans don't quite show exactly how the lobby and any potential retail space is broken up.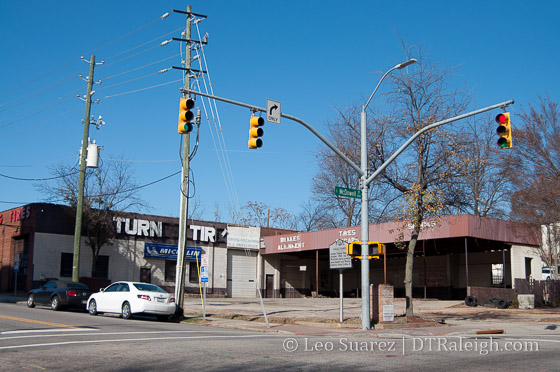 In my opinion, this is probably the best looking hotel proposal in recent memory. The urban form is great and is adding density to new areas of downtown that essentially has none. Bravo to the team behind this project and let's make it happen.
Here's a quick one as I glance through the 2015 State of Downtown Raleigh report.
Click for a larger view. I'd love to see this exact table broken out into two smaller tables, north of the State Capitol and south of the State Capitol.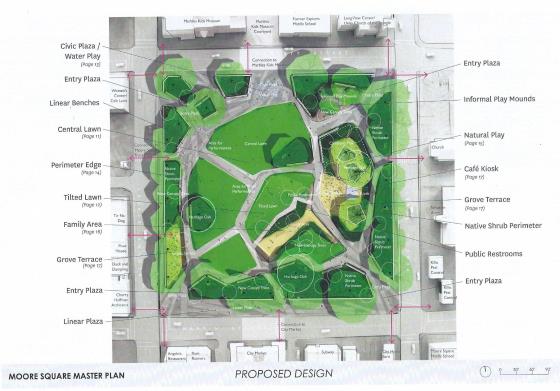 This week, I was invited to participate in the Moore Square Master Plan Public Leadership Group. (PLG) The group consists of individuals from a variety of organizations that may have interests in Moore Square and the upcoming redesign. This included people from the state, the city, neighborhood groups/CACs, and nearby businesses. I was there as a rep from the Raleigh Downtown Living Advocates and just active downtown resident.
The group met at Market Hall and were hosted by the city and Sasaki Associates, the group behind the Downtown Experience Plan. We all discussed the aspects that we were most excited about as well as most concerned about.
Above is the handout that we got and I scanned it in to share here with readers. Those that have been following along should recognize almost all of it as this is the same plan that has been on hold since maybe as far back as 2010.
The proposed design revolves around four central themes:
Gateway plazas – Large entrances that invite people into the square.
Event Spaces – Areas for a stage or tent to support events.
Street Edges – Along the perimeter, a subtle edge is created to give the square a sense of defined space.
Family Spaces – An area of mounds and natural play areas for children to climb and roam.
Uses of the square were discussed, with the intent to gather lots of feedback about what people want to experience in the square so that the design may attempt to accommodate. These activities were broken out into themes as well. They were Food, Health, Learn, Shop, Gather, Art, Relax, and Play.
Activities are more like yoga classes, food carts, history walking tours, or other meetups. More emphasis was put on small-scale, inclusive activities rather than ticketed large-scale events. (something we're used to seeing now in Moore Square)
Some of the biggest concerns in the proposal from the group were:
Design had to promote safety.
Concerns over a possible public restroom.
Felt that the public sector shouldn't run a cafe/kiosk with businesses nearby.
The installation of a cafe/kiosk may not even be allowed as the state and/or historic commissions may prohibit permanent structures on the square. If you didn't know, Moore Square is state-owned land that is leased to the city. If built however, the cafe would be leased out to a private business to operate, similar to the cafe that is in Pullen Park today.
There was an open house yesterday and one tonight but you can still get your comments in about the proposal on this thread over at Your Parks Your Future.
The timeline puts construction taking place in "2016/2017″ according to the city's website project page.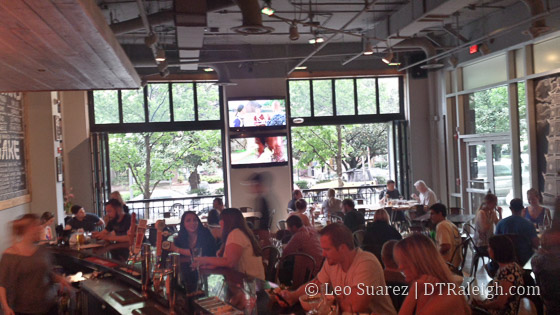 Spring has been quiet, relatively anyway, in the downtown Raleigh restaurant scene. Lots of new places are working hard to open up and the ones that have open are offering something unique that we haven't had before.
For a complete list of eats, drinks, and coffees in and around downtown, make sure to bookmark the DT Eats page. Try something new!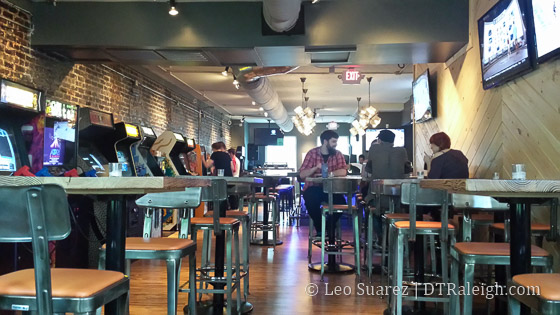 From my inbox to yours.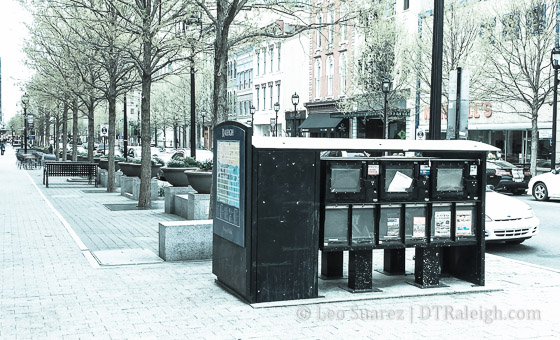 Here's a recent photo of an empty newsstand on Fayetteville Street. Installed in 2006 when the street makeover was finished, I haven't seen them very active in the last few years. Or are they so active that everything gets snatched up so quickly that I miss it?
Are these needed anymore? Should they be remove or maybe re-purposed?
Device charging stations
Retrofit into small stages for impromptu performances
Convert them to storage lockers for public use
Big bike parking stations
What else?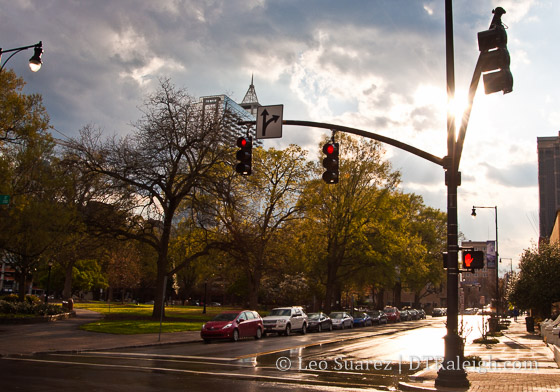 The latest draft of the Downtown Experience Plan is now available and the team behind it are seeking public comments. Jump into it here:
Downtown Experience Plan on RaleighNC.gov
One huge addition to this draft compared to the last one is that actions are listed as a part of each stated goal. That should help make the direction clear on how to achieve the stated goals and stay within the themes.
For a quick review, jump back to Downtown Raleigh Plan Presentation Rundown.
While all the project areas in the plan are exciting to see, I think two of them, when looked at together, have the potential to be great. I'm going to make the call now that the Moore Square and Nash Square refreshes will have more of an impact on downtown Raleigh than the Fayetteville Street redesign did back in the 2000s.
To see it, I think you need to look at downtown Raleigh from a new perspective. Fayetteville Street, running north/south, is arguably the epicenter of the downtown core. The Downtown Plan calls it the "civic/symbolic spine" and it will probably be that way for decades.
I'd like to flip your perspective from north/south to east/west and highlight how important the duo of Martin and Hargett Streets will be in the next ten or so years. While Fayetteville Street may be the face of downtown, the prime location, where the action is at, I like to see movements east/west along Martin and Hargett as becoming functional and spontaneous.
Activity around and between the two squares is set to boom. If you look at the plan, we have images like these.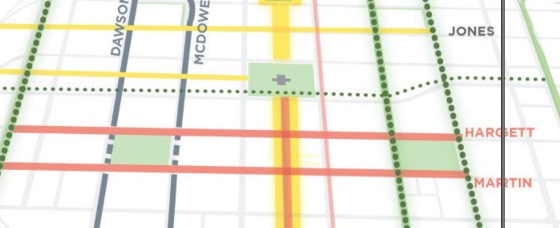 I think the street grid will fuse these two areas together and create activity pockets all over these blocks. Consider what we have and what is in the pipeline. Going west to east:
Raleigh Union Station
Development potential at the Dillon Warehouse at 400 West Martin Street
3.5 acre News & Observer site for sale
200 block of Fayetteville Street, highest pedestrian counts in downtown Raleigh. City? (most likely)
Market and Exchange Plaza upgrades
Moore Square Transit Center upgrades
Moore Square Redesign
In addition for Nash Square, straight out of the downtown plan, we have:
Undertake a design study to re-envision Nash Square as an urban green that supports the growth of the Warehouse and Fayetteville Street Districts and to strengthen their connection.
I see that as a string of connect-the-dot projects that could really make a huge difference. It won't be as obvious as Fayetteville Street is but it'll be there. It's possible that we'll see residents walking east/west while visitors will be walking north/south.
One last thought about this new perspective, kind of a "big idea" as the downtown plan likes to encourage, is that with a little planning we could almost create a pedestrian-only corridor between Moore and Nash Squares. What would it take to walk from Moore Square to Nash Square without using any sidewalks?
It would look something like this.

Of course, a couple changes need to be made but imagine starting in Moore Square and:
walking through the upgraded transit station to Wilmington Street
walking through the new Exchange Plaza
walking through the City of Raleigh Museum to Salisbury Street
walking through a plaza around new development that connects to McDowell Street
Finally crossing into Nash Square. How you get through the City of Raleigh Museum, that might be tricky but it's an idea that's fun to think about. The historic buildings along the 200 block of Fayetteville would be tough to punch a plaza through but at the same time, the downtown plan says to make new connections, encourage moving, and create new retail spaces…..
…..Just like a pedestrian-only mall!! 😉