This is kind of a thinker post that I wanted to put out there. I haven't talked about Raleigh's image, including the image we're trying to give off, in awhile but it is something that I'm always sort of thinking about.
I was watching a talk from Aaron Renn about Columbus, Ohio a few weeks ago. Normally, I wouldn't catch this sort of thing but since I find myself in Columbus once or twice a year and I like Renn's work, I watched the talk.
This one quote really stuck with me as he talked to a crowd about what people around the country are saying about Columbus.
The more different you are as a city, the easier it is to get market attention and that's what I've kind of noticed that while every company tries its hardest to tell you how much different and better it is than every other company, every city basically tries its hardest to tell you how it's exactly the same as every other city that's conventionally considered cool.
*Where Does Columbus Go From Here?
I agree with Renn 100%. I'm not in marketing but for those that are, I'd love an explanation on that. That seems to be counter to what marketing is supposed to do.
Below, I've embedded the talk but started at the relevant question with Renn's full answer. If the video doesn't show for you, click here to watch it on YouTube.
I wanted to see if that was true for Raleigh. How unique are we? Without having the resources for a full-on marketing effectiveness analysis (or whatever this might be called) I looked at what our Greater Raleigh Convention and Visitors Bureau was putting out there.
I watched the most recent video published from Visit Raleigh. Here it is below. (YouTube Link here)
To sum up, Raleigh:
Makes top ten lists
We have museums
We have a music scene
We have creative people
There are shops
There are restaurants
More cooking and good food
Dinosaurs
We have sports
More arts
More museums
We have street festivals
We have bars, coffee shops, and restaurants
We have outdoor music stages
We have places to drink beer
We have more art
Another watch shows quick shots of food trucks, the trolley pub, people walking on sidewalks, the Cary Theater, Ashworth Drugs in Cary, and fireworks.
While the production level of the video is high and those interviewed have done some great things in Raleigh, I'm sad to say there isn't anything unique there as this list of items can be found in a lot of other cities around the country.
Also, no greenways? Really?
I'm going to pick on John532 who posted in the comments a little while back that, "IMO, the city is way too humble and needs to go on a 'bragging tour' and sell itself better."
There may be more material out there showing how unique Raleigh is but it doesn't seem easy to find. I too would like to see some unique elements pulled out of this city and broadcast out for the world to see.
The thinking piece for you, reader, is what should, or even could, that be? What unique thing could we take a chance on?
I have my ideas but want to end the post here and take it to the comments.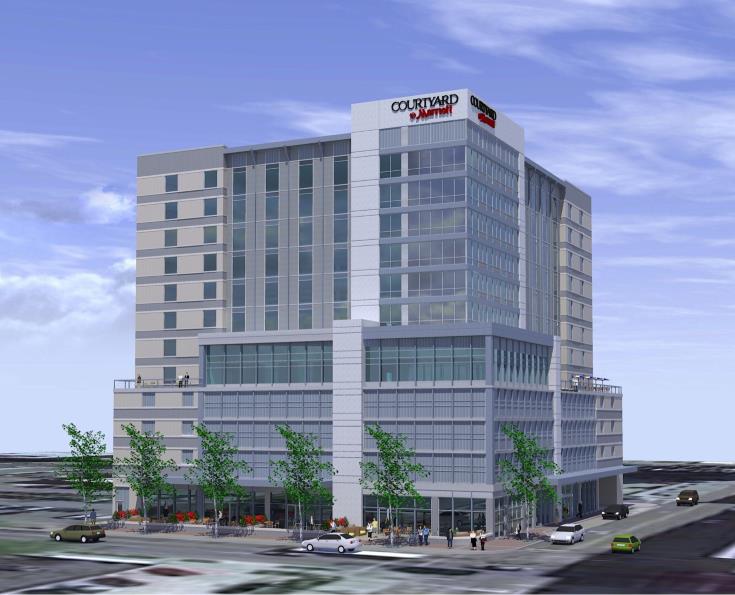 That's it. 2017 is going to be the year of the downtown hotel. However, you could probably see that coming if you really paid attention last year, right?
Anyway, let's take a look at the recently submitted plans for a hotel on McDowell Street, one of a few in the pipeline for downtown. Above is the latest rendering submitted to the blog from the local developer, Winwood Hospitality Group. A big thanks goes out to them. (Note to the commenters who've talked about this already, this rendering is slightly different than the one shown in the N&O)
SR-003-17, the submitted plans on the city's development page, shows a 192-room, 12-story hotel and parking deck for the Enterprise Rent-A-Car lot along Cabarrus Street between McDowell and Gale Street. See the map below to get an idea of the proposed hotel's footprint.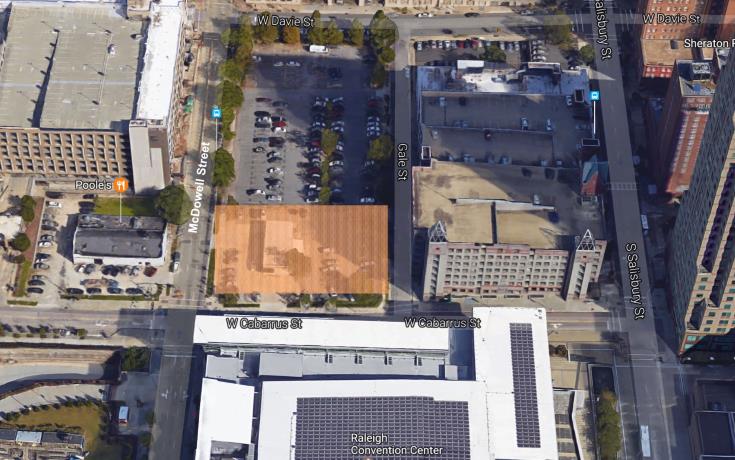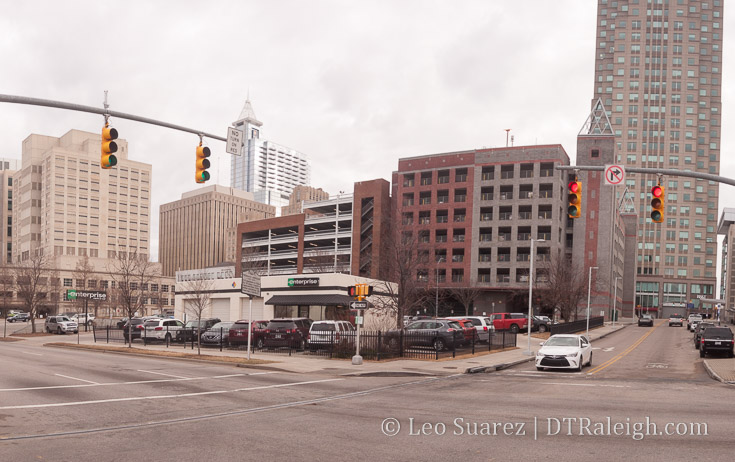 The new hotel would be a Courtyard Marriott brand and the building footprint would pretty much consume the entire property. Taking a look at the site plan, you can guess that the planned restaurant and retail spaces would face McDowell Street with the lobby entrance and parking deck along Cabarrus. I've included it below for your convenience.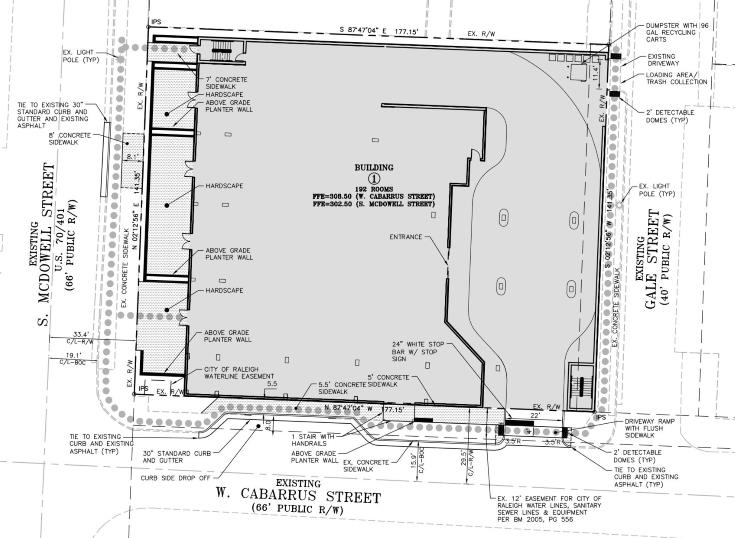 Looking at the area, it's unfortunate that even more parking was added to this hotel as a plethora of decks are available directly next door. I can't back it up with stats but perhaps there might be a way to leverage underutilized spaces for the hotel rather than adding even more supply to downtown. I'm curious to see how many spaces are built here as downtown hotels only require 1 space for every 2 rooms.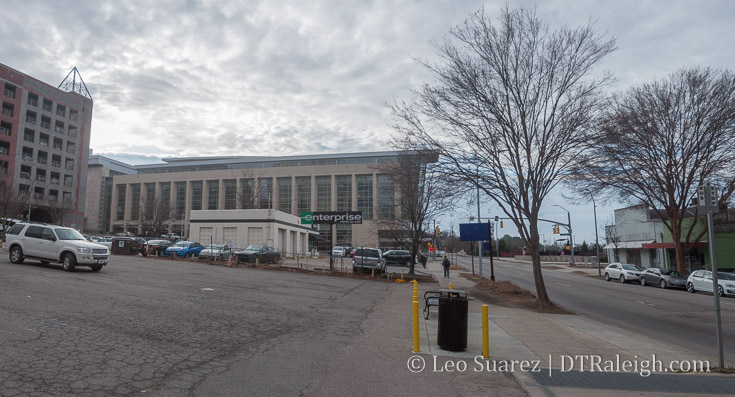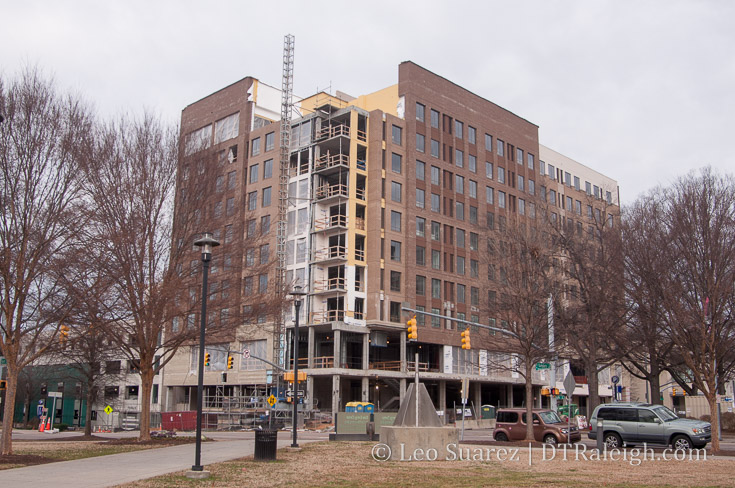 Checking in on the progress at the Residence Inn on Salisbury Street. Most of the exterior materials are in place and the hotel is planning to be open this Spring.
I can't say I'm very excited about the color palette used on this project, especially on the rear (west facing) side of the building. When someone posts an updated "money shot," you'll see the Residence Inn looking so bleak, so boring, that it blends in, almost out-of-sight from the view on South Saunders. (I don't have a photo but when I see one, I'll post it in the comments)
Here are the colors that I'm talking about, looking at it from Lenoir Street.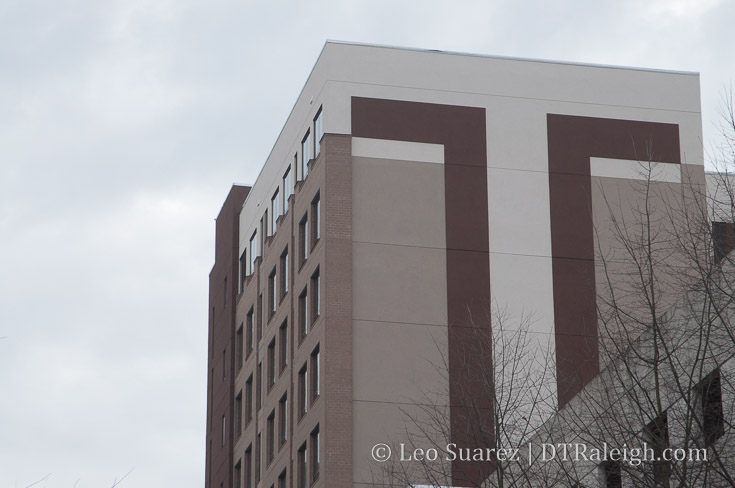 A lot of folks clamor for better architecture in this city. What about more interesting color choices? Is beige, gray, and brown paint cheaper than greens, blues, and reds?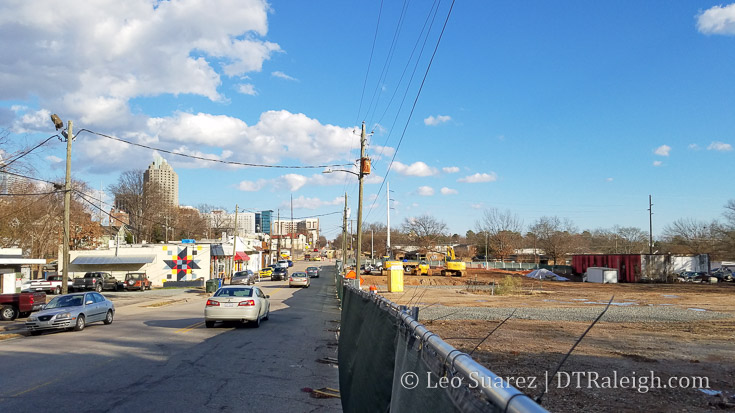 The sites of various car repair shops and the former Ice Market and Grill building have been cleared along West South Street. 42 units of residential are planned for this land, which were covered in more detail in this post.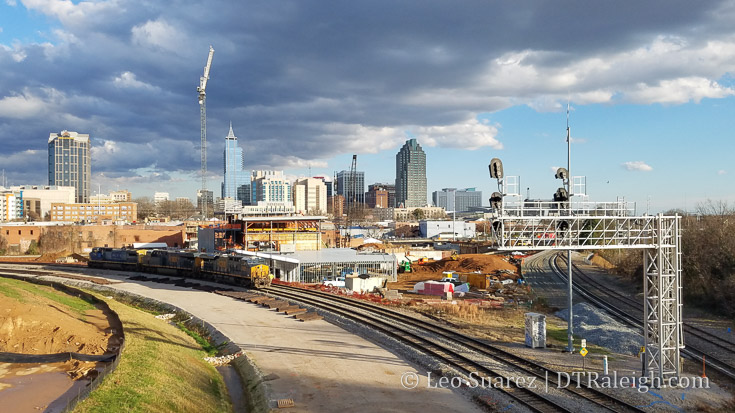 I'm always struggling to find a way to wrap up another year of downtown Raleighing that simply describes what took place. There's just too much going on to do that.
There are things in planning, under construction, and being completed all the time. Shops and restaurants close and new ones open up.
For 2016, the development talks were the same as previous years. New residential, specifically apartment low-rises, came online or started construction. Toss in some new office and hotel spaces and that kind of rounds out the "2016 action."
These projects are nice to follow and from my point-of-view, new apartment buildings for downtown Raleigh becoming the norm means we've hit a new level.
"Another apartment building with 200+ units? Not again." said everyday in Raleigh 2016.
The way I see it, the novelty of new downtown apartments is wearing off and in a way, that means the momentum is still high.
Consider apartment buildings as just the details but the real projects that were worth following in 2016 involved transit. Raleigh Union Station and the GoRaleigh Transit Station (formerly the Moore Square Station in case you haven't heard) were being worked on in 2016. More bike lanes popped up all around the city with a bike share plan in the works.
Finally, the county voted to raise the sales tax in order to pay for expanded transit options for Raleigh and surrounding municipalities. The first benefits of this should probably be seen in about two years and downtown Raleigh will be at the core of that expanded system.
Transit compliments downtown Raleigh in a huge way and if implemented well, we may just have even more apartment building projects, to follow in years to come.
2016 Highlights
As I just mentioned, transit was a huge topic in 2016. We followed the progress of Raleigh Union Station in 2016, will watch it take shape in 2017 to its opening in 2018.
If that's too long to wait, the GoRaleigh Transit Station will be completed in 2017. Additional amenities and an updated design await for the 30-year-old bus station now being worked.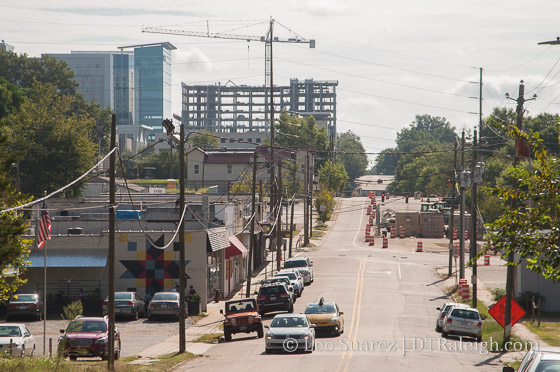 More transportation than transit, the two-way conversion of South Street and Lenoir is seeing some big impacts. The West South Street area is seeing huge changes and in 2017, we'll follow a slew of new residential and renovation projects in that area.
For more on that, you can revisit a post from my Walk series on South Street.
In 2016, cranes were spotted in downtown Raleigh. There's a lot of action taking place at The Dillon, an upcoming 17-story office tower for the warehouse district.
The Residence Inn hotel was under construction for practically the entire year, with foundation work taking place about a year ago today.
We're also watching the latest apartment building rise up, The Metropolitan, at the former site of the Greyhound Bus Station on Jones Street. At the pace that these things go up, my guess is that it opens in 2017.
Back to transportation, 2017 will see huge impacts from the Capital Boulevard bridge replacement project. The flyover bridge at Wade Avenue and Capital is being worked on now but we should see the work for the Peace Street bridge and upcoming square loop redesign start in 2017. I cannot recommend the following video enough to get you familiar with this project.
2017 Action
In 2017, here's what downtown Raleigh has in the pipeline.
Still in the planning stages, the Smokey Hollow project plans for a 400-unit apartment tower at the corner of Peace and West Street. The biggest rumor in downtown is that a Publix grocery store is planned for this location but it has not been confirmed publicly as of yet.
The city is working on a plan for a new municipal campus for their block to the north of Nash Square. Today, city departments are spread out across multiple locations and this new campus is an effort to bring departments closer together. The city is currently looking for a consultant on the plan.
We've touched on the plans for Gateway Southeast, or the Exploris School, at Gateway Center already and in 2017, it's possibly we'll see dirt moving in this area.
After a huge announcement of the sale of the N&O block, perhaps plans for new development here will surface in 2017. One of the first things that have to happen is a new home for the newspaper so some kind of office component should be released soon.
One Glenwood is still being planned but could start in 2017.
We spotted plans for 301 Hillsborough Street, the highly mixed-use project for Hillsborough Street, recently and 2017 may be the year that the surface parking lots are torn up for cranes.
*Broken record* South Street will transform!
Stone's Warehouse may start their renovations in 2017 as well.
After the GoRaleigh Transit Station completes its work, the redesign of Moore Square may just (finally) begin in 2017.
Could we also see the start of the long-awaited Charter Square North tower in 2017?
Finally, for this blog, I'll be writing, photoing, coding right into its tenth year.
Happy new year, everyone!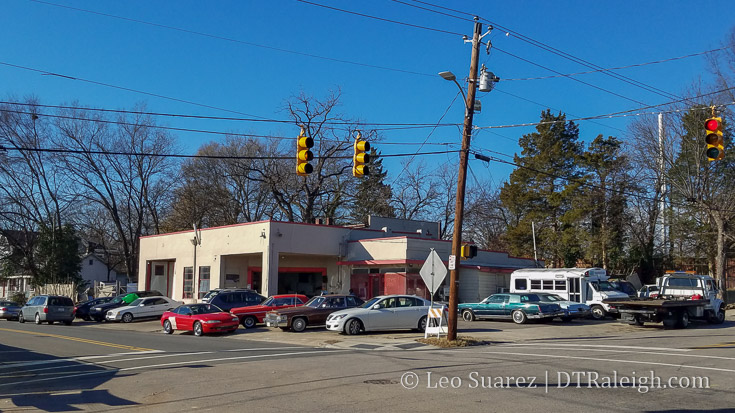 The service station at the corner of West and Lenoir Street is shown above. Plans for a restaurant are in place for this building in an area that will rapidly change in the next few years.
There will be apartments across West street, currently under construction townhomes across Lenoir, and more residential along South Street, at the corner of Saunders.
The two-way conversion of Lenoir and South Street appears to really be a factor in this area's change.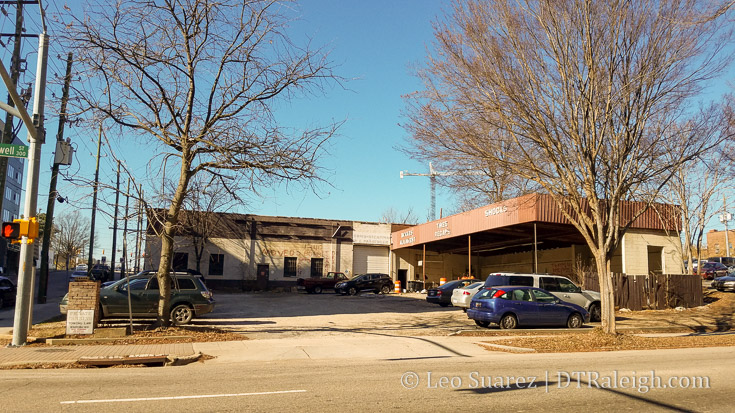 Revisiting a topic we talked about in May 2015, new site plans for a hotel at the corner of Davie and McDowell Streets popped up at the city recently.
Plans show a 259-room dual-brand (Hilton Garden and Homewood Suites) hotel with interior parking in a 13-story building. The site plans suggest a different building style compared to the appearance commission renderings we saw in 2015. (no more curved corner?)
As always, here's the site plan map for your viewing pleasure.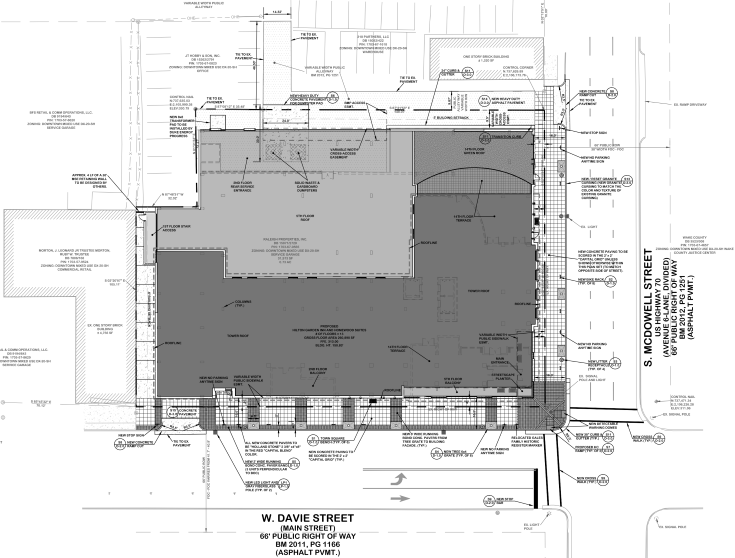 The site plan doesn't indicate any ground-floor retail. I'm not saying there won't be any; it's just that this plan doesn't show it.
The parking garage entrance would be along Davie Street indicated by the driveway in the plan.
I also spotted some outdoor spaces. The 14th floor will have a terrace in addition to a 2nd and 5th floor balconies.
One key detail to note is that the former Morton Trophy portion of the area is not part of this development. It's predominantly the Turn Key Tire station, the red brick building that will be demolished to make way for this new hotel.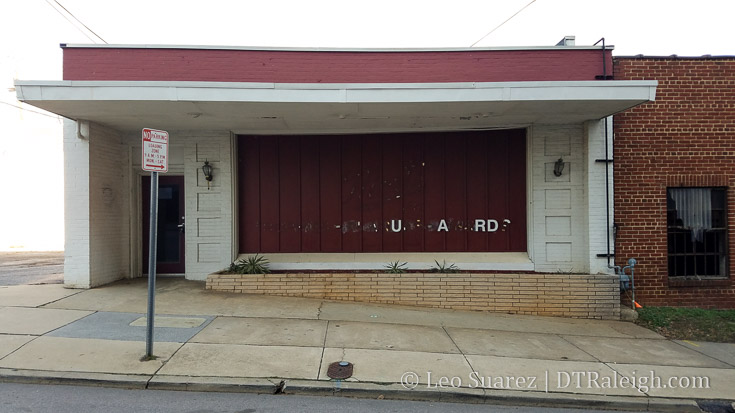 I also want to guess, seriously just a guess, that the "delay" in this project comes as a result in the council changing the required amount of parking for hotels in the downtown area.
You can revisit that topic here but in short, the required amount of parking for hotels was reduced in early 2016 from 1 space per hotel room to 1 space for every 2 hotel rooms. That sounds like incentive enough to rethink some development plans.
We'll keep on eye on this one as it progresses.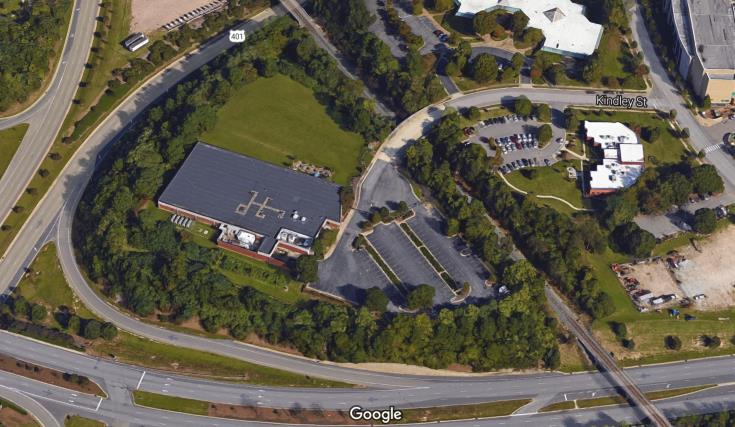 Back in the summer of 2016, we took a look at the Gateway Center, the area along Salisbury Street near the performing arts center and Raleigh Convention Center.
I'm guessing few of us have had any real interactions with this property as it used to be a fenced in building owned by Duke Energy. The property has since been sold to Exploris and now submitted site plans show us of what could come to the area.
SR-099-16, called Gateway Southeast AKA Exploris School, shows a 10-story building consisting of parking, office space, and the consolidated K-8 charter school. The property doesn't consist of the entire Gateway Center, just the portion across the Norfolk-Southern railroad tracks. (highlighted in orange in the map below)
Here is the site plan. The first is a screenshot from the plan, the second is the same thing but turned so that North points up. (approximately anyway)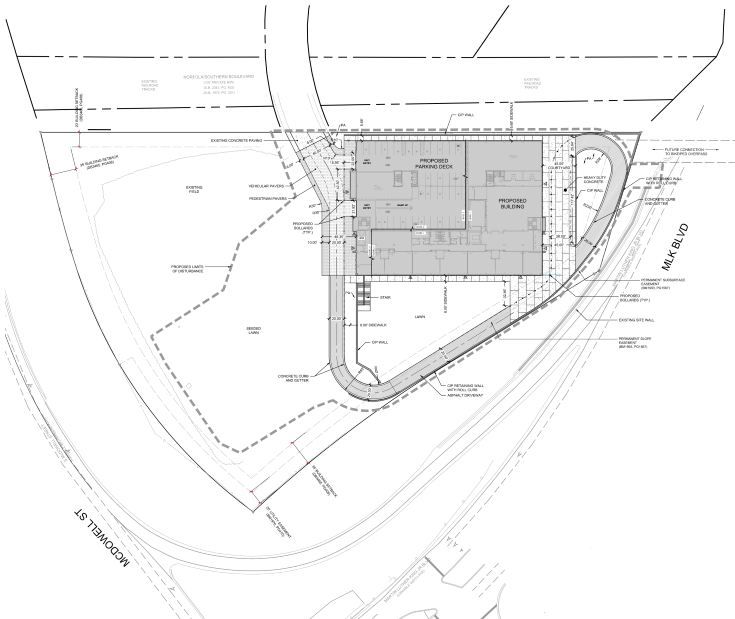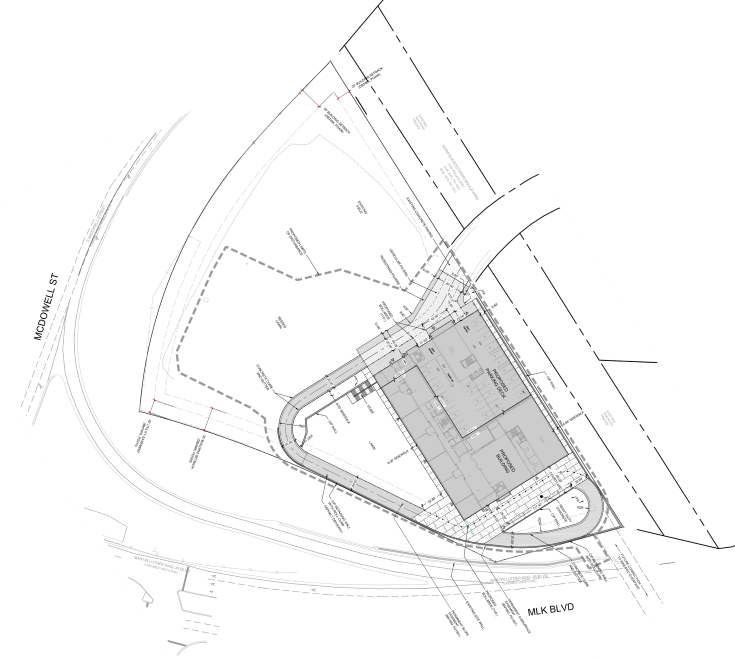 As you can see from the plan, all the parking, offices, and school are contained inside the building. There will be a large courtyard and sidewalks around the building. The northern end of the "campus" will also retain some of the existing field as well as turn the old Duke Energy building into a lawn, perhaps for outdoor activities.
Development fans may find hope that in the future, there is room for more buildings here. Exploris has a track record of supporting innovative ideas and initiatives and their expansion to grades K-8 now may not be the end so you never know what long-term plans might come at the Gateway Center.
This is a good 2017 project to watch rise up and hopefully it applies a little pressure for the suburban-style campuses on the other side of the tracks to go urban in the coming years.