Saw this on Twitter. This project is increasing in height it looks like.
The Edison Office in #DowntownRaleigh for @BeaconCLT pic.twitter.com/AT7A8c2F4A

— JDavis Architects (@JDavisArchitect) August 28, 2014
Throwing a tweet of mine up here on the blog for posterity.
Downtown living is still an extreme niche. As we hit 1 million in the county, still less than 10,000 in DTR. That's 1%.

— Leo Suarez (@dtraleigh) August 22, 2014
And then let me add a little more statistics. According to a 2014 report from the Downtown Raleigh Alliance, we get this nice graphic.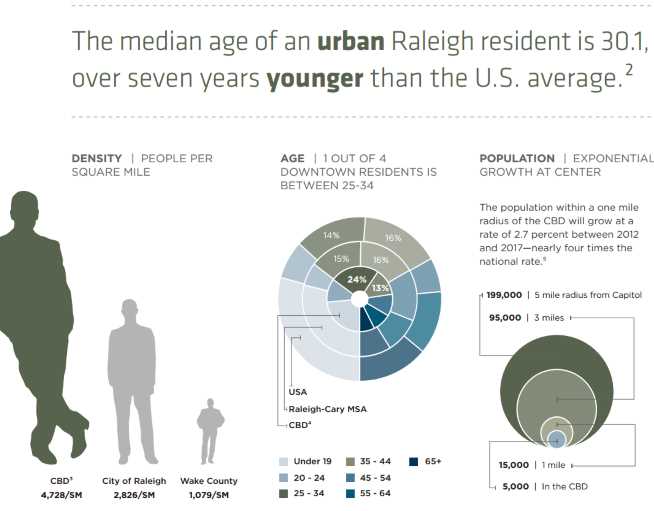 Click for larger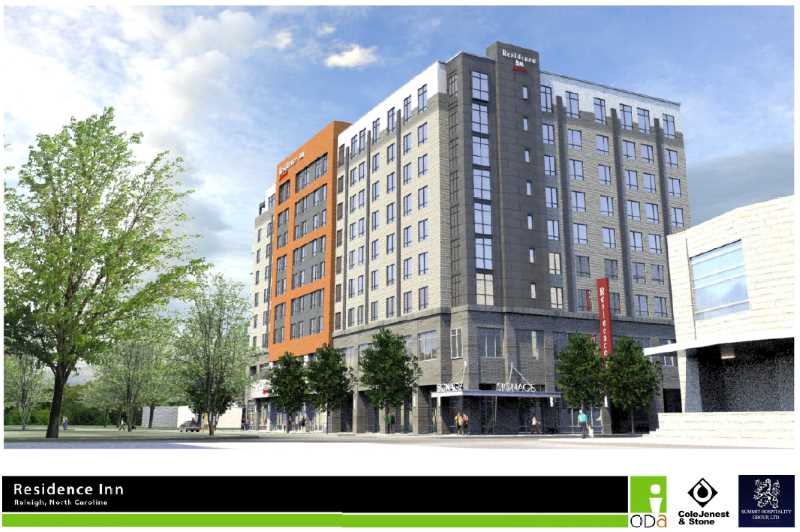 Last week, the Raleigh Appearance Commission got a look at some new renderings for a hotel planned for the parcel of land near 500 Salisbury Street next to the convention center between Lenoir and South Streets. Long-time readers might remember this site being called "Site 4″ and it looks like the renderings are getting more mature now.
Some of the specs for the hotel, planned to be a Residence Inn, have slightly changed also. Comparing to a January 2014 post, we have:
6,455 square feet of retail/restaurant space compared to 7,085 sq. ft. previously.
9 stories instead of 11
Most is the same including the second floor and rooftop terrace.
As mentioned in past posts, this project will not add any more parking as a deal has been made between the developer and the city to lease spaces out of the Performing Arts Deck.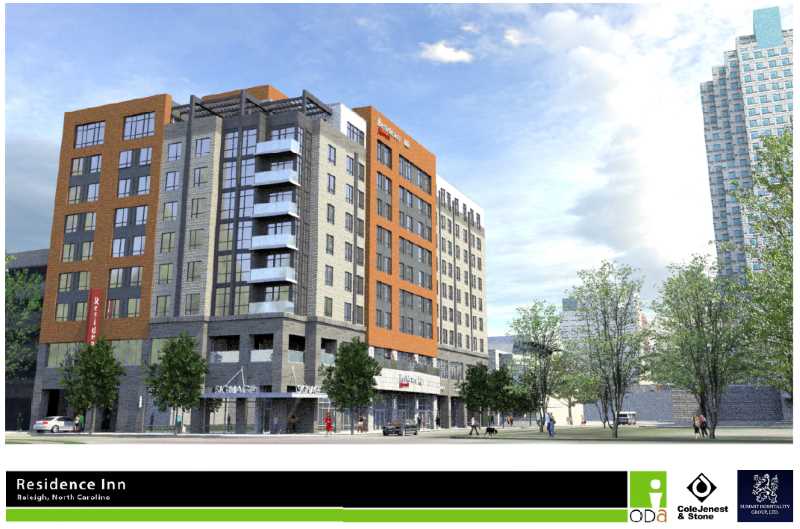 The project has a good human scale to it and expands downtown's hotel offerings. I think this project is an easy one to support. While not architecturally significant, it's more a functional addition rather than an iconic one. Looking forward to groundbreaking.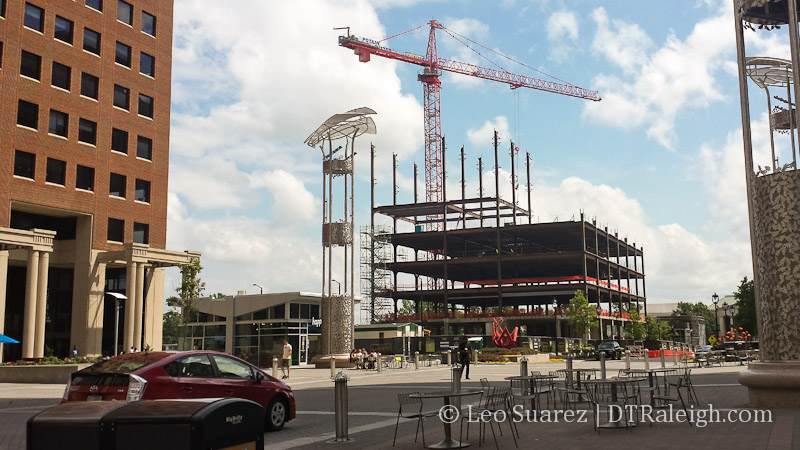 The Charter Square construction site seen from City Plaza. This is the first tower of the two-tower project.

Municipography is a summary of current issues going through the Raleigh City Council and other municipal departments in the city. The point is to try to deliver any video, photos, and text associated with the discussions happening at City Hall or elsewhere. Since this is a downtown Raleigh blog, the focus is on the center of the city.
There was a lot of transit talk at this week's city council meeting. Presented to council were some 3D renderings of what the future Moore Square Bus Station could look like after its upcoming upgrade. Technology upgrades in downtown transit are also coming as money has shown up towards setting up a downtown Raleigh smartphone application and a smart card fare system for the CAT buses.
Moore Square Transit Station

Watch the video snippet above. If it doesn't work for you, go here.
As part of the ongoing Downtown Bus Facilities Master Plan, Moore Square Transit Station is getting an upgrade. Jason Horne of the Raleigh Transit Authority and
the design team presented some new renderings of the station's future. Construction could start as early as Spring 2015 on the now 26-year-old facility. Plans call for a new bathroom, security and ticketing office, more open, friendlier spaces, and and an additional lane for buses to handle more capacity.
Construction is estimated to take 14-18 months with the station being open throughout that time period. Here are a few slides from the presentation. Make sure to read the Raleigh Public Record's article about the presentation and to see the rest of the slides and renderings.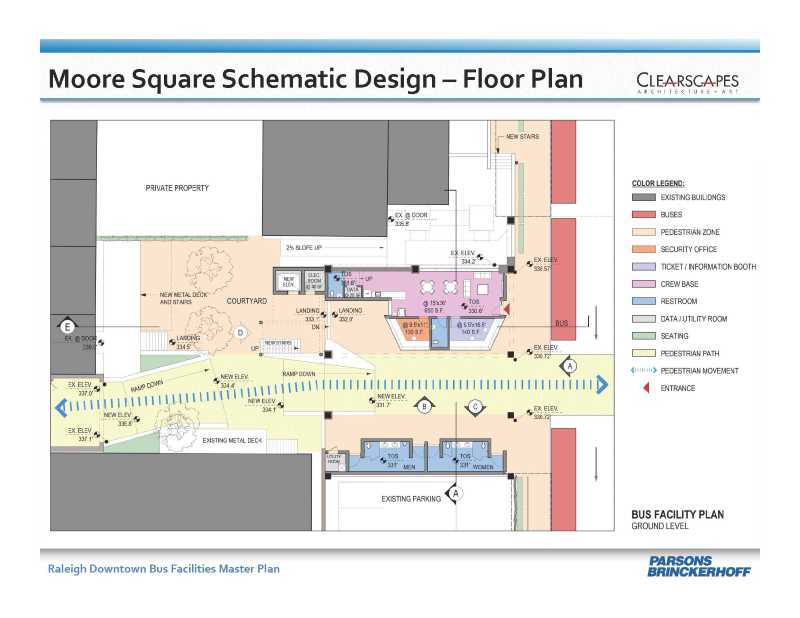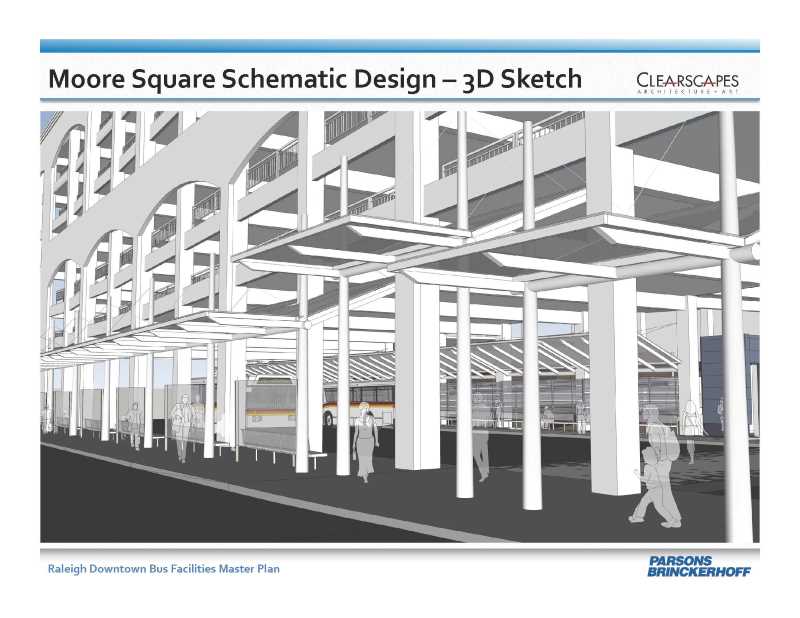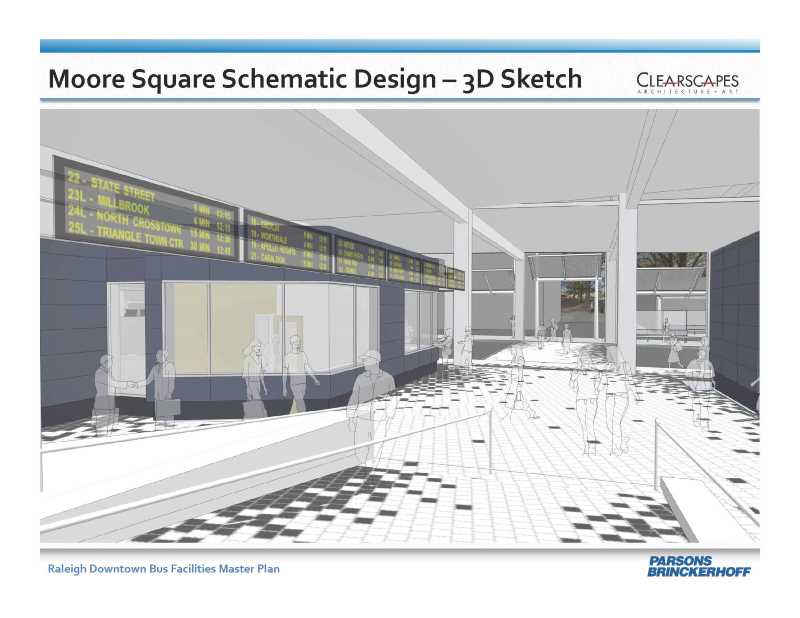 Downtown Smartphone App

Watch the video snippet above. If it doesn't work for you, go here.
We definitely talk about parking a lot here. However, an initiative that I'm involved with to bring a smartphone app to downtown in order to help with any parking struggles has moved one step further. During the meeting, council approved $5,000 from a contingency fund to go towards the development of that app. The Downtown Raleigh Alliance will raise the rest of the money and see the app to completion.
Read more about our efforts here:
It's never a bad time to talk about everyone's favorite topic: Parking. I typically don't fly the blog outside of downtown Raleigh but North Hills has something that's very unique. I'm excited to announce that the Parking App Team that won last year's DataPalooza, with roots in downtown Raleigh, has launched in North Hills.
*North Hills Smartphone App Will Include Parking Directions, Rumored World Peace
My team's idea? To help people navigate urban areas, showing them the best possible parking locations and offering wayfinding to their end destination. Our smartphone application, still in the prototype phase, is the first step in implementing this process. We also have a nice list of features that will make the application very helpful.
*Parking In Downtown Raleigh May Get Easier Thanks To Open Data
Smart Cards for CAT Buses
As a final blurb that I think is worth mentioning, the city has received grant money from NCDOT to go towards a smart card fare system for CAT buses. Mentioned at the meeting, here's an excerpt from the press release:
The Raleigh Transit Authority has adopted a priority of offering smartcard technology on CAT buses. The grant will allow a contactless, smartcard payment option to be installed on the fare boxes of the CAT bus fleet. Bus purchases will have fare boxes that will accommodate contactless smartcard and mobile ticketing applications. The total funding for the project is $378,440 90, which is 90 percent NCDOT grant funds and 10 percent City of Raleigh funds.
*City Receives Grant to Allow Smartcard Payment on Capital Area Transit Buses
Yay! Technology!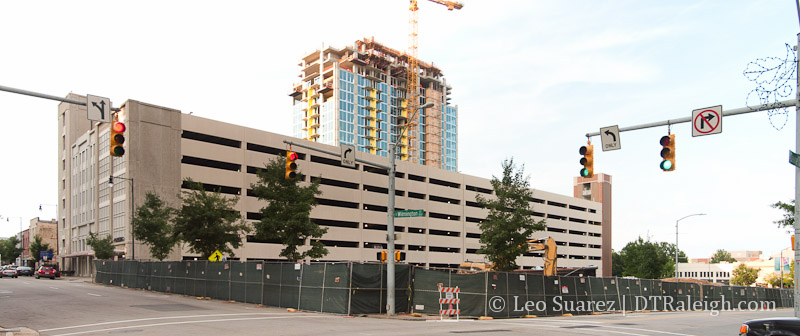 Corner of Wilmington and Davie Streets, future site of The Edison Apartments. The two-story brick buildings have been removed and the site is cleared for new construction.
Here's a photo of the same corner in 2008.

Take a guess where.

Summer nights in Raleigh are good for sweets and ales. Maybe not at the same time but if you happen to like a beer after a sweet treat, this season's eats news has you covered.
For a complete list of eats, drinks, and coffees in and around downtown, make sure to bookmark the DT Eats page. Try something new!
We're still waiting on the newest Ashley Christensen restaurant, Death & Taxes, to open at the corner of Salisbury and Hargett Street. Fancy signs are up covering the windows. Oooooooo.
Nearby along Fayetteville Street, Happy and Hale has opened in one of the city plaza kiosks. Their salads and juices look pretty tasty.
The dessert and cocktail bar, Bittersweet, has opened in PNC Plaza along Martin Street.
After closing down Isaac Hunter's Oak City Tavern at 112 Fayetteville Street, the guys behind the outfit have opened a Roaring Twenties themed bar called Common 414 at 414 Fayetteville Street. They officially open in less than two weeks.
Meanwhile back at 112 Fayetteville, someone else has put some work into the space and is opening up another bar. No official word is out there about it but I heard they have had a soft opening and should be open soon. [UPDATE: Just learned today that the place is called Capital City Tavern and they are indeed open.
A small shop, Harvest Sundries & Deli, has opened in the Progress Energy building. Sounds like a good place for a cheap breakfast or lunch.
The people behind Tasty 8's Hot Dogs is doing a big renovation job at the space where Spize Cafe used to be and I think it looks great. Gourmet hot dogs are in our future.
Lucettegrace is a bakery that's "Coming Soon" according to their website. They plan to be on Salisbury Street kind of behind Capital Club 16.
A new coffee shop is coming to Seaboard Station. Brew plans to open in the row of shops along Seaboard Avenue and they are crushing their kickstarter! Raleighites love their coffee.
Also in Seaboard Station, Night Kitchen Bakehouse and Cafe will be opening in October, according to a TBJ article. The bakery will have "breads, pastries, sandwiches and salads" and be open for lunch and breakfast.
A bread shop, Boulted Bread, has opened on South Street. You can find their goods at the shop or at the Wednesday afternoon Farmer's Market at City Market each week.
Work is slow but progressing on the empty space between Second Empire and the Holiday Inn, future home of Taverna Agora. The restaurant is relocating from Glenwood Avenue to this space on Hillsborough Street. Their website says they will move this winter.
Chef Scott Crawford has, or is, leaving his spot at Herons, the fine-dining restaurant at Cary's Umstead Hotel. He is taking on two new projects in downtown Raleigh. First, is Standard Foods, a grocery and restaurant in Person Street Plaza.
Crawford's second project is Nash Tavern, a classic American style tavern, in one of the buildings on the south side of Nash Square. A lot of planning is going into this one so it most likely will be a 2015 project.
In Glenwood South, DeMo's Pizzeria & Deli has opened in the 222 Glenwood building.
Clouds Brewing, formerly called Storm Clouds Brewing, in the old Napper Tandy's space near Powerhouse Plaza is looking close to opening. There are some construction photos on their Facebook and the TBJ has a nice article about them, saying they will open next month.
you'll be able to pay when you enter, receive a bracelet and pour your own beer from 40 different taps.
*Hey Triangle: Order your fall beers from Facebook
Visible work hasn't yet started on the Raleigh Beer Garden or the 100 taps that will be inside this place.
We've watched construction on the building at the corner of Tucker Street and Glenwood Avenue, planning to house a Carolina Ale house, all year. I read awhile ago that they planned to have the Ale House open before football season so there really isn't much time left. Will they make it? Not sure.