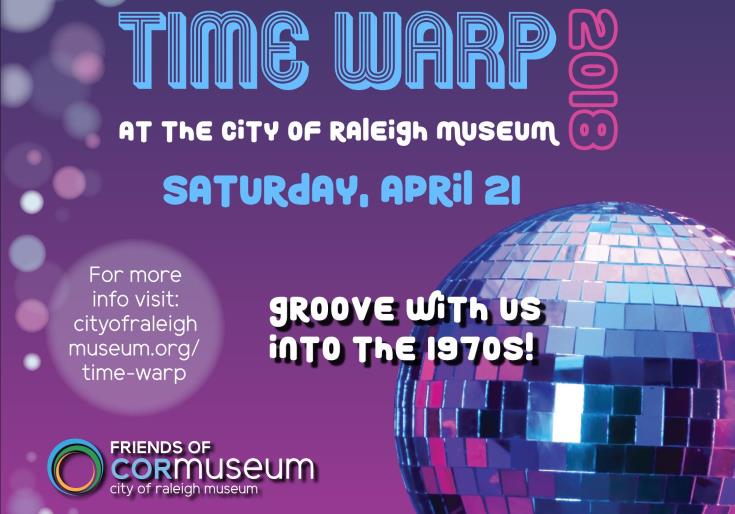 For those of you that don't know, I currently sit on the Friends of the City of Raleigh Museum board. New to this term year, I have stepped up to the plate and am helping plan the friend's annual, flagship fundraising party, Time Warp. I want to invite all readers to check it out on Saturday, April 21.
Time Warp has been going on for a little while but this year is a good year to finally attend. (or come back!) The folks at the museum are working on a big, new exhibit that I know blog readers will enjoy. Our fundraising efforts will have a direct impact on this new venture.
Time Warp 2018
Date/Time: Sat., April. 21 from 7 p.m. to 10 p.m.
City of Raleigh Museum
220 Fayetteville Street
919.996.2220
With a $1 million price tag, the City of Raleigh has challenged us to raise $500,000 towards the new exhibit. They will then match each dollar to get us to our goal. Time Warp is the best way to take a chunk out of that target!
The new exhibit will be about Raleigh's past and how some big decisions shaped its path towards today. It will try to show how planning, infrastructure, and services play a role in our everyday lives whether we interact with them or not. It will truly show where we came from, where we are today, and how it might affect the future of Raleigh.
It's a big project and I'm excited to be a part of helping to get the museum this new exhibit that will really showcase it.
As far as Time Warp goes, this year, we're doing the 1970s. Make sure to dress up cause everyone gets automatically entered into a costume contest. If dancing is your thing, we're doing a dance contest also. There will be plenty of food and drink to make the ticket price worth it too.
Let me know how I can get you there on April 21 or if you are with a Raleigh-area business that wants to join our growing list of sponsors. Find out more here.