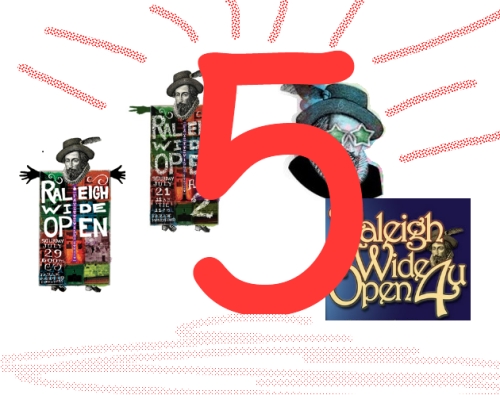 First off, that is not the official logo or banner for Raleigh Wide Open 5, just a product of 5 minutes on the computer and lots of joy over another Raleigh Wide Open in downtown. I wished for RWO5 to be on Hillsborough Street this fall but the city can sort of wrap the event around the opening of the new amphitheater.
Mayor Meeker announced this year's Raleigh Wide Open as well as a few other things on Monday. Click the link to get the details about the first show in the amphitheater on June 4th and an opportunity to get your opinion in about the naming rights to the venue. There is a survey at this link. Details:
Mayor Meeker said that one of Raleigh's newest yet most popular traditions – Raleigh Wide Open – will fill up Downtown on July 31 from 11 a.m. to 11 p.m. with:

* A parade;
* Four stages filled with more than 20 national, regional and local acts;
* A beer and wine tent;
* A kids zone with blow-up slides and a Carolina Hurricanes interactive area;
* More than 50 food, arts and non-profits tents; and,
* Fireworks.
Mark your calendars and pray for clouds.