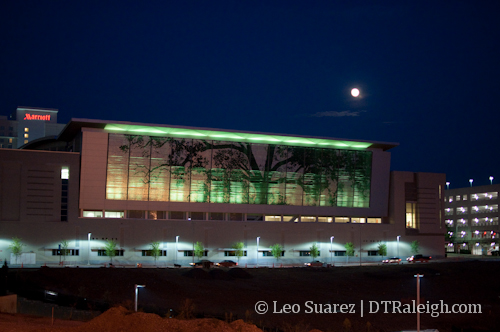 We did this last year so why not do it again. After reviewing the wishlist for 2009, some commented about things they would like to see in 2010. I have added the best and a few more to the list below.
Bookstore
A downtown bookstore has been mentioned on this blog and in many conversations I have. One of the larger stores like Barnes & Nobles or Borders could easily fill the retail spaces on Fayetteville Street. Right now, they would have to be located here because the high foot traffic justifies it. A partnership between them and the Raleigh City Museum or another museum would be a good idea. With their many resources, they could pull in lots of North Carolina based literature and photography related items that I think would be a big draw to its store and downtown.
A small, used bookstore located in the warehouse district or close to Moore Square would be good too. While thinking about this one I had an idea. Ten or so people need to get together and gather a couple thousand used books and start a bookstore with no building. In the beginning, it could start on First Fridays, setting up in spaces that would allow them. (and appreciate the added traffic and exposure) The upstairs lounge at Morning Times, the empty warehouse spaces along Martin Street, or a tent in Moore Square are all cool places to open up the bookstore one night at a time. If it is successful, the incentive for it to open more often is there with it maybe moving into its own space after the support has been proven. Think about it.
Raleigh Wide Open 5 on Hillsborough Street
Its not Downtown Raleigh Wide Open. With no big projects planned to be complete in downtown this year, I think that Raleigh Wide Open 5 should move to Hillsborough Street. They are projected to finish the construction in September but last I read, they are ahead of schedule. What better way to flood the streets, and stores, with people who need to see the street completed and come back to support the struggling businesses. NC State should open up the entire campus to handle the parking.
Bus Shelters
I once made a list of suggestions, that are a little on the cheaper side, in order to help people try transit. The idea was to make things more convenient and to improve the experience. Doing it the right way with trains and more buses is too costly and will take 185 years so we'll have to take baby steps. Bus shelters for major stops in downtown would go a long way. This is for CAT and the R-Line. Waiting for a bus in July at 1:00pm is not fun especially when there is no place to sit. The bus shelters along a dead and buildingless Centennial Parkway should be moved to downtown. OK, I don't mean to be drastic but Cameron Village has built bus shelters and the downtown stops deserve them too.
More jobs
One way for the area to recover from this bad economy is to create more jobs. That is obvious but in 2010, if the jobs come back to the triangle, there is a big opportunity for them to come to downtown. More jobs mean more leased office space and the more people in downtown can only help bring a variety of things.
Specialized retail
Its easy to say that we need/want more shops in downtown. What is not easy is to make this actually happen. Possibly the biggest wish on the list is for more unique shops to open in downtown. More boutique clothing stores or a shoe store would be great. Stitch has proven that this recipe can be successful so I'm hoping someone else takes a crack at it.
Similar Posts:
None right now. Must be a new project.
Comments
Comments are disabled here. That's because we're all hanging out on the DTRaleigh Community, an online forum for passionate fans of the Oak City.