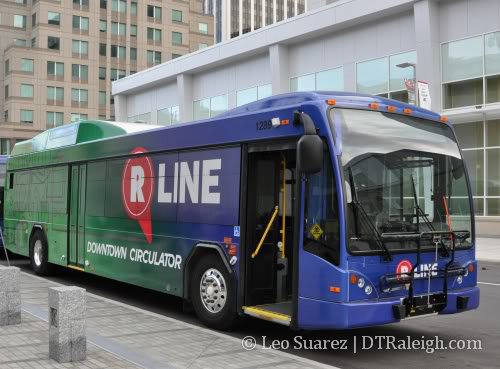 I'm sure everyone will agree with that title. The good news is new buses are being purchased and put into the fleet thanks to some stimulus money. The baby steps are better then nothing or perhaps much better then the cuts in transit that other cities are making around the country. The cost to upgrade a transit system is expensive. If you follow the local and national transit scene like I do then you are quite familiar with seeing prices in the hundreds of millions and even in the billions of dollars to bring big time mass transit to a city and state.
We could go on and on about how the bus services in the triangle do not adequately provide an alternative to driving. But is it possible to take our current system and make it more efficient? Rather then add new routes to serve more customers at a higher cost, should the powers that be explore ways to fill our current routes for much less? Here is a list of suggestions that may motivate more people to leave the car at home and travel by bus around the triangle. Should Raleigh adopt any of these?
Smart cards

The use of transit smart cards in larger cities make it easier to manage paying for any kind of transit. I recently had a chance to experience the first ever such system that was implemented in 1997 in Hong Kong. The Octopus Card is used to pay for all transit and can even be used to make purchases in grocery stores and vending machines. You just swipe the RFID card across the receiver and money is deducted from your account. Money can be added at pay stations without ever replacing your card. It would be cheaper to get in on this system early and expand it over time with our transit network. Currently, the "Acorn Pass" could be used to pay for bus fares and parking meters.

GPS Tracking

Just like the Transloc System that the NCSU Wolfline already has, a real time GPS tracking system would help people plan their trips if they knew where the bus was at any moment in time. This is especially helpful for those routes that stop only once an hour and would prevent major headaches. The maps could be online and accessed by computer, phone, or monitors at major bus stops.

Shelters and Benches

This one is easy. More shelters and benches at stops would make it much more pleasant for people waiting for their ride. To take it one step further, the shelters could harvest solar power and use it to run lights to keep the area well lit at night. While controversial, I think advertisements on the shelters could be used to counter the cost.

Subscribable Information

Information goes a long way and we need to make it easy for people to get information about routes and changes to that route. Riders should be able to subscribe, by phone, e-mail, home address, anything, to information updates to any route that they choose. New subscribers should be mailed brochures with bus riding information, route maps, and schedules. They should even be given magnets for people to put up on their fridges so the information is easily accessible. Little things like this could make people more confident and comfortable with leaving their car at home for the day.

Wifi

Wifi on buses would be a huge incentive for the tech crowd in the area. A lot of work, and internet browsing, is done on laptops or smart phones so that added access is very valuable to those that can work on the go. I'm right here with this one and would love to start doing my work on my laptop when I sit down on the bus rather then when I arrive at work. It is a much more efficient use of my time.
Number 2 may be on the way, as the N&O post mentions that the stimulus money will be used for "a real-time bus arrival system".
Similar Posts:
Comments
Comments are disabled here. That's because we're all hanging out on the DTRaleigh Community, an online forum for passionate fans of the Oak City.