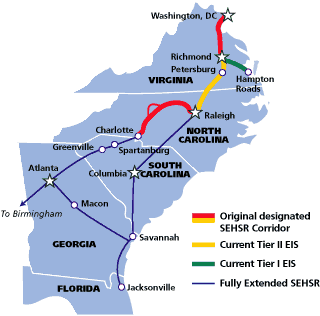 The point of this post is not to sound pessimistic but I need to get one thing off my chest first. High speed rail does not consist of trains moving at 110 mph. That is not at all pushing the limits of what modern day trains can do. I'm sure it sounds fast but when North Carolina has trains zipping from one side of the state to the other at speeds of 200+ mph, then we can throw around the term 'high-speed'. If you want an idea of what real high-speed looks like click and watch this video.
With that out of the way, our state is getting $545 million of federal stimulus money that will go towards improving rail transit. The bulk of the grant, $520 million, will go towards the Charlotte to Raleigh corridor with the rest being spent on the connection north to Richmond. This was part of $8 billion worth of stimulus funds being allocated between 33 states. Click here to see the entire list of states and who got what.
Its called the Southeast High-Speed Rail corridor that may one day connect Washington DC to Raleigh and Raleigh to Charlotte and on to Atlanta. We've talked about this before on the blog. Along with our 'winnings', Florida was the only other southeast state that received money however. Because it's part of SEHSR, tracks will be improved to increase speeds and the frequency of trips between the queen city and the capital are planned to double.
I have not quite gotten around to doing the train trip to Charlotte but it is on the to-do list. Let's see what the experience would be like if I left this weekend.
Booking a trip on Amtrak.com seems easy enough. Leave Friday, Jan. 29th and return Jan. 31st.
The Piedmont leaves at 6:50am for $25. I need to work so I'll pass
The Carolinian leaves at 4:50pm for $25. My only other choice so I'll go with this one.
I need a return trip. I again have a morning and afternoon option. The Piedmont it is at 5:30pm for another $25.
Total travel time: 3 hr, 24 min departure. 3 hr, 13 min return. $50 total cost
We'll re-visit this post later in time to compare if things are getting better. Now I love riding a train but it also has to make sense. This might work when compared to a single person driving to Charlotte but if I bring the lady with me, splitting gas beats this situation every time. In this scenario, the cost is what is driving people away and so is the ease of a major highway connecting the two cities.
I'm hopeful though, as always, and think that the faster trains would make them competitive with the highway. If driving and riding took the same amount of time, the convenience of sitting in a spacious rail car and never being slowed by traffic might be worth it to some people.
As for downtown Raleigh, this corridor would go right through it and more passengers means much more headaches at an already too small train station on Cabarrus Street. The additional trains and passengers may help get us talking about that multi-modal transit center for the Boylan Wye.
Also, the Southeast High-Speed Rail project has a great website.
Similar Posts:
None right now. Must be a new project.
Comments
Comments are disabled here. That's because we're all hanging out on the DTRaleigh Community, an online forum for passionate fans of the Oak City.