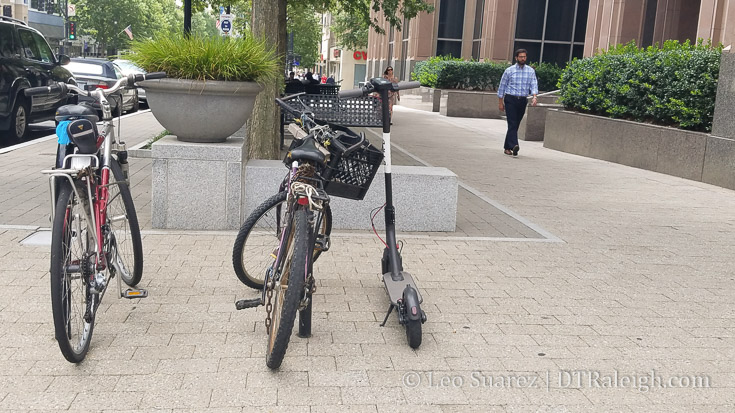 Ever since the electric scooter company, Bird, deployed in Raleigh everyone seems to have an opinion on this new form of personal mobility. Raleighites seem to be all over the spectrum but a recent survey run by the Raleigh DLA shows strong evidence that a majority of downtown residents and workers support e-scooters in downtown Raleigh but with some type of new regulation.
You can dive into those results here.
Mobility within Raleigh's downtown has seen so much change since this whole revitalization thing started. I wonder if we're getting closer to getting it right or still struggling with it.
Downtown Raleigh is too small to drive from one place to another yet big enough that walking from district to district feels far. (at least for most people I think) This presents a great opportunity for short-trip mobility services such as bikeshare, electric scooters, rickshaws, rideshare, and the R-Line circulator.
Personally, I love the plethora of options to move around. If I need to get from Seaboard Station to the southern end of Fayetteville Street, I could easily walk if it's a nice day and I have the time, ride the R-Line for free and get there a little faster, ride a scooter for cheap and get there even faster, or request a ride in a car and be there quickly.
My impression of Raleigh right now is that no one is against having options. What the DLA survey suggests is that problems are arising when these options are conflicting with each other. It seems we have a city built for two speeds with a third speed emerging as a popular option and this new speed is struggling to find it's space.
Generally speaking, pedestrians are annoyed by scooters on the sidewalk. Sure, it's illegal and Bird informs users to use the street, a bike lane if available, but personal comfort levels vary widely. Not everyone is comfortable on the street so the sidewalk is a natural "safe" place. You become the dominant user on the sidewalk versus the pushover on the street.
A combination of education and safer streets are probably the cure for this rising middle speed. Also, a part of me thinks that over time users will become used to using scooters that they'll be more confident on the streets. (I've seen some very nervous looking scooter riders out there!)
The quick adoption of scooters in downtown Raleigh is what bicycle advocates have been waiting for. It's brought the conversation for safer streets for middle speed users front and center. How our city responds will be telling as trends point to more and more of this coming.
The day of the bike lane is over. It needs a new name.
There's lot of chatter about dockless scooter in Raleigh on the DTRaleigh Community.
Similar Posts:
Comments
Comments are disabled here. That's because we're all hanging out on the DTRaleigh Community, an online forum for passionate fans of the Oak City.