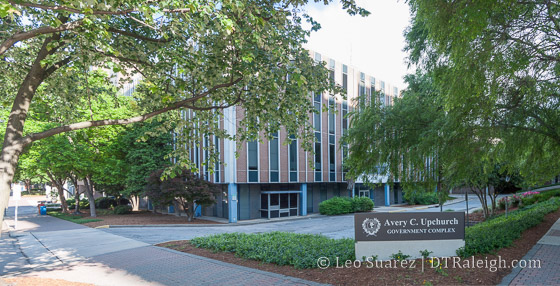 The City of Raleigh has around 1,100 employees and in downtown, you can find them in a variety of places. One Exchange plaza on Fayetteville Street, behind the old Raleigh Union Depot facing Nash Square, and the City Hall block are just a few of them. In May, the city started discussing the possibility of consolidating those spaces, possibly others, into a downtown municipal campus.
The idea is to plan for new growth in a cost-effective way. The process to get there might involve selling off some city-owned properties. Right now, the thinking is to build this new campus on the current site of City Hall, the block bounded by Hargett/Morgan and McDowell/Dawson Streets. It would be paid for, partially, by selling some of the properties mentioned above and possibly others.
By looking at data from iMaps, I created this map of city-owned property in the downtown area.
For completeness, I searched for two terms, "City of Raleigh" and "Raleigh city of" to get those properties. There may be more but this covers a good amount. I combined a few together where it made sense and did not add some individual properties that I would consider to be in the East Downtown neighborhoods.
It's interesting to see how much land there is but some of it makes sense with all the parking decks and cultural places like the Performing Arts Center and the Convention Center. The city owns, basically, zero properties in Glenwood South.
At this time, the city will work on landing a consultant to help with the process.
Long time readers may be experiencing Déjà vu here as the city has gone through a similar approach in recent history. Consolidating offices into a downtown tower, the Clarence E. Lightner Public Safety Center, was a big controversy in 2010. It eventually was scrapped as the cost, around $225 million, was seen as too high, among other concerns.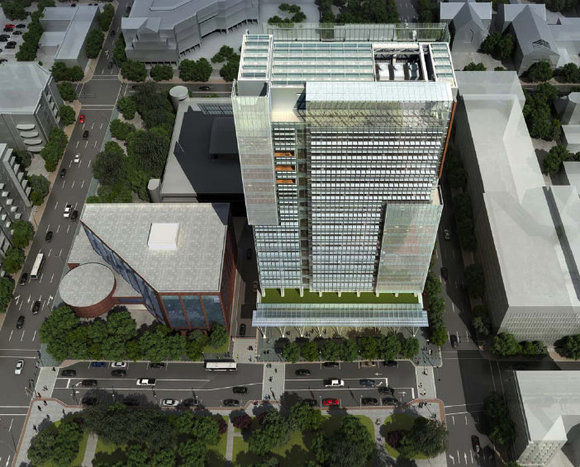 In the rendering, you can see that the 17-story tower would have replaced the Raleigh Police Department Headquarters building at the corner of Hargett and McDowell Streets. Since about that time, the RPD building has been empty and temporary offices set up elsewhere. (the downtown district offices are on Cabarrus Street)
Here we are in 2016 and a similar proposal is on the table with some differences. Rather than the term "tower" the term "campus" is being used. I cringe when I hear this term as "campus" reminds me of an office park with short, expansive buildings set back way too far from the street. Or worse, it reminds me of the state government "campus."
I'm open to it though as the Downtown Raleigh plan makes a few recommendations for this area.
Hargett Street Should be a Pedestrian-oriented Street
"continue to evolve as key pedestrian-oriented retail streets"
"MA-3 Focus on downtown streets like Hargett and Martin Streets to create a great walking and retail environment from Raleigh Union Station to Moore Square and beyond."
"a renovated Nash Square will seek to keep its center a peaceful respite, instead focusing energy and programming on the Hargett and Martin Street edges."
"prioritizing Hargett and Martin as locations for restaurants and shops."
"A new vision for existing city facilities located on the block north of Nash Square will bring a more vibrant mix of uses and street level activity to Hargett Street."
That last one brings it home. In fact, the entire idea of redeveloping the City Hall block is right in the plan itself.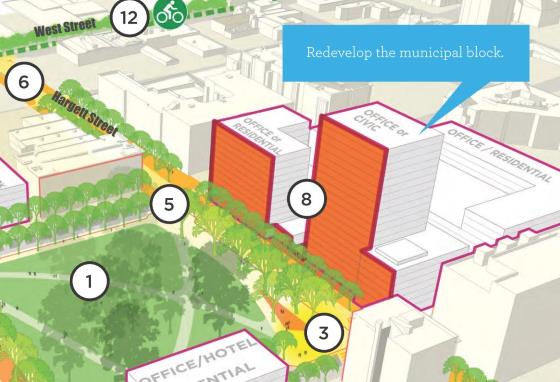 Hopefully, the consultant is shown this plan and can create active edges, especially along the Hargett Street side. Office space and parking will most likely be a part of the "campus" plan so to create more active streets and sidewalks, ground-floor retail space and an interior parking deck would be great elements of the plan.

Similar Posts:
Comments
Comments are disabled here. That's because we're all hanging out on the DTRaleigh Community, an online forum for passionate fans of the Oak City.