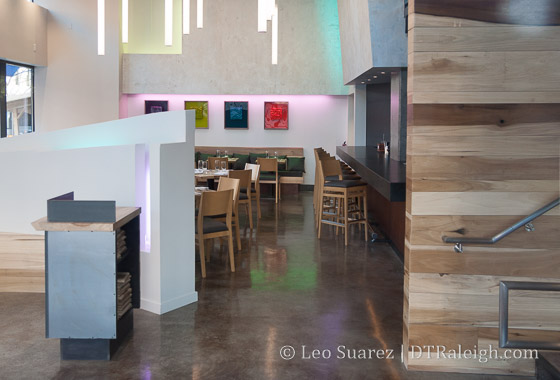 For a complete list of eats, drinks, and coffees in and around downtown, make sure to bookmark the DT Eats page. Try something new!
We'll start in Glenwood South where Lou Moshakos's Mediterranean restaurant, called Vidrio, is still being worked on. I saw that they planned for an early 2016 opening so perhaps they will announce an opening soon. It'll be located at the corner of Tucker Street and Glenwood, underneath the Carolina Ale House.
Work continues on the brewery and market concept, called Little City Brewing and Provisions Company, coming to the West building. The new restaurant is located at the corner of West and Harrington and is being done by those behind The Level Up Kitchen and Linus and Pepper's.
more. kitchen & bar has now opened on West Street in the former Mantra location.
The second location of My Way Tavern is now open where Ciago's was formerly located on St. Mary's Street.
Crisp Bar and Restaurant is now open in the 222 Building. They took over the two spaces where Zaky and Tutti Frutti used to be.
In the 510 building, Big Boom closed but quickly reopened as the 510 Tavern.
Café Helios has reopened under new ownership and with new style. It's located in the same building along Glenwood.
Napper Tandy's has changed over to Tremor Bar and Grill
Babylon has sort of split inside of themselves between two new menus that is worth mentioning. Inside, there will be Moroccan style food and outside, a menu with more casual Mediterranean dishes will be served. Expect this to be official in the next month or two.
Dram and Draught on Hillsborough Street got their permits recently to continue working on the new pub. You can follow their progress through their Facebook page.
Jumping over to Fayetteville Street, there isn't much work taking place for Haymaker, a bar in the Charter Square south tower.
The other space inside Charter Square will be a B Good restaurant which looks to be in the middle of their construction phase.
Plans for a taco shop called Virgil's Original Taqueria will be coming to Salisbury Street in the building where The Level Up Kitchen and Linus and Pepper's is located.
ZPizza has added self-pour beer taps.
Raleigh Raw wants to open up a cafe at 7 West Hargett Street and according to their recently completed Kickstarter they should open this month. (if on schedule) The new cafe will offer "healthy grab and go food, local organic coffee, kombucha and smoothies."
The Hive was closed but quickly turned over to become Mash and Lauter, a Belgian beer bar, that is now open.
Pizza Guerra is planned for the space next to Fox Lounge. If you ever went to Bella Mia in Cary, this place is by the same folks.
Near Moore Square, Provenance has removed the paper window coverings and could open very soon. They are located in the Skyhouse Apartments building.
Nearby in the same building, the Larry's Beans shop and Oak City Market, run by Taz, are still being worked on.
Tir Na Nog has closed but out of it the folks behind Bida Manda plan to open Plenty. This will incorporate a mix of uses including a Brewery, Dim Sum, florist shop and bookstore. We hope to see some of the doors open this summer.
I heard that Rum Runners serves food now. The menu was made by Brian Battistella whose restaurant nearby was closed recently.
According to a line in the posted permit in the former Zydeco space, a bakery could be being worked on here. There's still a lot of work to be done in this space.
Over in the warehouse district, the art and wine bar called Vita Vite is now open.
A night club called Venū has opened at the end of West Street.
The Borough has closed and will become Hadley's, a 1920s-inspired restaurant. This is by the same folks behind Dram and Draught.
Heading north, a brewpub called Oak & Dagger Public House is planned to take over the former Tyler's space in Seaboard Station. In addition to the pub, the bottle shop will also be reopened.
Until then, you can go to Pelagic Beer and Wine for your bottle needs. They opened recently on Pace Street.
Similar Posts:
Comments
Comments are disabled here. That's because we're all hanging out on the DTRaleigh Community, an online forum for passionate fans of the Oak City.