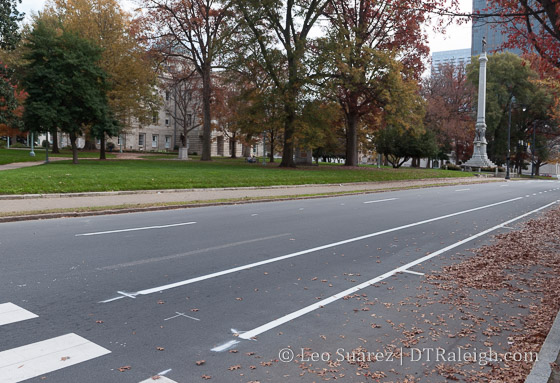 In mid 2014, I did a post about the evolution of Raleigh's bicycle network. It's been years, it feels slow-moving, but the pieces may be starting to connect and create this thing called a "Network". I got really into looking at the maps in the latest draft chapter of the Raleigh Bike Plan Update. The complete document should be done before the end of the year and some of the material is available now.
Dive in to the Raleigh Bike Plan Update.
Looking at Chapter 3 shows the recommended network. It includes 126 new miles of greenway, 149 miles of new protected bikeways, and 277 miles of new bike lanes. The full breakdown is in the below table.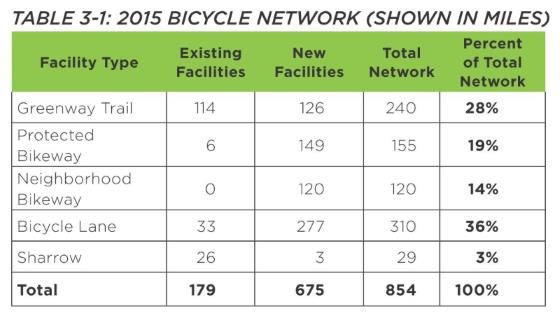 It's great to see so little sharrows being planned as, in my opinion, they don't do very much. The recommendation is for more than three times more miles of bike facilities versus what we currently have. That's a big ramp up in expanding the "Network."
Protected bikeways are a huge step in the right direction to get riders on to the network. A protected bikeway is described as such:
This plan update defines a protected bikeway as a bicycle facility that is physically separated from motor vehicle traffic within a street corridor. For this Plan, this includes cycle tracks and buffered bike lanes, in addition to the City's shared-use path and greenway network. The on-road physical separation can be achieved through parked cars, curbs, medians, bollards/traffic posts, planters, or marked buffered space between the bike lane and adjacent travel lane.
The one catch that I don't like about greenways is that they have, historically, been seen as recreational paths versus effective transit routes. In only a certain amount of cases does a greenway help someone get from point A to B faster than a street.
Speaking of Point A to B, the chapter shows us the recommended network on a map of Raleigh. I decided to take a look at five possible routes starting from downtown Raleigh and seeing how the bicycle network of the future would accommodate versus today.
I have a deep hope that the Raleigh of the near future can make all of inside-the-beltline a bikeable haven for residents to easily zip around on. The network should get folks from their homes to any major destination easily.
I've included a doctored-up screenshot of those maps with each route.
Downtown Raleigh to North Hills
From one urban center to another, getting to North Hills and back by bicycle would be a fantastic way to move around. Today, the greenways are just too far away and don't provide a direct enough route. With Capital Boulevard being a huge east/west barrier, getting to St. Mary's Street is the best option. Heading North, the ride should cross over to Lassiter Mill Road where it will take you to North Hills.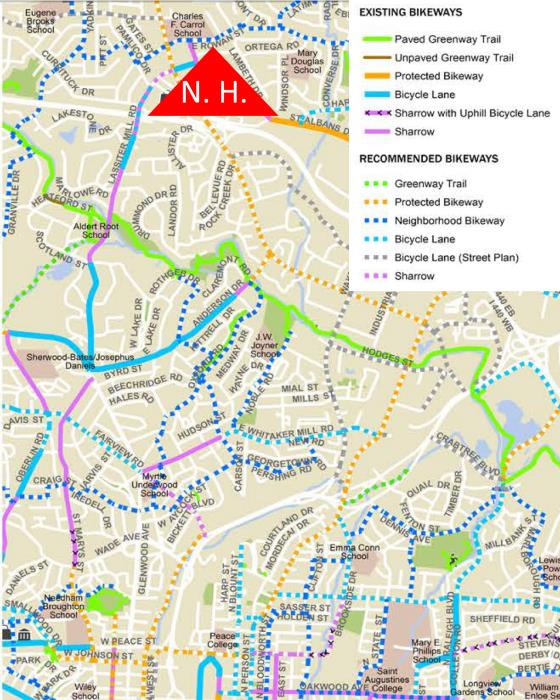 Currently, both of these roads have bike lanes and sharrows for almost the entire route with some sections unmarked. According to the draft plan, a new protected bikeway would go in starting north of Peace Street but wouldn't be that long. (up to Wade) Along with some new sharrows on Lassiter Mill Road, there's not much improvement on this route.
Downtown Raleigh to Five Points
The closest two destinations in this list, getting to Five Points is pretty much a ride up Glenwood Avenue. Today, there are no bicycle facilities between Five Points and Glenwood South. The two-lane road isn't so difficult but that does mean you need to be comfortable riding in traffic.
Sadly, the recommended network has nothing planned for Glenwood Avenue here. Instead, a new route will go in along West Street. A protected bikeway/greenway trail, which we've covered before, is recommended form the Warehouse District all the way to Wade Avenue. The route will split with a greenway going northeast along Capital and sharrows along Fairview Road. That will lead you straight into Five Points.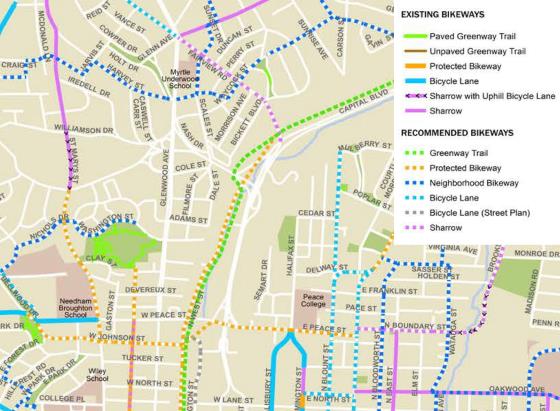 This will be a great north/south connection and I'm interested to see if it's possible to add a connection, somehow, to this greenway along Capital Boulevard from the eastern neighborhoods, like Mordecai and Oakwood.
Downtown Raleigh to Crabtree Valley Mall
Ride to the mall? It's probably better to just take the bus. Route 6 is a direct shot from downtown Raleigh to Crabtree Valley Mall. You can't get more convenient then that. Still, riding your bike adds a little freedom. I've done this once with the intent to get some exercise and do some shopping. It's not for every day though but maybe it is for some.
Today, Glenwood Avenue towards Crabtree is pretty hectic and there are some bike lanes but only for a small portion of the route. The recommended network adds protected bike lanes north of Glenwood/Oberlin. Taking the route to Five Points would be how you start. You then would most likely continue north on Fairview, get to Oberlin where bike lanes exist today, and take Glenwood north on the new protected bike lanes.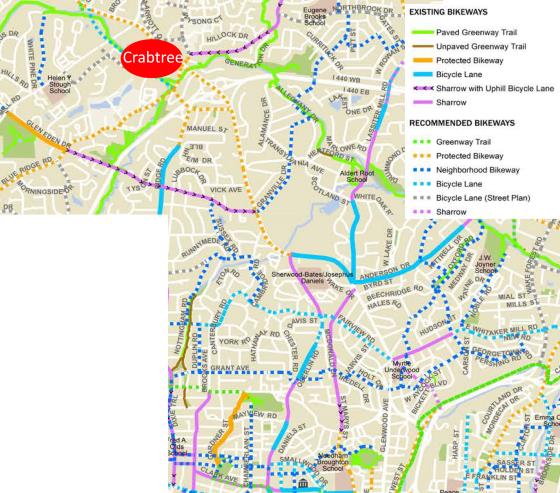 This is a big improvement. The challenge though is pulling into Crabtree Mall once you are there. It would be fantastic to see the spaghetti bowl in that area cleaned up but an easy fix might be a bicycle "off ramp" onto the greenway that goes underneath Glenwood Avenue and goes to the Crabtree Valley Avenue entrance.
Downtown Raleigh to the Fairgrounds
Hillsborough Street is so direct, so straight that using it for cycling transit would be really tempting when going west. Up until just this week, we now have bike lanes starting from the Capital building mostly going up until NC State University. Currently, it then fades out for now but the two lanes west of Faircloth Street might makes things manageable for biking without any lanes.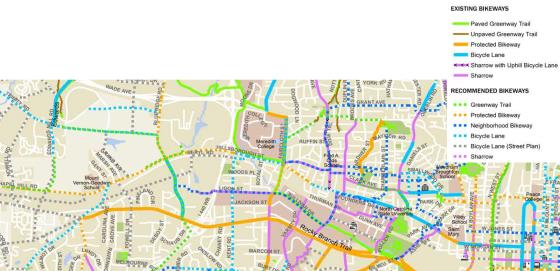 The recommended network continues the bike lanes in front of the university and uses a combination of protected (mostly) and bike lanes to get to the fairgrounds. The plan is actually to extend them all the way out to I-40.
This is a huge improvement for connecting to West Raleigh.
Downtown Raleigh to the Farmer's Market
Today, getting to the Farmer's Market by bicycle isn't the mot difficult as you have a few options. The longer but safest route is by greenway but a few residential streets could get you out there faster without the need for bicycle facilities. Still, a straight shot would be most ideal and that most likely means that Lake Wheeler Road needs a makeover.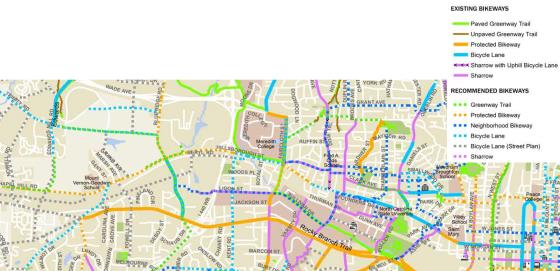 It is great to see a protected bike lane on the recommended draft map between the Farmer's Market and downtown Raleigh along Lake Wheeler. A protected lane is probably best as Lake Wheeler has some nice hills and is pretty direct.
Great improvement here.
Wrap Up
For me, connecting major destinations together in a more direct route is what I'm looking for in bicycle improvements. Since this is a downtown Raleigh blog, that's the approach I took in these five routes.
As always, the draft bicycle plan is still a work in progress and you can submit feedback on what you see up there.
Similar Posts:
Comments
Comments are disabled here. That's because we're all hanging out on the DTRaleigh Community, an online forum for passionate fans of the Oak City.