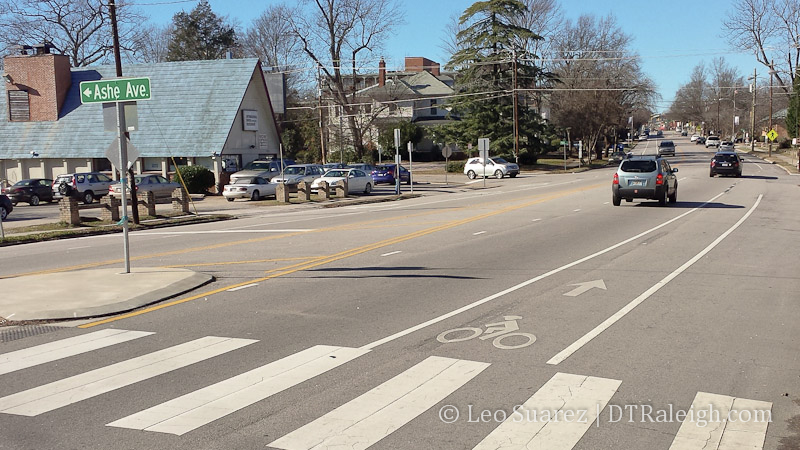 In April 2014, Raleigh's premier bicycle festival, Oaks and Spokes, took place. The week long event combined community rides, cycling education, and a public forum that all focused around the idea of spreading the love of cycling culture in the city. Between the fun events and public information that took place that week, I had a thought about where we are heading with regards to bicycle infrastructure.
Are we spreading ourselves too thin with mediocre (at best) bike infrastructure here in Raleigh? Are bike lanes and sharrows really spreading the cycling culture throughout our city?
In my opinion, it almost feels like the efforts we've made are a bit timid while a lot of other cities are really cranking up the bicycle lanes, making them protected, scenic, and comfortable to use.
I'll pick on one of the city's currently ongoing bicycle projects. Through a $1.1 million grant, the city will install "27 miles of marked, on-road bicycle facilities." This project has been mentioned on the blog before and the post lists several streets in and around downtown Raleigh that will get these bicycle facilities. The rest of the city is getting some bicycle love as well so it's important to note that this is a city-wide effort.
The project page on the city's website has now been updated with draft plans for each street. Take a look and get your feedback to the city before May 9.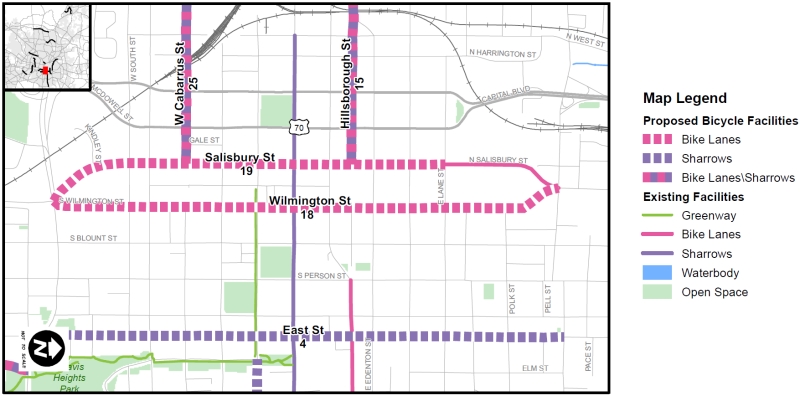 For downtown, the proposed bike facilities include bike lanes on Wilmington and Salisbury between Peace Street and MLK Boulevard. Also, sharrows will be added to Hillsborough and Cabarrus Streets under the current draft. This is just a small piece of the larger network that is being built across the city.
Dedicated lanes and sharrows might be just paint on the road but it is a step towards creating that bicycle-friendly city. Certainly there is room for improvement on what's being installed but $1.1 million can only do so much.
Is this a quantity (coverage) versus quality (safety) situation?
Certainly more miles of "marked, on-road bicycle facilities" sounds better than less but let's discuss an alternative approach. If you think about other forms of transit, rail lines connect major areas to each other and then over time, new lines link up to that and form a network. Highways connect cities and over time have formed their own quality network. Just like them, one mega-bicycle project could be a success in Raleigh, sacrificing total coverage but being of a much higher quality.
Instead of 27 miles of paint for bike lanes and sharrows, what if we could get 5 miles of cycle tracks and/or protected lanes? A 5 mile direct route like this could really connect places, for example:
It is about 5 miles along Hillsborough Street from the State Capitol to The Fairgrounds
In the other direction, it is less than 5 miles from the Capitol to WakeMed along New Bern Avenue
Glenwood South and North Hills could be connected using St. Mary's and Lassiter Mill Road
Granted, these are highly simplistic ideas making a lot of assumptions and not taking into account a mountain of factors. However, if major connections are made between these centers of activity with high-quality bicycle facilities there may be more chances of cycle adoption, increased bicycle use in the city, and possibly giving more political backing for future projects just like it.
The Network
Mega-projects don't just happen though. Our bicycle network, at least up until a few years ago, has been implemented from almost nothing in the city budget and some creative thinking from city planners. This includes adding bike lanes or sharrows when a road is due to be repaved, taking advantage of the need to re-stripe the street anyway.
What the city is doing to deliver our bicycle network is subtle and can be described as a slow boil. Just like the greenway network, which started being built in the 1970s, the bicycle network is being put together in any way that it can be, piece by piece.
When you look at the greenways, it is only recently that the they have really been making major connections to form that comprehensive network across the city.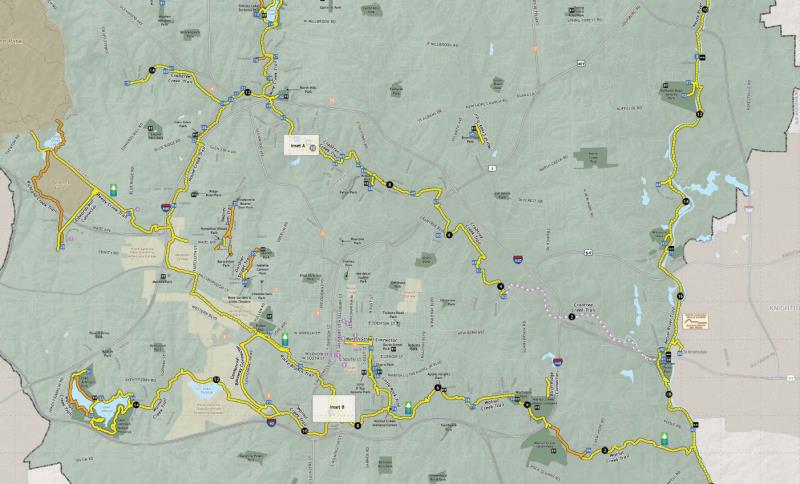 So while huge projects can be fun and exciting, working towards that day when the bicycle network all comes together could be even more magical. That is one way to make Raleigh, from downtown to the outskirts, a complete bicycle friendly city.
Similar Posts:
Comments
Comments are disabled here. That's because we're all hanging out on the DTRaleigh Community, an online forum for passionate fans of the Oak City.