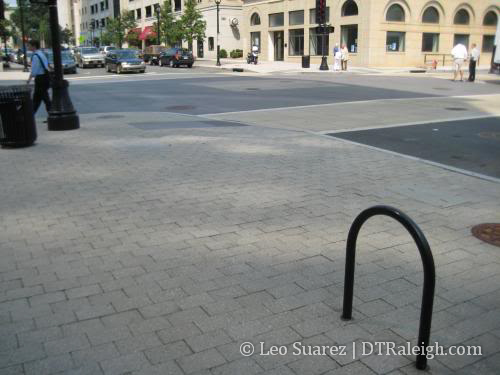 As a new bicycle owner, I'm starting to think about how bike-friendly downtown is. It is rather easy riding around on the streets within the core of downtown because of the naturally slower traffic and short distances. The issue I see, however, is the extreme lack of bike racks in the area and you can see it as riders chain their bikes to different poles and trees. Bike racks are also hard to find because there are simply too few of them. This will have to change so that the culture of commuting by bicycle to downtown grows.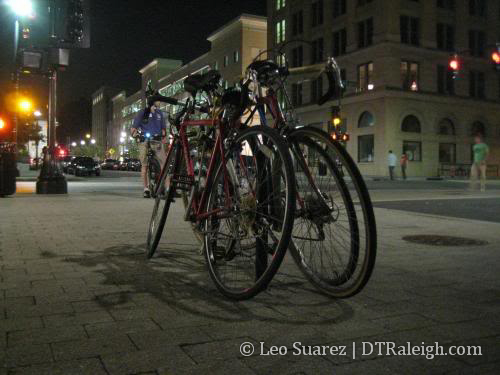 Bikes grouped together on Fayetteville St.
To maintain the quality and competitiveness of our downtown, I think that an alternative to driving should be offered. While mass transit is being figured out now, we can focus on ways to encourage people to get out of there cars and ride a bike, scooter, or other "one-person vehicle" to get in and out of downtown. Right now, I think that riding a bike to visit one day on the weekend and chaining it to a tree is kind of acceptable, because of the so few times that you actually do this. But to get the downtown employees to ride to work five days a week, we do not need more trees rather a bike "parking deck". Just like anyone can drive downtown and leave their car in a deck, a bike should be parked in a small area that is specifically used for the purpose of storing your bike, scooter, hoverboard, whatever. Would you ride more if there were dedicated bike parking areas with:
Plenty of spaces; you can always count on an available slot to lock up at.
Lots of night lighting to make anyone feel safe.
Covered shelters so "vehicles" do not get soaked if it rains while you are at work.
Electricity for those with electric scooters, segways, or whatever may come in the future.
IDEA: Downtown Bike Pad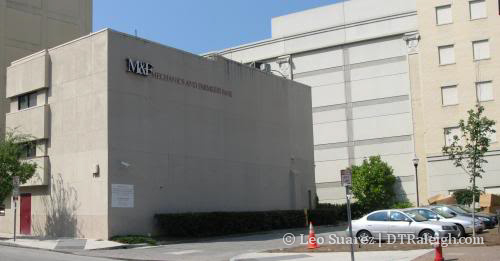 To incorporate the thoughts above, here is an idea that came about in a recent conversation with a friend on this topic. The picture above shows the M&F Bank parking lot on the corner of Hargett and Wilmington St. The lot is for employees only and has six spaces. I have nothing against the bank but I feel that this space should be given up and a deal cut for parking in the Alexander Square deck right behind them. This would be a perfect area for what I'm calling a Downtown Bike Pad.
The entire lot will be used for parking bikes, scooters, segways, and other "vehicles". The pad will be flush with the street so the sidewalk "peninsula" will have to be flattened. This will make getting in and out by anyone pretty easy. The pad will also be a different color then the road, making it distinct and easy to find. Shelters can cover the area so that anyone's "vehicle" is protected by any precipitation. Add an artistic touch to the whole thing and I think we'll have something people will ride too. A LOT of people are already used to the idea of driving downtown, parking in a deck, then walking to their workplace. This is essentially the same thing but takes up less space, is more environmentally friendly, healthier for you, and a cheaper solution to building/expanding our parking deck arsenal.
My idea for the M&F Bank lot would be the ideal solution but until mass transit comes around 15-20 years from now, a modified version of this, perhaps on a smaller scale, could be used. If bike pads were strategically placed in a few spots downtown, I think we would see a rise in biking/alternative commuting and would be a great selling point for new residents and businesses looking at moving here.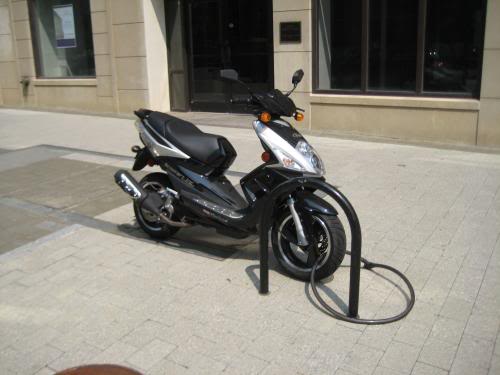 Bicycles are not the only ones parking in downtown
[UPDATE 10-6-08]
An update almost a month later but it is still relevant to the conversation. There is a bike rack in the municipal deck, facing Dawson St. at Morgan St. It will cover your bike or scooter from the weather and it is easy to get too. We need much more of these around downtown.
Similar Posts:
Comments
Comments are disabled here. That's because we're all hanging out on the DTRaleigh Community, an online forum for passionate fans of the Oak City.