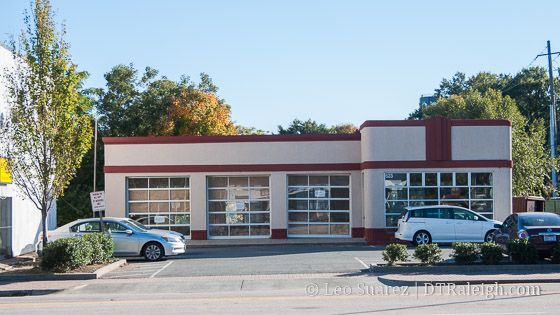 Before we dive into this season's restaurant roundup, I just want to point out that this is my 1,000th blog post here on The Raleigh Connoisseur!
I want to thank everyone who has participated in some way with the blog. Those who've read, commented, those I've met, and emailed with have all kept the conversations going about downtown Raleigh and fueled the energy to keep this thing chugging.
On towards post #2,000!

This Fall hasn't seen as many openings but plans are in place for a big wave of new eats and drinks hopefully in the Spring. Lots of spaces in downtown are still in the early phases of renovation.
For a complete list of eats, drinks, and coffees in and around downtown, make sure to bookmark the DT Eats page. Try something new!
The much-hyped restaurant Standard Foods, with chef Scott Crawford, is finally open in Person Street Plaza. The restaurant serves dinner with lunch hours coming soon. A grocery concept will also be included in the space but that is also still being worked.
Nearby, a beer and wine shop with tasting bar is opening on Pace Street. You can follow their progress on their Instagram.
Over near the warehouse district, Whiskey Kitchen looks just about the same as it did since the last update.
Ashley Christensen's pizza place, next door to Poole's Diner, hasn't seen much movement as the place on McDowell is still pretty bare.
Heavy renovation is happening at 313 West Hargett Street for a new wine bar.
Bouncing over to City Market, eatRaleigh pretty much updates us on the status, or lack of, of City Market Cafe. I can't imagine it being to hard to take a space that once was a coffee shop and turning it into a coffee shop so things don't look good here.
Sometimes you can get a sense of a project just by peaking through the windows. The retail spaces at Skyhouse are paper-sealed tight. No big updates about Provenance, the Oak City Market, or the Larry's Beans Shop.
Holly's on Hargett was bought out and has now been changed to Notte | Urbana. If you haven't been following, this is the former Mo's Diner spot.
In Glenwood South, the Mediterranean restaurant planned for the ground floor of the Carolina Ale House building is called Vidrio. A few months ago, they said it would open in the Fall so perhaps it's almost done or coming very soon.
Jon Seelbinder, owner of Level Up Restaurant and Barcadium, was planning a boutique market and brewery in the West at North tower. The space on the corner of North and Harrington is being renovated for this and there's still lots of work to be done here.
The website for more., a restaurant from JMR Kitchens, says it plans to open late October. That could mean they are close to opening their doors on West Street.
Ciago's, located on St. Mary's Street has closed. It will now be the second location for My Way Tavern.
Zaky and Tutti Frutti have closed in the 222 Building. Renovations are underway though for a Crisp Salads franchise. I believe this is the same thing as the one at the Crabtree Mall food court.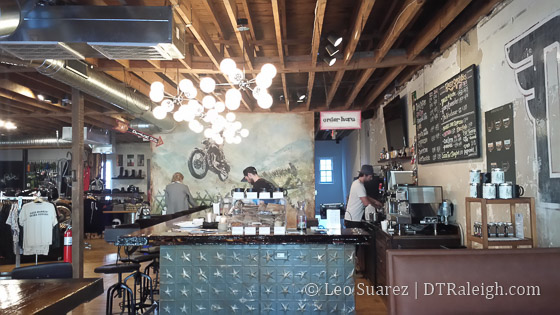 The "adventure lifestyle" shop Devolve Moto is now open and they have a coffee and beer bar.
After being empty for quite a few years, the renovated gas station on the 600 block of Hillsborough Street, across the street from Char-Grill, will be a new tavern called Dram and Draught.
The Bruegger's Bagels in the 222 Glenwood building has closed but the owner of next door Sushi O is now working on the space for a new restaurant.
Along Fayetteville Street, there hasn't been much movement on the Eschelon Experiences restaurant planned for Charter Square.
Within the same building, a B.good franchise is also planned. This would be the second Raleigh location after North Hills.
What started as a pop-up shop, Linus and Pepper's is now staying on Salisbury Street.
Same block, a "trendy taco shop" is also being planned by the same owners.
The people behind the dive bar Slim's have opened another bar called Ruby Deluxe on the 400 block of Fayetteville Street.
The lease has been pulled on The Square Rabbit on East Martin Street. Lou Moshakos, owner behind Carolina Ale House, is now working on bakery-concept for the space and something else for the space next door.
Similar Posts:
Comments
Comments are disabled here. That's because we're all hanging out on the DTRaleigh Community, an online forum for passionate fans of the Oak City.