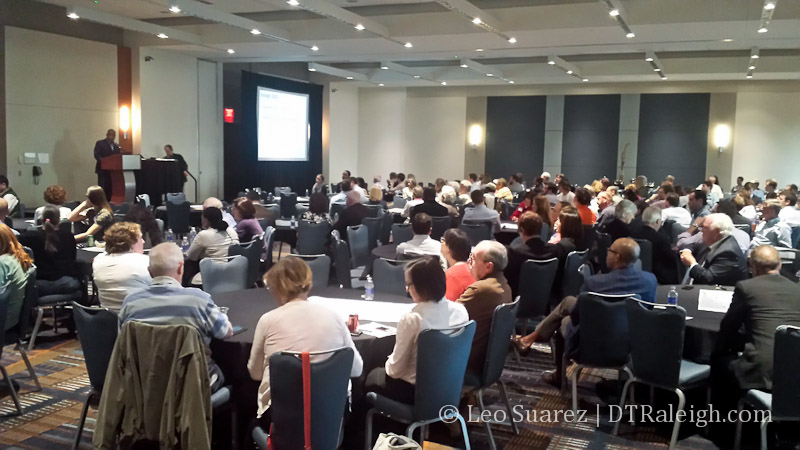 For those that are not aware, city planning is working with a consultant group to create the next downtown Raleigh plan. This plan will consist of a vision for downtown Raleigh and what it could look like in 10 years. Key to it are achievable goals based around a heavy amount of public input.
Recently, the public kick-off event took place at the Convention Center and a good crowd of about 150 residents and business owners met to throw around ideas for the new plan. Downtown as a whole was looked at and from my experience a few themes were clear:
Create goals that are achievable in under 10 years.
Connectivity between districts and outside of downtown is important.
Create more experiences in the downtown.
The achievable goals piece seems to be borrowed from the last downtown plan, The Livable Streets plan from approximately 2002. That plan had 5 clear objectives and a path on how to execute them. Goals like building a new convention center and remaking Fayetteville Street were laid out clearly. Planners wanted to avoid lofty goals, which could sound like "create more meeting space in downtown Raleigh" or "revitalize a core street to be downtown's Main Street." The clearer goals in that plan were felt to be part of the success we're seeing now and is hoped to be repeated in the new plan.
This new plan is being lead by a consultant group, Sasaki Associates Inc. from Boston, and with the help of a local advisory committee, consisting of residents from a variety of backgrounds, as well as public input they will release the plan later this year. Make sure to jump to the city's website to see more details on the consultants and the local advisory committee.
Coming back to the kick-off meeting, participants were taken through a few group exercises to try and get their ideas for downtown Raleigh. We rewrote the downtown mission statement. We drew all over a map, highlighting areas needing attention, open space, or improved connectivity. Our group also listed our top three ideas for downtown, adding them to a list with the other groups' and later voting on the best ones.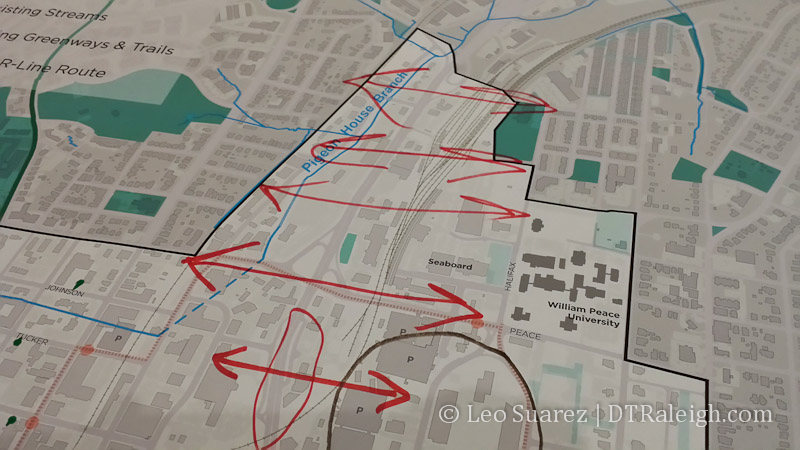 These ideas and maps will be taken by the consultants for input into the final plan. No need to worry if you have not submitted any ideas yet. Here is how you can participate online now and look out for the next meeting.
Mindmixer
The city has set up a website using Mindmixer to allow you and I to submit ideas, vote on others, and add comments around a few central downtown themes. The site is up right now and there is a fair amount of activity on it. Jump over to it and start submitting.
Planning for Raleigh via Mindmixer.
District Sessions
The next in-person meetings for the downtown plan will be on May 21 and 22. The visioning sessions will consist of similar breakout exercises to the event in early April but focus only on the district being discussed. Here's the schedule for each session:
District Visioning Sessions for Downtown Plan
Capital District
Date/Time: Wed., May 21 from 8:30 am to 10 am
AIA NC Building, 14 E. Peace St.
Moore Square District
Date/Time: Wed., May 21 from 3 pm to 5 pm
Cobblestone Hall, City Market, 215 Wolfe St.
Glenwood South
Date/Time: Wed., May 21 from 7 pm to 9 pm
Hampton Inn Hotel, 600 Glenwood Ave.
Fayetteville Street District
Date/Time: Thurs., May 22 from 2 pm to 4 pm
The Stockroom, 230 Fayetteville St., second floor
Warehouse District
Date/Time: Thurs., May 22 from 4:30 pm to 6:30 pm
HQ Raleigh, 310 S. Harrington St.
Person Street/Seaboard
Date/Time: Thurs., May 22 from 7 pm to 9 pm
AIA NC Building, 14 E. Peace St.
As always, the city's main site for this whole project has it all and is constantly updated as new information is available. This is the first place to look for information.
Downtown Experience Plan via City of Raleigh.
Similar Posts:
Comments
Comments are disabled here. That's because we're all hanging out on the DTRaleigh Community, an online forum for passionate fans of the Oak City.