Some have heard it, others say it. "We need more retail." And then there are some who make the suggestion that downtown needs more space for this sought after retail. Do we need more space for retail in downtown Raleigh?
Long time readers of RalCon may remember older posts where I went over some of the most important spaces that, at the time, were left vacant. For some background reading make sure to jump here:
Top 10 Empty Spaces To Fill Around Downtown (September 19, 2008)
Follow Up, Top Ten Empty Spaces to Fill Around Downtown (September 28, 2009)
It has been well over a year since the last post on this topic so I thought I would take us through again. Rather than naming and ranking the places, let's just start with different districts and discuss their evolution over the past few years.
Seaboard Station
I had to investigate this one because of the recent chatter in the comments about the upcoming renovation to 111 Seaboard. Outside of that renovation, there are two main empty spaces amongst the warehouses that make up Seaboard Station.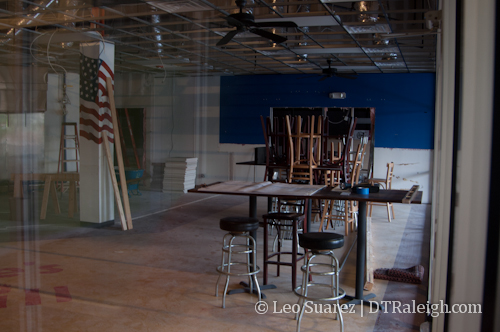 Rumor has it that Tyler's Taproom will set up in the old Tookie's Grill space near 18 Seaboard. Walking up to it, Tookie's has been pretty much gutted. What is interesting is that a hole in the wall has been made opening it up to the space next door and adding what could be a large restaurant area. The Tookie's space could hold a bar with a bunch of TV's and the larger space next to it could be the restaurant area with larger tables. Outdoor seating may be tricky though as there isn't much room outside the doors. Either way, this seems to be the likely candidate for a Tyler's type bar/restaurant.
The other space near the rear of Seaboard Station, near Peace China, has been subdivided into, what looks like, offices. From the work that has been done, there is little indication that a restaurant will go in. It's tough to think that Tyler's would go here after seeing the Tookie's space in its current state.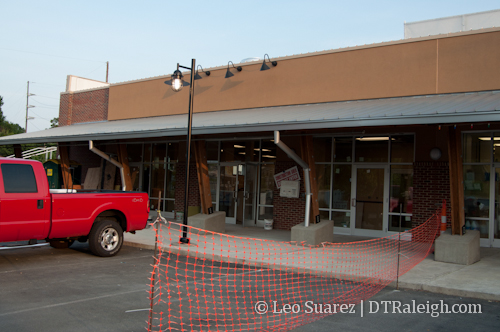 There is your update as of today. Let's hope for some good news in the near future.
Glenwood South
Glenwood South has been running near capacity from what I have seen. A couple places have changed in the past year or two though, The Rockford has changed owners, Ivy has closed and is now being renovated, The Artisan is now where Sauced Pizza used to be, and a few other minor tweaks.
The most important space that is empty or being worked on in Glenwood South, in my opinion, is the corner space of 222 Glenwood. This huge space could hold a landmark restaurant that shows off its activity through the huge windows that face the street. The corner entrance could really make it a statement to pedestrians and drivers coming up Glenwood. This space has never had an occupant.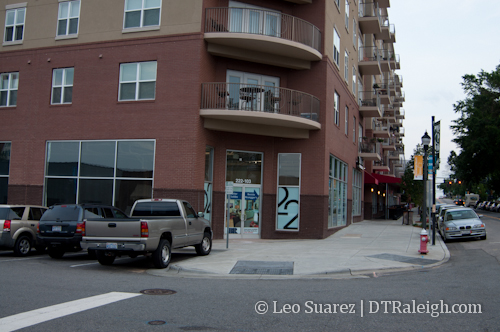 I'd like to see outdoor seating instead of parking spaces on the side street but I'm just nit picking.
The rest of the building is pretty much occupied, with signs up now for the upcoming Tutti Fruiti and Zaky, we could be weeks or a few months away from an opening.
The Warehouse District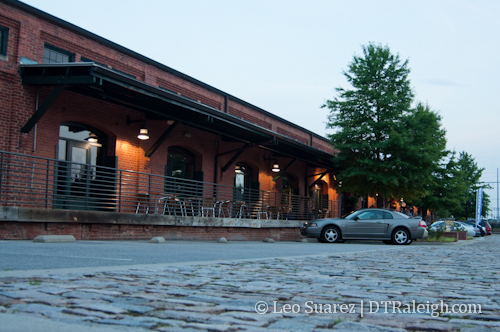 The Warehouse District is on the rise thanks to the injection of activity brought on by Contemporary Art Museum.
The Depot building is more stable then it has ever been in the last few years with Jibarra leading the way. Tuscan Blu has opened this year and a beer bar, The Union, anchors the historic building toward the back. The upcoming Tasty Beverage Company store will open this year leaving the prime Davie Street space looking for a tenant.
Martin Street is on the rise as well. Raleigh Denim has moved into Commerce Place and Brewmaster's has filled the old Joe's place on the corner of Dawson Street. You'll see more art in the area because of the new museum and the relocation of the Visual Art Exchange nearby.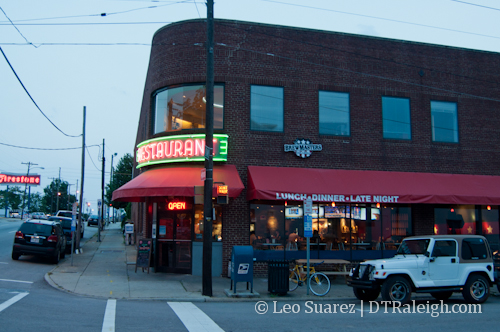 Over on Hargett Street, The Hue could use a little love. There still is some empty space on the ground floor but it has improved slightly. A real estate agent is renting space and there is work being done on Astoria Cafe. There is still plenty of space and hopefully it gets filled as more renters move into the building.
Fayetteville Street
There's a lot to cover on Fayetteville Street so let's start with what was highlighted in the past posts. The following spaces are still empty:
114 Fayetteville Street, next to Isaac Hunter's
Odd Fellows, corner of Hargett and Salisbury
Boylan Pearce Building
Spaces along 100 block of East Hargett Street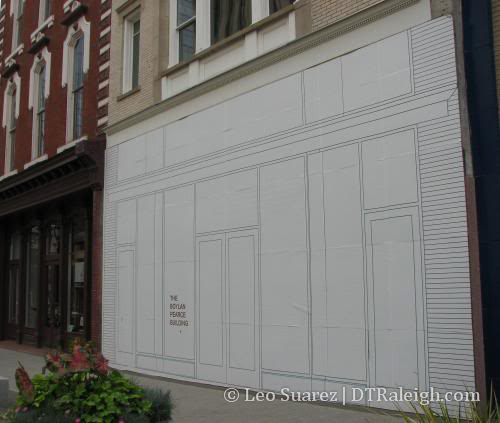 This picture from 2008 still applies.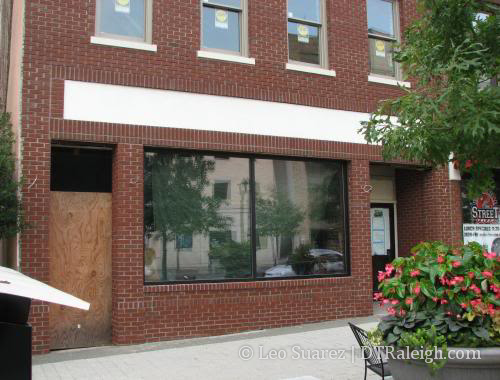 So does this one.
So there are still some holes to fill along North Carolina's Main street and the side streets but there is some positive news here.
Finally, one of the ground floor spaces of the RBC tower will be filled. A Pan-Asian restaurant from the owners of Sono and The Oxford are working on something new in this space. The tower still has two other retail spaces that are empty but walking along Fayetteville Street will be complete on this block once the new place opens up.
Ashley Christensen will be bringing three new establishments to the corner of Martin and Wilmington Street. We highlighted this building on one of the older posts on the blog so we can now take it off the list. From the article,
She plans to open three new eateries – a burger joint, a fried chicken and honey place and an underground bar – in a 4,000-square-foot-space in downtown Raleigh in late spring. She says the food will be "simple but with a lot of energy going into the details."
I had some good times a few years back at Alibi Bar but I'm not sure it competes with it's successor, Neptune's Parlour. Pair it with King's in the upstairs space and you have a killer combination. The ground floor space that used to be Martin Street Pizza will be a restaurant in the future, rounding out the trio of offerings at 14 West Martin Street.
City Market
What I think is the grand daddy of downtown, The City Market building, is sort of half full. Still.
Half of the historic market building is being used as event space while the half facing Martin Street, the one I call the front, sits vacant. Cobblestone Hall is used for weddings, receptions, parties, anything really. They play on the historic charm theme with City Market's cobblestone streets.
It has been years since the fire at Greenshield's which used to be in the building. Does anyone have the year by the way? Still, I think City Market is being held for something grand, something that really is a regional draw and a landmark institution for downtown.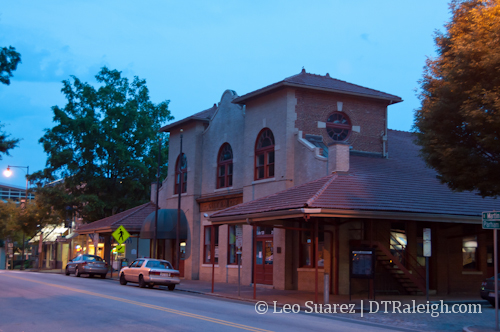 The conversation here is really just a subset of new openings, closings, and empty spaces around downtown.
Similar Posts:
Comments
Comments are disabled here. That's because we're all hanging out on the DTRaleigh Community, an online forum for passionate fans of the Oak City.