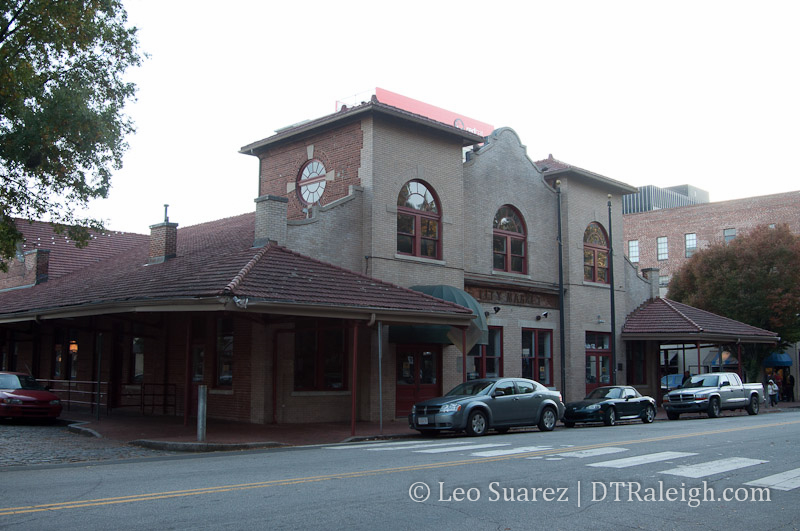 A friend of mine made a reference to an old post here on the blog and looking back at it after all these years makes for a great followup. In 2008, I made a list of ten retail spaces that should be filled. Today six places off that list are now occupied. It's not just restaurants though, retail has taken hold and the quantity of shops is only increasing year after year in downtown Raleigh.
If you look at the post, you'll see photos of empty buildings where popular restaurants are today. Beasley's and Chuck's have ignited the corner of Martin and Wilmington Streets. The ground floor of the Odd Fellows building was empty until Deco, Nora and Nicky's, and High Cotton gave people a reason to window shop at Hargett and Salisbury Street. Almost all the spaces in The Depot were once empty until Videri Chocolate Factory, Tasty Beverage Company, Jose and Sons, Junction Salonbar, and Tuscan Blu set up.
Before getting into another empty spaces list, an important thing to note is that there are areas in downtown where empty spaces are few and need to be built. The "missing teeth" of retail is being filled in and the options and variety is increasing. As fewer historic buildings needing renovation are available, this will increase the demand to build new shops in new construction buildings.
Glenwood South, end-to-end, is practically full. With The Wine Feed guys renovating their space in the Hampton there's really not much new sidewalk retail space available. Projects like The Gramercy should be adding more retail spaces right along Glenwood Avenue. The now under construction Ale House building, at Glenwood and Tucker Street, may add retail/restaurants where an empty office building once sat.
Other notables include individual buildings around downtown. PNC Plaza has leased their retail spaces and it appears the smallest one along Martin has paper over the glass as if something is going on behind it. The Hue has renters in all their spaces minus one. Red Hat Tower has seen turnover but is typically full.
The simplest way to put it is that creating a list like the one below was more difficult today than it was five years ago.
And now onto the list.
107 East Martin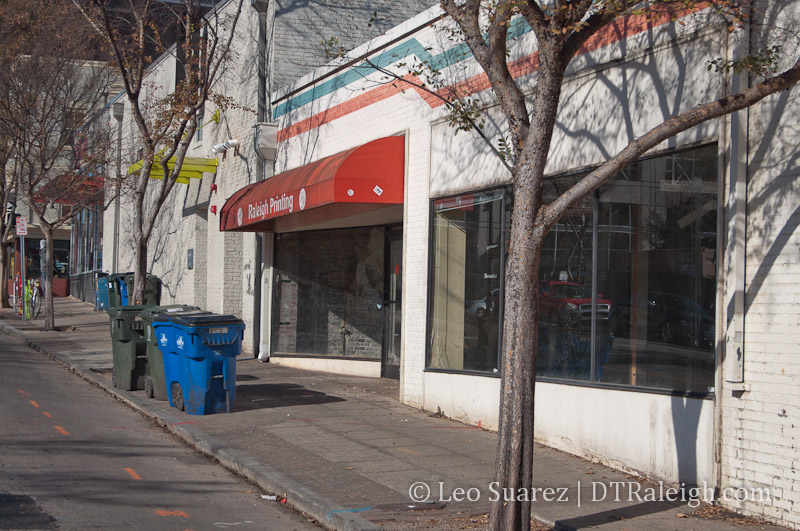 A small empty space for years but just around the corner from all the great restaurants at Martin and Wilmington. The problem, I think, is that it probably needs a lot of work to get something started here. I don't know much about the details of renovation but this building looks pretty sad and start up costs must be higher than most.
Blount Street Deck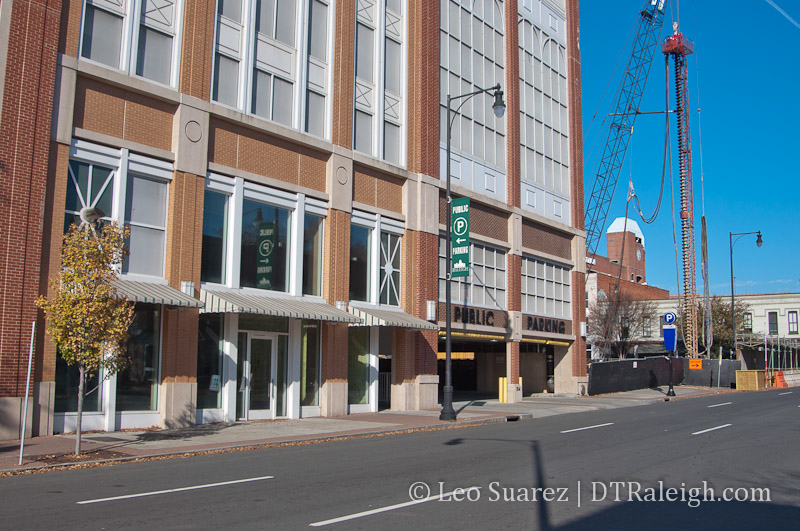 The Blount Street Parking deck has two retail spaces, one facing Wilmington and the other on Blount Street. The downtown staple, Cooper's BBQ is moving to the space along Wilmington and the one facing Blount is still waiting for its first tenant since opening in 2008. Facing City Market and being close to Moore Square, I would think this could be an attractive space. What will probably make it happen for this nook is when nearby residential projects like Skyhouse and The Edison open up. A services type shop would be perfect for downtown residents in this area.
The Atrium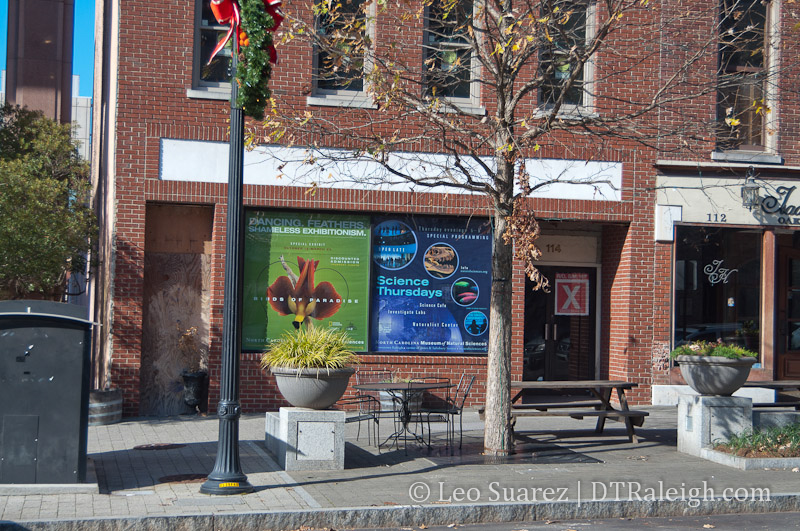 The Atrium has such a good location along Fayetteville Street but needs a lot of work to be useful. The old, brick building is missing a roof in the back so someone with a lot of passion for this architecturally flat building will have to come along to spruce it up. Eventually, the location will be too good to pass on it for some developer.
Boylan Pearce Building


This has been empty ever since Fayetteville Street dropped the mall from it's name in 2006. The Boylan Pearce Building sits in the prime 200 block of Fayetteville Street, experiencing some of the highest pedestrian counts in downtown Raleigh. Almost a year ago, there was news of a buyer of the building with plans to restore it.
Days before I planned to post this, signs of construction on the bottom floor popped up. So it's possible this space is coming off this list sometime soon.
The Raleigh Sandwich Shop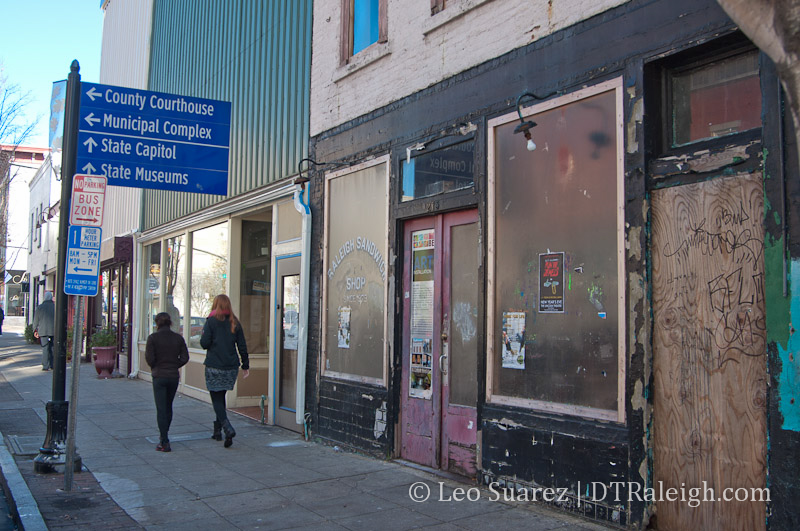 Sandwiched, pun intended, between some busy shops and restaurants along Wilmington Street, the Raleigh Sandwich Shop has such a good location for someone to consider working with it. I'm going to punt this one over to a great post at Goodnight, Raleigh about the shop. Remembering the Raleigh Sandwich Shop
The Shops at 500 Hillsborough Street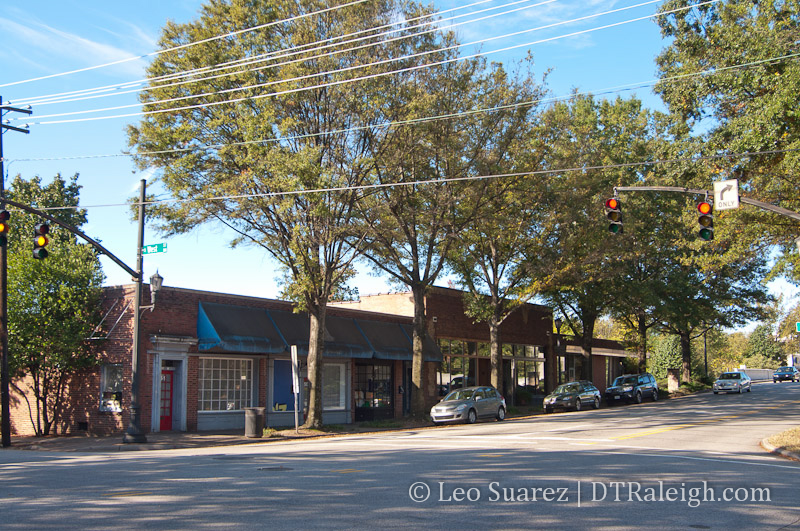 This little strip of one-story retail spaces is kind of an island between Glenwood South and Fayetteville Street. The shops that are there serve niche markets, like the violin store, but next door, the spaces are empty. This is a tricky area I feel as the better move would be to join the cluster of businesses in the other districts. Until the growth reaches here, this may be the same for a long time.
City Market
I feel like the City Market building is the flagship in historic charm for downtown Raleigh. Some may say the Briggs Hardware building but I lean more toward the ole girl on Martin Street. The half facing Martin Street has been vacant for quite some time now with the other half being used by the event venue, Cobblestone Hall. It's a big space and difficult to break up into smaller ones, if even possible. A big restaurant operation or large retail store is perfect for this space.
Currently, there are posters around it for an event space called 214 Martin.

Similar Posts:
Comments
Comments are disabled here. That's because we're all hanging out on the DTRaleigh Community, an online forum for passionate fans of the Oak City.