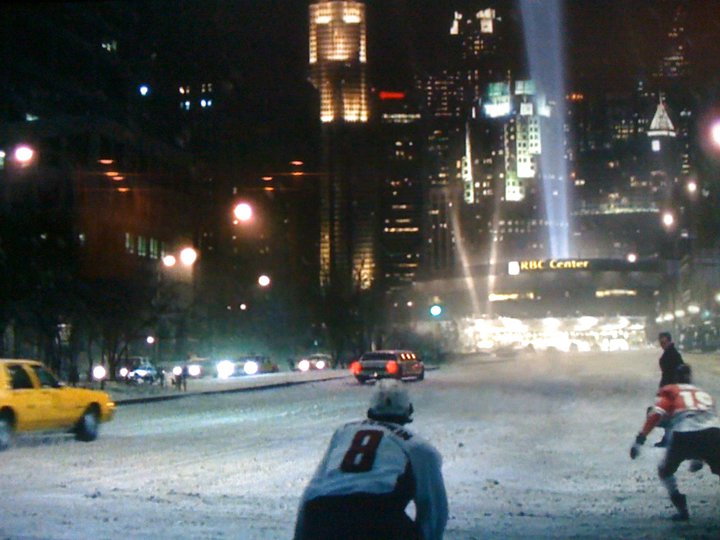 If you didn't know it yet, the Triangle is hosting the NHL All Star game this weekend. Downtown Raleigh is covered with hockey themed images and banners. Prepare for crowds in downtown this weekend as the convention center plays host to a huge hockey themed carnival and some live music in the downtown amphitheater. Yours truly will be volunteering at the event and cannot be more excited.
The sports channel, Versus, is running an ad for their broadcast of the game and a quick snippet shows this little shot of Raleigh, shown above. Thanks goes out to Joe Ovies for the image.
Does this shot even look real? Even if you've never been to Raleigh it is obvious this shot was edited for hyping up an event.
I've noticed a lot of chatter about how people think that Versus intentionally made the RBC Center seem as if it was in downtown Raleigh and how they are trying to make Raleigh seem bigger then it is. First off, relax.
The commercial that this shot airs in flashes the picture in front of you for maybe two seconds so trying to fit it all in can only be done by the magic of video editing. Its obvious this shot is fake.
The skyline in the picture above is mirrored if you were looking at the South Saunders Street angle so it looks reversed. The RBC tower was also added two additional times, in the top right corner and in the middle. The tallest building in the middle is the BB&T tower from another angle and that light tower down the center is easily one of the City Plaza light towers.
Its obvious Versus didn't take the time to take a real shot of Raleigh so they stitched some images together and this is the best they can come up with. But there's no reason to get upset.
Well, maybe the Wachovia tower feels left out a little and can be upset.
I say go with it and get into the hype because this event is big deal for this area.
Similar Posts:
None right now. Must be a new project.
Comments
Comments are disabled here. That's because we're all hanging out on the DTRaleigh Community, an online forum for passionate fans of the Oak City.