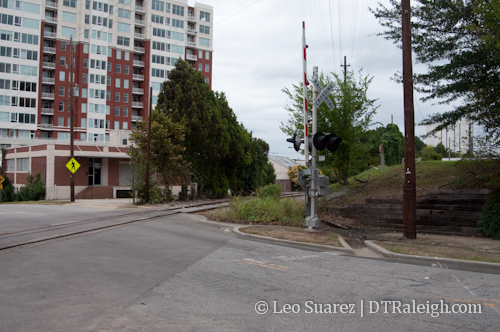 I just want to start out this post by saying that all of this is purely speculation and there are no real plans to carry out any of what I'm talking about here.
With that out of the way, I wanted to bring up a small detail posted in the NC4, or hybrid plan they are calling it, of the Southeast High Speed rail plan. If you are not caught up, this is the plan that was made up by citizens and leaders, another alternative that is being explored outside of the three alternatives that were on the table for the high speed trains coming into downtown Raleigh from the north. Jump over to Steven Waters's Living Streets site for a great rundown of the proposed plan and benefits of the plan.
One piece I want to highlight from it:
Additional property tax revenue would also accrue to the city from new redevelopment opportunities from reclaimed land along the CSX tracks. The value of this land for redevelopment would be significantly enhanced with the reconnections of North and Lane Streets that would be made possible with this hybrid alternative.
The benefit of having the CSX tracks removed would allow us to reconnect West Lane Street from Harrington up to West Street. My question I ask today is why can't this be done now?
First off, the obvious thing people will say is that some DOT requirement does not allow it. The tracks are probably too close to something and there is not enough room for whatever. It may not leave adequate space for some widget and it therefore conflicts with some thing-a-ma-jig. It'll sound something like that, I'm sure. But if you walk it, I believe you may see it different.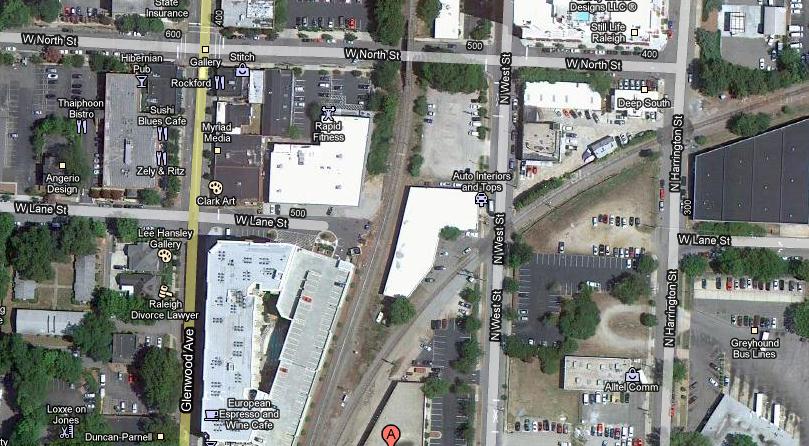 A road punching through the sandy lot would have no trouble until it just gets to West Street, where the railroad crossing comes through at a wide curve. If you take a look at the map, click it for a larger view, connecting the road seems to not have any trouble. When I was out there taking a look, the problem is most likely with Lane's Street northern portion. If it was actually laid across this block, any sidewalk would most likely hit the tracks a little before West Street.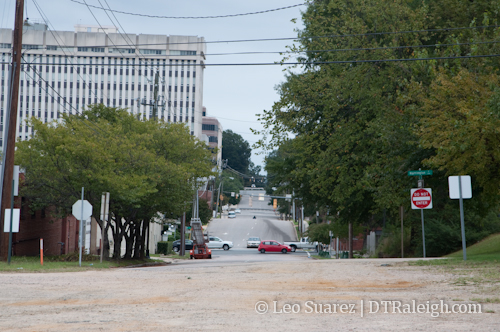 Looking East down Lane Street
Here's where it probably gets interesting. Since it looks like the sidewalks, and perhaps a small portion of the road, hit the tracks before West Street, a more elaborate crossing gate would be needed. If this is true then that adds more expense to the project.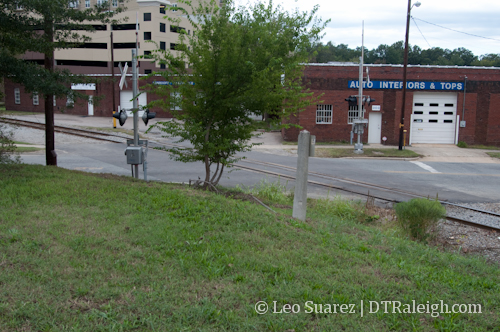 Looking West down a Lane Street that could be
I can't dive into the engineering costs of an idea like this cause I honestly am not in tune with this kind of work. Like I said before though, if you walk the area you can't help but start to think why we cannot find a way to make it happen now. I'm a big supporter of having an intact street grid and this is one piece to the puzzle in downtown Raleigh.
This connection can be a part of larger project to bring better connectivity to Glenwood South. If the road connection were put here, Lane Street could be converted to two way vehicular traffic. This would offer another entrance and exit to Glenwood South from the busy pair of roads of Dawson and McDowell Streets. You would also link Oakwood and Glenwood South's neighborhoods much better, with a direct shot back and forth, even more so if a pedestrian connection goes through to Glenwood Ave. If the Blount Street Commons project ever finishes to its full plan, residents here would be much better connected also.
Two way vehicle traffic also encourages walkability and is more bicycle friendly then the three lane Lane Street we have today. Car speeds will be slower and there can be parking along the side. Parking and foot traffic encourage businesses and hopefully the city can help foster that new growth that isn't happening in this area already.
Next time you are walking down Lane Street toward Glenwood South, do me a favor and walk over the lot to see it for yourself. It would be great to bring this to the table sometime.
Similar Posts:
None right now. Must be a new project.
Comments
Comments are disabled here. That's because we're all hanging out on the DTRaleigh Community, an online forum for passionate fans of the Oak City.