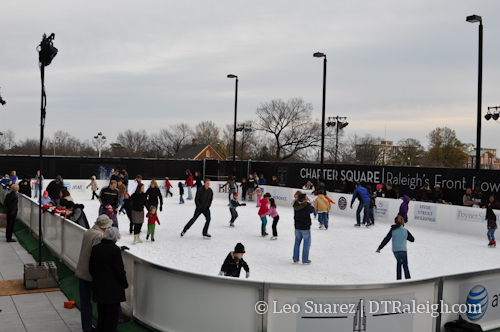 This past Friday was the start of the Raleigh Winterfest that is taking place at downtown's City Plaza. The main attraction is the ice skating rink that is now set up and ready for you to skate on. I recently walked down there this weekend and have the real answers to everyone's questions.
Is that real ice or the fake stuff like in North Hills?
The ice is real but don't expect the Carolina Hurricanes to practice on it. The ice is a little choppy and could really use some zamboni love.
So if there is no Zamboni then how does the ice get smoothed over?
A golf cart with a snow scraper collects all the ice shavings and its shoveled off the ice. It then goes over it once more with some warm water and attempts to smooth it out. The results are average at best.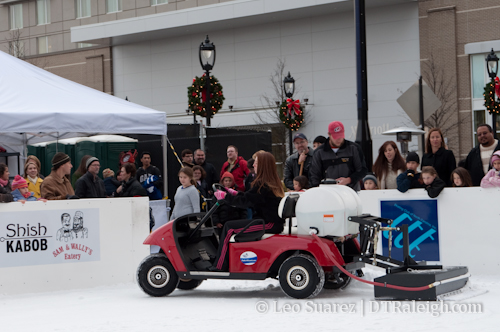 I see. So how much room is there to skate? Can I practice my triple axels?
The rink is a decent size to skate around but not as big as the indoor rinks around Raleigh. Look at the pictures and guess for yourself. Through the eyes of a child, the rink size probably doesn't matter.
So while I'm out there watching kids fall on their butts, what is the best way to stay warm?
There are a couple gas heaters placed around the common area in front. Plus coffee from Starbucks or Krispy Kreme can be had from right across the street. Careful though, I heard one woman claim that the Krispy Kreme coffee is too hot. Refer to picture below for her easy solution.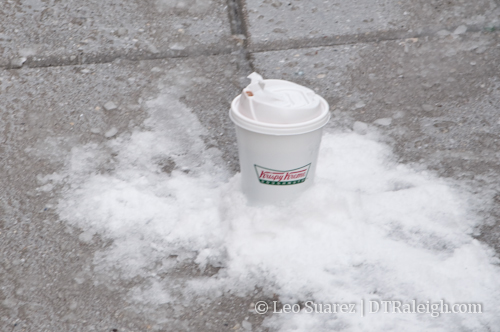 What is the bathroom situation around the rink?
There are a couple portable toilets set up nearby for anyone to use.
When is the skating rink open?
The hours vary depending on the day. Just go to this calendar (.pdf) and check the times.
I can skate at night?
Yes. Lights are set up around the rink for night time skating.
Any specials?
There are some "Date Night" specials. Go here for the list of the nights and how to participate.
Dude, you didn't answer my questions?
Well post it in the comments or go here for more FAQ's.