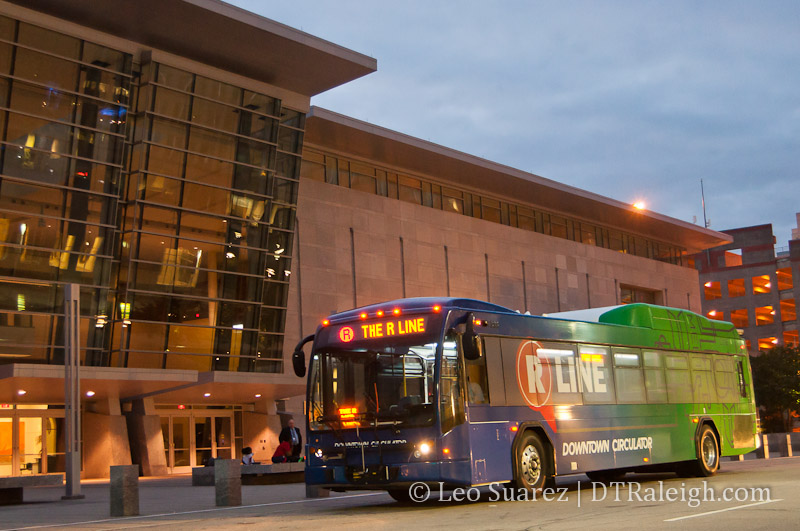 One of downtown Raleigh's hot topics this year has apparently been the R-Line. If you've been following, there are a slew of stories about the perceived unfairness of the fare-free bus circulator that operates seven days a week. With upcoming fare increases on other routes of the Capital Area Transit (CAT) system, the R-Line is being looked down upon by certain Raleigh individuals.
My take on this is that the R-Line is being politically micro-managed and we should let the transit planners have a say.
Background articles to read:
The route was first introduced in February of 2009 with a dedication ceremony in front of the Raleigh Convention Center. It's important to note that the R-Line was one piece of a much larger puzzle. The Convention Center had just opened around that time. The Fayetteville Street makeover was still pretty fresh. City Plaza was less than a year old.
These were downtown improvements made to attract more visitors, create more spending, and create more businesses. From a city point of view, that means paying back the investment in downtown and generating more tax revenue. Cities do this to sustain a high-quality of life, which Raleigh has, with a fair or low cost of living.
A lot has happened over the last five years though.
Events have been one of the largest driving forces behind downtown Raleigh's growth. Fayetteville Street events used to close off one or two blocks. Moore Square events could be contained within the park itself.
Today, downtown is bursting with events.
An interesting statistic would be the growth of attendance and size over the years. I would put money down that that number has increased year after year.
You have a pretty good chance of catching an event on Fayetteville Street on any given weekend these days. From mid-August to mid-October, downtown is crawling with events and people. Spring has another spike in events that seem to take over. Parking decks are as or more full on weekend nights as they are during the workweek hours any weekend of the year.
It also seems that every marathon that comes to town wants to run their route through downtown Raleigh. We're not talking just a few, but several dozen closing streets on random weekends.
So what does the R-Line have to do with downtown being the host with most?
A strategy (the R-Line) to make our public investments (Convention Center) more attractive became hugely successful and everyone wants to get a piece of it.
And why was it successful? In my opinion, the R-Line is run like most bus routes should be run. No timetables and a higher frequency of buses passing by.
It was also the first city bus route, to my knowledge, in Raleigh to have GPS tracking. Those with smartphones could see the bus location before heading out to the bus stop. With all the amenities and ease of use, it was implemented very well and has become successful.
Over the years, Raleighites have adopted it. The original purpose is still intact, with the buses moving conventioneers around downtown. The event-driven downtown has used it for moving people between venues. The growing resident population has used it to travel between districts. With a stop near the Moore Square Transit Center, CAT riders have also used it as either the first or last leg of their trip when getting around.
With a diversity of riders, sounds like a success story to me.
Today, the R-Line's fareless system is being picked on. With an upcoming 50-cent increase in fares over the next 2 years on every other CAT route, there are some vocal citizen advocates that think this unfair, with one individual quoted in an N&O article calling the R-Line racist.
Opinions and proposals on the R-Line aren't hard to find either.
The articles linked above mention issues such as fairness, equity, and cost. Expanding the route would cost more. How can you make the R-Line more fair? Should all riders have equal access and the demographics of riders be diverse?
We've definitely lost sight of the original purpose of the service, which is to move visitors (from hotels and the convention center) around downtown.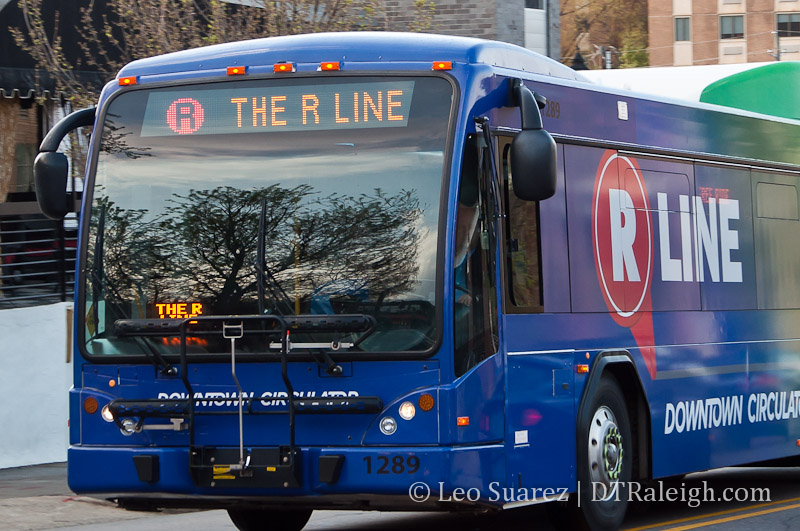 What we have today though is a situation where the R-Line is so successful that groups want to either copy the R-Line model or modify the current route to include their neighborhood or business, with complete disregard to the overall system that the R-Line is a part of.
In 2013, the Midtown Raleigh Alliance teased an idea of an M-Line between North Hills and Downtown Raleigh. I wrote about the idea and how it compared to the currently in place Route 8 – Northclift CAT route. They seem similar.
In 2011 and back again this year, Cameron Village and nearby residents are petitioning to change the R-Line route to serve the shopping center and the neighborhoods around it. I wrote about it back in 2011, and it's pretty applicable this year too, that Route 12 – Method and Route 16 – Oberlin both have been providing a link to and from Cameron Village for years.
You also have residents in Oakwood and Mordecai that think the R-Line should swing more north to serve the growing Person Street District. In the linked articles, there are opinions that the R-Line should go more east instead of turning around Moore Square only. CAT routes serve those communities today.
Finally, I've heard that the upcoming 10-year Downtown Plan has a pretty healthy section on the R-Line. The draft release of that is scheduled for September 11, blog post on that soon.
It seems the R-Line has now become politically infested. It works so well that others are upset that it isn't serving their communities. I predict any outright support for the R-Line would be seen as a politically bad move at this point.
I wrote this in the 2011 post about the R-Line going to Cameron Village:
"In my opinion, the petition just shows this area's readiness for an upgrade in transit "
Raleigh, you are ready to level up. It is time to put on your big girl pants and commit to moving CAT to the next level.
Raleighites should stop picking on the R-Line and start getting behind seeing more money in the budget for the CAT system. Raleigh should hire some top transit talent to guide us in moving to the next level.
With a cohesive and easy to use transit system, funded by all Raleighites, priced fairly for the service it provides, we will stay on the top 10 lists for decades to come.
Saw this on Twitter. This project is increasing in height it looks like.
The Edison Office in #DowntownRaleigh for @BeaconCLT pic.twitter.com/AT7A8c2F4A

— JDavis Architects (@JDavisArchitect) August 28, 2014
Throwing a tweet of mine up here on the blog for posterity.
Downtown living is still an extreme niche. As we hit 1 million in the county, still less than 10,000 in DTR. That's 1%.

— Leo Suarez (@dtraleigh) August 22, 2014
And then let me add a little more statistics. According to a 2014 report from the Downtown Raleigh Alliance, we get this nice graphic.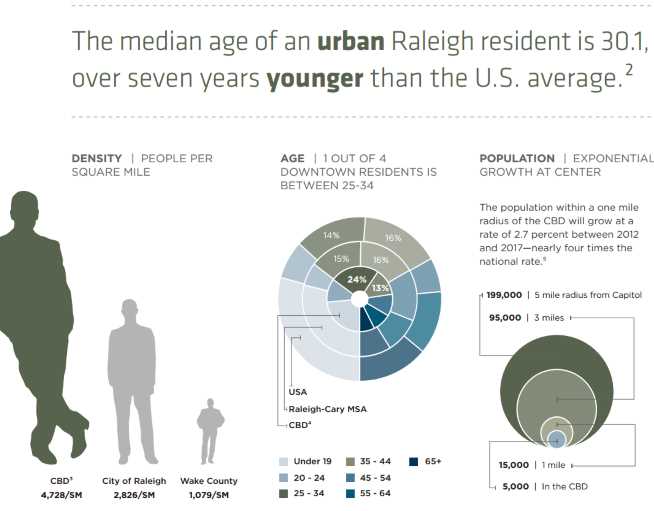 Click for larger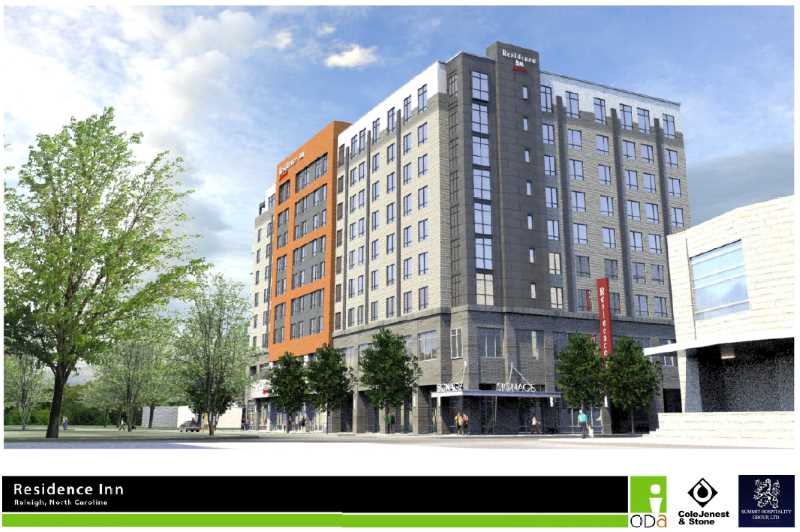 Last week, the Raleigh Appearance Commission got a look at some new renderings for a hotel planned for the parcel of land near 500 Salisbury Street next to the convention center between Lenoir and South Streets. Long-time readers might remember this site being called "Site 4″ and it looks like the renderings are getting more mature now.
Some of the specs for the hotel, planned to be a Residence Inn, have slightly changed also. Comparing to a January 2014 post, we have:
6,455 square feet of retail/restaurant space compared to 7,085 sq. ft. previously.
9 stories instead of 11
Most is the same including the second floor and rooftop terrace.
As mentioned in past posts, this project will not add any more parking as a deal has been made between the developer and the city to lease spaces out of the Performing Arts Deck.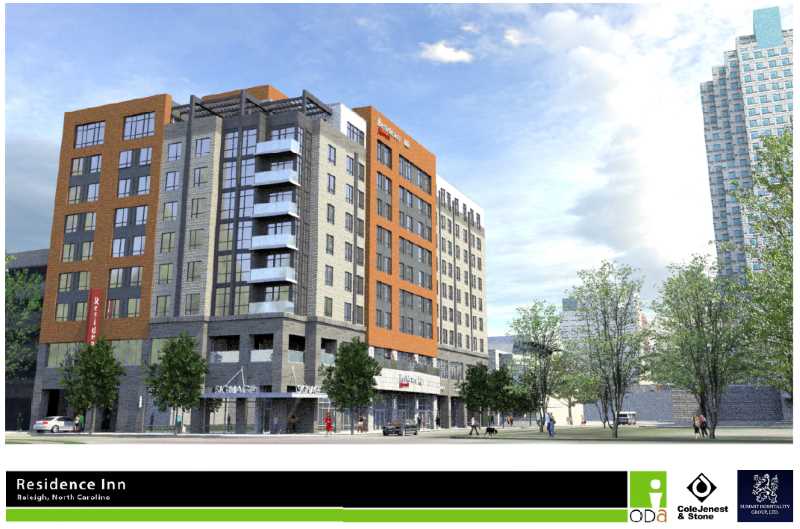 The project has a good human scale to it and expands downtown's hotel offerings. I think this project is an easy one to support. While not architecturally significant, it's more a functional addition rather than an iconic one. Looking forward to groundbreaking.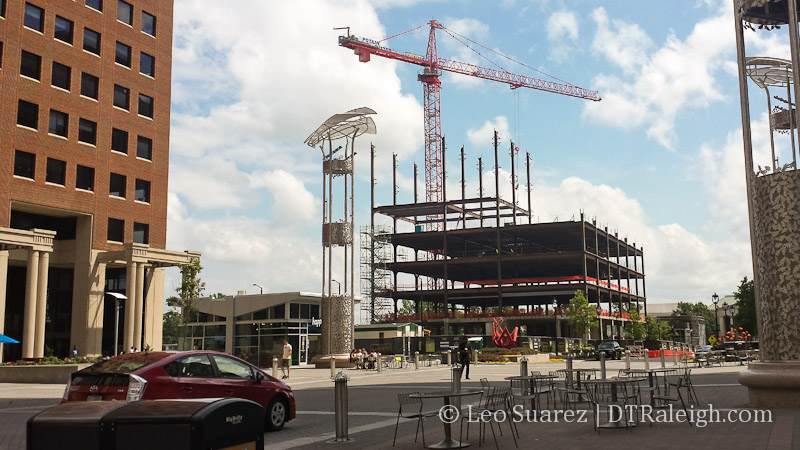 The Charter Square construction site seen from City Plaza. This is the first tower of the two-tower project.

Municipography is a summary of current issues going through the Raleigh City Council and other municipal departments in the city. The point is to try to deliver any video, photos, and text associated with the discussions happening at City Hall or elsewhere. Since this is a downtown Raleigh blog, the focus is on the center of the city.
There was a lot of transit talk at this week's city council meeting. Presented to council were some 3D renderings of what the future Moore Square Bus Station could look like after its upcoming upgrade. Technology upgrades in downtown transit are also coming as money has shown up towards setting up a downtown Raleigh smartphone application and a smart card fare system for the CAT buses.
Moore Square Transit Station

Watch the video snippet above. If it doesn't work for you, go here.
As part of the ongoing Downtown Bus Facilities Master Plan, Moore Square Transit Station is getting an upgrade. Jason Horne of the Raleigh Transit Authority and
the design team presented some new renderings of the station's future. Construction could start as early as Spring 2015 on the now 26-year-old facility. Plans call for a new bathroom, security and ticketing office, more open, friendlier spaces, and and an additional lane for buses to handle more capacity.
Construction is estimated to take 14-18 months with the station being open throughout that time period. Here are a few slides from the presentation. Make sure to read the Raleigh Public Record's article about the presentation and to see the rest of the slides and renderings.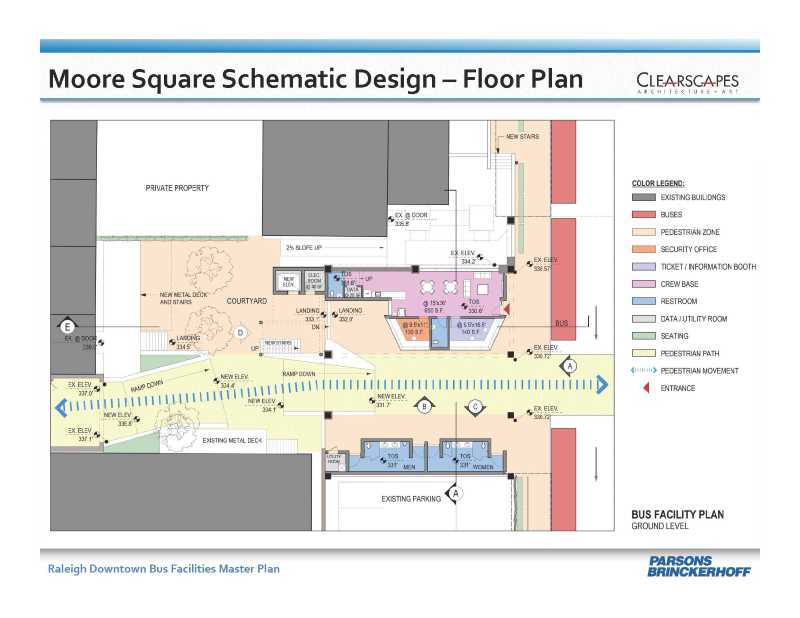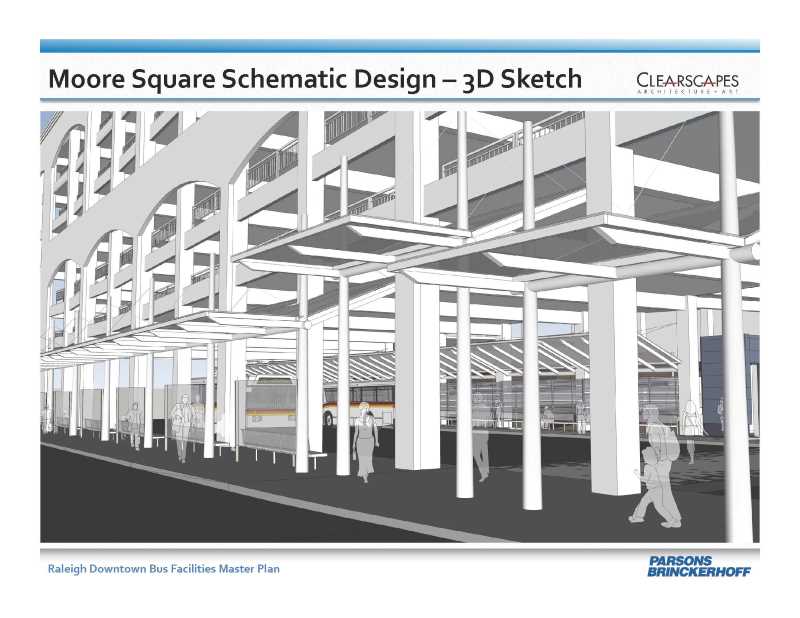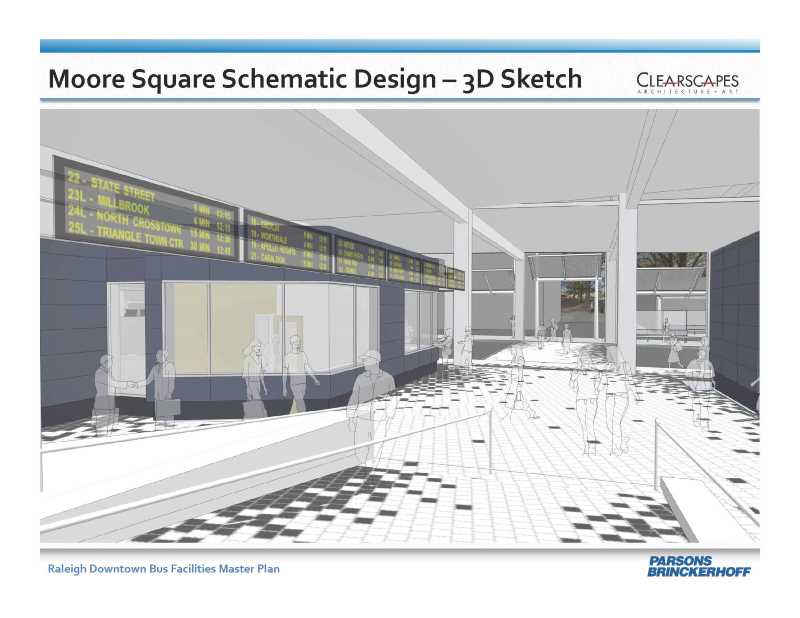 Downtown Smartphone App

Watch the video snippet above. If it doesn't work for you, go here.
We definitely talk about parking a lot here. However, an initiative that I'm involved with to bring a smartphone app to downtown in order to help with any parking struggles has moved one step further. During the meeting, council approved $5,000 from a contingency fund to go towards the development of that app. The Downtown Raleigh Alliance will raise the rest of the money and see the app to completion.
Read more about our efforts here:
It's never a bad time to talk about everyone's favorite topic: Parking. I typically don't fly the blog outside of downtown Raleigh but North Hills has something that's very unique. I'm excited to announce that the Parking App Team that won last year's DataPalooza, with roots in downtown Raleigh, has launched in North Hills.
*North Hills Smartphone App Will Include Parking Directions, Rumored World Peace
My team's idea? To help people navigate urban areas, showing them the best possible parking locations and offering wayfinding to their end destination. Our smartphone application, still in the prototype phase, is the first step in implementing this process. We also have a nice list of features that will make the application very helpful.
*Parking In Downtown Raleigh May Get Easier Thanks To Open Data
Smart Cards for CAT Buses
As a final blurb that I think is worth mentioning, the city has received grant money from NCDOT to go towards a smart card fare system for CAT buses. Mentioned at the meeting, here's an excerpt from the press release:
The Raleigh Transit Authority has adopted a priority of offering smartcard technology on CAT buses. The grant will allow a contactless, smartcard payment option to be installed on the fare boxes of the CAT bus fleet. Bus purchases will have fare boxes that will accommodate contactless smartcard and mobile ticketing applications. The total funding for the project is $378,440 90, which is 90 percent NCDOT grant funds and 10 percent City of Raleigh funds.
*City Receives Grant to Allow Smartcard Payment on Capital Area Transit Buses
Yay! Technology!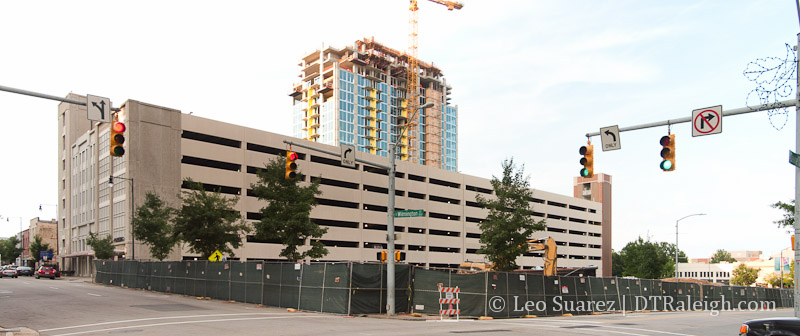 Corner of Wilmington and Davie Streets, future site of The Edison Apartments. The two-story brick buildings have been removed and the site is cleared for new construction.
Here's a photo of the same corner in 2008.

Take a guess where.