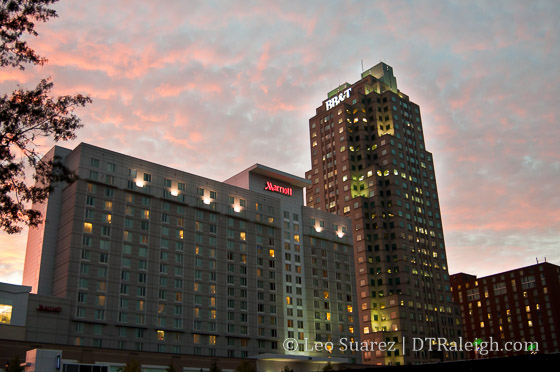 In December 2014, the city started the process on a downtown hotels feasibility study. These efforts were to understand the Raleigh hotel market better and determine the benefits of going after another large hotel in the downtown area in order to support much larger conventions than we have today.
It has been widely talked about how lacking downtown Raleigh is with respect to the quantity of hotel rooms there are but the study would take this conversation one step further. Is another hotel the size of the Marriott, for example, really needed and if built how would it perform?
The results of the study are posted here and I'd like to go through it.
Introduction
The study starts off by saying that the Raleigh hotel market is at a record high this year, recovering from and surpassing prerecession levels now at a 73% occupancy rate. Downtown, including nearby, hotels are working with an average $135 daily room rate. The business community are our biggest visitors, making up 46% of the demand. The Marriott is currently leading with per room revenue at $108 each and the Hampton Inn has the highest occupancy rate.
In terms of supporting the convention center, the Hampton Inn, Marriott, and Sheraton are the biggest supporters. The Holiday Inn, formerly Clarion, was the weakest but the report suggests that the recent change should help improve that.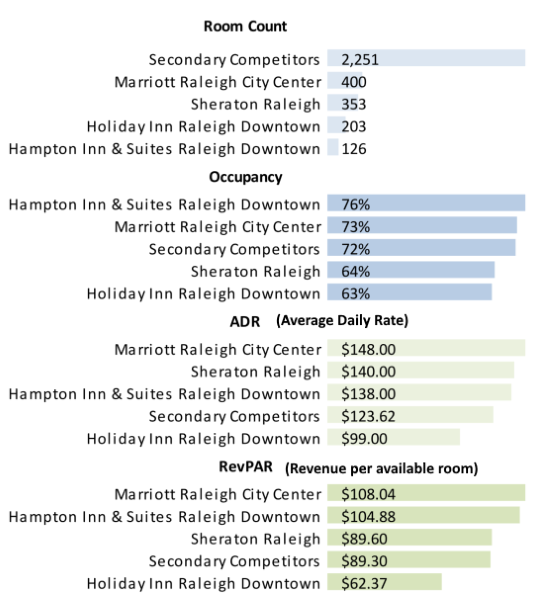 The report breaks down the current hotel demand into three main categories:
The market benefits from a healthy mix of demand sources. Commercial travelers make up nearly half of all room night demand. Local businesses such as Citrix, Red Hat and PNC Bank drive much of this demand. The Raleigh Convention Center and hotels with function space attract meeting and group business, which makes up nearly one-third of occupied room nights. Leisure demand drives business on weekends and holidays.
That split comes down to 46% commercial, 32% meeting and group, and 22% leisure.
Seasonal demand does fluctuate with Spring and Fall being strongest, a dip in the summer, and the lowest hotel demand is in December and January. During the week, Tuesdays and Wednesdays are strongest because of that large commercial demand. After that, the leisure visitors are filling rooms on Friday and Saturday. Not surprisingly, Sunday is the lowest.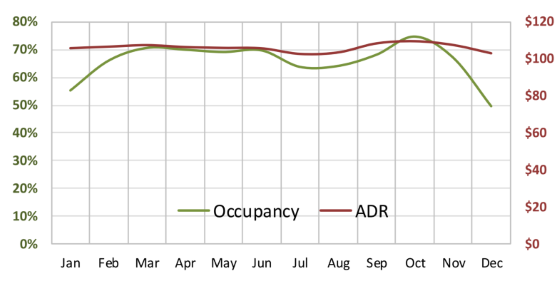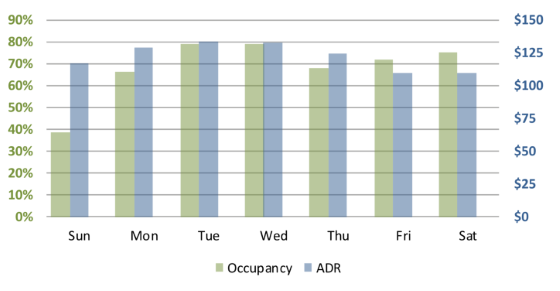 Insights From Event Planners
A part of the report analyzes responses from a survey that was taken by event planners. 116 responses from planners in and out of North Carolina were put together to bring us the following messages:
An inadequate hotel package is the greatest obstacle to attracting convention events.
Specifically, planners note the lack of hotels within walking distance to the RCC.
Event planners have a favorable view of Raleigh as an event destination. They like downtown dining and retail amenities and natural beauty.
The majority of planners prefer to host an event in downtown Raleigh in a full-service property with an upscale or upper-midscale brand.
Booking hotel rooms within walking distance to the RCC is important to event planners.
From the survey responses, some strengths and weaknesses were extracted. Our two biggest strengths were the amenities of downtown and the ease of access while our biggest weaknesses were due to inadequate hotel packages and limited air service.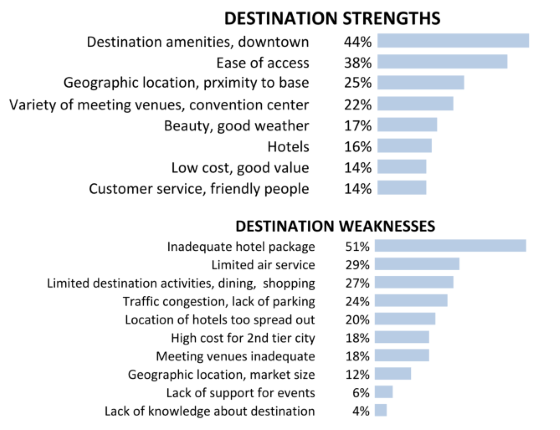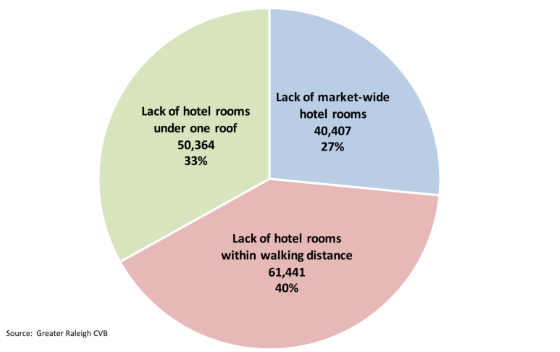 The air service weakness, while being the second biggest, is still far behind the hotel package weakness so looks like this one needs to be addressed. The others are low enough to the point where we maintain them at those levels or better.
It looks like we're also losing bookings due to the amount of rooms in one building. We don't have a hotel where one can book a large block to support an event. With the Marriott being the biggest at 400 rooms, if this data point increases over time that might justify a hotel with more rooms in one location in the future.
Walking distance hotels are also very important with two-thirds saying it is a must.

From an event planners point of view, it looks like we have some work to do.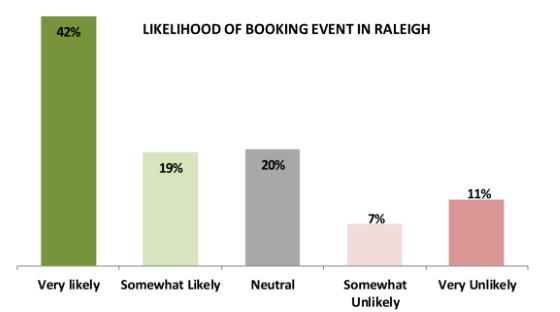 Market Outlook
The Market Outlook section focuses on upcoming projects that will provide a new supply of hotel rooms. About 750 new rooms are projected to be in Raleigh by 2018.
In downtown, we can look to this blog and elsewhere for news of projected hotel projects.
I'm getting a sense from this report that a couple of factors are tightly coupled. Occupancy rates will fall if we are building faster than demand which will cause the prices to drop. (ahem, and revenue) However, at this point, it seems that a larger hotel (400+ rooms) than we have available today is what is needed. It also needs to be near the convention center.
The report assumes that the planned 750 rooms through 2018 are going to be built and shows us what the occupancy rates would look like if we added an additional 400-room hotel to the market.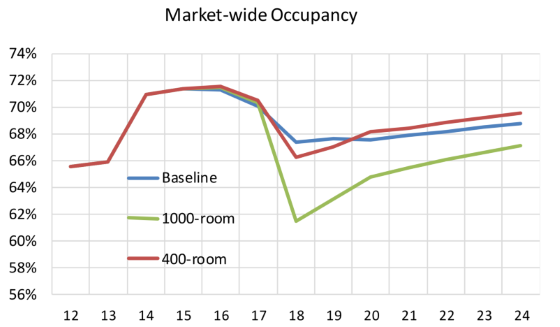 In 2020, we would see a higher occupancy rate in Raleigh with a 400-room hotel versus not having it or even getting something as big as a 1000-room hotel. It looks like a balancing act here for sure.
To get a hotel of this nature, public incentives could be looked at by the city. These include tax incentives, federal programs, infrastructure investments, or even straight cash. The report lists out what Durham has done in their downtown including $1.2 million from the city and county for The Durham Hotel and $1.3 million from the City of Durham for the Residence Inn.
The report then ends with some projected impact statements about what a new, 400-room hotel would do to the convention center. It would cause 31,000 new room nights per year, would result in an additional 30 events per year and an additional 51,000 attendees.
Wrap up
What I'm seeing here is that from a hotel market growth point of view we're doing just fine. Hotels are being built in downtown as well as around the city. These are 100 to 200 room hotels that are considered limited service or boutique.
However, another way to look at this is how that hotel growth in Raleigh is supporting our convention center. It is likely that it will not and according to the projections, the convention center has plateaued versus seeing steady growth year-after-year. If Raleigh wants to compete in the convention business we'll have to seriously consider adjacent, larger hotel development. (larger being the key word)
The report also makes some interesting statements about impediments to downtown hotel development:
"The primary barriers to development of full-service hotels are land assembly, overall development costs, and relatively weak average daily room rates for a downtown market."
"The need for structured parking in a downtown hotel development increases costs and places downtown sites at disadvantage relative to suburban locations. The City should consider revision to its parking ordinance to allow for fewer spaces per room in downtown hotels"
I really like that second one. Why is our development code saying that a downtown hotel needs to have one parking space per room when almost half those staying are here for business? They most likely came in to the airport, got a cab into downtown, and can be perfectly fine without a car. This needs to be rethought, among other things.
Now, me personally, am wary about Raleigh's plans to grow the convention business. Convention-dominated downtowns are pretty stale and lack the diversity of uses that I would like to see here at home. The convention business is also a pretty crowded one, with a huge list of competitors out there.
I would really like to see us find other ways to make the convention center more attractive versus just following the standard downtown convention playbook that all other cities are reading. What impact would a premier downtown museum, Dix park, or a hip shopping destination bring to the table?
It'll be interesting to see where the city goes from here.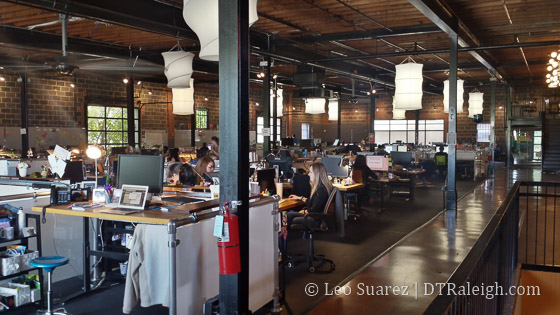 After noticing the construction work taking place at Centerline Digital, I was invited in for a tour to find out more about them. The construction on North Street in Glenwood South is an expansion of Centerline's space to accommodate a growing team. What started with 2 people in 1995, the digital marketing agency now has around 140 members.
Centerline moved into the larger space at 509 West North Street about 3-4 years ago. You might remember it being a gym that turned over a few times. They've acquired the single-story brick building next-door, (517 North Street) are adding a second floor to it, and "bridging" it to the main building. They should be up and running in the new space in the Spring of 2016.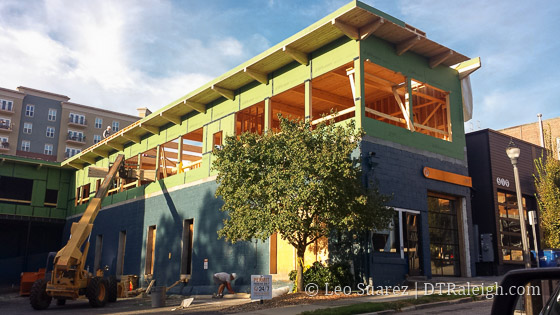 In addition to a few companies locally, Centerline has some big-name clients including IBM, GE, and Lowe's. My walk-through included seeing Centerline's office and meeting spaces. Desks, benches, nooks, and crannies were filled with people working on a variety of tasks. Less walls and open spaces were at the heart of the design behind this workspace.
The place felt like a creative powerhouse and I certainly am happy to see these kind of locally grown companies doing big things in downtown Raleigh.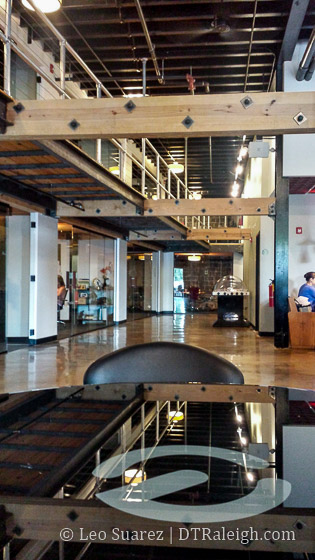 Municipography is a summary of current issues going through the Raleigh City Council and other municipal departments in the city. The point is to try to deliver any video, photos, and text associated with the discussions happening at City Hall or elsewhere. Since this is a downtown Raleigh blog, the focus is on the center of the city.
I recommend email readers click through to the website to see the embedded video.

At the last meeting of the Raleigh City Council, the latest Downtown Plan was adopted. The final version can be viewed on the city's website here.
If you can't see the embedded video, click here to go directly to it.
A process that started in February 2014 has now been adopted. The Downtown Plan is described as a 10-year vision for downtown Raleigh with specific supporting goals and actions on how to achieve them.
The high-level themes are largely the same from an October 2014 post I did so I recommend catching up there. What wasn't in the plan back then were the goals and action items we have now. There are a lot listed so downloading the plan and reading is the best way to get into it.
Here are some that jump out at me.
Goal: Create strong partnerships with allied public agencies to accelerate implementation of mutually beneficial projects that enhance livability in downtown.
Action: (1 of 7) Assist the N.C. Department of Administration by contributing to a master plan for the Capital District.
Goal: Create a robust retail environment in downtown that diversifies beyond nightlife to include a complement of local and destination retail.
Action: (1 of 6) Identify a toolkit for retail recruitment, such as a retail-specific fund that functions as a below-market interest loan or grant program that assists with construction and up-fit costs.
Goal: Ensure that downtown remains a clean, safe, and hospitable place to live, work, and visit.
Actions: (2 of 5)
Update standards for Private Use of Public Spaces (PUPS) to incorporate growing hospitality-related issues.
Explore the adoption of a hospitality management district in other areas of downtown,
or modification of the existing amplified entertainment permit program.
Goal: Accommodate vehicles using a multi-modal grid of complete streets, as well as on- and off-street parking facilities located in areas of high demand.
Actions: (2 of 13)
Study Wilmington and Salisbury Streets to consider the restoration of two-way traffic.
Improve Peace Street's accessibility for all modes of travel both along it and through safe intersections across it.
Goal: Extend the greenway system into downtown and use it to connect and integrate downtown's public open space resources.
Action: (1 of 5) Extend the Pigeon House Creek restoration south of Peace Street by exploring the
opportunity to daylight the creek and make it an amenity in future redevelopment projects.
This is just a small sampling of what is in the document. There really are lots of ideas out there to keep pushing downtown Raleigh to higher levels. There will be tons of things to continue talking about over the next ten years. Let's hope the council sticks to it.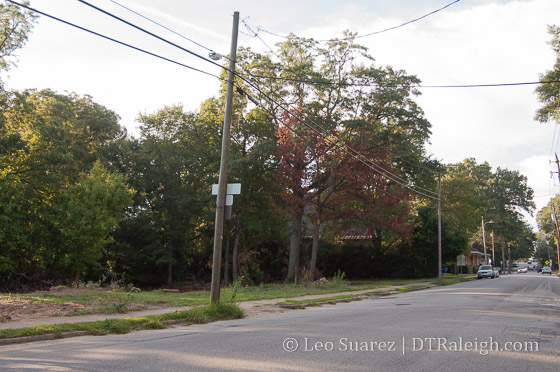 There isn't anything very exciting in the photo above but what we are looking at are lots along the 200 block of St. Mary's Street. The houses that used to be here have been removed and multiple trees have been tagged with the letter C which I assume means that they are marked for removal.
This clearing is for a project called 220 The Saint, or just The Saint alternatively, and it was highlighted here on the blog about two years ago. Jump back to that post for more information.
The project will bring high-end townhomes to a heavy residential area, adding on to Glenwood South's already rising population density.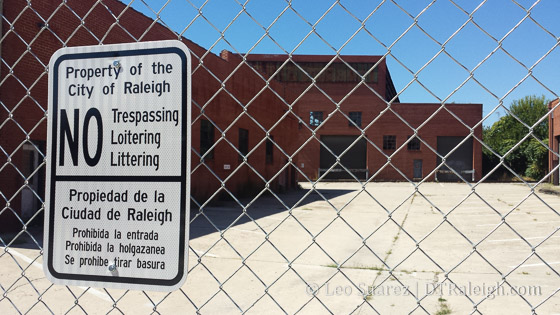 Fencing has gone up around the future Raleigh Union Station. Perhaps things will start soon.
Hat tip to Richard. Thanks!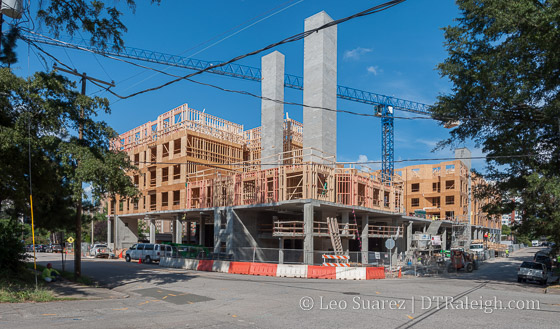 Along North Street in Glenwood South, the apartment project The Gramercy is really taking shape. There will be over 200 units here and atypical of most four-sided apartment buildings that we've seen, the parking deck and interior courtyard have a slightly different layout.
It looks like the main courtyard will be open to North Street about mid-block and the parking deck will take up some of the first and most of the second floor. Living units are mostly on the third and upper floors.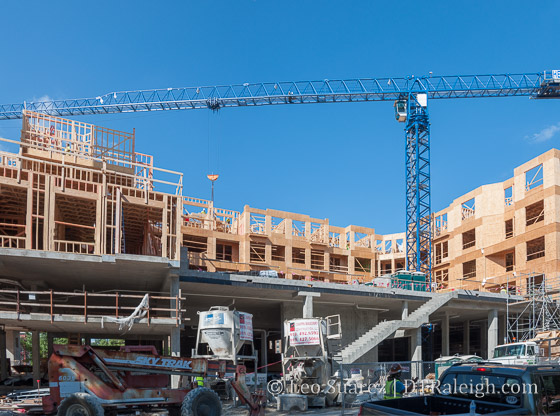 Retail spaces on the ground floor face Glenwood Avenue and wrap around down North Street but not for the entire block.
There is still a lot of work to do here so we'll keep watching this project go up.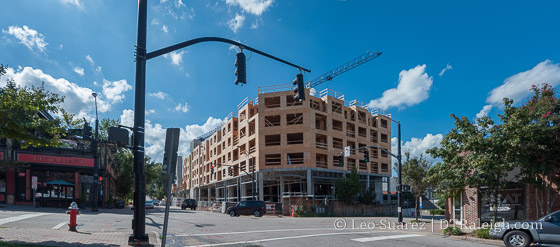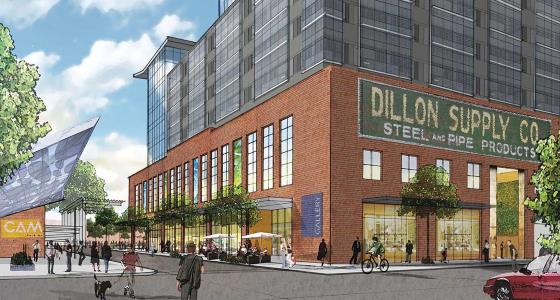 A quick one today just to tie up loose ends. At this week's city council meeting, the rezoning needed for The Dillon project to move forward was approved. It's expected that the development will include a mix of office and residential on top of ground floor retail.
It also wasn't very hard to predict that the city would look to this Kane Realty project as a way to infuse more parking into the area. It was a major gap seen for the nearby Union Station. Public comments about this parking project will take place in October.
This wraps up all four major rezoning requests for the year, something I highlighted back in January. 2016 could see multiple cranes in the sky at once.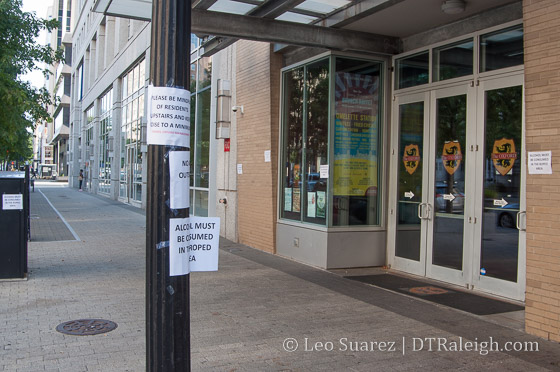 I took the photo posted above, click for larger, this past Saturday morning. I was out for a walk and Fayetteville Street is littered with these cheaply printed signs that say, "No Alcohol Beyond This Point." How many can you count in that photo?
I had to sigh and this is yet more ugliness coming from this sidewalk seating ordinance. It's literally ugly as these required signs basically tell visitors on Fayetteville Street, "Hey, this is a pretty crazy drinking street and not a pleasant place to be."
I was irate recently to see that the new ordinance forced businesses to consolidate their seating against the building. Ugliness resulted.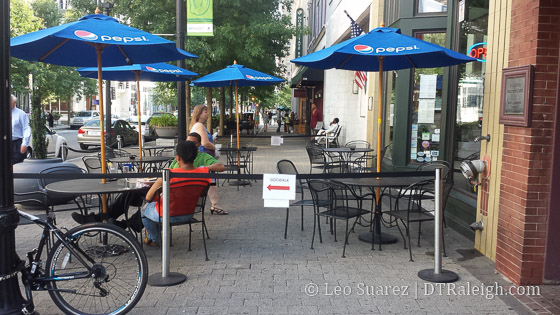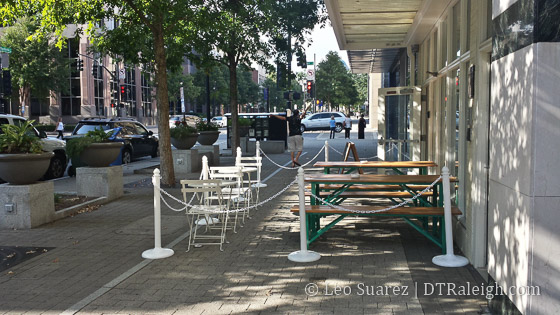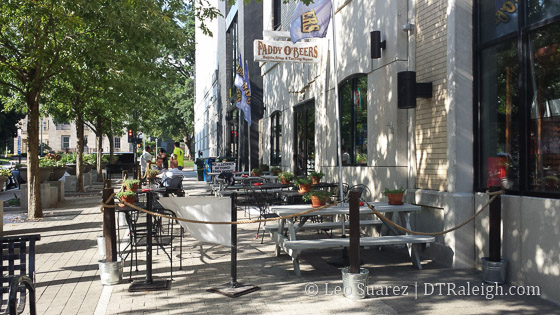 Sidewalks were completely blocked but was fortunately only short-lived as the split seating seems to be allowed once again. I hope so anyway.
This issue has been frustrating from so many angles.
What hasn't been talked about is the clear bias being shown here on this issue. Emotions are running high and decisions are being made in haste because of it.
A recent N&O article asks, "Does downtown Raleigh have a drinking problem?" There's so much exaggeration and bias going on here that it makes me face palm.
The tone of the conversations suggest that we've peaked, that we have too many bars, that the nightlife crowd is out of control. This may or may not be true but that doesn't matter from my point of view.
Emotions are leading the decision making process and that is not going to go well. Thoughts like, "Why would anyone be out that late?" or "Everyone should be sleeping at night." is what it really sounds like. It's a bias against people that partake in downtown's unique nightlife, something nowhere in the Triangle comes close to matching.
Isn't the city supposed to be an inclusive city, a true character trait of a 21st century city?
It seems that everyone is cherry picking the few bad apples. I'm talking about those that vomit after drinking too much or trashing our sidewalks. If you have traveled, it should be pretty clear that humanity is like this and it can be handled in two ways. Crack down on it or embrace it.
We're currently trying to crack down on it, a tactic I think we should avoid.
To embrace it would be to own the problem and just handle it. Where is the Downtown Raleigh Alliance, with their ambassadors and street cleaners, in this? They own street cleaners and have ambassadors that pick up trash. Is someone slacking on the job here?
I'd also love to talk to law enforcement. I bet enforcing the new ordinance is going to be quite the hassle with restrictions like "one person per 15 square feet." I'm sure they will have plenty of feedback to provide once the three-month trial is over.
My spidey-sense just goes off on this one because how could so few, create so much change?
From the N&O article:
The city said it received 51 complaints about downtown nightlife between June 2 and July 30. A dozen of them were filed by police or city staff, and 15 came from three people.
*Does downtown Raleigh have a drinking problem? via N&O.
That's 51 complaints across 58 days.
Who were those three people? What kind of pull do they have?
I haven't seen the data but I'm going to go out on a limb that they were mainly clustered around Friday and Saturday nights. A different way to look at it is that there were 51 complaints across 8 weekends, or 7 complaints per weekend.
It just doesn't add up to me.
And shouldn't Raleighites across the city, all the way up to Brier Creek, be upset about this? In the early 2000s, it was the entire city that paid for the Fayetteville Street makeover, taking the old Fayetteville Street Mall and making it a fancy parking lot.
Business boomed as you can see.
Why should so few have the say over what happens on our city's Main Street?
It's all ugly. The process of handling this "problem" as well as the ugly signs all over the sidewalks.
It doesn't show class. It doesn't show style. We've practically demoted ourselves from a burgeoning medium-sized city to a bustling college town.
Maybe we've outgrown the current class of downtown leaders.