From my inbox to yours.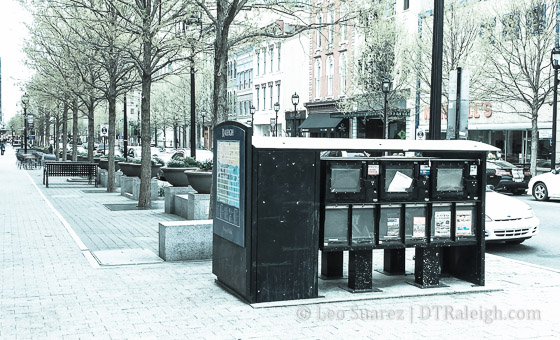 Here's a recent photo of an empty newsstand on Fayetteville Street. Installed in 2006 when the street makeover was finished, I haven't seen them very active in the last few years. Or are they so active that everything gets snatched up so quickly that I miss it?
Are these needed anymore? Should they be remove or maybe re-purposed?
Device charging stations
Retrofit into small stages for impromptu performances
Convert them to storage lockers for public use
Big bike parking stations
What else?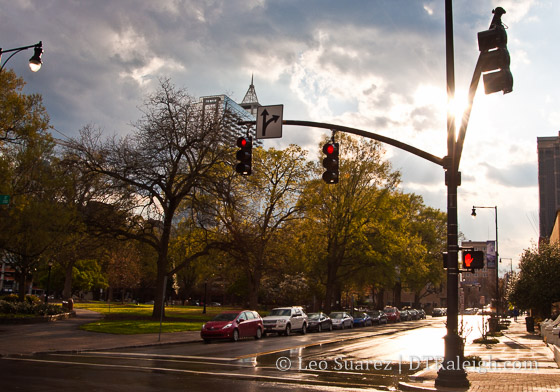 The latest draft of the Downtown Experience Plan is now available and the team behind it are seeking public comments. Jump into it here:
Downtown Experience Plan on RaleighNC.gov
One huge addition to this draft compared to the last one is that actions are listed as a part of each stated goal. That should help make the direction clear on how to achieve the stated goals and stay within the themes.
For a quick review, jump back to Downtown Raleigh Plan Presentation Rundown.
While all the project areas in the plan are exciting to see, I think two of them, when looked at together, have the potential to be great. I'm going to make the call now that the Moore Square and Nash Square refreshes will have more of an impact on downtown Raleigh than the Fayetteville Street redesign did back in the 2000s.
To see it, I think you need to look at downtown Raleigh from a new perspective. Fayetteville Street, running north/south, is arguably the epicenter of the downtown core. The Downtown Plan calls it the "civic/symbolic spine" and it will probably be that way for decades.
I'd like to flip your perspective from north/south to east/west and highlight how important the duo of Martin and Hargett Streets will be in the next ten or so years. While Fayetteville Street may be the face of downtown, the prime location, where the action is at, I like to see movements east/west along Martin and Hargett as becoming functional and spontaneous.
Activity around and between the two squares is set to boom. If you look at the plan, we have images like these.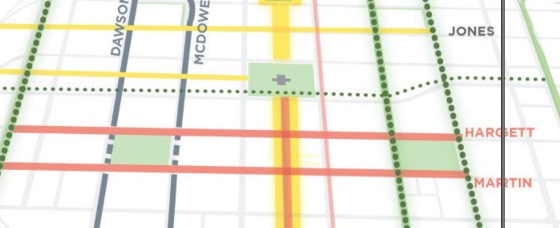 I think the street grid will fuse these two areas together and create activity pockets all over these blocks. Consider what we have and what is in the pipeline. Going west to east:
Raleigh Union Station
Development potential at the Dillon Warehouse at 400 West Martin Street
3.5 acre News & Observer site for sale
200 block of Fayetteville Street, highest pedestrian counts in downtown Raleigh. City? (most likely)
Market and Exchange Plaza upgrades
Moore Square Transit Center upgrades
Moore Square Redesign
In addition for Nash Square, straight out of the downtown plan, we have:
Undertake a design study to re-envision Nash Square as an urban green that supports the growth of the Warehouse and Fayetteville Street Districts and to strengthen their connection.
I see that as a string of connect-the-dot projects that could really make a huge difference. It won't be as obvious as Fayetteville Street is but it'll be there. It's possible that we'll see residents walking east/west while visitors will be walking north/south.
One last thought about this new perspective, kind of a "big idea" as the downtown plan likes to encourage, is that with a little planning we could almost create a pedestrian-only corridor between Moore and Nash Squares. What would it take to walk from Moore Square to Nash Square without using any sidewalks?
It would look something like this.

Of course, a couple changes need to be made but imagine starting in Moore Square and:
walking through the upgraded transit station to Wilmington Street
walking through the new Exchange Plaza
walking through the City of Raleigh Museum to Salisbury Street
walking through a plaza around new development that connects to McDowell Street
Finally crossing into Nash Square. How you get through the City of Raleigh Museum, that might be tricky but it's an idea that's fun to think about. The historic buildings along the 200 block of Fayetteville would be tough to punch a plaza through but at the same time, the downtown plan says to make new connections, encourage moving, and create new retail spaces…..
…..Just like a pedestrian-only mall!! 😉
I recommend email readers click through to the website to see the embedded video if you can't see it.
Story via ABC11.
Go to Video of Downtown Raleigh Takes Art to the Streets.

Helping spread the word here about this upcoming event.
The Moore Square redesign has been a controversial topic mainly because of cost. Figures in the $14-15 million range have been proposed for a complete overhaul of the 4 acre green space. At the same time, a lot change could come to the district following this refresh.
Moore Square Master Plan Open House
Date/Time: Wed., Apr. 29 from 2 p.m. to 4 p.m.
Date/Time: Thurs., Apr 30 from 6 p.m. to 8 p.m.
City Market
215 Wolfe Street
(same format and information at both sessions)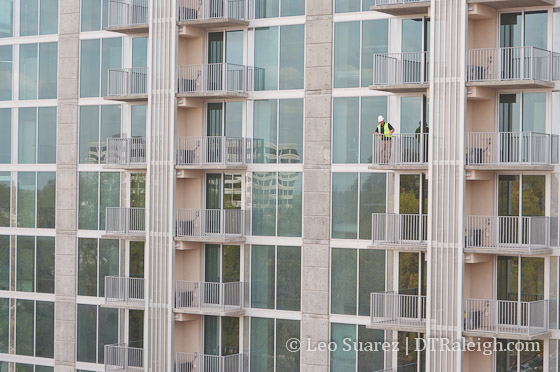 The flowers and leaves aren't the only things that are growing in downtown Raleigh. I took a walk around the Edison block and snapped a few photos of the new and upcoming developments here. These include the apartment buildings of Skyhouse Raleigh, the Edison Apartments, and the Edison Office tower.
All being delivered by the same developer, when open these projects will add a serious injection of new residents and office space to the downtown core. It's possible that the bump in residents might trigger more retail or counter-service food places. Nearby Sosta Cafe has already posted that they will experiment with longer hours, including staying open on weekends because of the Edison Apartments right across the street. Maybe more will follow.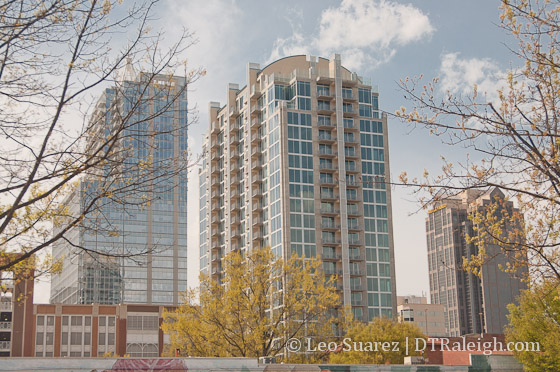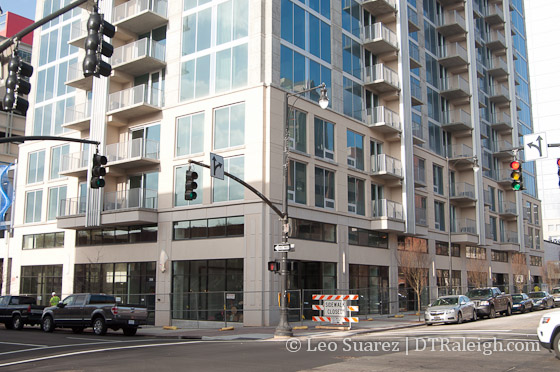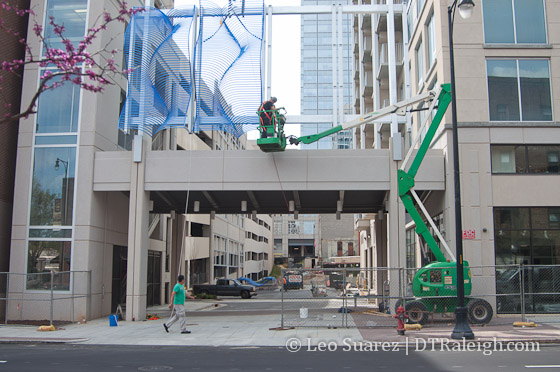 The construction of the Edison Apartments is humming. The Blount and Davie corner is much farther along compared to Davie and Wilmington. Unlike Skyhouse, this building goes right up against the parking deck. That means even more space for retail along all the sides of Blount, Davie, and Wilmington.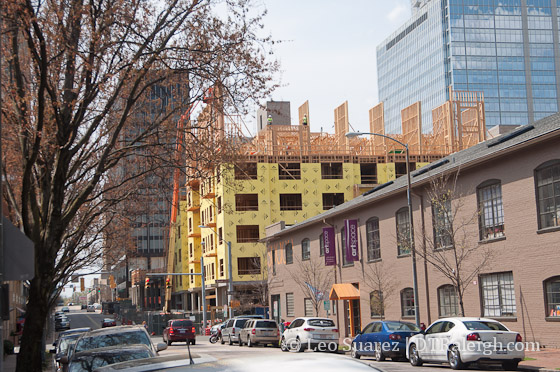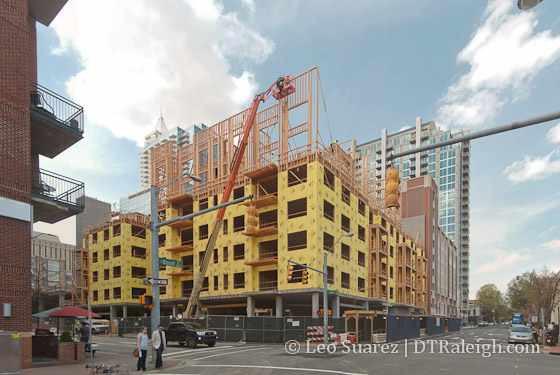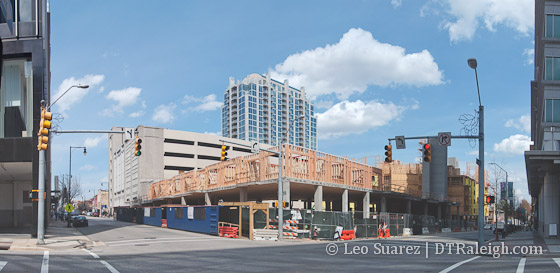 The Edison Office tower hasn't actually started yet but below is a shot of the corner of Martin and Wilmington Streets where the project will go. The latest renderings on the J Davis Architects website show something similar to the towers that are at North Hills. It is described as:
Edison Office will be a 19 story office building with 14,350 square feet of retail and 245,895 square feet of office in downtown Raleigh, NC.
Let's hope for an increase in office pre-leases as that will help bring this tower into downtown finally.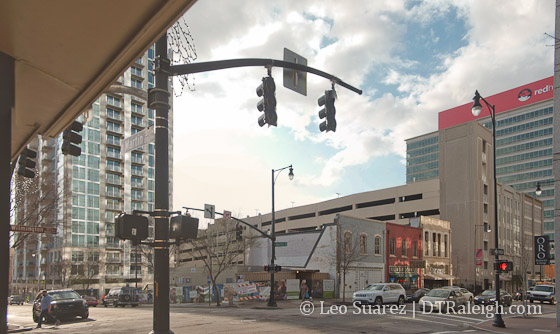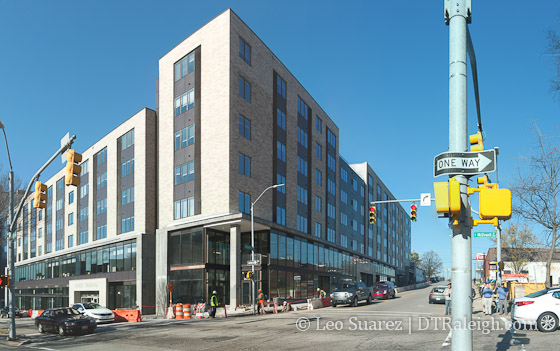 We haven't looked at The L Building since the summer of 2014 and now this project is almost complete. The second floor offices appear to have tenants moving in and the sidewalks are being paved this week.
The southwest corner of McDowell and Davie Street look very nice in my opinion. The building's retail spaces add some great urban form to the sidewalks. With so much morning and afternoon pedestrian traffic between the parking deck behind the building, maybe we'll get a coffee shop here.
Should be soon before we can consider this project completed.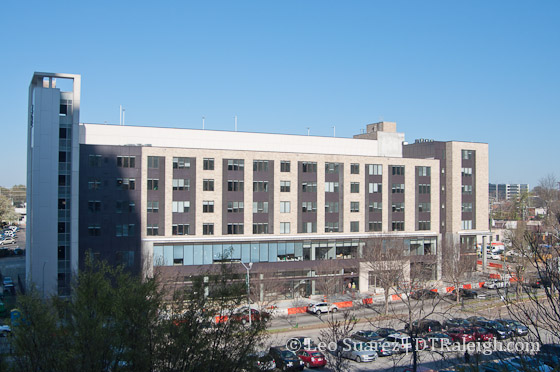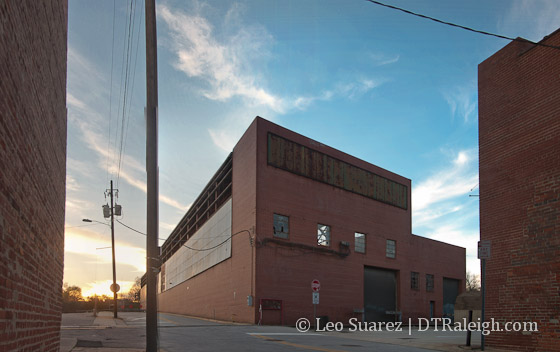 Another sunset over the future Raleigh Union Station. The planned March 21 groundbreaking was delayed and it looks like it'll be this summer before we see any activity here on this site.
It will likely be July before any demolition or construction work begins at the Union Station site in downtown Raleigh's warehouse district, confirms Scott Cutler, vice president at the Raleigh-based Clancy & Theys construction firm. Clancy & Theys is part of a joint venture partnership with Skanska USA in association with Holt Brothers Construction of Raleigh that will be serving as the construction manager-at-risk for the Union Station project.
*Raleigh delays March ceremony for Union Station project, construction to start in July
If you didn't catch it, March 21 of this year was the 175th anniversary of the first train line to be completed in Raleigh. It was highlighted in an interesting article on This Day in North Carolina History.