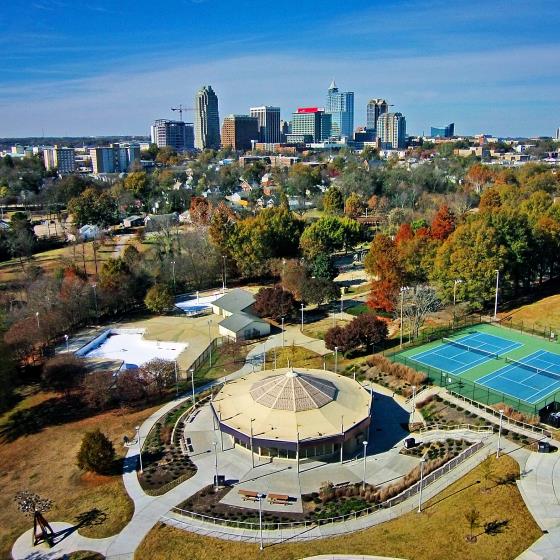 One could argue that Chavis Park is basically downtown Raleigh's main park. A new master plan for the historic park that sits to the southeast of the city's center has been in the works for most of last year and the final meeting on the phase 1 improvements is next week.
Park development steps, beginning with Phase 1 design plans, will be underway in the summer of 2016 when there will be a follow-up public review session. Construction documentation, engineering, and permitting, will then follow, preparing for Phase 1 construction in late 2017.
We'll take a look at John Chavis Memorial Park and how it currently ties into the fabric of downtown later but to dive into it now, take a look at these links and get over to the meeting.
John Chavis Memorial Park Master Plan Implementation
Date/Time: Tuesday, February 16 from 3:30 p.m. to 6:30 p.m.
3:30 pm Presentation* 4-6:30 pm Open House 6:30 pm Presentation (repeated)*
*The presentations at 3:30 and 6:30 will be the same, so you can choose which works best for your schedule.
John Chavis Community Center
505 Martin Luther King Jr Blvd
Raleigh, NC 27601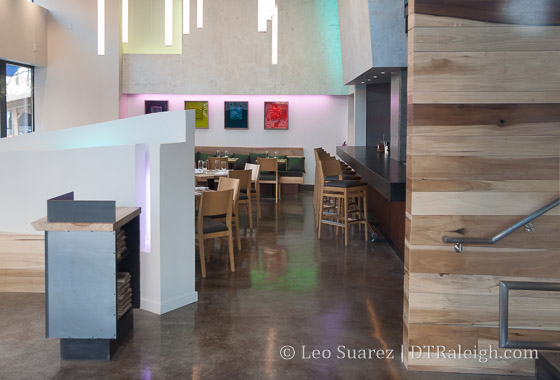 For a complete list of eats, drinks, and coffees in and around downtown, make sure to bookmark the DT Eats page. Try something new!
We'll start in Glenwood South where Lou Moshakos's Mediterranean restaurant, called Vidrio, is still being worked on. I saw that they planned for an early 2016 opening so perhaps they will announce an opening soon. It'll be located at the corner of Tucker Street and Glenwood, underneath the Carolina Ale House.
Work continues on the brewery and market concept, called Little City Brewing and Provisions Company, coming to the West building. The new restaurant is located at the corner of West and Harrington and is being done by those behind The Level Up Kitchen and Linus and Pepper's.
more. kitchen & bar has now opened on West Street in the former Mantra location.
The second location of My Way Tavern is now open where Ciago's was formerly located on St. Mary's Street.
Crisp Bar and Restaurant is now open in the 222 Building. They took over the two spaces where Zaky and Tutti Frutti used to be.
In the 510 building, Big Boom closed but quickly reopened as the 510 Tavern.
Café Helios has reopened under new ownership and with new style. It's located in the same building along Glenwood.
Napper Tandy's has changed over to Tremor Bar and Grill
Babylon has sort of split inside of themselves between two new menus that is worth mentioning. Inside, there will be Moroccan style food and outside, a menu with more casual Mediterranean dishes will be served. Expect this to be official in the next month or two.
Dram and Draught on Hillsborough Street got their permits recently to continue working on the new pub. You can follow their progress through their Facebook page.
Jumping over to Fayetteville Street, there isn't much work taking place for Haymaker, a bar in the Charter Square south tower.
The other space inside Charter Square will be a B Good restaurant which looks to be in the middle of their construction phase.
Plans for a taco shop called Virgil's Original Taqueria will be coming to Salisbury Street in the building where The Level Up Kitchen and Linus and Pepper's is located.
ZPizza has added self-pour beer taps.
Raleigh Raw wants to open up a cafe at 7 West Hargett Street and according to their recently completed Kickstarter they should open this month. (if on schedule) The new cafe will offer "healthy grab and go food, local organic coffee, kombucha and smoothies."
The Hive was closed but quickly turned over to become Mash and Lauter, a Belgian beer bar, that is now open.
Pizza Guerra is planned for the space next to Fox Lounge. If you ever went to Bella Mia in Cary, this place is by the same folks.
Near Moore Square, Provenance has removed the paper window coverings and could open very soon. They are located in the Skyhouse Apartments building.
Nearby in the same building, the Larry's Beans shop and Oak City Market, run by Taz, are still being worked on.
Tir Na Nog has closed but out of it the folks behind Bida Manda plan to open Plenty. This will incorporate a mix of uses including a Brewery, Dim Sum, florist shop and bookstore. We hope to see some of the doors open this summer.
I heard that Rum Runners serves food now. The menu was made by Brian Battistella whose restaurant nearby was closed recently.
According to a line in the posted permit in the former Zydeco space, a bakery could be being worked on here. There's still a lot of work to be done in this space.
Over in the warehouse district, the art and wine bar called Vita Vite is now open.
A night club called Venū has opened at the end of West Street.
The Borough has closed and will become Hadley's, a 1920s-inspired restaurant. This is by the same folks behind Dram and Draught.
Heading north, a brewpub called Oak & Dagger Public House is planned to take over the former Tyler's space in Seaboard Station. In addition to the pub, the bottle shop will also be reopened.
Until then, you can go to Pelagic Beer and Wine for your bottle needs. They opened recently on Pace Street.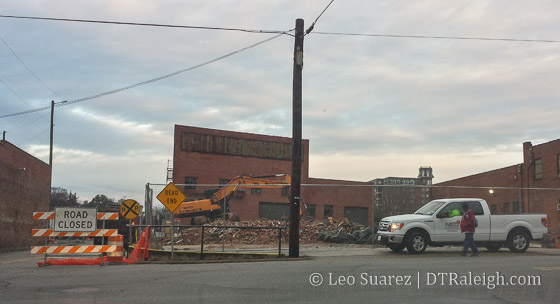 Demolition was taking place last week in front of the future Raleigh Union Station site. The smaller warehouse in front was planned to be removed for a grand entrance plaza for the train station. Below is a rendering of that entrance plaza.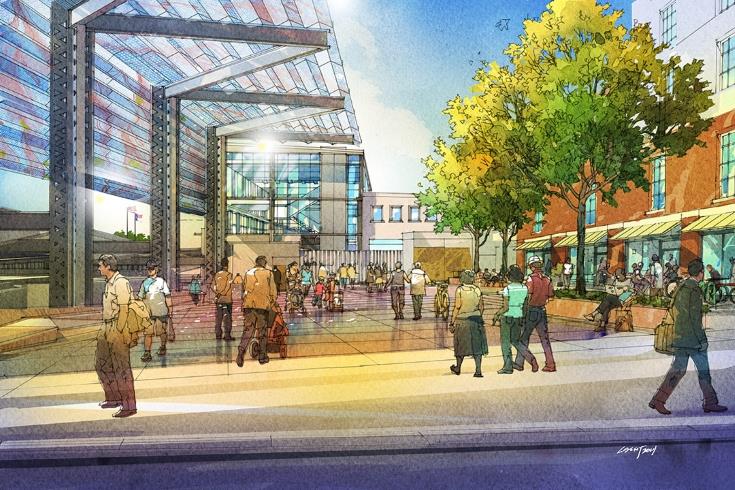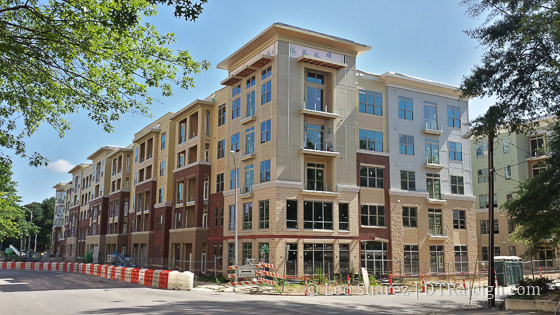 I thought this podcast from Charlotte Talks called "'Ugly' Development In Charlotte" was an interesting listen. The same exact thing is happening in Raleigh and for most conversations in the podcast, you could replace "Charlotte" with "Raleigh" and it would still apply.
As the second fastest growing city in the country, Charlotte's population is exploding and developers are trying to keep up. Hence, all those apartments cropping up around town. But some architects feel those building are too similar, too bland and because there are so many of them, they are beginning to negatively impact the look of the city. Those architects are suggesting stronger design standards need to be adopted and we'll hear their ideas.
Listen to it on the Charlotte Talks website.

[UPDATE #5: Another submit by Will]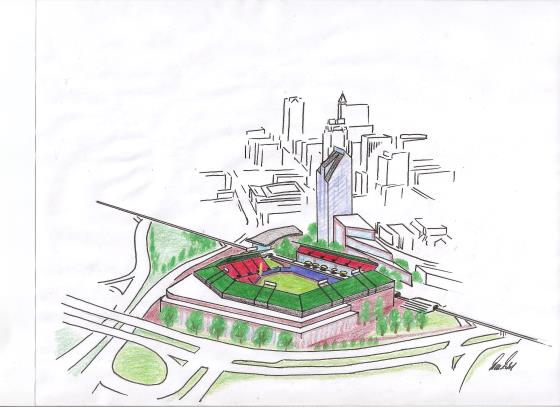 [UPDATE #4: Will has submitted another round of sketches.]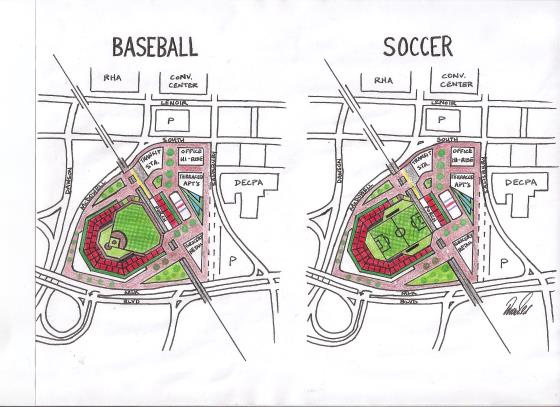 Railroad tracks remain unmoved, serve as backdrop for center field and soccer goal. ("Railhawks" takes on a new meaning)!
Single stadium provides for both baseball and MLS while fitting nicely into the footprint.
-Dual-purpose stadium provides building funds from two teams instead of one.
I've measured, and both fields are regulation size. The soccer field is exactly the same dimensions as WMSP.
Multi-modal transit station–train and bus–serving stadium, Red Hat Amp, Convention Center, DECPA, and plaza.
Baseball stadium is inspired by an amalgamation of other parks: "Boxy" shape (Citizens Bank Park, Philadelphia), sweeping outfield upper decks (Polo Grounds, NYC), home plate rotunda (Ebbets Field, Brooklyn), rooftop stands beyond tracks (Wrigley Field, Chicago).
Above CF/goal wall will be the tracks. Above and behind the tracks will be restaurants/bars with porch seating. On top of those restaurants/bars is stadium seating a la Wrigley Field.
Field itself could be artificial turf, as well as the dirt areas. Artificial infields are becoming popular in newer baseball parks (WFU, Duke, Holly Springs), and would make for easy transitioning between sports.
Backstop netting would also protect spectators from kicked soccer balls.
-Outfield plaza features office and apartment high-rises, restaurants/bars, grocery, retail, and yes, the displaced rink!!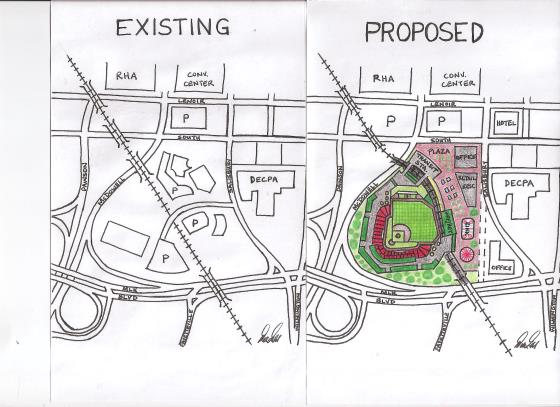 A big thanks to reader Will who submitted this sketch of how to convert the southern gateway site, called Gateway Center in the downtown plan, into a possible baseball stadium. Will adds the following bullets:
New transit station @ South and McDowell to serve the ballpark, the convention center, RHA, DECPA, new hotels.
Parking at Union Station or Dillon with some kind of "tram" shuttle service from Union Station to new transit station.
Utilization of other existing nearby decks a la DBAP in Durham.
Railroad tracks would be wrapped around ballpark but integrated into the structure itself…imagine the tracks abutting the right field wall just above the fence…"hit train, win steak!"
Ballpark (capacity 6,000 – 7,000?) is drawn to same scale as other minor league parks, so it would fit here. It would, however, be "cozy" to fit in existing footprint and maximize fan proximity to field and players.
Grandstands wrap the infield, large patio area down 3rd base line, upper deck luxury boxes would wrap 1st base line for best skyline views.
Grass berm behind left field bullpens enhance fan access (HR balls, close to warming relief pitchers).
Outfield plaza would be zoned for restaurant/bar, retail, office (for those offices that would be displaced), and would include other family attractions: ground-based fountains, carousel, and the wintertime skating rink that will be displaced by Charter Square North.
City's desired extension of Salisbury St. could still be achieved.
What do you think?
[UPDATE #1: Will has submitted another sketch with the view from South Saunders]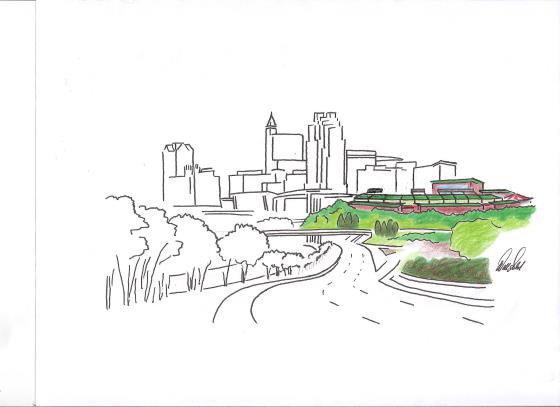 [UDPDATE #2: Will has submitted a revised sketch based on your comments]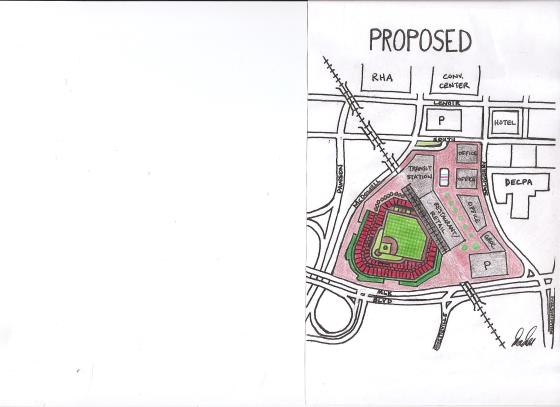 -Stadium was moved toward the SW, allowing for the tracks to remain unmoved.
-Stadium was expanded to show what a MLB park might look like in this space.
-I removed the MLK-McDowell on-ramp to make room. Traffic would be re-routed in the following way: westbound MLK traffic wishing to go north on McDowell would instead turn left at the existing light onto the existing ramp, wrapping under the MLK overpass. You see the same configuration in Cary where westbound Walnut St. traffic turns left onto a ramp to enter US-1 north.
-The "home plate" corner would be snug against the MLK/McDowell intersection, a la the new Busch Stadium configuration in St. Louis (picture below).
-Plaza enlarged, more retail, restaurants, new parking deck, and a grocery store.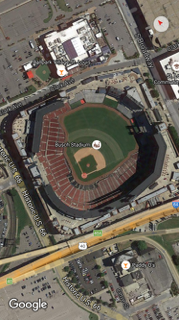 [UPDATE #3: Reader Stew has submitted an overlay of Carter-Finley stadium over the Cargill site, called "Cargill-Finley Stadium. This is similar to an overlay I did awhile back with the PNC Arena over the state jail site. Thanks Stew!]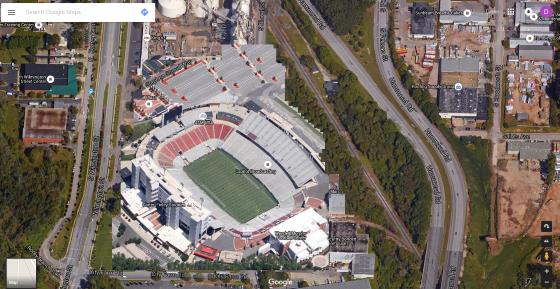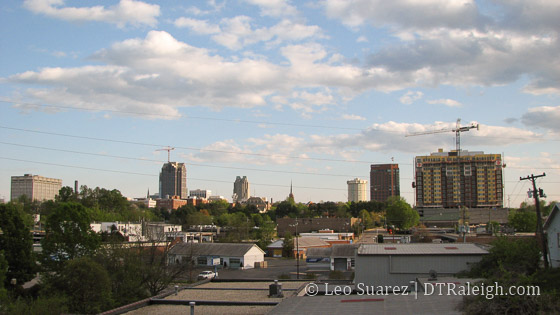 Today marks nine years of blogging here at ye olde blog. The most notable accomplishment in the last year was hitting 1,000 posts but nine straight years of keeping this thing moving has been pretty rewarding.
For those that don't know, this blog is a side project, a way to flex my writing muscle, play with my camera a bit, tinker with web development, and just get conversations going about our city's urban core. This site is fueled by passion but also by those that participate by commenting and your emails.
Thank you, readers for sticking with me.
Above is a photo from the vault. It's a view of downtown Raleigh from West Street, north of Peace, taken in April, 2008.
One Glenwood will add some daytime density to @Glenwood_South to help restaurant/retail, more retail space, parking pic.twitter.com/xBivQaIpwK

— Bill King (@kingbill24) January 29, 2016
It seems the Downtown Raleigh Alliance is sharing a rendering of One Glenwood on Twitter. The building is planned for the corner of Hillsborough Street and Glenwood Avenue.
The stats:
219,500 s.f. of office space
14,500 s.f. of retail
10-stories
After being owned by the state for about 30 years, the elegant Heck-Andrews house has finally been sold. The N.C. Association of Realtors will pay $1.5 million for the house.
Important to note is that this sale is part of the governor's plans to revitalize the state government area, Project Phoenix as it's called. The sale of more state-owned mansions along Blount Street is planned in the near future.
For more on the Heck-Andrews house itself, I highly recommend this fantastic read on Goodnight, Raleigh. A Storied Structure: The Heck Andrews House — Inside Out