Dear members of the Raleigh City Council,
I want to write to you today with some concerns about the proposed change in hours for outdoor dining in downtown Raleigh. In my opinion, closing down outdoor dining areas earlier will reduce the noise levels a negligible amount to be useful at the expense of economic vitality in our city's core. There are also other contributors to noise that I feel were not mentioned during the Law and Public Safety meetings on this issue.
What I see missing are the proper metrics that balance noise levels and resident acceptance. How many hours less does it take to get the desired noise levels? What metrics are being used here? I would like the council to discuss this because cutting an hour or two off outdoor dining may reduce noise but not to a level that satisfies the source of the complaints. If reduced hours of operation on outdoor dining must take place, please implement a 6-month trial period here. The trial period could test this rather than putting in place unnecessary restrictions that benefit no one and only restrict local businesses.
From my point of view, noise is the problem trying to be solved and outdoor dining has been pinned as the source of this noise late at night. Due to the thriving nightlife we have, a few others contribute to the noise pollution in downtown also that are not being talked about. Vehicle traffic, food carts, and amplified music are other elements that add to the hum of downtown's nightlife yet no restrictions on them are being proposed.
From a resident point of view, vehicle traffic, including motorcycles with loud exhausts, trolleypubs with woohing riders, and cars that are all about that bass, have been another noise-related pain point. These contributors only raise the noise level of conversation from outdoor patrons. Food carts with generators and amplified music add to it as well. The relative noise level from outdoor dining is a product of the surrounding environment and this has not been discussed.
An alternative view could be to look at removing noise contributors first before harming local business. Please take a look to see if removing all outdoor amplified noise would help. Please consider closing down certain blocks of Glenwood Avenue and Fayetteville Street every Fri/Sat night, removing vehicles that contribute to the noise. Please work with food carts to provide electrical plug access rather than run loud generators.
After this discussion has taken place and possibly attempted on a 6-month trial basis should we start to talk about limiting the local businesses themselves.
Thank you for taking the time to think about my feedback.
Leo Suarez
208 Freeman Street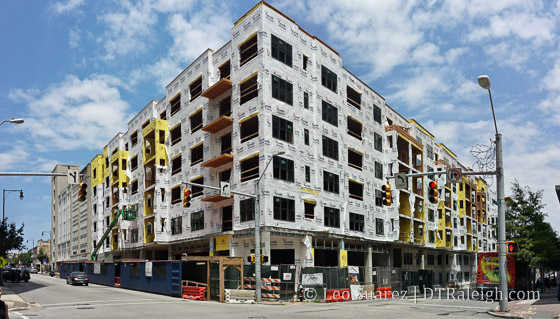 The view of The Edison Apartments at the corner of Wilmington and Davie Streets. Here's the same view almost a year ago. The building is topped out and it looks like residents might be moving in around the end of the year.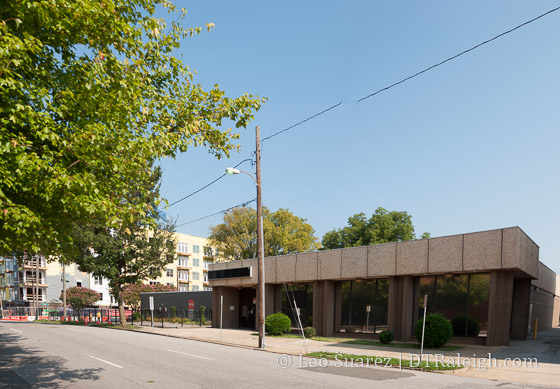 A site plan (SP-53-15) was submitted to the city for what's being called Greyhound Apartments for 250 units on the west side of the block bounded by Jones, Lane, Harrington, and Dawson Streets. The work is being done by the same group that brought us The Lincoln apartments, Banner Apartments LLC.
The site is made up of three parcels, those being the old Greyhound bus terminal, the one-story building at the corner of Jones and Harrington where Trig Modern is located today, and the single-family house along Harrington Street that was built in 1910. (according to iMaps)
It shouldn't surprise many that the architect behind this apartment project is JDavis Architects as they seem to be the go-to architect for these types of mid-rises in downtown Raleigh.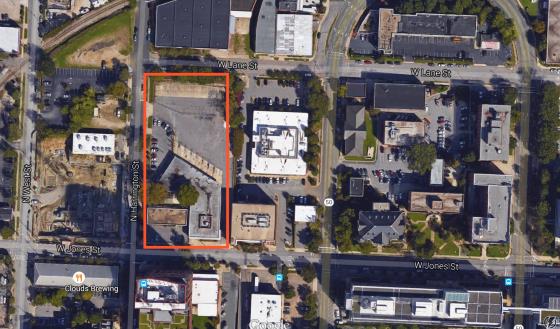 The site plan shows a preliminary plan for the building and reminds me of a modified version of The Lincoln. (no surprise) The northern half of the building will contain a parking deck with the southern half, a courtyard. All of this is wrapped with apartments and won't be shown to the street.
The parking deck entrance will be on Harrington Street and this site plan doesn't show any retail spaces. There is a bike-storage room that I haven't seen in other projects downtown so Bike Raleigh fans should be happy about that.
The Triangle Business Journal has a preliminary rendering that you can see here.
Jones and Harrington is turning into a residential heavy intersection. With real retail still in it's infancy along Glenwood Avenue, and struggling to be honest, I'm not convinced that retail spaces are needed within these projects right now.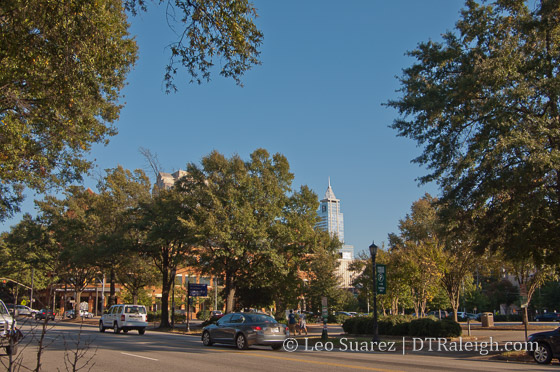 Municipography is a summary of current issues going through the Raleigh City Council and other municipal departments in the city. The point is to try to deliver any video, photos, and text associated with the discussions happening at City Hall or elsewhere. Since this is a downtown Raleigh blog, the focus is on the center of the city.
During this week's city council meeting, the zoning request for the renovated church building at 501 South Person Street was discussed again. Also, a decision was made on how to sell the property at 301 Hillsborough Street.
501 South Person

If the video doesn't load for you, click here and jump to minute 24.
This has been in the works for awhile. For a refresher jump to an older post about this.
After numerous conditions were included, it seems that both the neighborhood and the owner of the future restaurant came to an agreement. The rezoning was approved.
For more on this, I recommend jumping to "Prince Hall Rezoning Case Receives Council Approval" on the Raleigh Public Record.
301 Hillsborough Street

If the video doesn't load for you, click here.
The discussion here was around how to sell the city-owned land at 301 Hillsborough Street.
There were some great points put out by Councilor Stephenson around our downtown plan and how the city should use the land to get some of the planned suggestions. (like a grocery store) However, the requests were very last-minute and most of council moved to approve the process of opening up the land for auction. In this scenario, there is no way to sell the land to a developer that presents certain types of plans.
It's a money making endeavor only from what it sounds like. The money could then be used elsewhere. The current offer is for $3.1 million.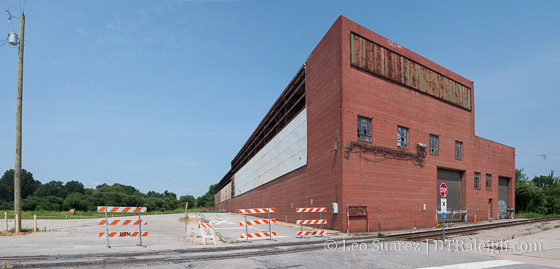 This past weekend, I stepped out onto the end of Martin Street real quick to see if there was anything going on at the Raleigh Union Station construction site. The photo above was taken on Saturday and shows no visible signs of construction. (except the street barricades)
Perhaps last minute plans are still being worked before crews start making progress. I remember that the new station will be funded through a variety of funds coming in different directions so maybe that's a slow process.
It just seems to be taking longer than expected seeing as how the first groundbreaking announcement was for March 2015 only to be delayed until May 2015. Here we are in July and still waiting.
Staying positive still at this point though.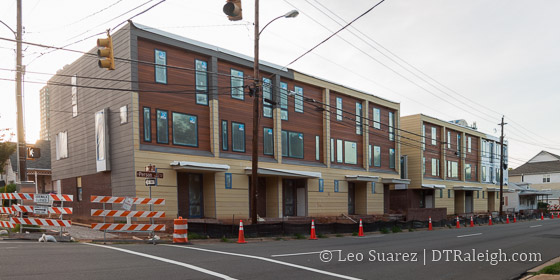 The Ten really coming along on Person Street.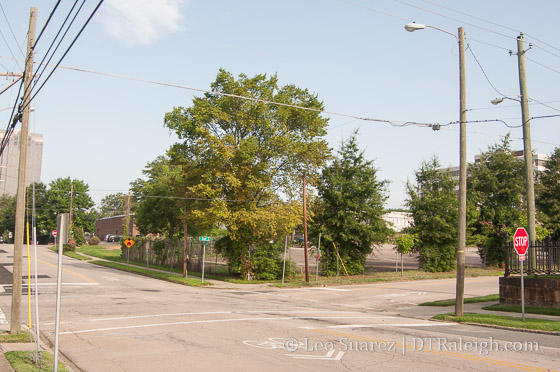 A rezoning request was submitted to the city for a few properties around the 400 block of East Hargett Street. This is directly north of The Lincoln apartments. (which is almost finished) It's mostly surface parking and some bare land that used to be a small playground. In recent weeks, that playground and fencing has vanished.
Jump to the city's development activity page for more.
Case Z-27-15 wants to have a zoning for neighborhood mixed-use with a maximum height of 4 stories. The urban limited zoning suggests buildings that go right up to the sidewalk with parking, if included, behind the building.
Not much else going on here but it's one to keep an eye on. A little birdy told me to expect residential here. Given that the parcels in this request add up to only 1 acre, I would guess that townhomes similar to Peace Street Townes or The Ten could be it.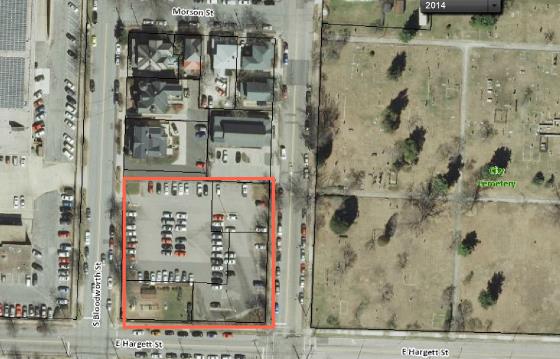 By the way, it's a joy to see surface parking vanish also.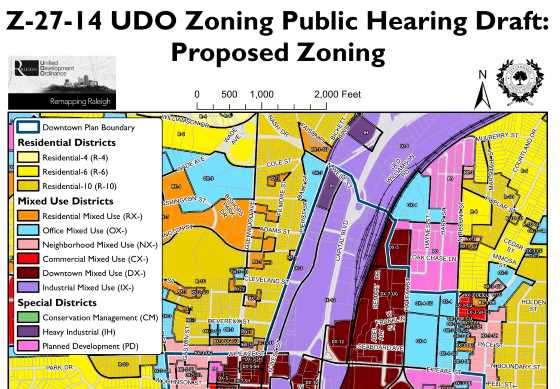 Here's a quick one while I catch up after a long vacation. Tonight's City Council meeting has lots of good stuff in it but the highlight will be the Rezoning Public Hearing section under the new Unified Development Ordinance. Above is the downtown Raleigh section and below are some links to dive into.