Neat stat: @DowntownRaleigh has lower % regional office vs competitor cities = Downtown upside, low congestion pic.twitter.com/Bb45ZhPBNV

— Joe Milazzo II (@RTATriangle) October 30, 2014
Here's something that I just had to share. I found this graph very interesting. If you can't see the embedded tweet click here.
It shows that 8.6% of office space in Raleigh is located downtown compared to other cities that we generally compete with. Raleigh's downtown really is small for the city of our size and the reverse rush hour traffic pattern that we have is very unique.
On the flip-side, perhaps this lack of office space has allowed the residential and arts communities to grow in downtown. Something to think about.


Kind of following up on a recent post about the upcoming apartment project, called The Gramercy, here is a photo of the corner of Glenwood Avenue and North Street. The site has been cleared of the former buildings and is ready to start construction.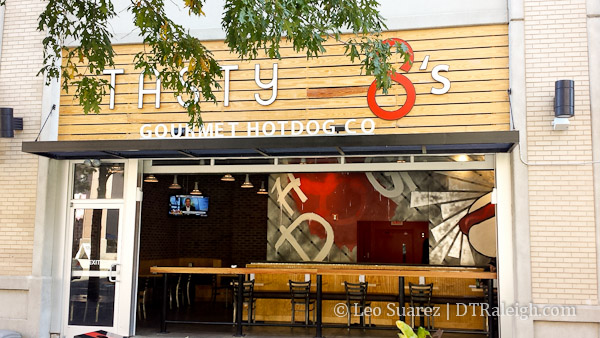 The year of the bakery continues with some very delicious looking places that should be opening soon. Some new renovations are included in this season's update including some activity on Hillsborough Street. This area primarily doesn't see very many new shops and retail so perhaps this is the beginning of something.
For a complete list of eats, drinks, and coffees in and around downtown, make sure to bookmark the DT Eats page. Try something new!
Tasty 8's has opened on the 100 block of Fayetteville Street. (pictured above) They have really done a nice job with renovating the space and the gourmet hot dog menu looks, well, tasty!
Across the street, Capital City Tavern has opened where Isaac Hunter's Oak City Tavern used to be.
We're still waiting on the contemporary patisserie, Lucettegrace, to open, located at 235 South Salisbury Street. They are currently hiring so perhaps the opening is soon.
Ashley Christensen's latest, Death & Taxes, is still undergoing work at the corner of Salisbury and Hargett Street.
Posta Tuscan Grill, the restaurant in the Marriott Hotel, has closed and is being redone into Rye Bar & Southern Kitchen. The new restaurant concept should be open this winter.
Seaboard Station has landed a coffee shop. Brew is open along Seaboard Avenue serving coffee, tea, and beer ever day.
Seaboard Station is also getting a bakery. Night Kitchen Bakery and Cafe is currently hiring and you might run into them at nearby events. Check their Facebook.
Taverna Agora is moving from their location in North Raleigh to Hillsborough Street. Their space next to Second Empire is currently being renovated and you can see steel rising above the building. Rooftop seating perhaps?
Nearby, a beer bottle shop is coming to 401 Hillsborough Street. The shop hopes to open this winter.
Standard Foods still has their sign up for a "late Fall" opening.
In Glenwood South, Clouds Brewing has opened up on West Street in the former Napper Tandy's space.
Work continues on the Raleigh Beer Garden, a 100-tap beer garden located at 614 Glenwood Avenue. Follow their Facebook page for updates.
The building at the corner of Glenwood Avenue and Tucker Street is finishing up and the Carolina Ale House, planned for the top floor, should open sometime before the end of the year.
In the 510 Glenwood building, a Vietnamese noodle shop is planned for the former Oryx space. It will be called Pho Pho Pho Noodle Kitchen & Bar and you can see work actively taking place.
Same building, Vincent Barresi, owner of Vincent's in North Raleigh, is opening an Italian restaurant at the corner space where Myst used to be. The new place will be called Big Boom.
Shuckers Oyster Bar and Grill has opened in the rear space of the building where Bogart's (and more recently Cantina South) used to be.
Eden Ultra Lounge has opened at 3 Glenwood Avenue where the former Dive Bar used to be.
Another bottle shop and beer drinking locale has opened, located in the former Amra's space, called The Stag's Head.
Aiko Bar and Lounge has now opened where Dual Lounge used to be. You might remember the story behind Dual as it was a product of the show Bar Rescue on Spike TV. Guess they couldn't save that one after all.
After Benelux Cafe moved out of their space in City Market, plans for a new coffee shop quickly came out. Expect City Market Cafe to open soon.
In the Warehouse District, it looks like Spy Lounge has closed at 330 West Davie. In the works is a bar and arcade called The Boxcar Bar. If you don't check them out, at least play some Pacman on their website.
Raleigh NC: Happy to be kicking off an update of the Wake Co Transit Plan, with @KimleyHorn Look forward to spending more time there.

— Jarrett Walker (@humantransit) September 11, 2014
Jarrett Walker and his transit consulting company were recently hired to be a part of the update to the Wake County Transit Plan. Below is a radio interview with Walker at a Kansas City station that gives you a taste of his thoughts on transit including street cars, light-rail, and a frequent bus network. Download the MP3 directly if the embed player doesn't work for you.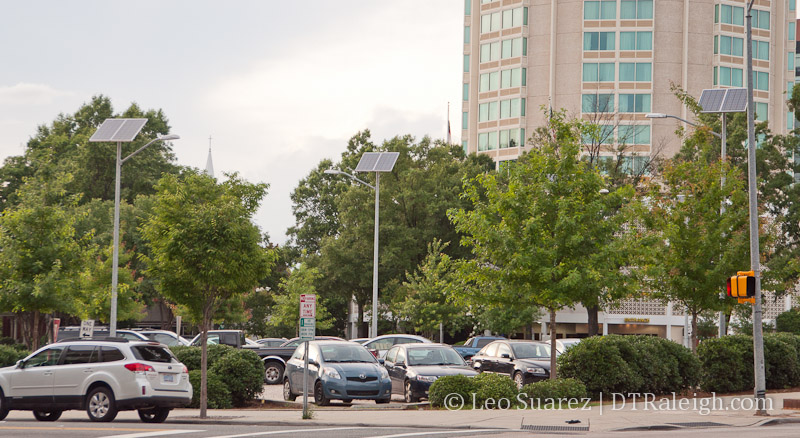 This story is as old as the blog itself so it is kind of exciting to revisit an "old" development. Articles in the news have reported that the city is in talks with interested developers to build on top of the city-owned property at 301 Hillsborough Street. From the North Raleigh News:
Raleigh staff have received at least two "substantial and serious offers for the property," 1.2 acres of parking located two blocks west of the Capitol, according to a staff report.

Worth an estimated $3 million, the southwest corner of Hillsborough and Dawson streets soon could attract another sizable project.

"Whoever builds there, it's going to be a fairly good-sized building," said city attorney Tom McCormick.
*City again ready to sell 301 Hillsborough for high-density development via www.northraleighnews.com
Nothing is out yet so a little refresher to this story is appropriate at this time.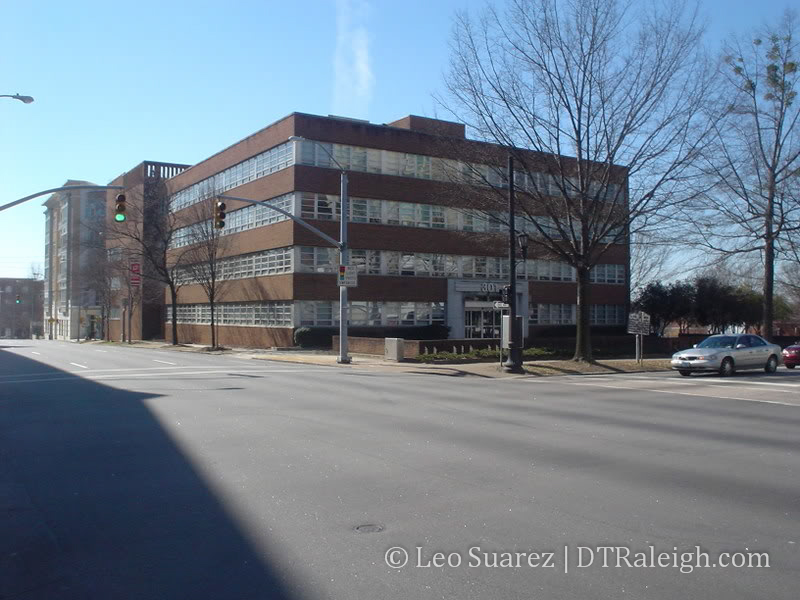 In 2007, plans for a 25 to 32-story tower named 'The Hillsborough' were out by the father and son developers, Ted and David Reynolds. This is the same team that brought us The Quorum Center.
The new tower was planned to be mixed-use with hotel, office, residential, and ground-floor retail. Plans and height flexed a little bit during that year but planning moved ahead enough to demolish the current building on site, shown in the 2007 photo above.
The cleared site sat empty for awhile. There were no changes about 12 months later as 2009 came upon us.
As with a few other downtown projects, the 2009 recession affected The Hillsborough most likely and no progress was made after this. Later that year, the city filled in the hole and it eventually became a parking lot in order to generate some revenue. Campbell Law School, located across the street, uses this lot for parking today.
Speculation on the site's future could go in all sorts of direction here so this post acts as an open thread for RalCon commenters.
I've always seen Hillsborough Street as a central location to downtown districts so a hotel could be an option. There's easy vehicle access to the site using the Dawson/McDowell pair and it's a short walk to the state government district, Fayetteville Street CBD, Warehouse District and Glenwood South.
There currently isn't much office space along the Dawson/McDowell corridor but that doesn't mean new space couldn't be built.
Residential, as in apartment rentals, are never off the table it seems these days. Either way, a large parking component will likely be built here.
More to come in the near future.
Watch the video for Bicycle Repair Stations in Raleigh on Neighborly.
A group of Raleigh bicycle fans want to raise money to install bike repair stations on the greenway and in downtown Raleigh. These are quite common in more bike-friendly cities around the world so why not have them here at home. The team is raising money and you can help through their Neighborly Campaign.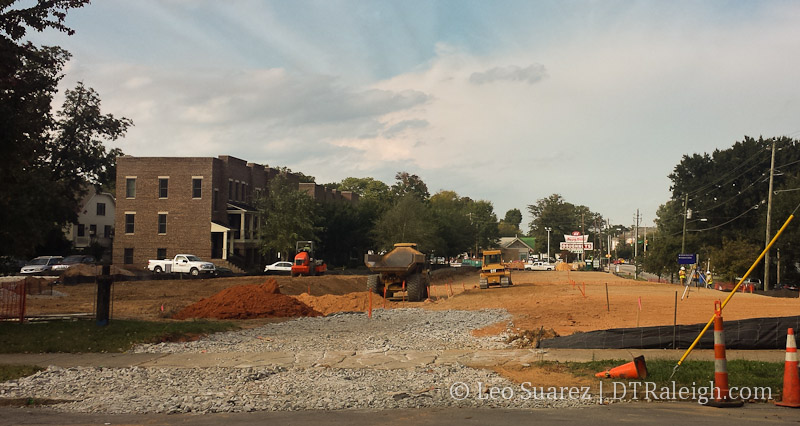 Land is being cleared along Person Street as part of the Blount Street Commons project. Slowly, very slowly, Blount Street Commons seems to be filling in with the planned townhomes, some already showing wood framing up along John Haywood Way.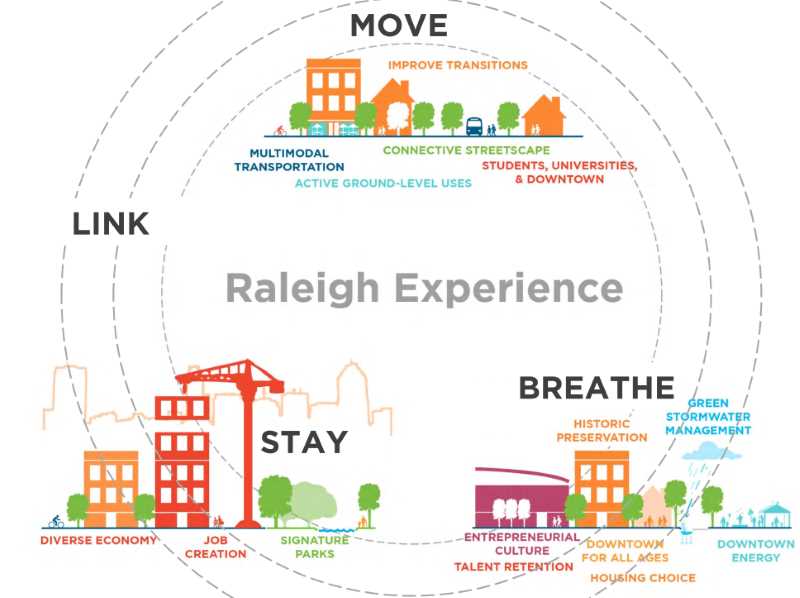 I'm throwing this post up to kind of go over what was presented a few weeks ago at the 2014 Downtown Plan Presentation. I highly recommend watching the video but going over the high-level concepts here works too. There's no new content in this post if you have already seen the video.
Introduction
At the start of the presentation, the presenters make it clear that at this point, the big ideas are out there but the details and the action items have not yet been finalized. We'll have to wait for the final report to get into those.
An important keyword to remember is "Abundance" and the presenters use this often in describing what has been put together so far. By abundance, they mean that creating many experiences within close proximity only brings more value to the downtown.
A thriving city is worth more and has more value than the sum of its individual parts.
Some of the main concepts that we'll see in the upcoming plan are:
Ecosystem of startups and new business types
Open spaces, parklets, etc.
Variety of housing options
Abundance of experiences
Importance was placed on making Raleigh unique rather than playing "catch up" with other cities. We're at a good point in our growth period as we're not overbuilt and don't have old, obsolete systems in place that may hinder bringing in the new.
Accessibility was also emphasized. Downtown is great but there is more to the city than just that. Connections to and from downtown Raleigh are important so that all Raleigh denizens can take in the planned experiences.
The vision from the downtown plan's advisory committee is to celebrate Raleigh as a hub of innovation, creativity, and entrepreneurship while maintaining authenticity and inclusiveness unlike any other city in the world.
Breathe, Move, Stay, Link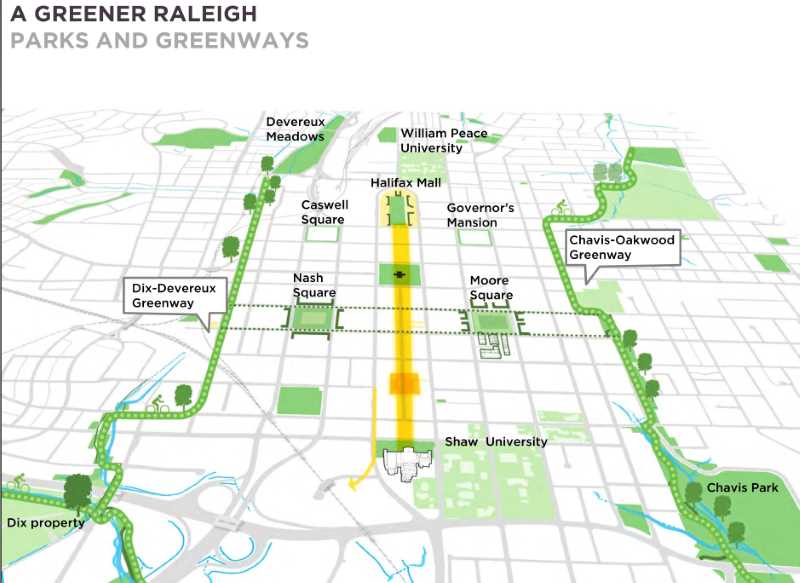 "Breathe" is the theme for creating 21st century parks, open spaces, and trails, just to name a few, that allow people to relax and enjoy the city. Focus on Nash and Moore Square as well as greenway trails through Chavis and Oakwood to the east and Devereux Meadow and Dorothea Dix to the west are proposed.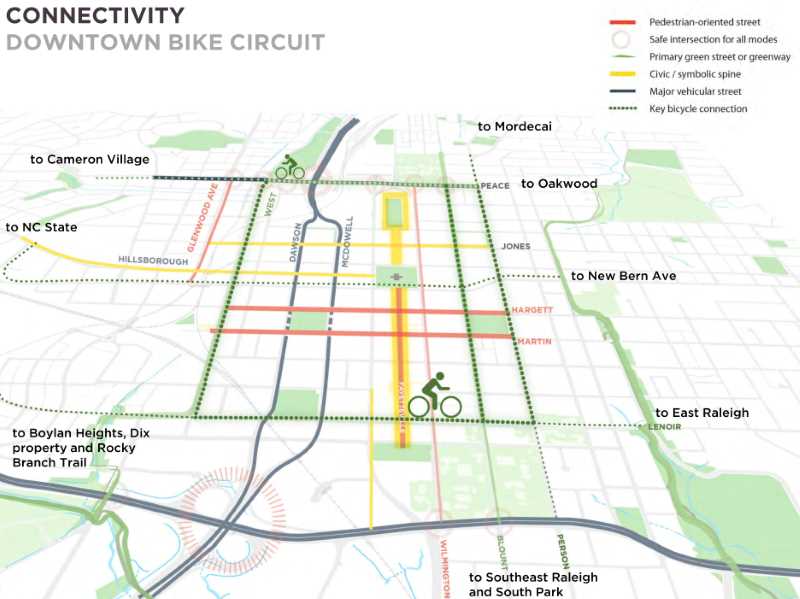 "Move" describes making over downtown Raleigh to be a model for walking, biking, and transit. Martin and Hargett Streets are identified as key pedestrian corridors and a downtown bike circuit is proposed as well.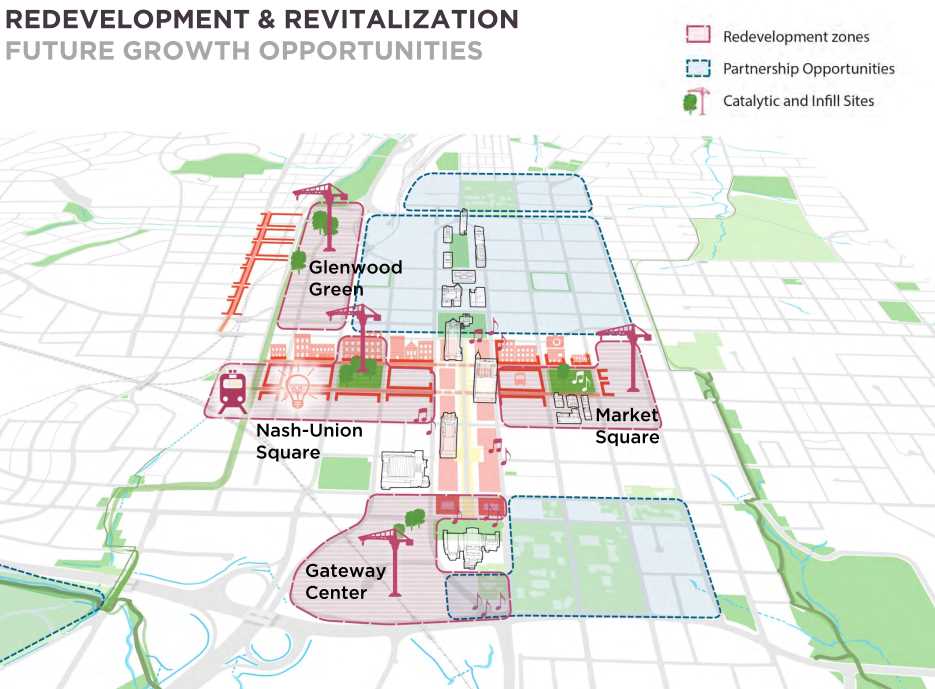 "Stay" refers to downtown's culture and being the tourism anchor of the city. This theme will be paired with the future growth opportunities covered below.
And finally "Link" talks about partnering with neighbors in our city. Universities, private business, non-profits, and many others also have a stake in our growing downtown. They should be at the table if not already.
Four Catalytic Priorities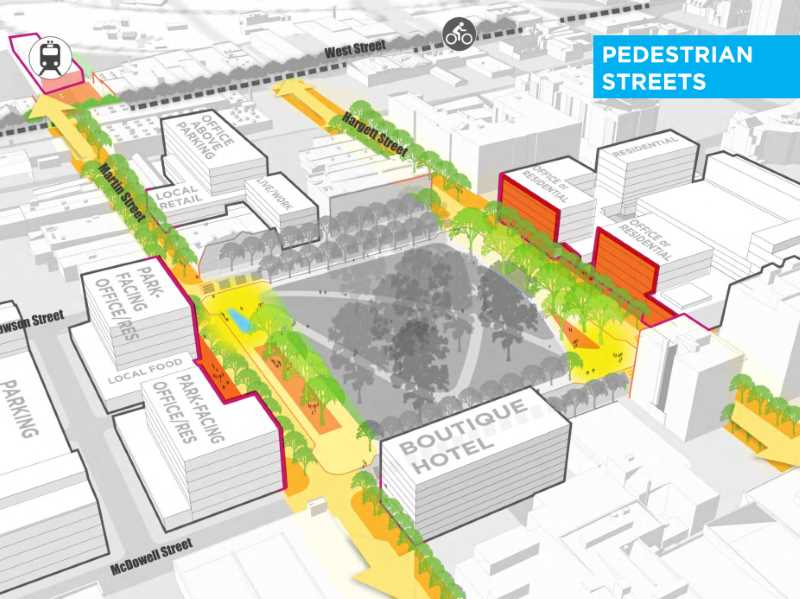 Nash-Union Square is the term for the area around Nash Square and the upcoming Raleigh Union Station. Transit-oriented development and pedestrian streets will be key to bringing new growth to this area. Ground-floor retail and improved streetscapes are tools to help make it happen.
Nash Square is seen as an urban park oasis rather than the underutilized space that it is today. Activating the edges of the square will be important especially along Martin and Hargett Streets.

Glenwood Green is described, almost exactly, as new development for what used to be the old Smoky Hollow neighborhood before the "Urban Renewal" wave of the 1950s and 1960s cleared out this neighborhood. The area to the east of Glenwood South to Capital Boulevard could see new development around an urban greenway, parks, and urban residential buildings.
The plan suggests creating a park at Devereux Meadow as well as making new connections to the east and the south. With a possible light-rail connection nearby, this area could really be the residential epicenter of downtown.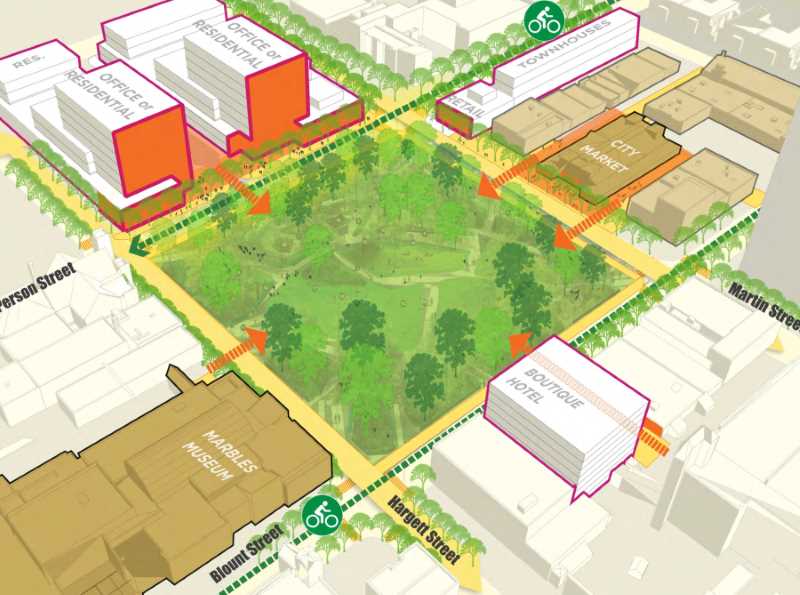 Market Square is a fusion of City Market and Moore Square. Rather than make these two landmarks individual locations, the plan suggests to create a single area that encompasses both assets.
The plan suggests to turn the area into the premier, destination-oriented market with links to the nearby neighborhoods. The plan does tell a little of what we already know and should work on. The City Market building is underutilized, implementation of the Moore Square redesign should take place, as well as the improvements to the Moore Square Transit Center.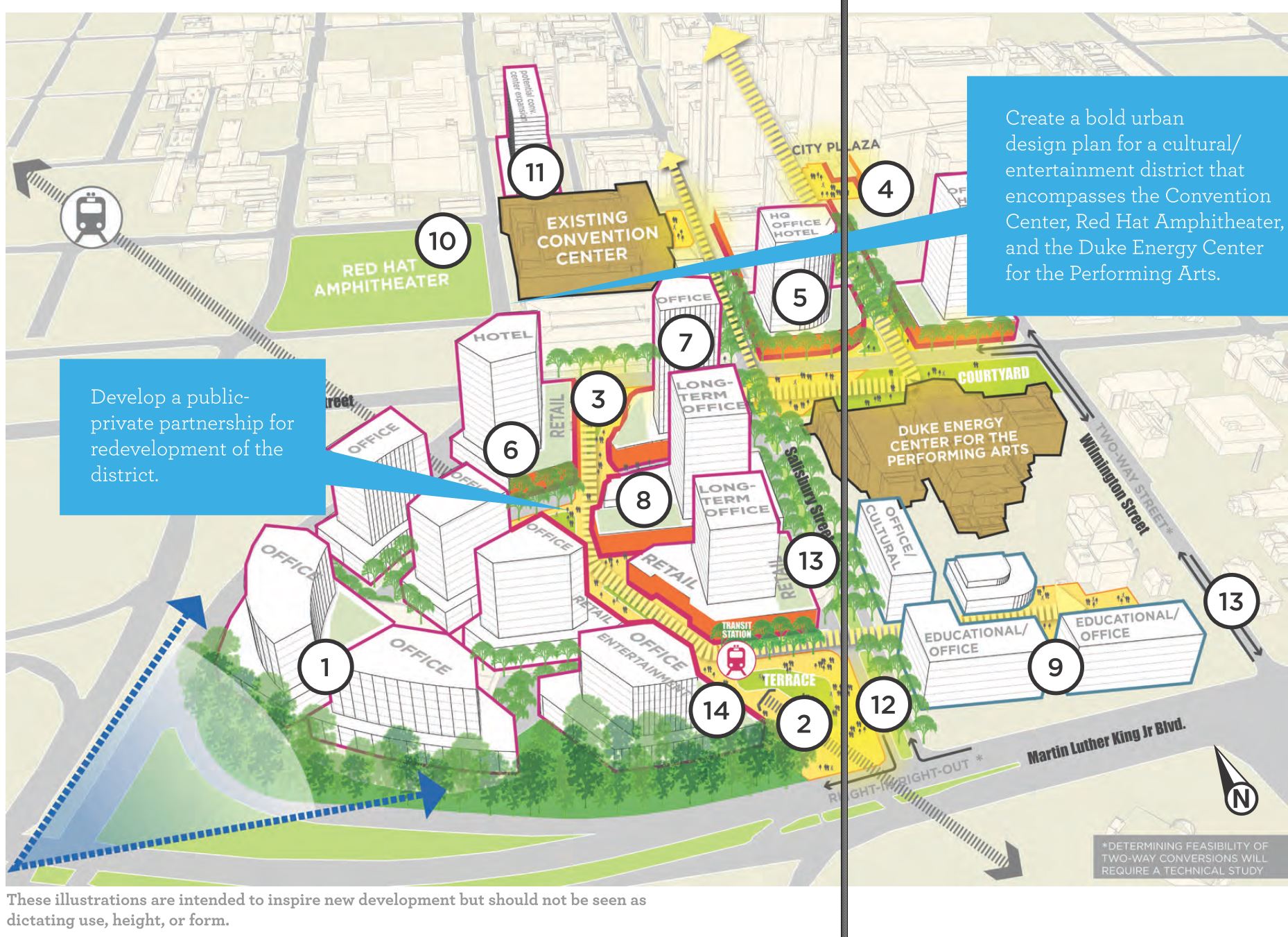 Gateway Center may be the grandest proposal in the plan. This involves the very suburban-like area to the south of the convention center adjacent to Martin Luther King Boulevard and South Saunders Street. The plan calls for pure development in this spot for a mix of uses including tourism, cultural, entertainment, and commercial.
Two big ideas are the one shown above, a campus-like setting with offices, educational institutions, and other innovation supporting entities. A second proposal in the plan shows a sporting venue wrapped with supportive retail and mixed-use development.
The R-Line
The plan presentation goes over the current state of the R-Line and possible changes to it that could address concerns. In the plan, we have:
Develop an optimized R-Line route to better serve existing and future Downtown riders
coordination with ongoing CAT system evaluation
Rider concentration is heavy at the Convention Center, Moore Square, and Glenwood South
Low ridership in the Warehouse District, New Bern, State Government, Seaboard, and Performing Arts Center
It looks like the plan wants to see the R-Line as part of a whole system, that being Capital Area Transit (CAT), rather than it's own transit service. The new route proposals are for a shorter loop resulting in higher frequency and being complimentary to CAT bus routes.