Affordable housing isn't a typical topic of the blog but this year, I've been following two initiatives that may provide atypical housing at a lower price point in Raleigh. These include:
The City of Raleigh wants to sell a plot of land in East Raleigh for $1 (one dollar) in exchange for affordable housing.
On election day, you'll see an option to approve, yes or no, an $80 million housing bond. Jump to more on this on the city's website.
Lane-Idlewild Affordable Housing
The city wants to leverage over an acre of land on East Lane Street to get some affordable housing units built. The proposal on the table is that the land, valued at over $1.4 million, would be sold for $1 (yes, one dollar) in exchange for more affordable housing.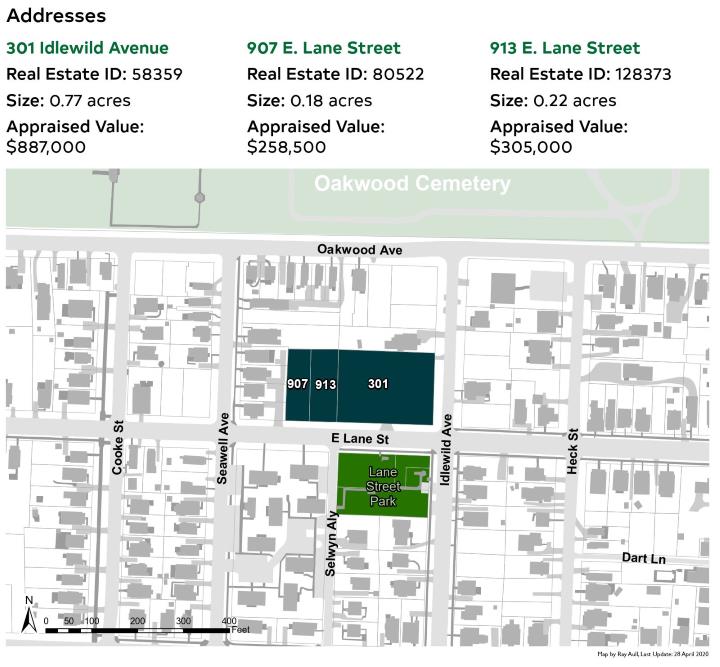 One of the key criteria here is having at least 51% of the proposed residential units being affordable. In this case, affordable means that it is targeting individuals at the 80% area median income level. (see more about AMI here)
The proposal submission date was in August and the city was flooded with around 32 proposals. This week, the city council moved ahead and the list of applicants has been reduced to four.
Here is a brief overview of the four applications.
Archive Development
Rendering shown above
proposes 10 lots, each with a duplex and an Accessory Dwelling Unit (ADU).
mix of rental units available to <50-60% AMI, <70-80% AMI and <80-100% AMI
affordability preserved for a minimum of 20 years.
CASA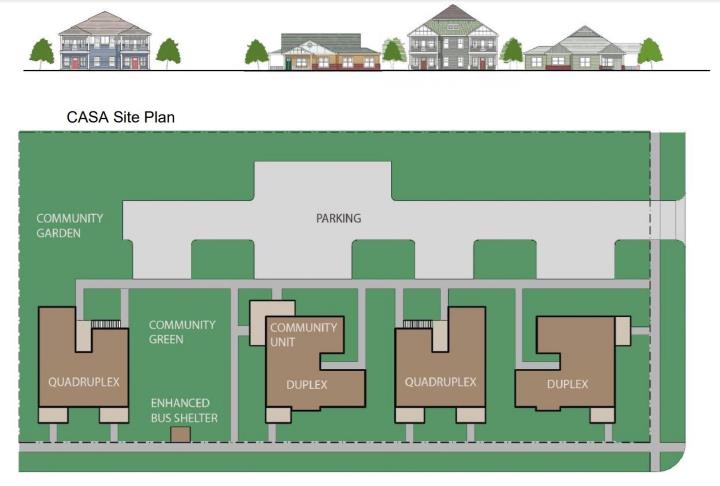 proposes 11 rental units across duplexes and quadraplexes
all units will be available to <40% AMI
tenants will pay a maximum 30% of their income for rent
minimum of 30 years of affordability
will provide a community garden and on-site management services
Merge Capital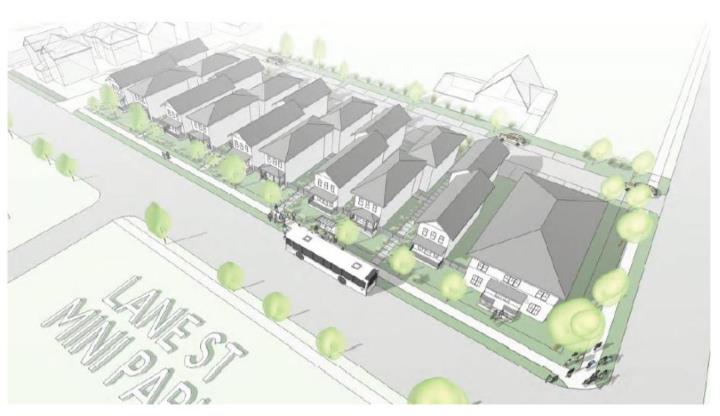 proposes a mixture of 44 rental suites and units across detached, attached and ADUs
the single-family building types include 1 and 2 bedroom living options arranged as a co-living layout
propose a mix of 50% of affordable suites for <50% AMI and 50% for <80% AMI, or 40% of units at <50% AMI and 60% of units at <80% AMI
a 25-year initial term of affordability.
Raleigh Area Land Trust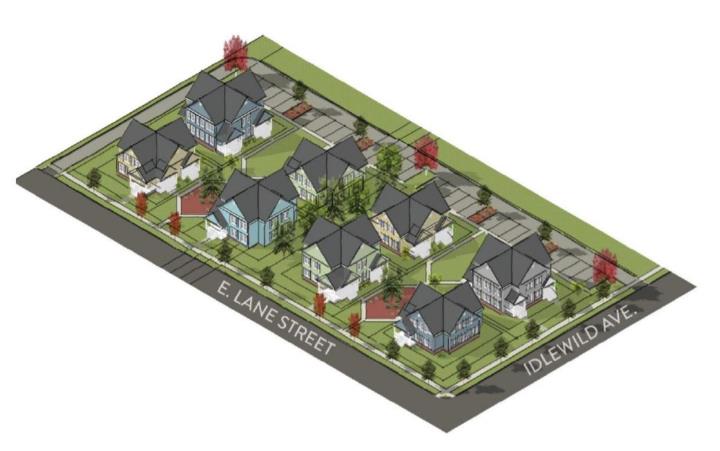 proposes 16 Cottage Court units for sale across 8 duplexes
propose 50% (8) of the units be sold to <50% AMI
25% (4) units to <60% AMI
25% (4) units at Market Rate.
RALT would retain ownership of the land while leasing it to the homeowners through a 99-year, inheritable, renewing ground lease, while limiting equity accrual in order for the homes to be resold to other income-qualifying households.
This is such an interesting project and some good proposals are on the table.
Affordable Housing Bond 2020
With voter approval in November, $80 million would be used to fund affordable housing in a variety of ways. From a July 2020 update, the breakdown of those funds are shown below.

What has me most interested in this bond is that money will go directly into purchasing land around transit. We already know where that land is going to be as we've been undergoing a Wake Transit Plan since adoption in 2017. I wouldn't be surprised if the BRT routes are the areas where land purchasing will take place.
In response to concerns about getting the needs from this bond to the ones that need it most, those at the lowest income scale in Raleigh, I'd like to borrow Councilor Melton's update after the council's September 1 meeting.
We also adopted the recommendation to produce more housing units affordable at 30% area median income (AMI). At the meeting this week, staff presented policy recommendations for producing more housing affordable at 30% AMI.

Staff recommended allocating $10 million from the bond funds for permanent supportive housing for very low income (30% AMI or lower) chronically homeless individuals, $10 million from the bond funds for non-profit partners to create or preserve small scale projects where not less than one-third of total units serve 30% AMI or lower, and $8 million from the bond funds plus regulatory incentives for new rental developments where not less than 20% of the units are affordable for not less than 30 years. Staff also recommended requiring 25% of units in 9% tax credit projects and 10% of units in 4% tax credit projects to target creating housing affordable at 30% AMI.

We voted to adopt and approve all of these recommendations.

9/1/2020 meeting summary: Affordable Housing Bond, micromobility (scooters!), big rezoning – link
It's a pretty large initiative that certainly attempts to close the gap on Raleigh's housing needs and deserves your consideration when voting this Fall.
Similar Posts:
Comments
Comments are disabled here. That's because we're all hanging out on the DTRaleigh Community, an online forum for passionate fans of the Oak City.