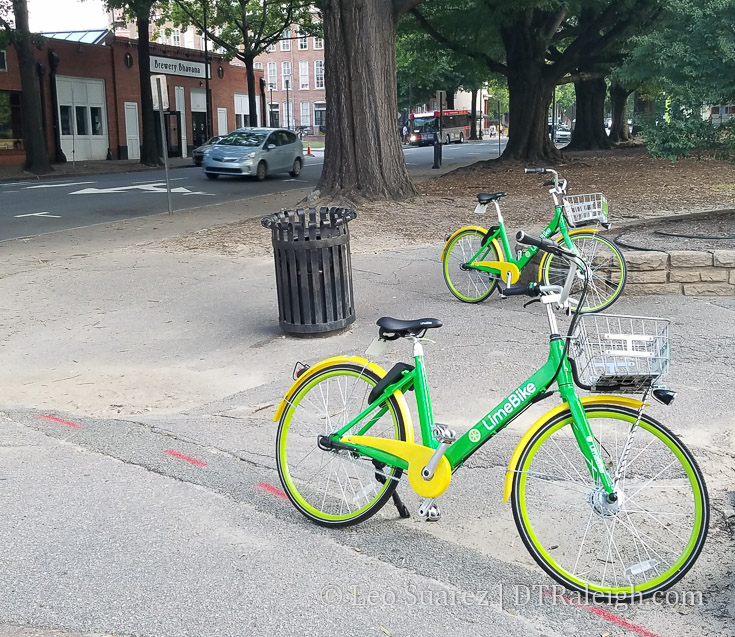 With so much attention going to the city's bikeshare system, planned to launch in Spring 2018, this was somewhat of a surprise for me. NC State helped launch a private installation of Limebike a few weeks ago and recently, the citrus-colored bicycles have been spotted around downtown Raleigh.
I couldn't help myself, I just had to try it. There was no signup fee and a 30 minute ride was only $1. (after my first free ride of course)
This system does not use any docks and relies heavily on the use of a smartphone app to help you get to a nearby bicycle. When I went out to use one, I couldn't find the first but found a pair two blocks away. With a quick barcode scan, the bike was unlocked and ready for use.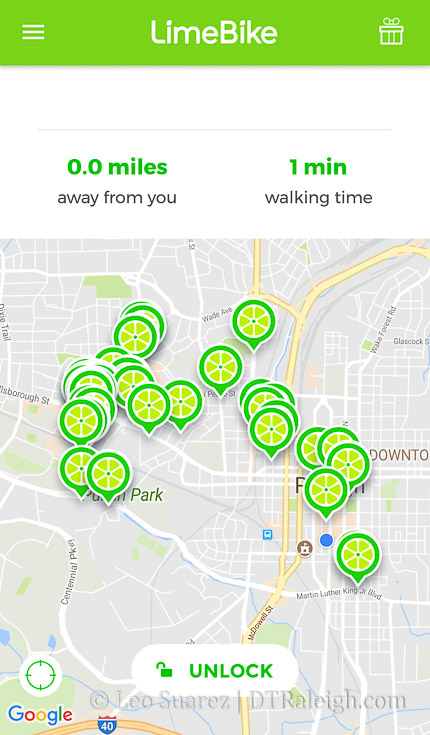 In theory, I could park it anywhere, allowing others to just grab it for their own ride. The site encourages you to park it where there is existing bicycle parking so after showing it off at home, I rode it back to the nearest park to leave it.
The experience was quite delightful, even with a cheery jingle when the bike is locked and unlocked.
There is cause for debate here. With these bikes around Raleigh and a second system coming next year, I believe this changes the dynamic for bikeshare.
In my book, this is not the most ideal system, fragmenting the user base and causing a poorer user experience. Limebike's reach won't be as wide as the city's system so there is overlap as well as individual coverage areas. To get the most, you need two apps, two sets of rules, etc.
That may seem simple to transit fans but we're trying to get adoption by as many people as possible. It's hurting the mission.
At the same time though, we may be in an experimental phase where the two systems can duke it out for user preference.
Either way, riding bikeshare in Raleigh has me excited and I hope for a far-reaching system with a plethora of options one day in the future. It'll be fun to watch.
Similar Posts:
Comments
Comments are disabled here. That's because we're all hanging out on the DTRaleigh Community, an online forum for passionate fans of the Oak City.