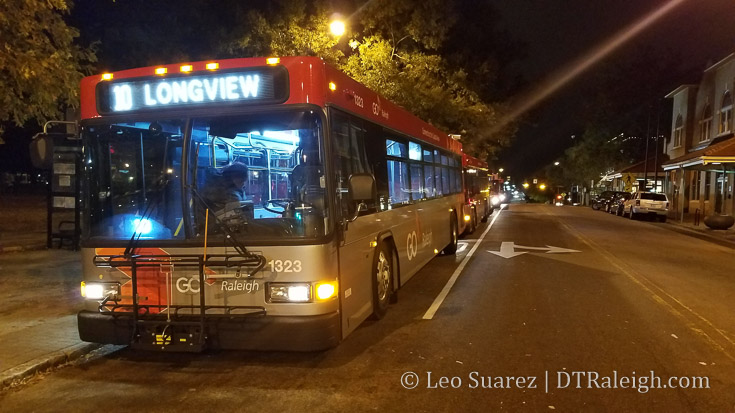 I'm posting this here purely for posterity. If you didn't see it recently, bus service is starting to expand, including changes on the weekends. This comes as a direct result from the one-half cent sales tax increase that was voted on in the Fall of 2016.
Go GoRaleigh!
Starting Aug. 6, GoRaleigh will:

Increase Sunday service to Saturday levels, with the exception of no departures after 11 p.m. on Sundays.
Increase frequency on Route 7, which runs along South Saunders Street, to every 15 minutes Monday through Friday.
Add Sunday service to Route 3 along Glascock Street, Route 10 along Longview and Route 15L to Trawick Road. Route 31 to New Hope Commons will drop Sunday service, however.

GoTriangle improvements include:

Increasing frequency on Route 100 between the GoRaleigh Station and the Regional Transit Center (RTC) in Durham to every 30 minutes Monday through Friday from 6 a.m. to 7 p.m. and starting at 6:40 a.m. Saturday. Route 100 stops at N.C. State University and RDU before continuing to the RTC, where riders can catch a GoTriangle Route 700 bus to Durham or a Route 800 bus to Chapel Hill.
Adding midday trips, Saturday trips and new night and Sunday service between Raleigh and Cary on Route 300.
Similar Posts: