New development plans for Hargett Place, a 19 townhome project, were submitted to the city. After a successful rezoning in July 2015, the plans are moving forward to wipe out the surface parking lot on the 400 block of East Hargett.
The one acre lot will consist of 2-bedroom units spread across four buildings. The site plan below shows the makeup of the townhome buildings.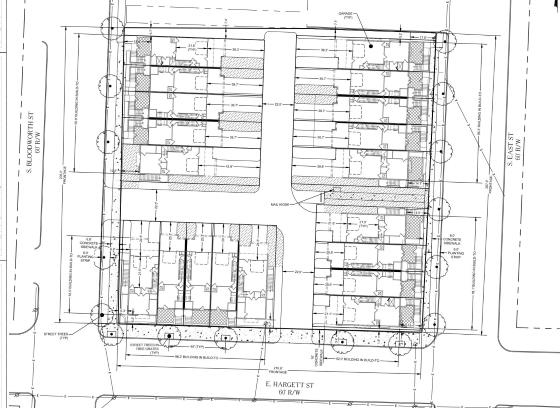 The plan doesn't show much but I want to say these will be similar to Peace Street Townes, at least in the building configuration. Vehicle driveways will be on Hargett and Bloodworth. As Hargett is identified as a key bicycle route, having the vehicle driveway doesn't quite make sense. At the same time, 19 townhomes probably won't generate that much traffic to make a difference so for me, not too worried about it.
Not much else here, except to reiterate the fact that I love seeing surface parking disappear. Bring it on.
Similar Posts: