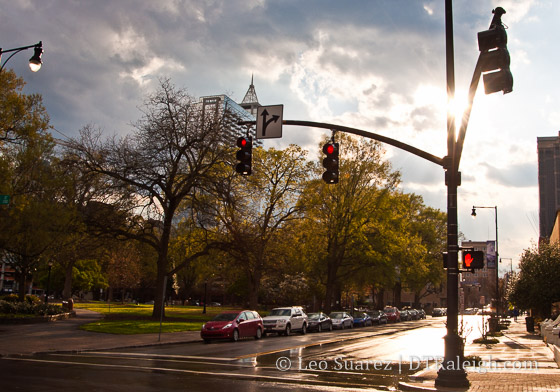 The latest draft of the Downtown Experience Plan is now available and the team behind it are seeking public comments. Jump into it here:
Downtown Experience Plan on RaleighNC.gov
One huge addition to this draft compared to the last one is that actions are listed as a part of each stated goal. That should help make the direction clear on how to achieve the stated goals and stay within the themes.
For a quick review, jump back to Downtown Raleigh Plan Presentation Rundown.
While all the project areas in the plan are exciting to see, I think two of them, when looked at together, have the potential to be great. I'm going to make the call now that the Moore Square and Nash Square refreshes will have more of an impact on downtown Raleigh than the Fayetteville Street redesign did back in the 2000s.
To see it, I think you need to look at downtown Raleigh from a new perspective. Fayetteville Street, running north/south, is arguably the epicenter of the downtown core. The Downtown Plan calls it the "civic/symbolic spine" and it will probably be that way for decades.
I'd like to flip your perspective from north/south to east/west and highlight how important the duo of Martin and Hargett Streets will be in the next ten or so years. While Fayetteville Street may be the face of downtown, the prime location, where the action is at, I like to see movements east/west along Martin and Hargett as becoming functional and spontaneous.
Activity around and between the two squares is set to boom. If you look at the plan, we have images like these.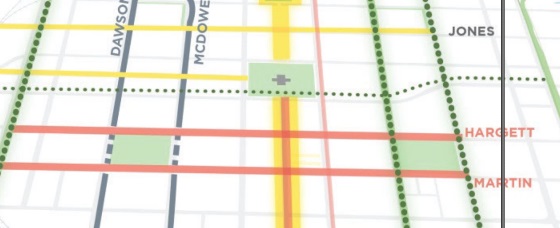 I think the street grid will fuse these two areas together and create activity pockets all over these blocks. Consider what we have and what is in the pipeline. Going west to east:
Raleigh Union Station
Development potential at the Dillon Warehouse at 400 West Martin Street
3.5 acre News & Observer site for sale
200 block of Fayetteville Street, highest pedestrian counts in downtown Raleigh. City? (most likely)
Market and Exchange Plaza upgrades
Moore Square Transit Center upgrades
Moore Square Redesign
In addition for Nash Square, straight out of the downtown plan, we have:
Undertake a design study to re-envision Nash Square as an urban green that supports the growth of the Warehouse and Fayetteville Street Districts and to strengthen their connection.
I see that as a string of connect-the-dot projects that could really make a huge difference. It won't be as obvious as Fayetteville Street is but it'll be there. It's possible that we'll see residents walking east/west while visitors will be walking north/south.
One last thought about this new perspective, kind of a "big idea" as the downtown plan likes to encourage, is that with a little planning we could almost create a pedestrian-only corridor between Moore and Nash Squares. What would it take to walk from Moore Square to Nash Square without using any sidewalks?
It would look something like this.

Of course, a couple changes need to be made but imagine starting in Moore Square and:
walking through the upgraded transit station to Wilmington Street
walking through the new Exchange Plaza
walking through the City of Raleigh Museum to Salisbury Street
walking through a plaza around new development that connects to McDowell Street
Finally crossing into Nash Square. How you get through the City of Raleigh Museum, that might be tricky but it's an idea that's fun to think about. The historic buildings along the 200 block of Fayetteville would be tough to punch a plaza through but at the same time, the downtown plan says to make new connections, encourage moving, and create new retail spaces…..
…..Just like a pedestrian-only mall!! ;)
Similar Posts:
Comments
Comments are disabled here. That's because we're all hanging out on the DTRaleigh Community, an online forum for passionate fans of the Oak City.