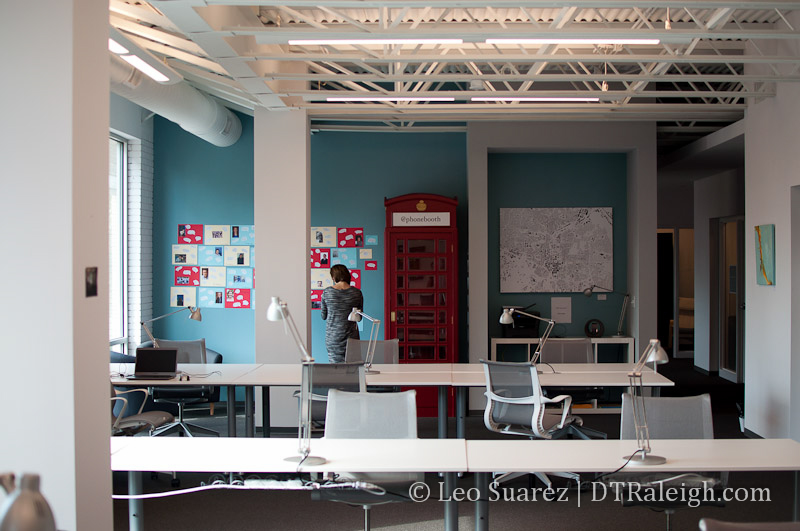 Last week, HUB Raleigh had its official grand opening. This co-working space on Hillsborough Street adds to the growing startup scene and Innovate Raleigh initiative that continues to spread around downtown Raleigh. The space is set up for established startups in the area to work from so that they can tap the greater HUB network for future growth. I went to the packed grand opening party and returned the next day for a visit.
We've talked about co-working before and while I myself do not work for a startup, the community aspect around a co-working space is a natural fit for downtown. Both sides can benefit from the social aspect at HUB and the close proximity to the services in the downtown districts.
I like to compare co-working to the idea of our "third place." There's where you live, (first) where you work, (second) and your regular place to socialize. (third) This is a theme that is very alive and true for downtown regulars. With co-working, the community aspect of a third place is weaved into the work aspect of the second. For most, this creates relationships, personal and business, that really help create new businesses and bring ideas into creation.
Others just want to get out of the house and that's fine too.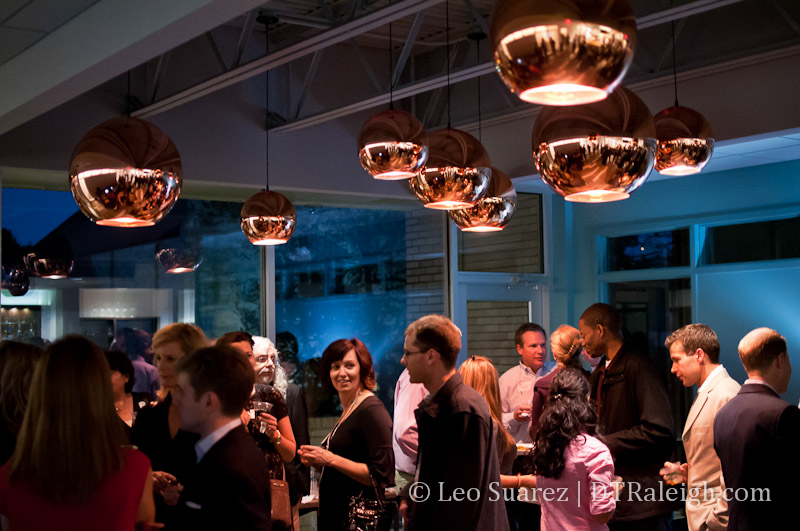 Grand opening party at HUB Raleigh
HUB Raleigh is slowly trying to create that community between visitors and users. For example, they have a calendar where anyone can post an event from business to social. The Click Cafe is the HUB's on-site gathering space for breaks over food and drinks. And as community goes, HUB has members that are active in Durham's startup scene and other places around the triangle. HUB contributes to what is going on in the triangle rather then compete and possibly take away.
I mentioned the HUB network that members are a part of. HUB is part of a 28 location network, mostly with locations in North America and Europe, where members have access to those locations and the community around it. If a startup in Raleigh decides to work in San Francisco, HUB San Francisco is now a place for them to reach to if needed. This network helps startups ease into different areas and HUB Raleigh helps visitors ease into here.
Growing startups like The Vital Plan and Spot Trot are already at HUB Raleigh and they were both active when I visited. It got me thinking about the talk of using incentives for new companies to come to Raleigh. Why not help build your own companies rather then attract new ones?
Similar Posts:
Comments
Comments are disabled here. That's because we're all hanging out on the DTRaleigh Community, an online forum for passionate fans of the Oak City.