Email readers: This blog post has image galleries. Read the post on the blog to see all the images.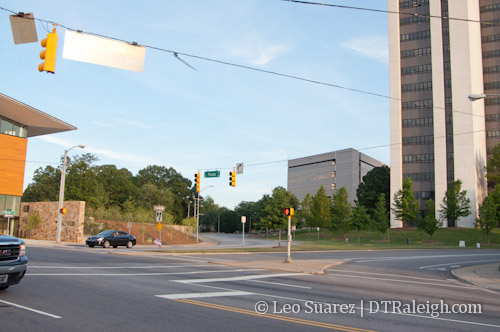 Talks, visions, and plans for lots of places in downtown Raleigh exist if you know where to look. Solving problems like traffic congestion or providing new amenities for pedestrians and bicyclists are driving factors for new plans. The intersection on Peace Street with Wilmington, Salisbury, and Halifax Streets is being looked at and I thought it might be fun to go over some points that I see in the Peace Street Visioning Study, a sub-topic in the Capital Boulevard Corridor Study.
No plans are final and the report mainly discusses topics for future exploring. One highlight mentions:
The Wilmington/Halifax/Peace Street intersection represents a second opportunity to improve traffic flow and reduce congestion. A two-lane roundabout is recommended for feasibility analysis by the City transportation engineers. This intersection continues to be a bottleneck which may be improved with more conventional traffic engineering solutions. However, there is some prospect that a two lane extended roundabout might provide free-flowing traffic while establishing a signature open space at this important gateway into the state government center and downtown. The roundabout would extend south in to the Wilmington Salisbury loop, with the roadway geometry offset to the south.
Here's a screenshot of a map of that section and what it might look like from a conceptual level.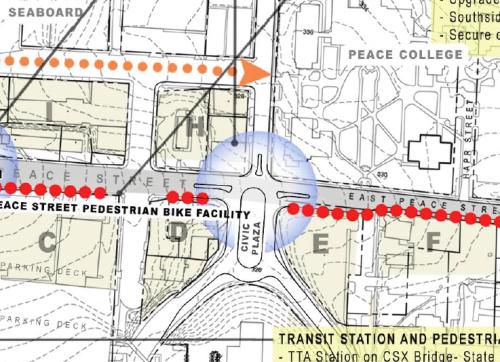 Seems like Raleighites either love or hate these larger roundabouts. It will be interesting to see the analysis and if the plan has merit.
The civic space within the center of the roundabout has potential but I question whether pedestrians will use it. Could an active public space exist within a busy roundabout of this small size?
I'd like to see another plan for this area, one Raleigh has already had, and that is to return the streets to their original configuration. The wishbone piece of the intersection could be removed and Wilmington and Salisbury Streets can be straightened out up to Peace. A map of Raleigh in 1914 shows this configuration including Halifax Street making it's way up to Union Square as it has always been before the state government complex was built. (yay, urban renewal?)
It's possible that this idea takes a busy intersection and splits it into two smaller ones. Here's a mock up in Google Maps of what it could look like.

View Peace/Salisbury/Wilmington Intersection Idea in a larger map
Current properties in the map, shown in blue, are the AIA NC building and a Department of Administration building. In orange, you can see the returned street extensions and the green covers the wishbone piece of the current intersection. I also highlighted two service entrances in purple that are needed for the government complex.
The new green space is wide open in terms of future uses. Possibilities for it are new mixed-use developments, completely open green space, or a balance of the two. If a civic plaza is desired, the complete road removals would allow for more space.
In terms of traffic flow, I'm also curious what would happen if Salisbury Street were changed to a two-way street. With it connecting directly into Seaboard Station Avenue, bicycles and vehicles would have a direct connection from the core downtown to Seaboard Station.
There is also a really great view looking north at Seaboard Station that anyone driving, pedaling, or walking on Salisbury would feel more welcomed to a different downtown district. If you notice on a map, Vaughn Court is the current "extension" of Salisbury Street. Here's a view looking north from that street. Click for a larger view.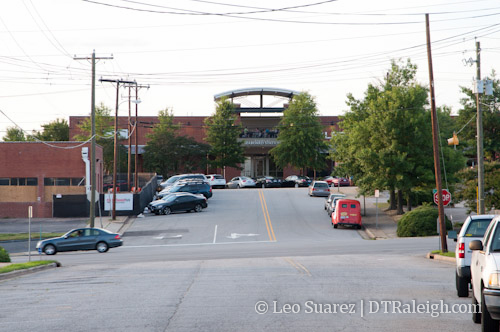 I feel that this should become a "main entrance" to Seaboard Station in more of a way that it is today. With a two-way Salisbury Street, there could be better connections from Seaboard Station to downtown. You also get the visual bonus in that drivers and pedestrians can see their destination a few blocks away. Currently, you have trees and parts of the government center parking deck in front of you.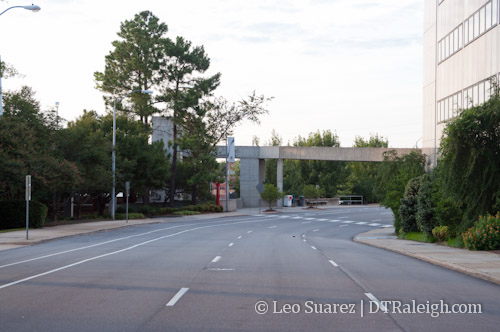 Wilmington Street already has a great view with the William Peace University main building front and center to traffic. An extension to the road could make the new intersection of Wilmington and Peace a more interesting place, brought about with any future developments that come from the Blount Street Commons project.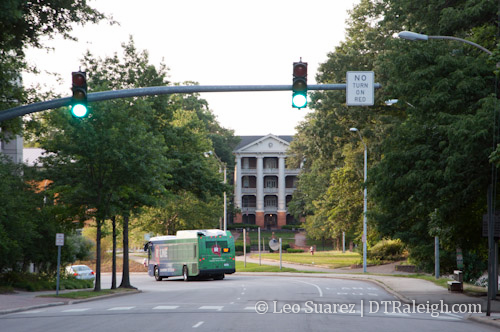 With more development coming, an improved road network may make for more successful redevelopment in this area and who knows, maybe the government district could begin to grow some life during the off hours.
Click on the image below for a gallery of more images of the area.
Similar Posts:
Comments
Comments are disabled here. That's because we're all hanging out on the DTRaleigh Community, an online forum for passionate fans of the Oak City.