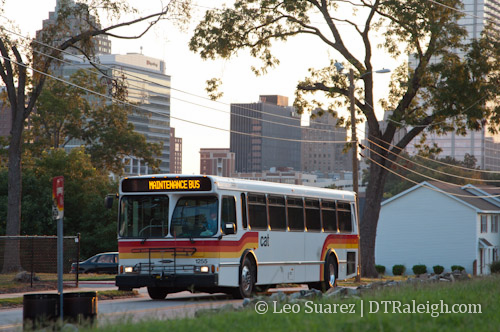 I'm planning to do a Municipography post for tomorrow cause there is good stuff to talk about in government this week. Yesterday, the Wake County Board of Commissioners had a meeting and the floor was open to those for and against the transit plan for the county. Today, there is a Raleigh City Council meeting and the Capital Boulevard Corridor Study is on the agenda. Hopefully, I can get video of both for tomorrow's post embedded here along with some overview.
But the transit argument is one I talk about a lot, especially offline, so after hearing how yesterday's meeting went on the 7th floor of the Wake Courthouse, I wanted to hopefully offer a different view on Transit for County and Raleigh.
I'm not going to mention congestion cause I feel transit doesn't make a noticeable dent in it. I will not use words like "soaring", "sky-high", or "astronomical" if I mention gas prices because I've been to other countries and I just can't complain at all seeing $8-$10 per gallon prices. All I want to talk about is the Raleigh of the future and what I want to see.
So they say that Raleigh and the county are going to grow. Great. The question is how do we want this city of the future to look like?
Continuing in the same pattern as today will result in more destinations with greater distance between them. Eventually Raleigh will be unable to grow her borders but the surrounding towns will swell outwards and continue weaving the fabric of this great metropolitan area. We citizens will move around that area as we've been doing for years now and to accommodate this future transportation need, roads and highways will be built. As growth continues, so does the cycle of building roads to meet the demand of transportation, the same transportation methods of today.
If that is your Raleigh of the future, fine. Make a convincing argument for it and I'll respect you for that.
An alternative view is a Raleigh metro that seeks balance with it's surrounding environment. I strongly believe that one of the North Carolina Piedmont's biggest selling points is the vast amount of lush greenery and tree cover. I hear it all the time about how many trees there are here and how leafy it is. This appeals to a lot of people. Take away those trees and lush environment and you have a scene that isn't Raleigh at all. This is part of our brand, this "city within a park".
To keep Raleigh just like Raleigh, I want to see the future seek balance with the mountainous trees that took decades to grow so big. When driving out of the area, we should hit the beautiful North Carolina wilderness head on and not go through countless strip malls and neighborhoods like some larger cities have today.
To achieve this in some way, I want the future Raleigh to spend it's transportation money in the city we've already built, not on the fringes where land can be exhausted. I see it as a way to re-innovate ourselves, not continue doing what is comfortable.
While my Raleigh of the future may sound like a treehugger's fairy tale, there is some more to it. Investing in public transit within the city does amazing things for how we use our land. Public transit is a human scale investment because it moves people around. When people move around, buildings and shops that cater to people start popping up. When compared to a city where cars move around, the city is built with parking lots and plenty of room for those cars to get around.
I see two things happening when public transit is invested within the city. When people, not cars, are moving around, the resulting development ends up occurring near this new investment (transit) and on already existing infrastructure. (electricity, sewers, etc.) Investments on existing infrastructure cost citizens much less when compared to new developments that push our infrastructure further and further out. There's an example in Asheville, NC about this very topic:
We tend to think that broke cities have two options: raise taxes, or cut services. Minicozzi, though, is trying to point to the basic but long-buried math of our tax system that cities should be exploiting instead: Per-acre, our downtowns have the potential to generate so much more public wealth than low-density subdivisions or massive malls by the highway. And for all that revenue they bring in, downtowns cost considerably less to maintain in public services and infrastructure.
The Simple Math That Can Save Cities From Bankruptcy via The Atlantic Cities
I strongly encourage everyone to read that article.
So to wrap this up, I hope everyone is thinking about what they want this area to be like in the future. There is strong evidence that the growth is coming so it has to be dealt with in some way. What way is up to us and we are deep into the planning stages for this right now.
Voice your opinion, for or against, public transit. It doesn't matter if you never use it, you are a part of this city and it will impact you in some way.
Voice your opinion, for or against, new road construction. It doesn't matter if you never use it, you are a part of this city and it will impact you in some way.
Similar Posts:
Comments
Comments are disabled here. That's because we're all hanging out on the DTRaleigh Community, an online forum for passionate fans of the Oak City.